Amid the fuss about Mercedes' lowering rear (captured from Istanbul footage) it was easy to miss the fact that around the Circuit of Americas on Friday there seemed very little performance difference between Mercedes and Red Bull-Honda. Even on the straights the two cars were quite evenly matched here (unlike at Istanbul).
"The grip level of the track is so low that the aim is just to struggle less than everyone else," was the way Daniel Ricciardo summarised the challenge around a very hot, gusty and bumpy Austin track on Friday.
So everyone was very much running to their tyre temperatures in the long runs, meaning there was probably less performance spread than usual between the fastest and slowest.
Identifying who actually was the fastest wasn't straightforward. Lewis Hamilton set the fastest single lap of FP2 but it was disallowed for a track limits infringement at Turn 9.
His next-best lap put him third and bumped Red Bull's Sergio Perez up to an official fastest – ahead of Lando Norris' McLaren.
But even Hamilton's disallowed time was only 0.104s faster than Perez, indicating a) that the scary 0.9s Mercedes advantage seen in the first session was just a matter of a more aggressive engine mode than Red Bull and b) Perez is properly on the pace at the start of a weekend for the first time all season.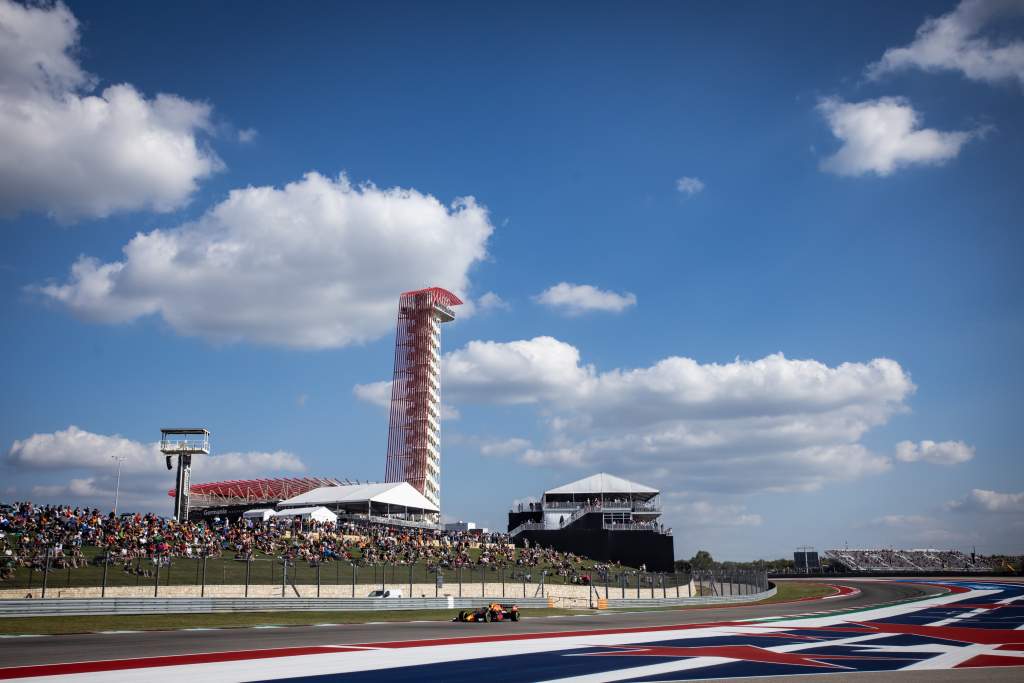 His team-mate Max Verstappen didn't get a representative soft-tyred time on the board because of traffic, but even on the mediums trailed Checo by 0.1s. It wasn't his happiest of sessions, trying in vain to find grip on a track which just wasn't ready to provide it – to anyone – and he and Hamilton even had a niggly little interaction over track space at Turn 1, which induced some hand gestures from the Red Bull driver.
But looking at the bigger picture, Verstappen has reason for optimism. Despite his fears in Turkey, the Red Bull looks at least competitive with the Mercedes here on both long runs and short.
On the long runs Hamilton set comfortably the fastest average but that's a misleading margin – because it's derived from an interrupted sequence of laps, as he pitted four laps into the run for a front wing flap adjust. On a track at which heat degradation is the dominant mechanism of performance, giving the tyres a brief rest in this way significantly flatters the average.
Verstappen's 10-lap run on the same medium compound of tyre as Hamilton was a more representative stint sample. The half-second difference between their averages would be entirely typical of the difference made by giving the tyres a mid-stint rest.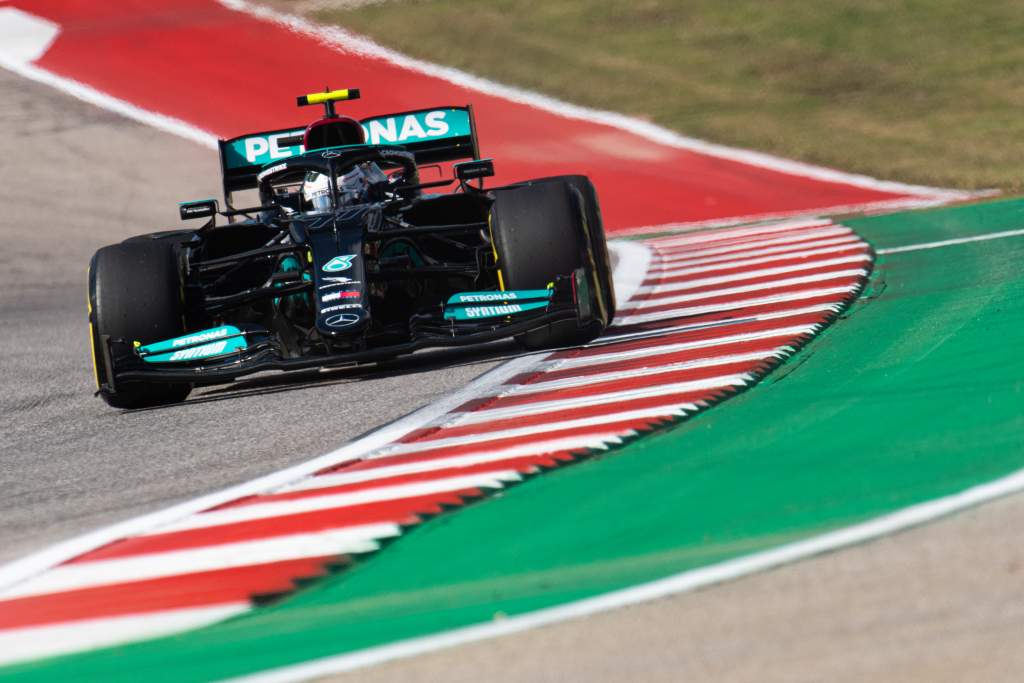 Looking to Valtteri Bottas doesn't yield a direct comparison either. Bottas seemed to have overworked his tyres with too optimistic a pace in the first few laps of his run and dropped 2s per lap into the last three of his seven-lap stint.
Finding that balancing point is what practice was all about, a challenge summarised by Norris: "There's a lot of deg and so you can be quite fast and the pace will look good but suddenly you're out of grip."
Norris has real reason to feel good about his qualifying prospects though as it seems this is one of those tracks – like Austria, Imola, Monza and Sochi – where the McLaren can be a real contender over one lap even if its race pace still lags behind the top two cars.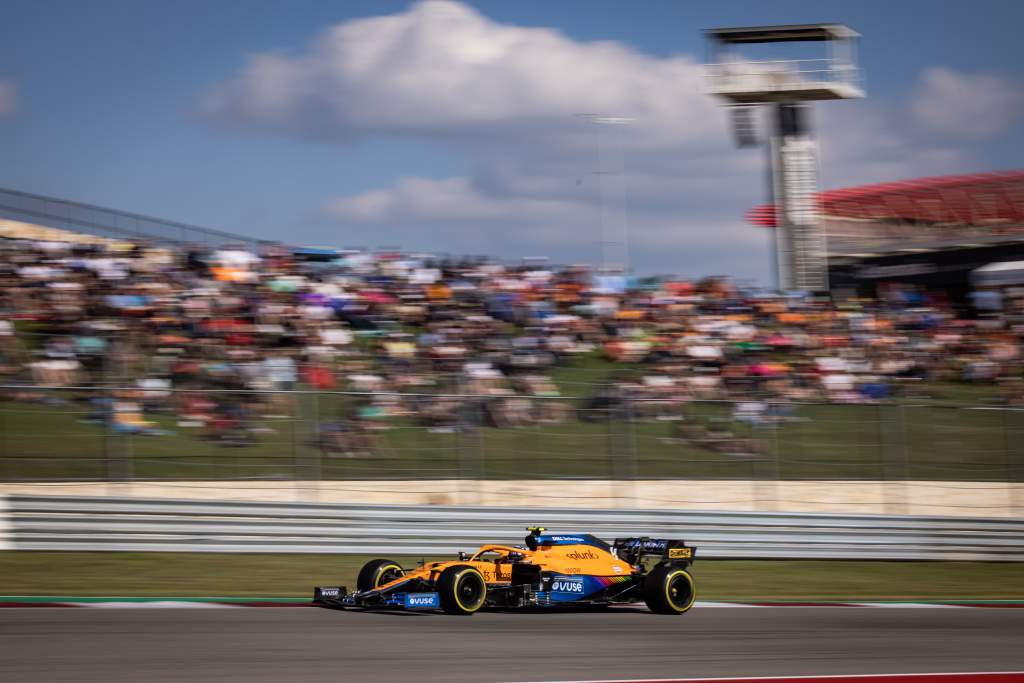 Both McLaren and Ferrari split their tyre choice for the long runs between medium and soft and the two cars were very evenly matched, though delivering their performance in quite different ways.
Ricciardo's average on the soft is flattered in the same way as Hamilton's, by a mid-stint pitstop. At Ferrari Carlos Sainz was marginally faster on the soft than Charles Leclerc on the medium. But both cars look capable of lapping within around 0.5s of a Mercedes/Red Bull on race pace, as best of the rest, comfortably clear of AlphaTauri and Alpine.
Aston Martin looks slightly more competitive than usual, but the extraordinary-looking average set by Sebastian Vettel on the mediums is flattered by a second-stint fuel load.
He did his first stint simulations on the hard tyre, which is logical given that he will be starting from the back with his additional power unit penalties. Switching then to the medium, he will have been around 30kg lighter.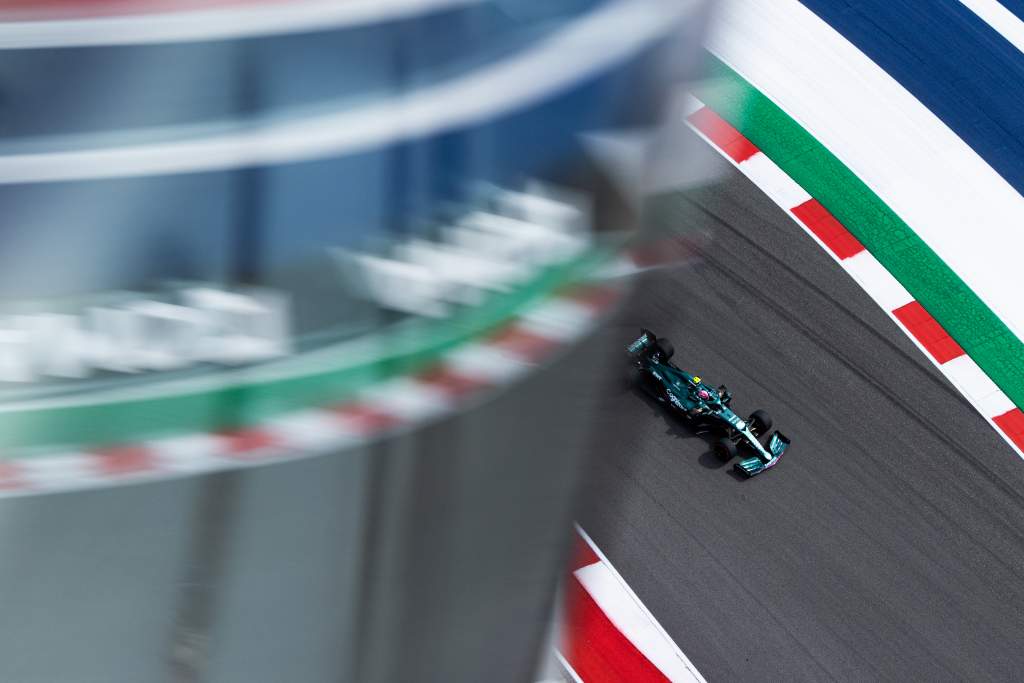 Generally this is set to be a two-stop race because of the high tyre deg, as historically is usually the case here. The untypically high temperatures just make this even more certain, that and the roughness and bumps of the track.
"The track surface is rougher than before," says Hamilton, "and it's a struggle to keep the temperature out of the tyres. It's impossible pretty much, so there's more deg than we've probably experienced here before."
He's every bit as cautious about his race prospects as Verstappen: "Still work to do unfortunately. We made some changes and I wasn't happy in P2. Still, not such bad pace but we lost some ground to everyone."
Long run averages
| | | | | |
| --- | --- | --- | --- | --- |
| 1 | Hamilton | 1m41.176s | Mediums | 7 laps* |
| 2 | Verstappen | 1m41.771s | Mediums | 10 laps |
| 3 | Vettel | 1m41.817s | Mediums | 10 laps |
| 4 | Perez | 1m41.864s | Mediums | 10 laps |
| 5 | Ricciardo | 1m42.186s | Softs | 6 laps* |
| 6 | Alonso | 1m42.200s | Mediums | 7 laps |
| 7 | Bottas | 1m42.211s | Mediums | 7 laps |
| 8 | Sainz | 1m42.322s | Softs | 7 laps |
| 9 | Norris | 1m42.339s | Mediums | 7 laps |
| 10 | Leclerc | 1m42.424s | Mediums | 8 laps |
* run interrupted
Single-lap pace
Practice 2 Results
| Pos | Name | Car | Best Time | Gap Leader |
| --- | --- | --- | --- | --- |
| 1 | Sergio Pérez | Red Bull-Honda | 1m34.946s | |
| 2 | Lando Norris | McLaren-Mercedes | 1m35.203s | +0.257s |
| 3 | Lewis Hamilton | Mercedes | 1m35.31s | +0.364s |
| 4 | Valtteri Bottas | Mercedes | 1m35.36s | +0.414s |
| 5 | Daniel Ricciardo | McLaren-Mercedes | 1m35.457s | +0.511s |
| 6 | Lance Stroll | Aston Martin-Mercedes | 1m35.561s | +0.615s |
| 7 | Charles Leclerc | Ferrari | 1m35.572s | +0.626s |
| 8 | Max Verstappen | Red Bull-Honda | 1m35.824s | +0.878s |
| 9 | Carlos Sainz Jr. | Ferrari | 1m35.919s | +0.973s |
| 10 | Antonio Giovinazzi | Alfa Romeo-Ferrari | 1m36.138s | +1.192s |
| 11 | Esteban Ocon | Alpine-Renault | 1m36.158s | +1.212s |
| 12 | Pierre Gasly | AlphaTauri-Honda | 1m36.242s | +1.296s |
| 13 | Fernando Alonso | Alpine-Renault | 1m36.376s | +1.43s |
| 14 | Kimi Räikkönen | Alfa Romeo-Ferrari | 1m36.558s | +1.612s |
| 15 | Sebastian Vettel | Aston Martin-Mercedes | 1m36.718s | +1.772s |
| 16 | Yuki Tsunoda | AlphaTauri-Honda | 1m36.983s | +2.037s |
| 17 | Mick Schumacher | Haas-Ferrari | 1m37.041s | +2.095s |
| 18 | Nicholas Latifi | Williams-Mercedes | 1m37.254s | +2.308s |
| 19 | George Russell | Williams-Mercedes | 1m37.49s | +2.544s |
| 20 | Nikita Mazepin | Haas-Ferrari | 1m38.026s | +3.08s |