Sergio Perez was dealt a great hand at the 2022 Singapore Grand Prix weekend, but he played it beautifully, in the lead by Turn 1 and retaining it for the rest of the evening despite occasional intense pressure from Charles Leclerc in the polesitting Ferrari.
Perez is habitually great on street tracks anyway, but the circumstances put into place by the weekend's rain accumulated perfectly for him.
Without the rain, there'd have been no miscalculation about Max Verstappen's fuel level in qualifying and he'd otherwise have been on a comfortable pole rather than eighth on the grid.
Without the rain, passing wouldn't have been so close to impossible on race day.
Without the rain, Perez couldn't have afforded to utilise the overcut to defend against Leclerc at the stops.
All that said, Perez took the initiative at the start, conjured a great combination of pace and tyre usage, keeping the intermediates in shape on a track that was taking an age to dry, delivering the overcut lap on the old inters as Leclerc tried for the slick-tyred undercut, survived a few scrappy moments but kept up a hard enough pace to ensure it was Leclerc who eventually suffered the crucial wobble which gave the Red Bull the winning break.
Perez controlled two safety car restarts when as the leader on under-temperature tyres, he was very vulnerable, especially with a safety car which was running so slowly, so late into the lap.
He was later awarded a 5s penalty for not staying within 10 car lengths of the safety car at the second restart. Knowing of that possibility, he pushed hard in the late stages to pull out more than 5s and Leclerc, suffering greater front tyre wear, could not keep up. Game, set and match for Perez.
That's the general outline of how the race was won. Perez and Leclerc ran away from the rest, partly thanks to a puzzling lack of pace from Carlos Sainz in third and the race-long damp offline making it impossible for Verstappen to convert his searing pace into progress.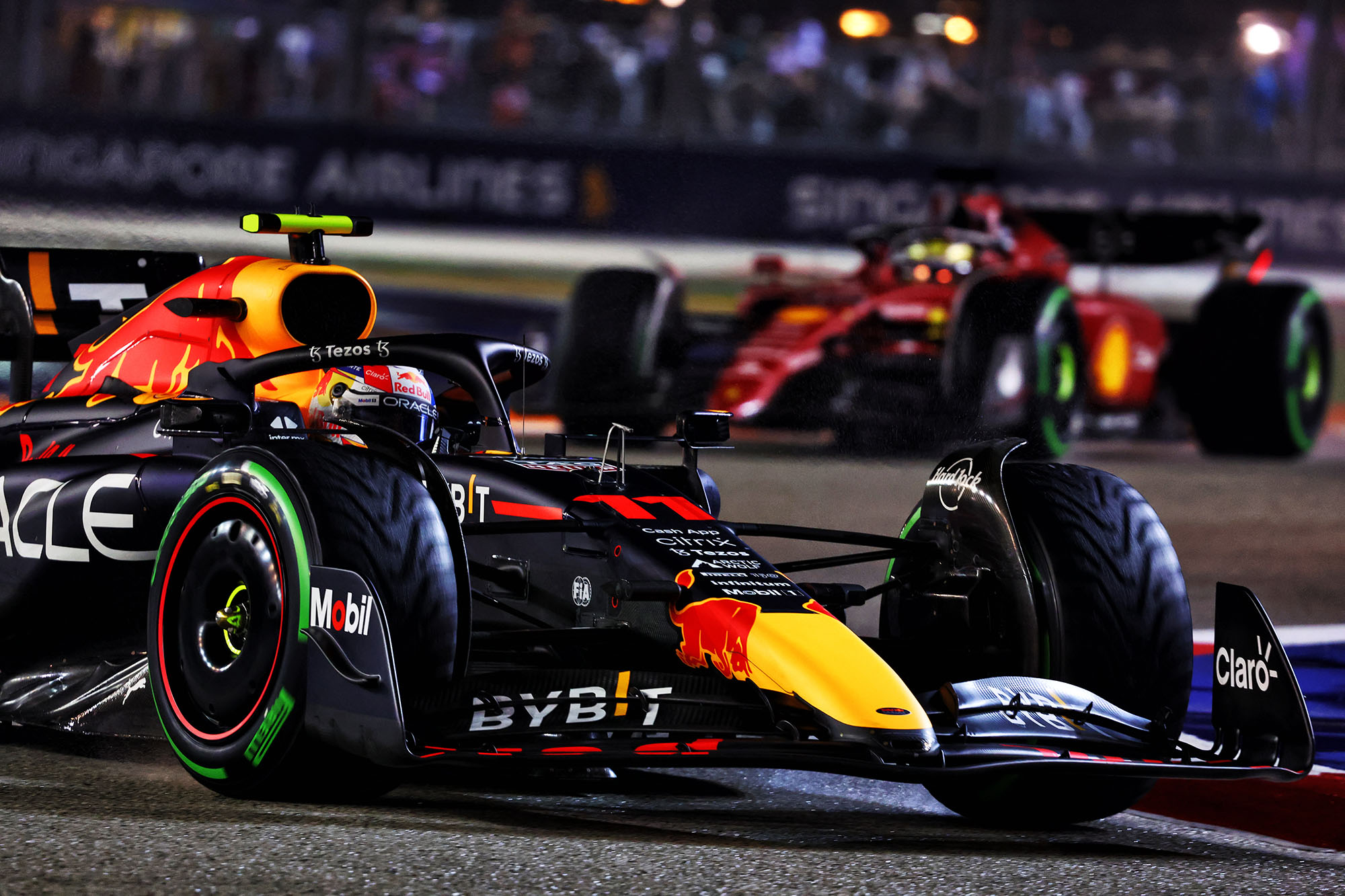 An attempt at passing Lando Norris's fourth place McLaren on the final restart put Verstappen up the escape road with flat-spotted tyres and meant he was obliged to pit and rejoin at the back with what turned out to be 18 laps to go. Lewis Hamilton had come similarly to grief a few laps earlier trying to pass Sainz. Passing's never a simple matter at Singapore, but with the line dry and offline resolutely damp, there was just no way.
Because a wet track surface takes an absolute age to dry around Singapore (no sunlight, high humidity, no wind) the race was a worst-case scenario of no significant variation in strategies and no way of correcting that with overtaking. The timing of one of three VSC-triggering incidents obliged pretty much the whole field to make the inters-to-slicks change at the same time.
Even the late enabling of DRS which had been absent for the first 40-odd laps made no difference to the overtaking problem. A spectacular floodlit night time parade of savagely fast cars through the neon-backlit city streets, a highly impressive victory drive, but not really much of a race.
The night began to go well for Perez as the big downpour arrived a couple of hours before the scheduled 8pm start, later amended to 9.05pm. The rain had stopped by then, the track hazardous in parts (Turns 7, 17 and 21 in particular), but generally OK for inters, which everyone started on. Even the pitlane-starting Mercedes of George Russell who, after a troubled qualifying, took a power unit change. His day wouldn't really progress much from there.
Leclerc's initial getaway was good but on that trajectory was a patch of asphalt slightly damper than that surrounding it and as his rear wheels found it they spooled up into wheelspin and in that moment the blue and yellow of Perez – who, like Leclerc, had started in second gear to minimise initial wheelspin – flashed past on his inside with enough extra momentum that he was cleanly into the lead.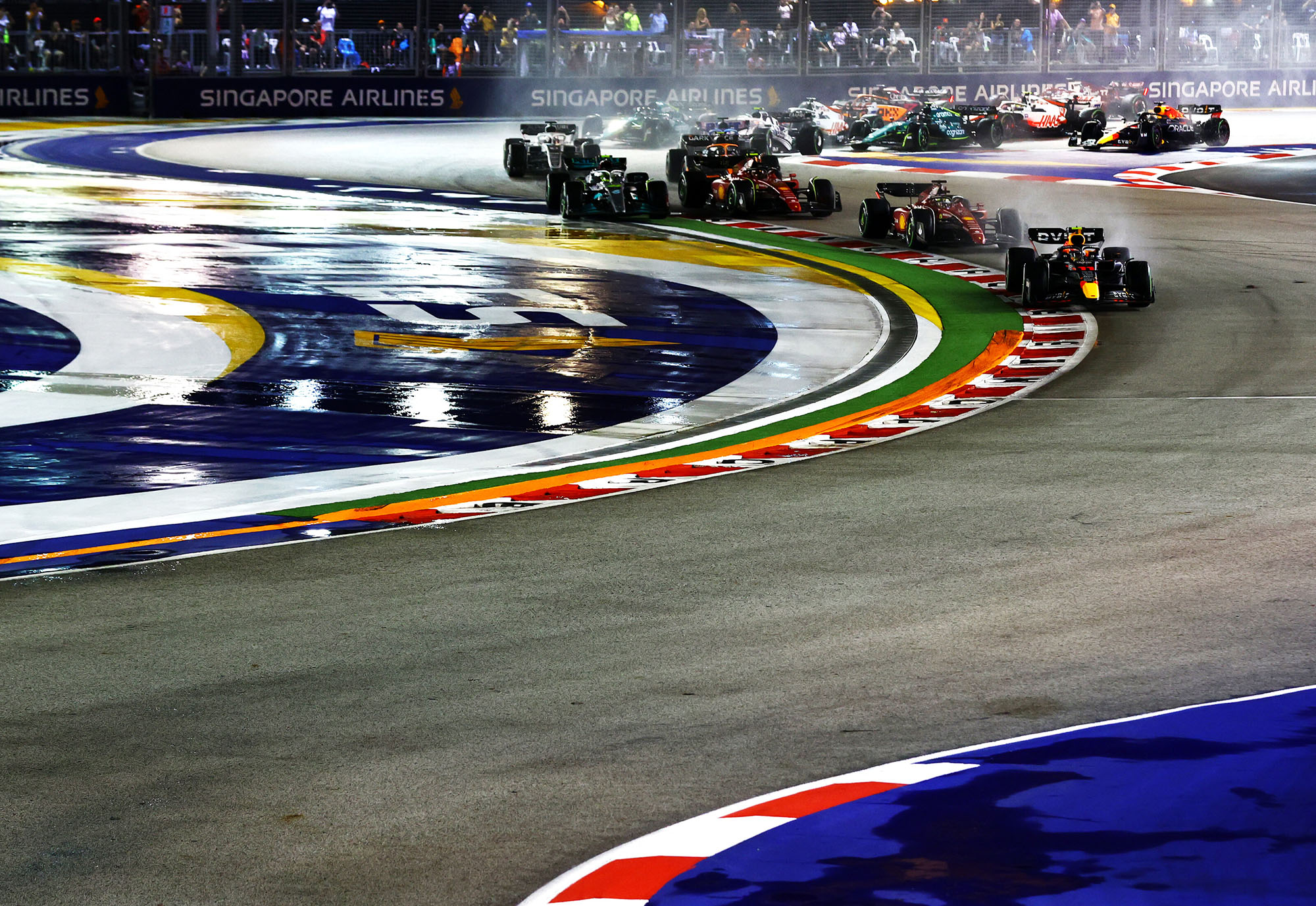 Hamilton was slightly ahead of Sainz for third but on the more vulnerable outside into Turn 1 and as they rubbed wheels so the Mercedes was forced onto the run-off area, through the puddles, destroying what little tyre temperature it had managed to generate on the formation lap.
From there he wasn't initially even as fast as the troubled Sainz (who was around 1s per lap off Perez/Leclerc), given the reluctance of the Mercedes front tyres to rebuild temperature. Hamilton was extra irritated at this because he'd wanted to start on used inters rather than the new ones which had been fitted. He feels the used rubber builds up its grip more quickly. But the only used set available had done a multi-lap run in qualifying and the concern was he'd be swamped off the grid on that set. Once onto slicks later, he was clearly being held up by Sainz.
Norris made a great start into fifth, passing the Alpine of Fernando Alonso who in turn muscled out Pierre Gasly's AlphaTauri.
Verstappen's start was terrible, the Red Bull going into anti-stall, dropping him from eighth to 11th. But in these early laps, with everyone's tyres still cold and the difference in grip between online and offline at its smallest, he was able to do some of the race's only overtaking – picking off Kevin Magnussen (with a bit of contact), Lance Stroll and Yuki Tsunoda in quick succession. Thereafter, things became more difficult as he got stuck behind Sebastian Vettel.
The first safety car, coming as early as lap eight (for a collision triggered by Nicholas Latifi squeezing Guanyu Zhou into the wall), wasn't really significant in the shaping of the race. The track was nowhere near ready for slicks yet and wouldn't be for a long time.
But Perez, in preparing for the restart, allowed the safety car to get more than 10 car lengths away. He would later be given a reprimand for this incident.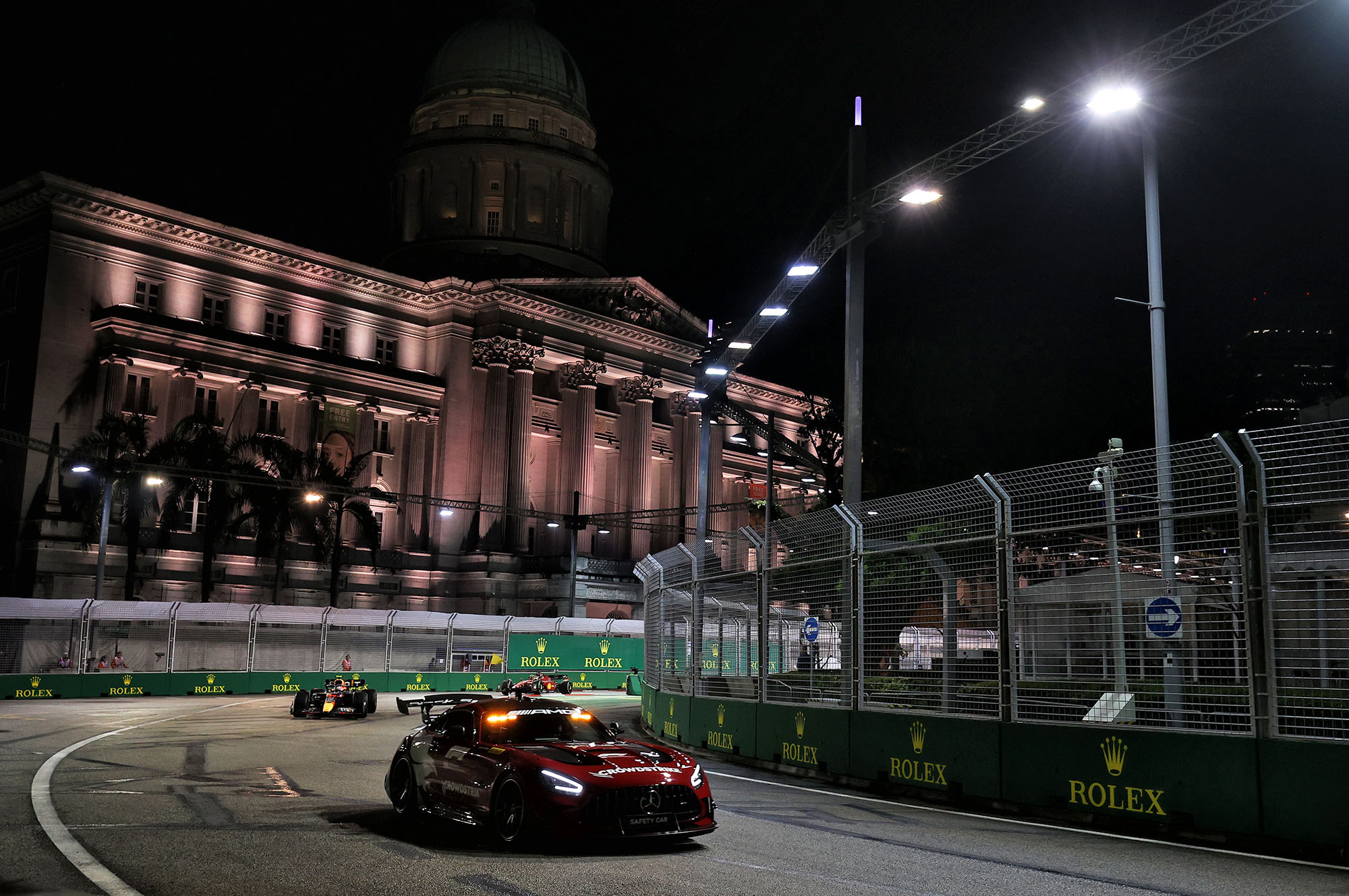 The cooling of everyone's tyres allowed Verstappen to make up a couple more places (in one lap) on Vettel and Gasly. Thereafter he was thwarted once more, this time behind Fernando Alonso.
In the few laps before the first safety car Sainz had fallen almost 8s adrift of Perez and Leclerc.
"I never really got into a rhythm in the wet and couldn't challenge the top two guys because I was always struggling a bit more with the rear," said Sainz. "So, in the end, in these conditions, when you don't have that extra bit of confidence…"
Even though the safety car reset that, he was no quicker than before upon the resumption of racing and was now holding up Hamilton.
Perez and Leclerc renewed their battle, the Ferrari perhaps a little quicker to put temperature into its tyres, but not enough to create any overtaking opportunities as Perez just soaked up the pressure in a situation where it was especially easy to make a race-losing error.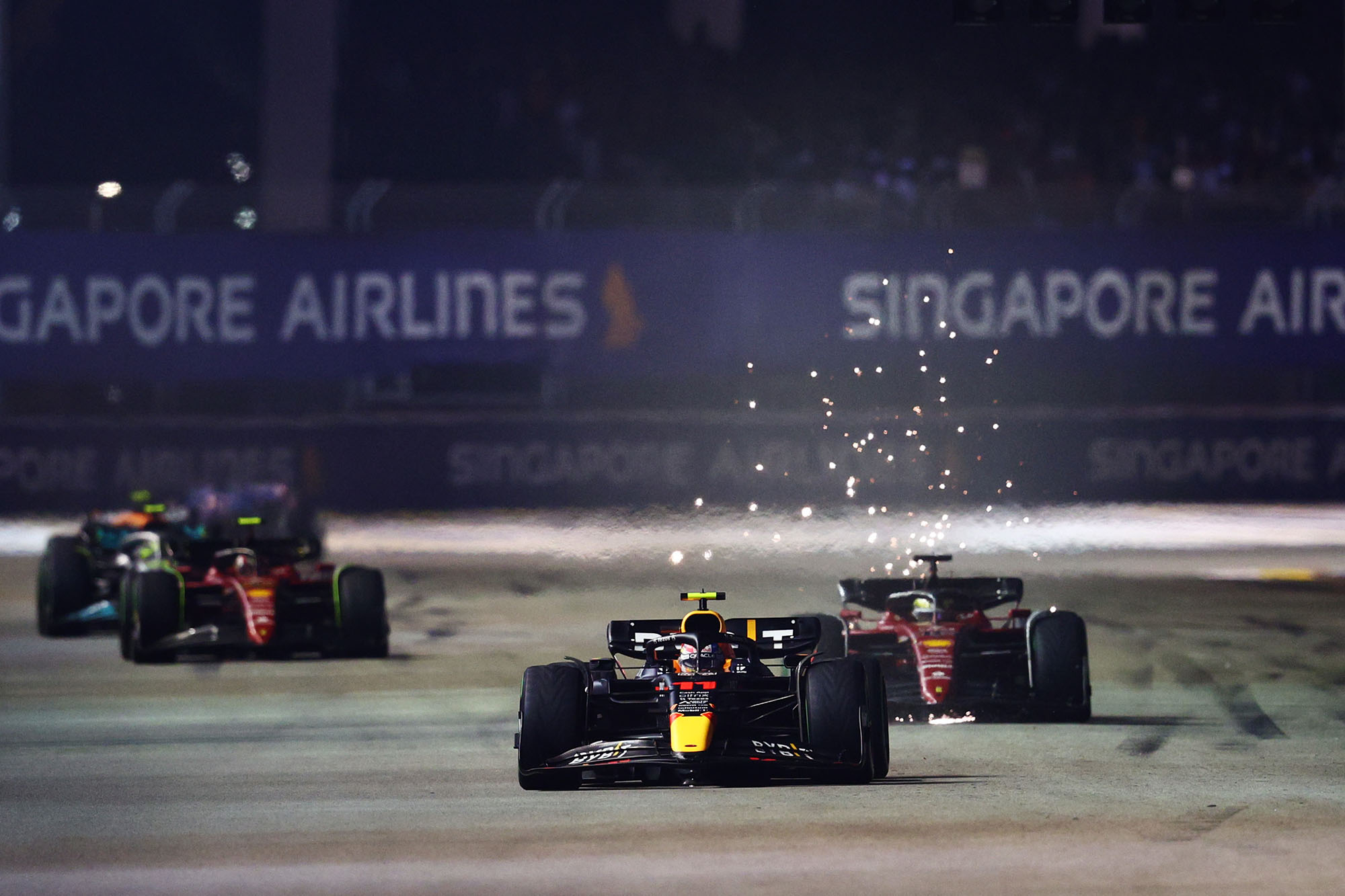 Even though many were now looking for damp patches on the straight to cool the inters, the patchiness of where the track was wet and drying continued to make slicks unfeasible. Even as Alonso pulled his dead-engined Alpine off track on the 20th lap (moving Verstappen up to sixth), it still wasn't ready for the slicks.
The problem was that while parts of the track were almost dry, other sections were still extremely slippery. The part-resurfacing of the track seemed to exacerbate this difference, with the old worn asphalt much less grippy than the new.
It was Mercedes which made the first play for the slicks – with Russell, who had made relatively little progress and been involved in a couple of scrapes. He was brought in under the Alonso VSC, for the 10s saving that brought over a conventional stop.
But he proceeded to lose more than that on a track that still refused to offer up a suitable surface for a slick. His sector times were however being closely watched by everyone as he effectively became the guinea pig who prevented anyone else from trying the move prematurely.
That was just yet another factor pressing this race towards uniformity of strategy. There was another VSC for Alex Albon hitting the barrier and leaving the Williams front wing on track and another a couple of laps later as Esteban Ocon's Alpine blew its motor in a big way. This was lap 28.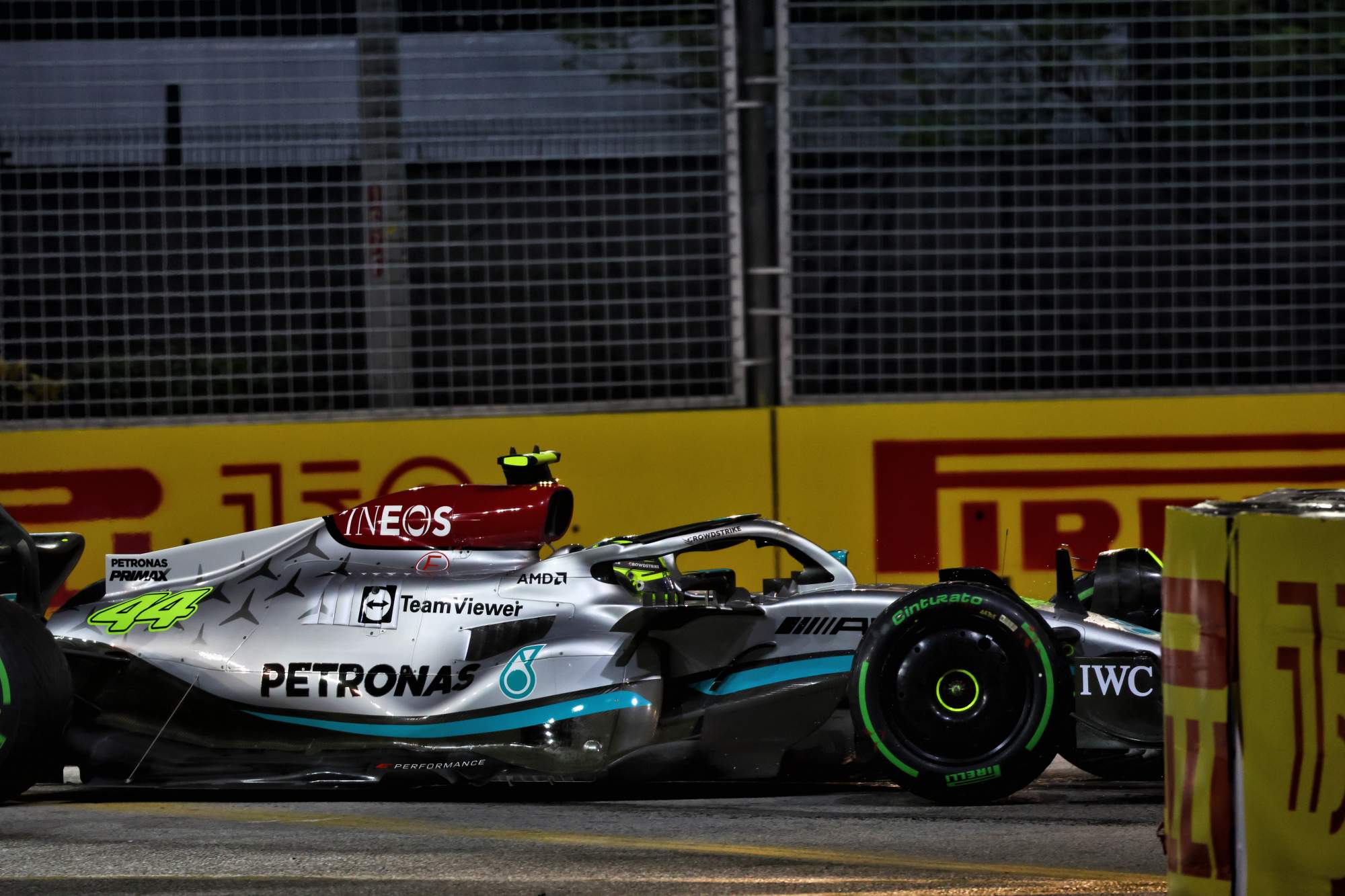 Shortly after that VSC was rescinded Hamilton went straight on into the Turn 7 barriers, losing a place to Norris before he could rejoin with front wing damage just ahead of Verstappen. This was just about the same time as team-mate Russell had set the fastest lap of the race so far, as his slicks finally came in.
Conventionally, this would have brought everyone piling into the pits. But actually only AlphaTauri did so initially – and it was too early. Even though the track was ready for slicks, an old inter would still be capable of a faster lap than a new cold set of slicks.
If you were behind, trying to find a way past the car ahead – like Leclerc with Perez – it was worth a try and the Ferrari came in on lap 34. Leclerc ran past his marks, causing a couple of seconds of delay, but even without that he wouldn't have undercut past Perez who was way quicker on his inters in-lap than Leclerc on his slick out-lap. Hamilton came in for his new wing and a set of slicks next lap.
Tsunoda on his cold slicks then crashed out at Turn 10 and we had the second full safety car of the race. By this time the two McLarens – with Norris almost half a lap ahead of Daniel Ricciardo – were the only two who hadn't made the change to slicks. It was a smart move and the cheap pitstops they took advantage of jumped Ricciardo past most of the midfield and up to sixth, though Norris remained fourth. Staying out longer than your rival worked every time – even further back, where Stroll leapfrogged past Aston Martin team-mate Vettel.
Perez was warned about his distance to the safety car again on the restart lap but he remained ahead of the attacking Leclerc. Verstappen sensed opportunity at the restart and fired a move down the inside of Norris. The Red Bull, on tyres not yet up to pressure, grounded out over a bump, locking the wheels and sending him up the escape road. With the field still compressed from the safety car, Verstappen rejoined last after stopping to replace his damaged tyres. Norris had essentially suckered him into an over-ambitious move.
In these early post-safety car laps Leclerc was all over Perez as the Ferrari again seemed to fire up its tyres quicker than the Red Bull. Perez had a couple of ragged moments as he desperately sought to stay ahead.
It was the phase where the outcome of the race may have changed, with Leclerc using initially-grippier rubber to pile on the pressure. But as Checo's tyres came up to temperature, it was actually Leclerc who had the fishtailing moment, as his fronts again began to get too hot – and Perez was no longer under threat.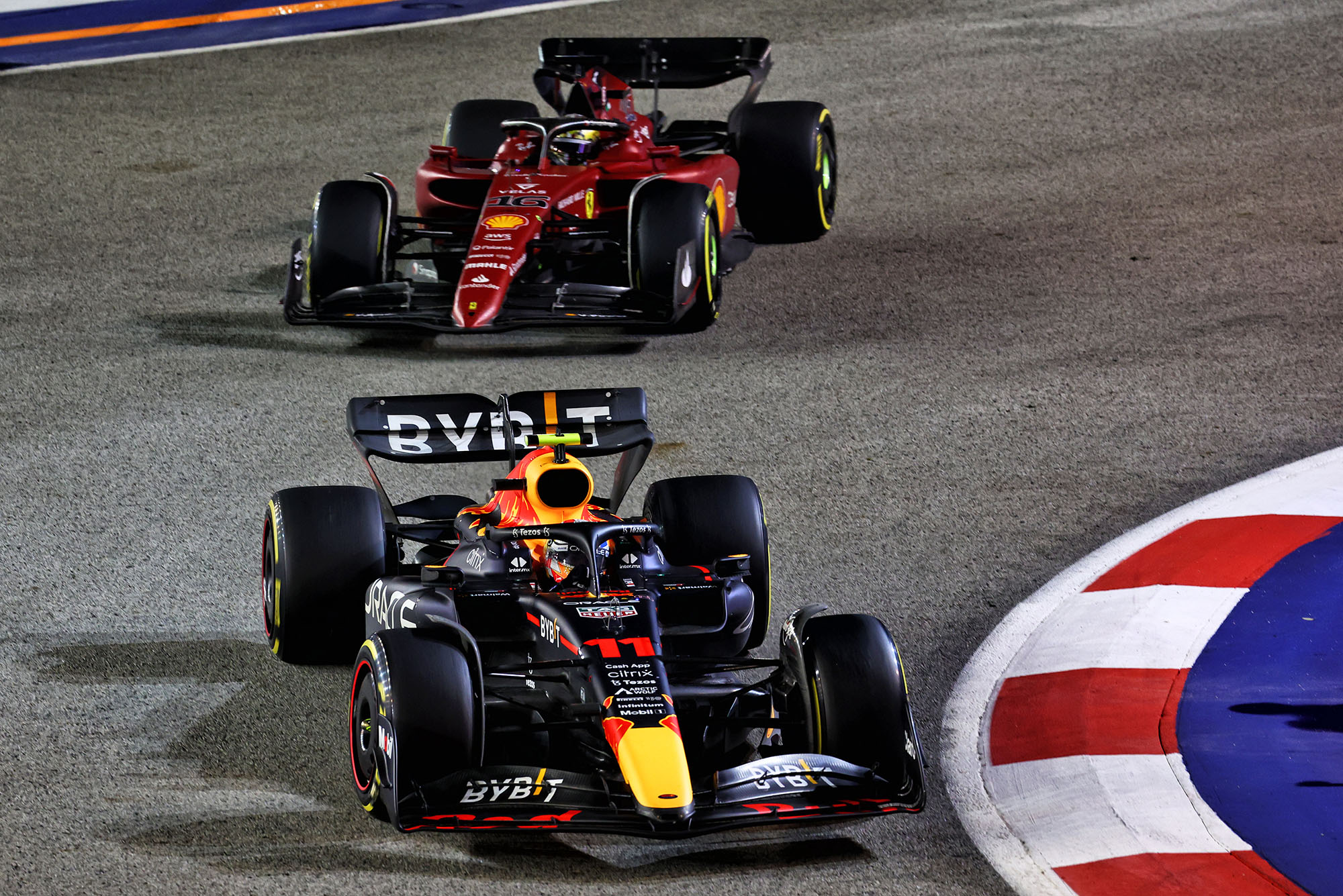 Not on track anyway. He was under investigation for the safety car restarts though and with the possibility of a time penalty looming he was instructed to try to pull out a 5s gap or more.
Leclerc was told to try to stay within less than 5s. But the Red Bull now had the faster tyres and as they both pushed as hard as they dared, Perez was able to get the required gap even as the two-hour clock counted down.
In response to Perez's fastest race lap, Mercedes brought Russell in from well outside the points for a new set of soft tyres. He would use these to deprive Perez of the extra fastest lap point.
Hamilton's recovery drive had brought him onto the tail of the sixth and seventh placed Aston Martins of Stroll and Vettel but he could find no way by.
Before much longer the recovering Verstappen was among them. His pace when he'd had clear air indicated he would likely have dominated this race had he started from the front. Now he was back into the points and pressuring Hamilton for more. Lewis took an ill-advised dive on Vettel, locked up and ran wide, allowing Verstappen to nip past and subsequently take Vettel's eighth too. But seventh wasn't what Verstappen had in mind for his Singapore weekend.
But if Max hits trouble it's Perez's job to be there to pick up the pieces and on this occasion he'd done so to superb effect. The Ferrari drivers filled out the podium, with Norris over-delivering in fourth, having even been snapping at Sainz's heels for a time.
Ricciardo's fifth was rather more luck-enhanced though he was able to stay out of Stroll's reaches. Taking the final point one place behind Hamilton, disappointed with being called in too early, was Gasly.