With Zandvoort representing a more conventional Formula 1 track after the outlier of Spa, we seem to be back to a more conventional 2022 competitive order, now that the cars are carrying a more normal wing level.
That said, the Ferrari 1-2 in FP2 flattered it, given Max Verstappen's loss of much of FP1 to a gearbox problem and how that impacted his run programme in FP2. But when he was out at the same time Verstappen looked at least as quick, with a notable advantage in the twists of the middle sector.
Mercedes also looked in a much more potent form than at Spa, with Lewis Hamilton lapping within half-a-tenth of the Ferraris and the W13 showing good long-run pace too.
Verstappen's FP1 stoppage meant Red Bull was initially relying only on Sergio Perez's runs on the hard tyre and the team adjusted the car around that – only to find when it switched to the mediums and softs that it made the hard tyre seem more uncompetitive than it actually was. This meant it had adjusted the car in the wrong direction, leaving it a step behind heading into FP2 with an estimated set-up that wasn't ideal. The suspicion is that the car will prove a much more potent force on Saturday. But how much more?
---
Long-run FP2 averages
| | | |
| --- | --- | --- |
| Driver | Soft | Medium |
| Hamilton | 1m17.220s (2 laps) | |
| Sainz | 1m17.225s (9 laps) | |
| Stroll | 1m17.245s (6 laps) | |
| Verstappen | 1m 17.254 (5 laps) | |
| Leclerc | | 1m 17.384 (3 laps) |
| Russell | | 1m 17.499 (8 laps) |
| Perez | | 1m 17.532 (2 laps) |
| Norris | | 1m 17.687s (3 laps) |
---
The different run programmes combined with a red flag delay for a Yuki Tsunoda off meant that the long runs were wildly varied in length between drivers, so are not necessarily a great guide. But there was some long-running done in FP1 too – though, as recounted, Verstappen was missing from that.
But the slightly blurred picture that comes through from looking at both sessions is that the Ferrari, Mercedes and Red Bull look well-matched, assuming that Red Bull does not move the goalposts once it has sorted its set-up.
It may even be the most competitive Friday we have seen from Mercedes this year (though let's be careful about that as it looked pretty good at this stage in Miami but it didn't translate to Saturday and Sunday). The lower ride height demanded by this circuit compared to Spa puts the Mercedes in a much happier place with its aero map.
Nonetheless, George Russell was very upbeat about the whole thing, saying, "the car is working better here [than at Spa]. On single-lap pace, McLaren and Aston look strong but that's not our strong point and on race pace, it will come to us [and away from them]. But we must be sure we are ahead of them on the grid because we don't want to be losing time to them in the race."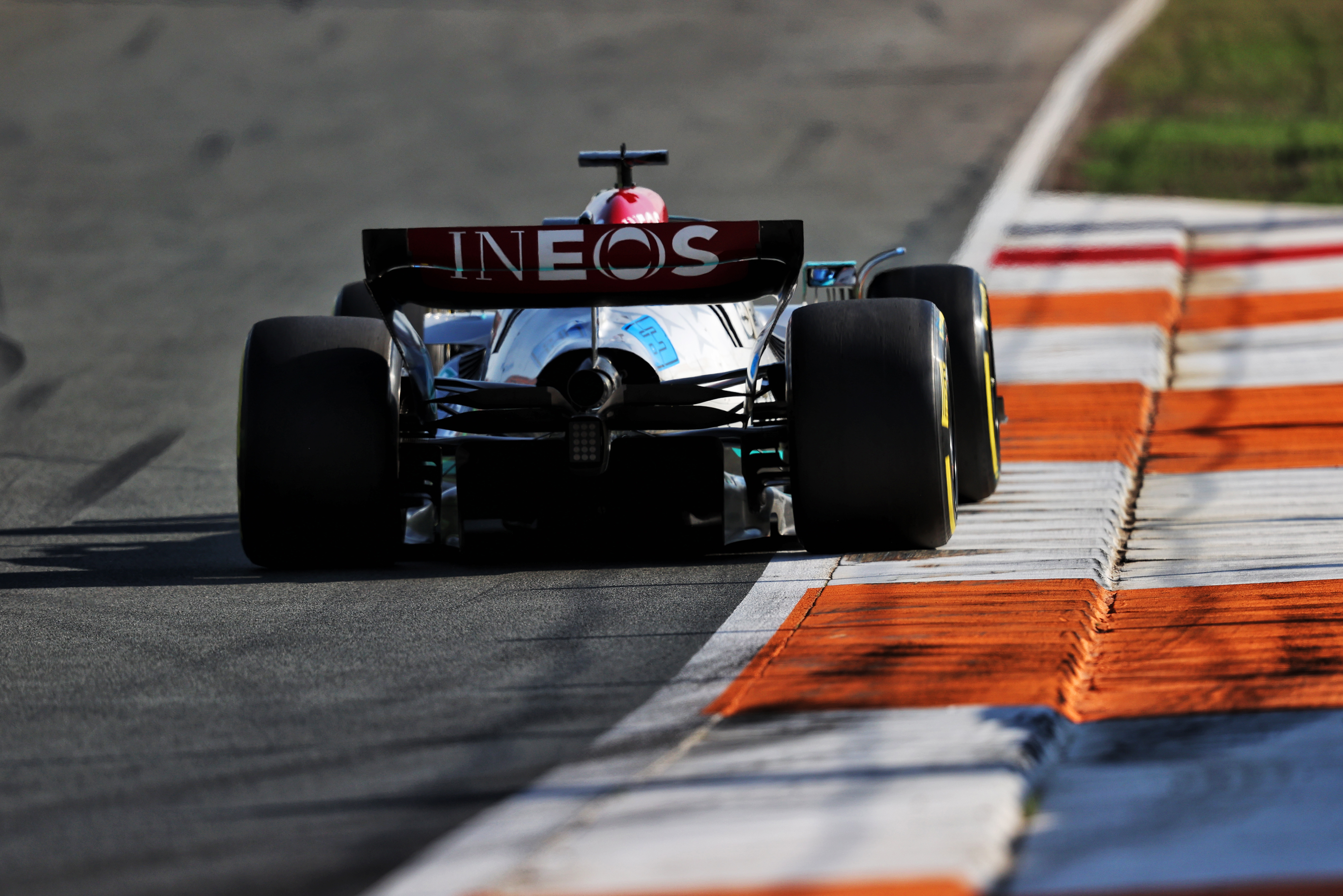 Asked if he thought it feasible he could repeat his pole position of Hungary, Russell replied: "I think in Hungary our rivals didn't get it right on the day. I'm not sure we can have a repeat here. But on genuine performance, I think we are closer than we have been for a long time. It's incredible how much grip you can get from the banking here. You throw the car into Turn 3 and it just grips."
"This is a lot better than my Sunday last week," said his team-mate Lewis Hamilton, "and it's a lot better than Friday last weekend. It's been a decent start to the weekend, we've landed in a much sweeter spot in the car, just being that it's a much different track. It's a work in progress.
"We're not that far behind, which is great to see, and the car doesn't feel that bad. We've just got to keep chipping away. There's probably not a huge amount more performance-wise but we keep pushing."
Hamilton made bigger changes between the sessions than Russell and was still making them through FP2. This is why he didn't get out until late and why therefore he got no more than two laps into a 'long' run. Hence his position at the head of that table is not to be taken too seriously.
The intriguing one here is Lance Stroll's Aston Martin, third-fastest in the long runs and in the top six on single-lap pace. But we have seen several examples of flattering Aston Martin speed on Fridays throughout the season, enough to suggest that its base fuel weight may be lower than that of the front runners.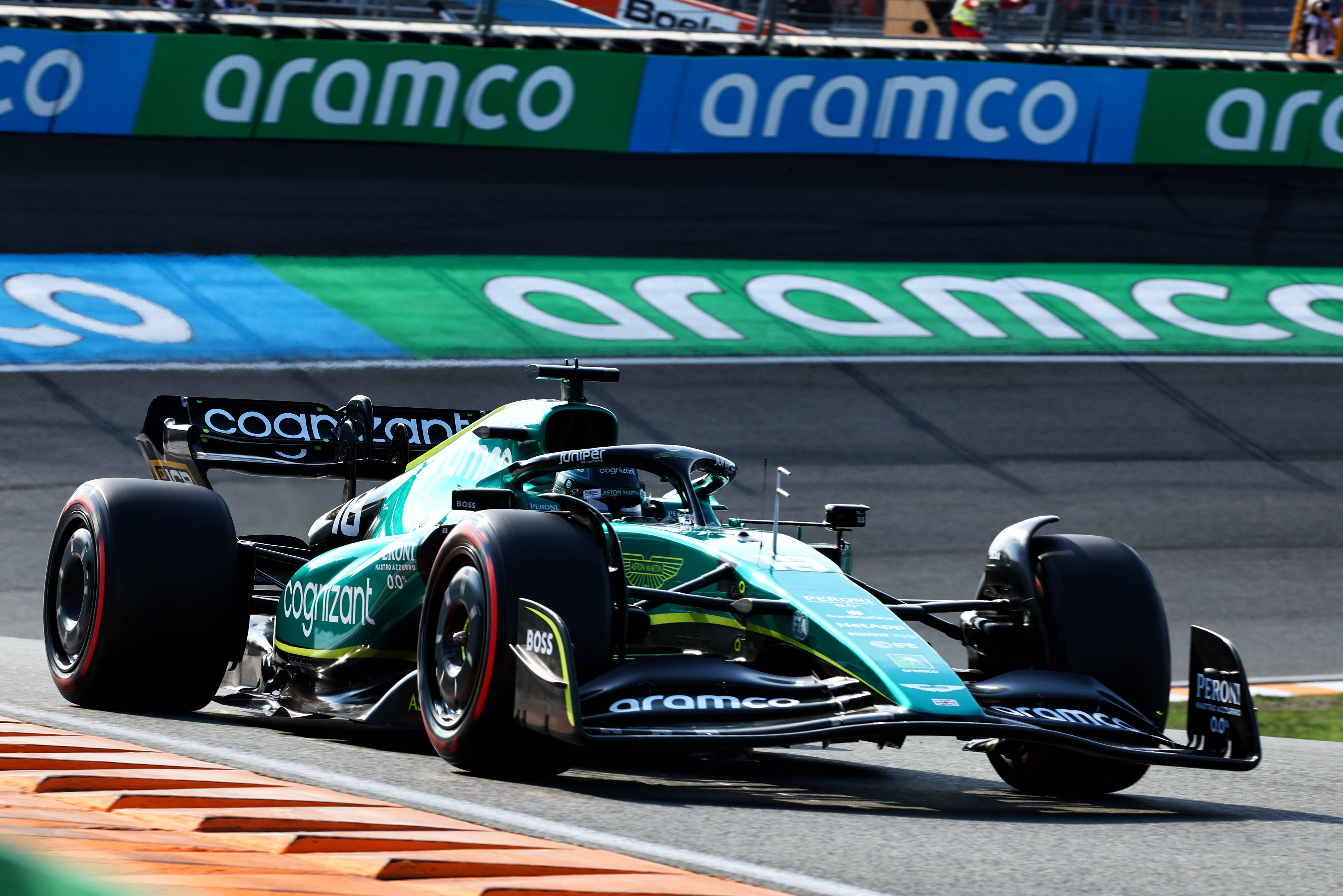 Although the soft C3 tyre was quite high-maintenance over a single lap and did suffer significant degradation over Carlos Sainz's 10-lap run, it still gave a respectable average and given that the race is expected to be an optimum two-stop, only those attempting to one-stop are likely to be tempted to use the C1 hard. Up front, expect a two-stop, soft/medium combination.  
Unless Verstappen is about to completely change the competitive picture with a re-fettled Red Bull on Saturday, we look set for a highly competitive race, with the proviso that actual overtaking is looking set to remain difficult here despite the extension of the DRS zone, which now begins at the final corner.
Practice 2 Results
| Pos | Name | Car | Best Time | Gap Leader |
| --- | --- | --- | --- | --- |
| 1 | Charles Leclerc | Ferrari | 1m12.345s | |
| 2 | Carlos Sainz Jr. | Ferrari | 1m12.349s | +0.004s |
| 3 | Lewis Hamilton | Mercedes | 1m12.417s | +0.072s |
| 4 | Lando Norris | McLaren-Mercedes | 1m12.448s | +0.103s |
| 5 | George Russell | Mercedes | 1m12.655s | +0.31s |
| 6 | Lance Stroll | Aston Martin-Mercedes | 1m12.746s | +0.401s |
| 7 | Fernando Alonso | Alpine-Renault | 1m12.848s | +0.503s |
| 8 | Max Verstappen | Red Bull | 1m13.042s | +0.697s |
| 9 | Esteban Ocon | Alpine-Renault | 1m13.305s | +0.96s |
| 10 | Daniel Ricciardo | McLaren-Mercedes | 1m13.362s | +1.017s |
| 11 | Yuki Tsunoda | AlphaTauri-Red Bull | 1m13.419s | +1.074s |
| 12 | Sergio Pérez | Red Bull | 1m13.493s | +1.148s |
| 13 | Mick Schumacher | Haas-Ferrari | 1m13.604s | +1.259s |
| 14 | Sebastian Vettel | Aston Martin-Mercedes | 1m13.611s | +1.266s |
| 15 | Guanyu Zhou | Alfa Romeo-Ferrari | 1m13.624s | +1.279s |
| 16 | Pierre Gasly | AlphaTauri-Red Bull | 1m13.666s | +1.321s |
| 17 | Alex Albon | Williams-Mercedes | 1m13.837s | +1.492s |
| 18 | Valtteri Bottas | Alfa Romeo-Ferrari | 1m14.167s | +1.822s |
| 19 | Kevin Magnussen | Haas-Ferrari | 1m14.282s | +1.937s |
| 20 | Nicholas Latifi | Williams-Mercedes | 1m14.797s | +2.452s |