Amid the chaos of Monaco, Sergio Perez delivered a Formula 1 victory drive of beauty and Red Bull ambushed Ferrari, with a bit of help from Nicholas Latifi.
The polesitting and early-leading Charles Leclerc was ambushed by Perez's early switch to intermediates on lap 16, Ferrari reacted with the same switch but – drastically underestimating how much quicker the inters were – waited for a lap too long to do so and lost position to Checo. That was Checo's first scalp.
Leclerc had just lost the race but still Ferrari could win it, for Carlos Sainz was missing that inters phase out, leading the race and needing – just like Perez behind him – to do only one more stop.
Laps 21/22. The Red Bulls' inters were really working well just as Sainz on his slick-tyred out-lap was delayed by Latifi. In that moment Ferrari definitively lost this race as Perez overcut Sainz.
At much the same time Leclerc, having lost a couple of seconds in the pits being stacked behind Sainz, was over-cut by Max Verstappen. Having been dropped down from first to third by Ferrari's first error of judgement, Leclerc had now lost another place.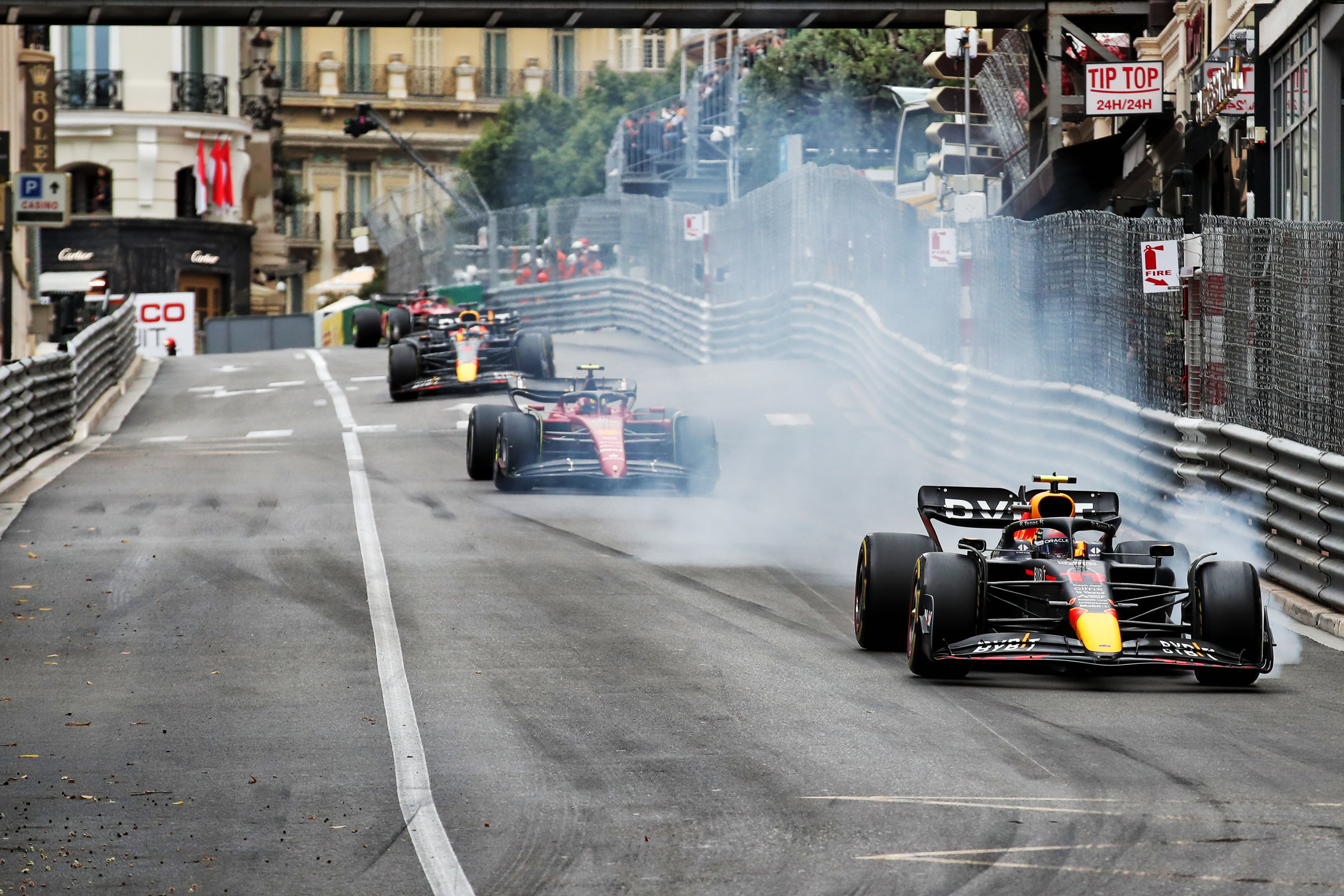 Yes, Perez was handed a bit of a present by Ferrari's travails. But he made fantastic use of that present, with his great pace on the inters and a super-fast in-lap at the crucial time.
Once lodged in the lead, and with no more stops to come in this time-limited race, there was no way he was surrendering it. Not with Sainz between him and Verstappen, at least.
All he had to do from there was ensure his medium compound tyres got him to the end. Because this is Checo Perez the tyre whisperer, he wasn't going to have any difficulty in doing that.
As it happened, a later red flag and rolling restart meant he had to fend off Sainz quite defensively. But again, there are few better in defence. In a car in which he's far happier than the pointy Red Bull of last year and in which he can therefore qualify respectably, he's in formidable form.
When it's all traced back, another thing which put Perez in place to win this race was his crash in the final seconds of qualifying. Without that, it would likely have been Verstappen who started as the lead Red Bull and thus best in place to pounce upon Ferrari's race day difficulties.
Leclerc, absolutely untouchable in qualifying, could barely believe how he could've gone from the lead to fourth in two closely-spaced stops. How could it have come to this? With the Ferrari the fastest thing in the place and Leclerc easily leading the early stages, with the protective barrier of Sainz between him and the Red Bull pursuers.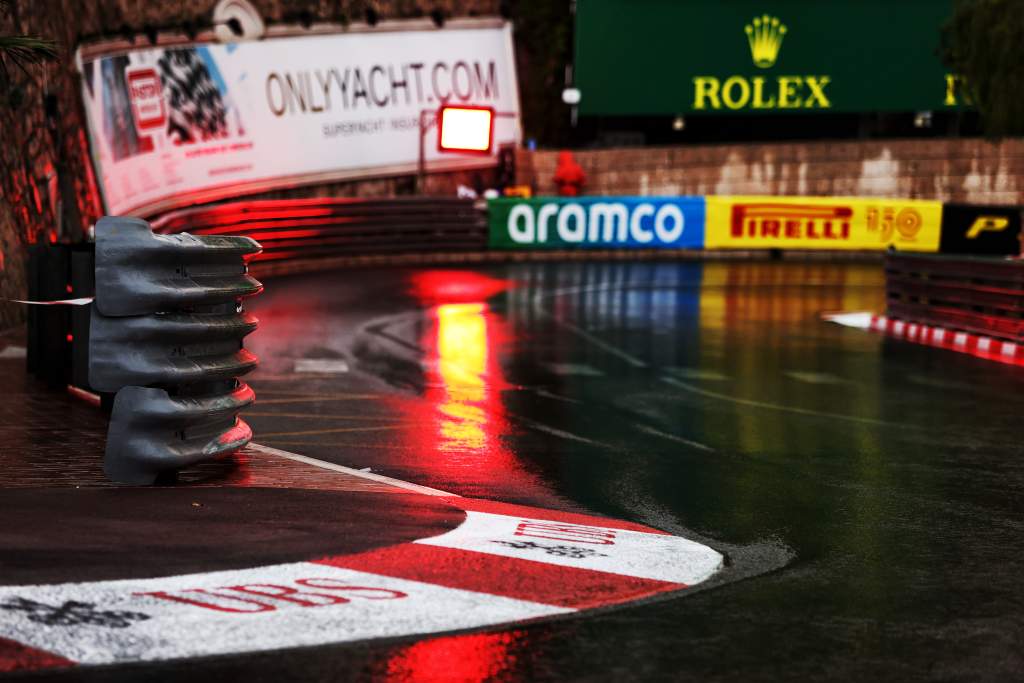 Well, first of all that big black rain cloud which came from the south and spilled down the mountain with mischievous timing, delayed the start and randomised everything.
It meant no longer would the crucial factor of the race be track position, but rather the timing of the tyre switchovers as the track dried. Without that cloud, Leclerc had been perfectly placed to blitz this race from the front. Even though it initially looked like he was set to do the same thing despite the rain's chaos, tricky decisions lay ahead.
Ironically, part of that randomising was Sainz. He had insisted on missing out the middleman intermediate tyre and guided the team into leaving him out on the wets long enough to get straight onto slicks.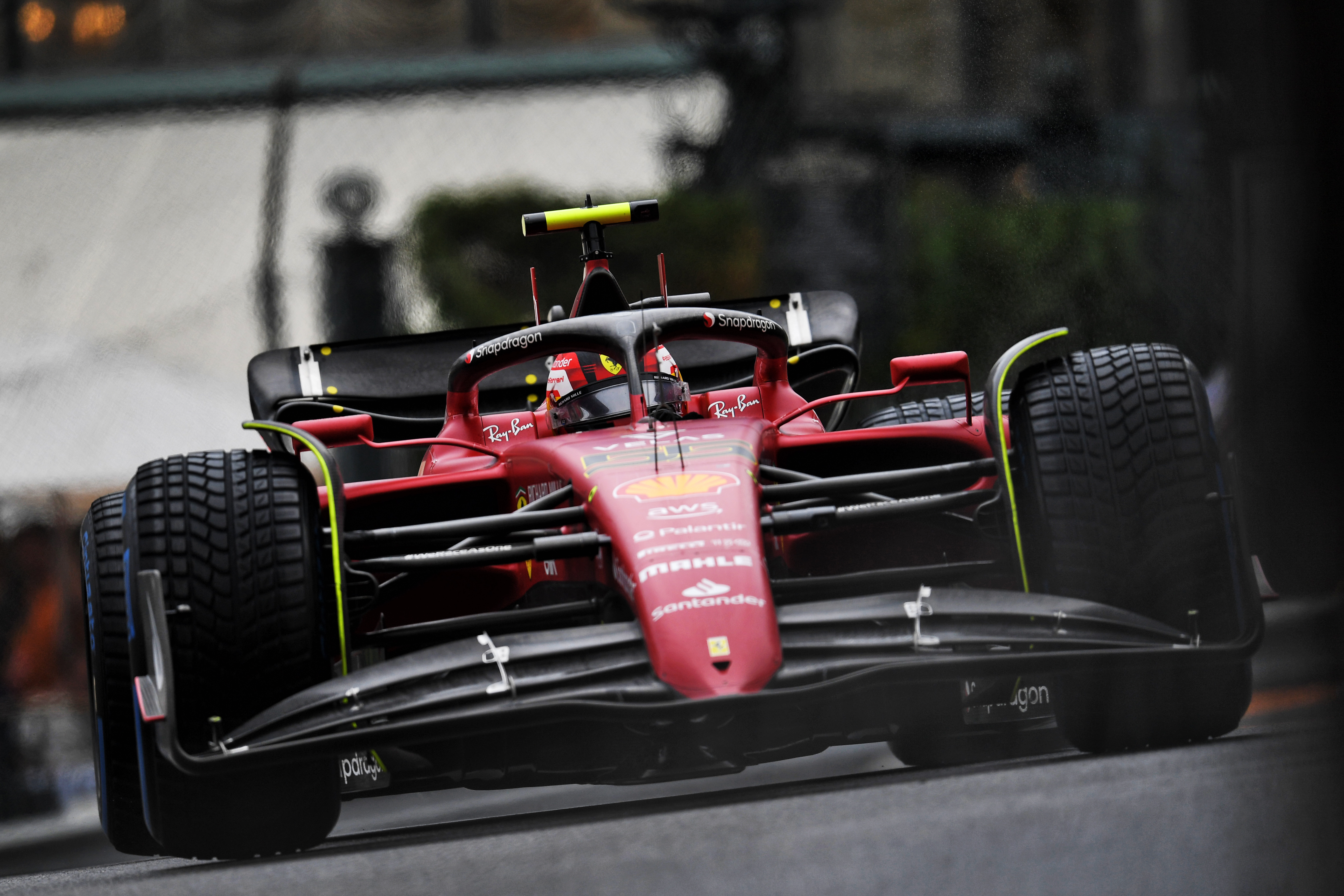 The inters were by far the fastest tyres in the race's early stages but the field had been obliged to fit full-wets on account of starting behind the safety car. But it meant the time difference between a) going wets-inters-slicks or b) a longer stint on the wets and straight onto slicks was actually very close.
With option a) the inter was sufficiently faster that it just about bought you the time of the extra pitstop within about five laps. Leclerc and the Red Bulls were on option a), Sainz on option b).
"I started to see the dry line and started to realise that it was going to go straight into slicks," Sainz said. "I think we did the right call, as we were leading the race basically."
It was the right call for him. But it kind of jumbled the Ferrari team plan in the crucial moments of uncertainty. Having already lost Leclerc a place to Perez (and Sainz) at the first stops, Ferrari lost him another at the second.
Sainz's wets were pretty much finished as he made his in-lap. Which meant the following Leclerc, on much fresher and faster inters, was catching him fast.
Ferrari had figured it had time to service both cars on the same lap without having to delay Leclerc. But so bad were Sainz's wet tyres on their last lap, that was no longer the case. By the time they realised Leclerc would need be to be stacked, it was too late.
"Stay out, stay out, stay out," screamed Xavier Padros on the radio. Had he shouted it a few seconds earlier, another fast lap on the recently-fitted inters would have at least prevented Leclerc from losing third. He was in hindsight brought in a lap too late first time and a lap too early second time.
Red Bull called it beautifully. Time was of the essence, the right call had to be made quickly – and the out-laps had to be super-fast. Amid that high-intensity challenge, both Perez and Verstappen were suspected of having crossed the yellow pit lane exit line. Which put their results in jeopardy.
That's the bare bones. The background was the avalanche of chaos the cloud triggered. Unbelievable chaos and uncertainty which caused the start to be delayed by almost an hour, confusion about which tyres could be used and how much time there was to fit them, mechanics falling over, tyres being spilt off trolleys.
Then a two-lap reconnaissance behind the safety car – which didn't count as part of the race – before the rain's increasing intensity brought out the red flags. Saturated overalls, mechanics jumping between puddles to attend to cars as drivers changed to their spare dry suits.
Eventually, a rolling start. The second reds came 27 laps into the race for Mick Schumacher's heavy crash through the Swimming Pool section.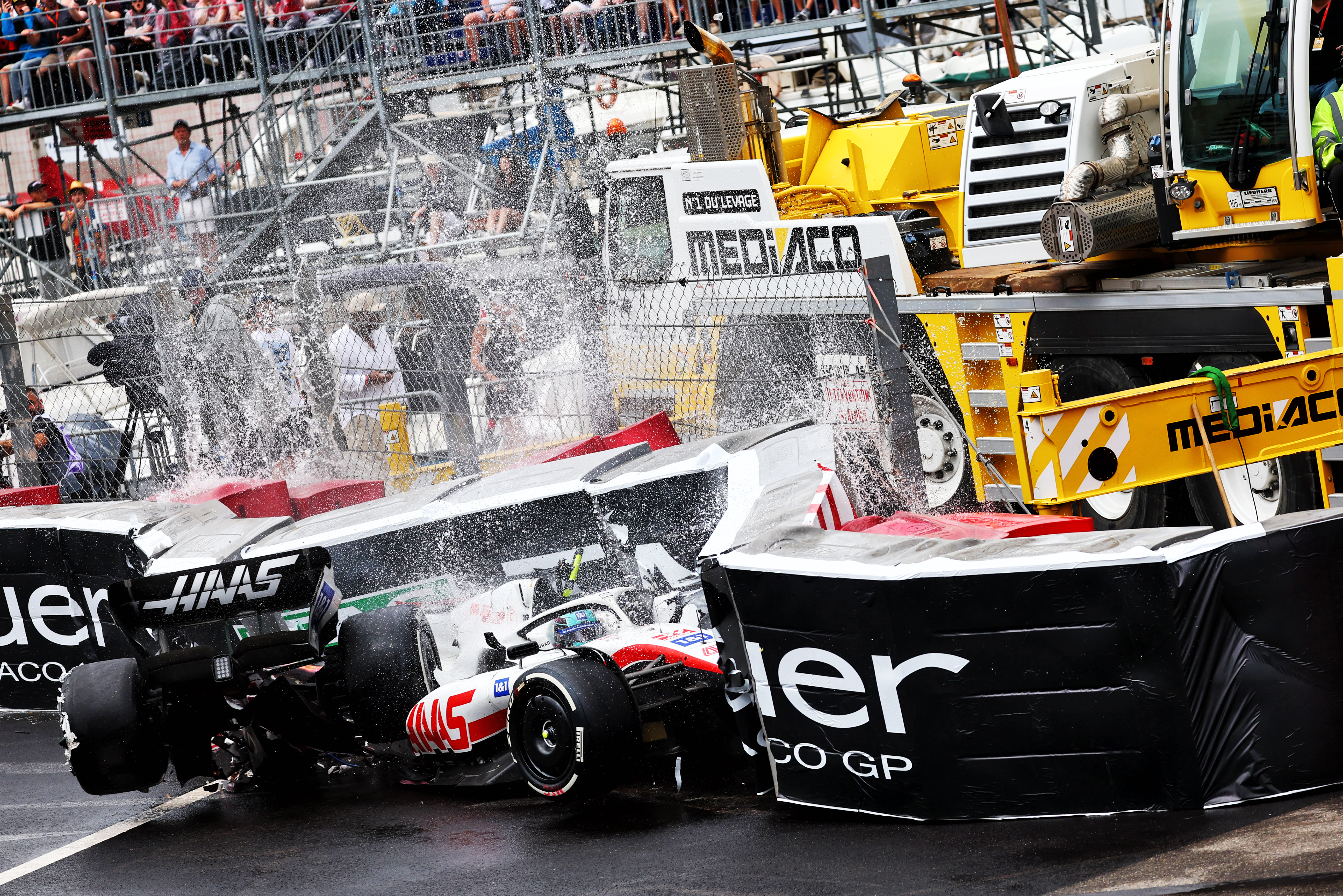 By the time the barriers were repaired there was time for what turned out to be only 37 laps (13 short of scheduled) before the two-hour limit. The Red Bulls – with worse tyre warm-up than the Ferraris – went onto mediums, the Ferraris onto hards.
As with the original start, it was a rolling one, as the field followed the safety car for a few laps. The intention had been for the restart to be a standing one. But a power supply problem meant it wasn't certain that the gantry lights would work.
Despite the difference in tyre compounds and warm-up characteristics of the two types of car, there was no change of order among the leading quartet. The Ferraris' hards were working better in the late stages than the graining mediums on the Red Bulls, but not by enough to be able to pass around this place.
Sainz had a couple of looks at Perez into the chicane, but always had Verstappen hovering so couldn't try anything too radical. For most of the last few laps the four cars would be almost touching as they rounded the Hotel Hairpin.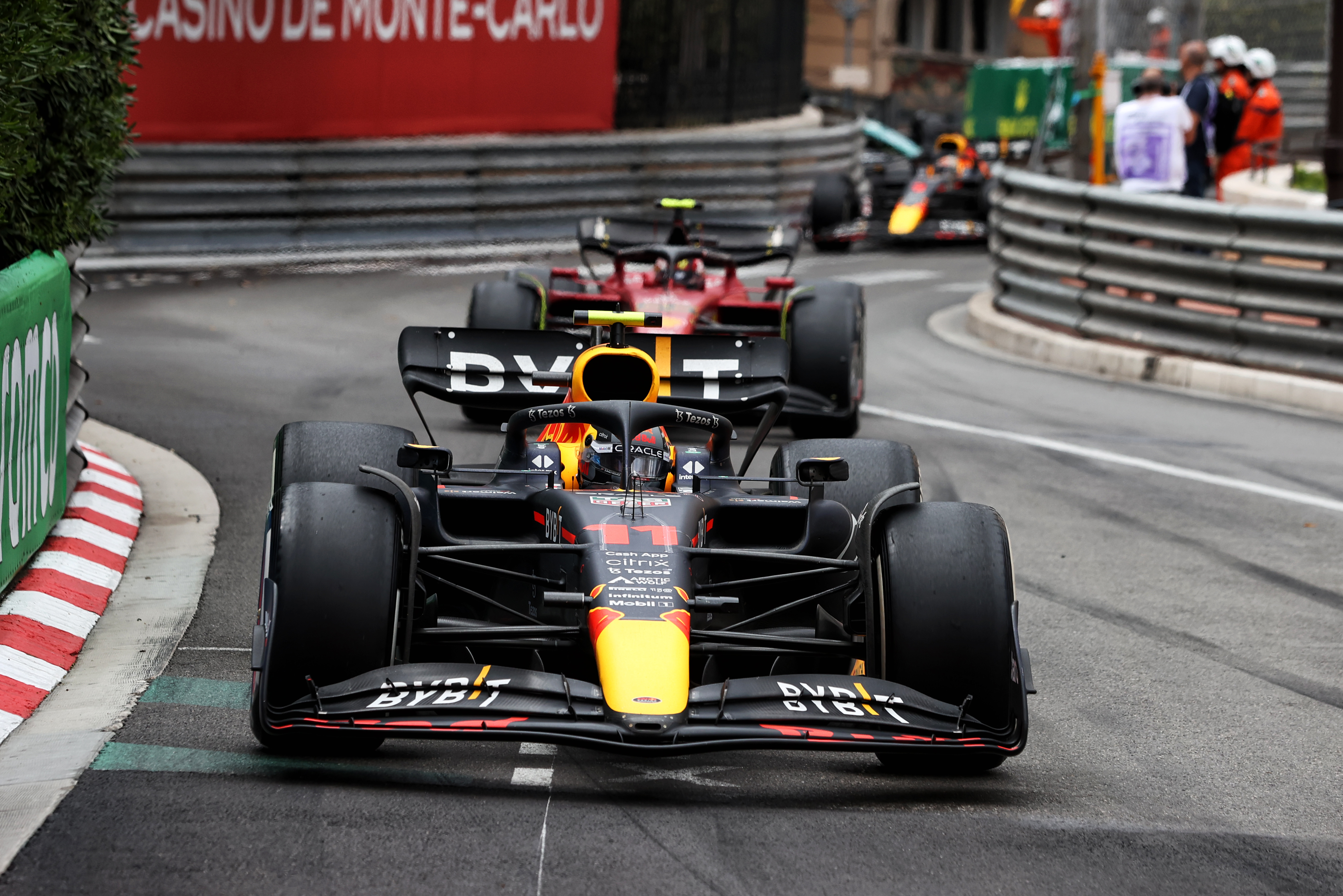 "I felt like I was not really pushing," said Checo, "then all of a sudden, I started to have a lot of understeer into Turns 3 and 4 [Massenet and Casino Square], lap after lap, and I could see that Carlos was just behind.
"And I was like, well… I still had very good traction out of [Portier], so I was still a bit comfortable with it.
"But going into the chicane I knew that it was very important to not make a mistake because if you cut the chicane then you have to be back to position. So Carlos was putting a lot of pressure."
"Checo was braking super-late," said Carlos. "I felt if I'd braked later than him I'd have taken us both off."
A long way behind them, George Russell's Mercedes only just fended off Lando Norris' McLaren for fifth. Russell's sixth-fastest qualifying time, just over 0.5s off pole, was actually a brilliant high-risk effort but still slower than Norris' better-behaved and well-driven McLaren.
Russell used the same wets-straight-to-slicks strategy as Sainz and it was successful in getting him past Norris at the stops.
But the latter made a late third stop to exchange his hards for fresh mediums with 13 laps to go. There was a huge gap behind them so Norris had got the stop for free.
Russell, who'd chosen mediums for the restart and was thus a bit marginal for range, could have done the same in response for his own free stop – but Mercedes reckoned that with the lead four so close, there was every chance of an incident before the end so wanted to be in place to pick up any pieces. One more lap and Norris could well have found a way past, such was the grip advantage he enjoyed.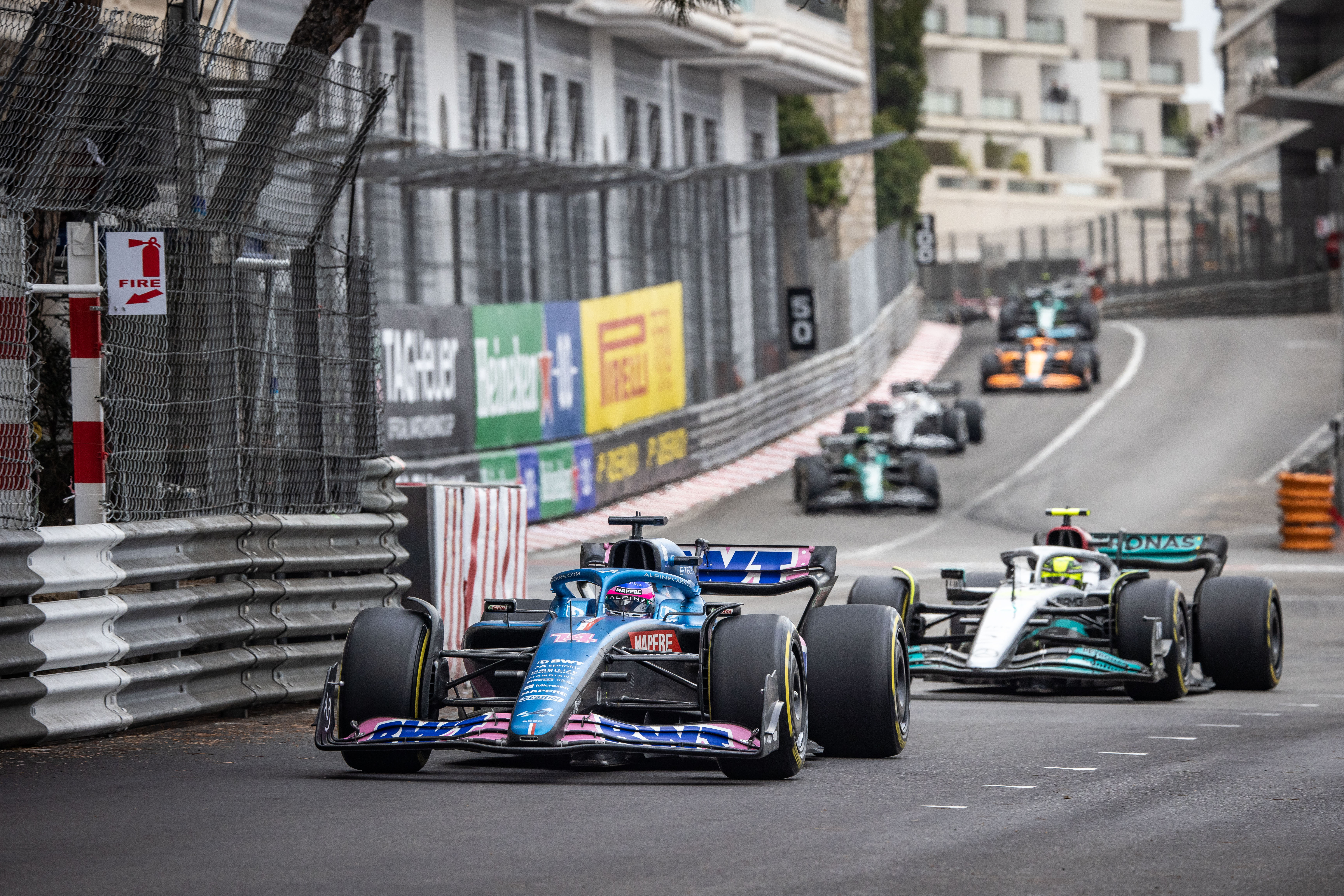 Why was there such a huge gap behind them? Fernando Alonso. After qualifying the Alpine ahead of Lewis Hamilton's bouncing Mercedes, he kept it there. Feeling that he needed the mediums for the restart, but unsure whether they would last he backed off massively – to the tune of 3s per lap or more – and just put his car in all the perfect places to thwart the Mercedes. As he is the master of doing.
There was soon a long queue compromising most of the rest of the field as Alonso resolutely stuck to his task. Maybe he was trying to back Hamilton into his team-mate Esteban Ocon. Who knows what brilliant intrigue lay in his mind? He then suddenly let rip with the fastest lap of the race so far, a full 4s faster than he'd been going – leaving Hamilton behind.
Lewis needed to have qualified better to have avoided such a frustrating Sunday but his opportunity of doing so had been thwarted by the Perez red flags.
Ocon was carrying a 5s penalty for making contact at Ste Devote with Hamilton earlier in the race as the latter tried to pass up the inside. So although he crossed the line ninth, officially he was 12th in the closely-packed group, with Valtteri Bottas's Alfa Romeo and Sebastian Vettel's Aston Martin taking the last two points places.
Perez was racing with a Pedro Rodriguez helmet. He's now won more grands prix than his hero and countryman. As he greeted team boss Christian Horner later, he seemed to say, "I signed too early, eh?" On current form, he's got a very good point.