It's a recent theme that the weather presents Formula 1 teams and drivers with a dilemma on which the outcome of the race hangs. This time the Istanbul drizzle and the way the unusual surface of the track a) retained huge grip even when damp and b) took an absolute age to dry even after it stopped raining meant those dilemmas just kept on coming almost to the end.
Valtteri Bottas wasn't really troubled by them, save for a brief moment when it was possible that might lose to a non-stopping Charles Leclerc, before the Ferrari's intermediate tyres wore down to the core and lost him a whole heap of lap time.
But Lewis Hamilton certainly was. He finished fifth from his 11th-place grid penalty starting position, might have finished third had he come in when the Mercedes team originally called him, might have won had he stayed out long enough to get onto slicks had the track dried like a normal one once the rain stopped with about 20 laps to go. But it didn't.
With the track's tightly-packed granular surface the water had nowhere to sink into, would just lay on the surface to be thrown up by the cars as spray and then land back there again.
Even though the surface was radically grippier than last year, the race was actually quite similar. This time it was further in when it became clear that the seemingly imminent slicks phase was never going to arrive – and so it then became a question of could the intermediates everyone started on last out without making a pitstop?
That was an extremely marginal call. Alpine's Esteban Ocon managed to do it on his way to 10th place, but was 3-4s off the pace for the last 10 laps, more time than he'd have lost with a pitstop.
There were those who played it safe by pitting for fresh inters with about 20 laps to go, others who gambled on trying for the non-stop strategy. These included Leclerc and Hamilton, but ultimately it was a busted flush.
Bottas and Max Verstappen, from first and second on the grid, played the safe cards, pitted for their second sets with plenty of laps left – and ran untroubled to those positions at the end.
The Red Bull just didn't have the pace of the Mercedes this weekend, limited by understeer for reasons which are explained here and Bottas capitalised faultlessly: pole, win, fastest lap, always able to stay just out of Verstappen's reach without overworking the tyres.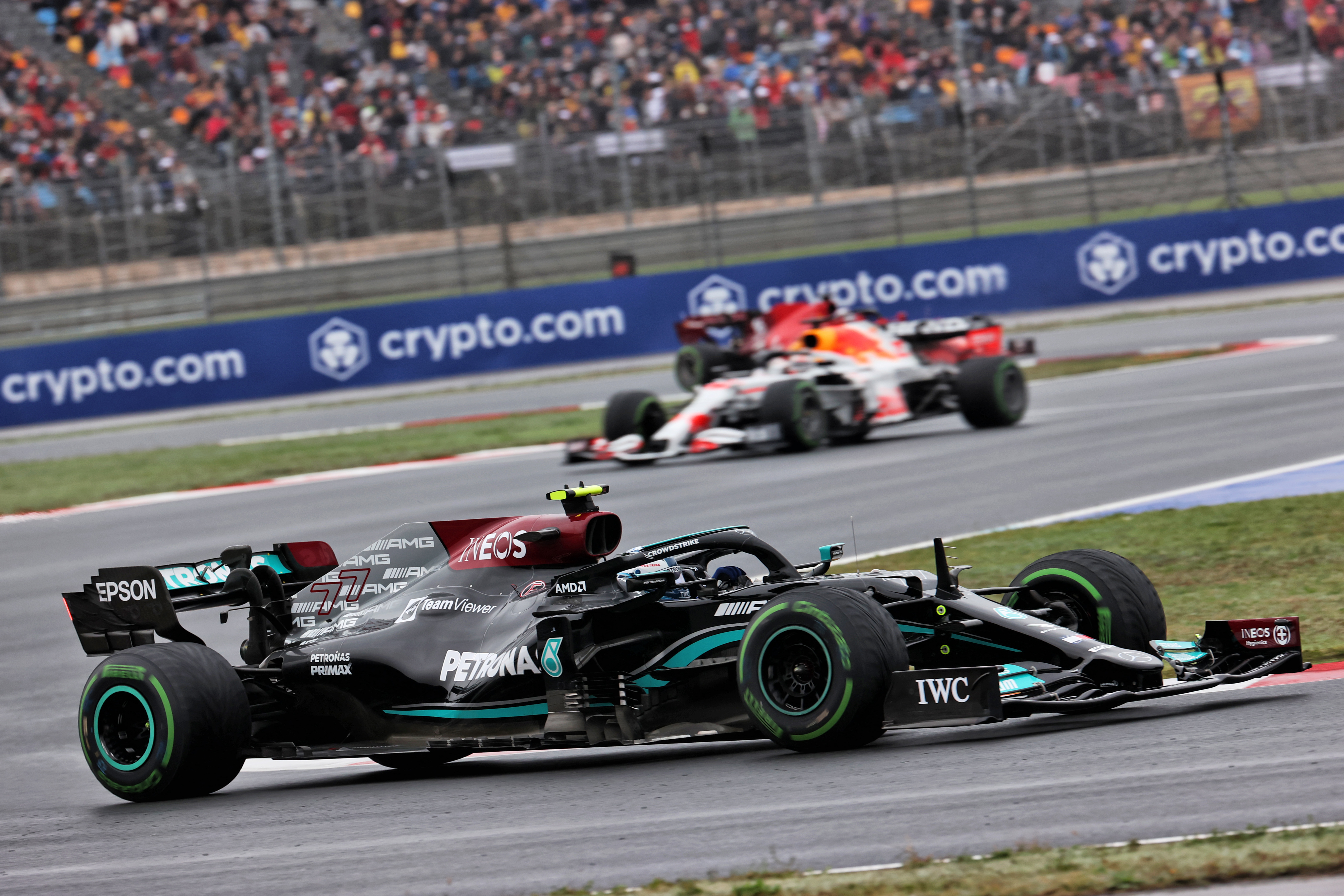 Apart from those like Hamilton and Carlos Sainz (starting his Ferrari from the back with its new-spec power unit) who needed to make up places quickly, the early stages were just about pace management.
It was possible, even likely, the track was going to dry in which case ideally you didn't want your inters to wear out before the track was ready for slicks, as that would entail an extra stop.
So after the initial first lap flurry – in which Pierre Gasly and Fernando Alonso made contact at Turn 1, dropping Alonso to the back in a damaged Alpine after qualifying it sixth – it was all just about looking after the tyres.
It was expected that the front-right would be the limitation and initially it was. But the longer the stint went on, the more the right-rear began to present problems.
At this constrained pace – Bottas and Verstappen surrendering over 0.5s just through the fast Turn 8 alone – Leclerc was able to do a wonderful job in a low-downforce Ferrari to hang onto Verstappen for 36 laps, so as the Red Bull and Mercedes ahead of him pitted and put him in the lead with 22 laps to go, it was judged a worthwhile risk to see just how far he could get his tyres to go. Maybe, just maybe, it seemed he might be able to pull off a spectacular victory.
That dream stayed alive for about seven laps, until the rear tread wore away completely, leaving the tyre running on just the gripless carcass rubber, the temperatures dived and even Leclerc was struggling to keep it on the road.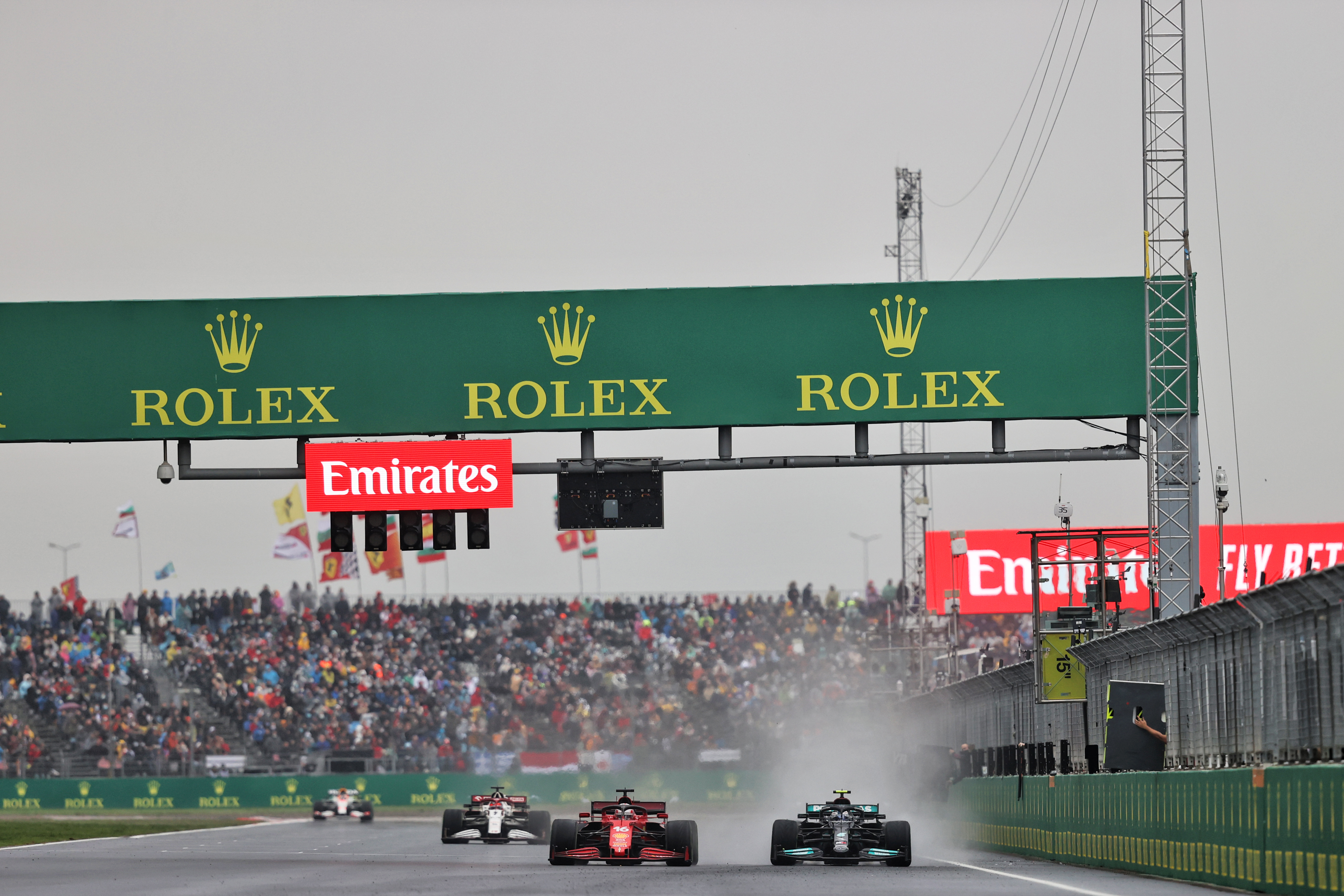 Bottas flashed past and on lap 47 Ferrari surrendered and brought him in. But it was now too late onto a drying track for new inters and as he pushed to stay ahead of Sergio Perez the rears quickly grained up and left him defenceless against the second Red Bull, which duly took the final podium place.
The thing was, a fresh set of inters would eventually be around 2/2.5s per lap faster than an old set. But you needed to bed them in gently for 4-5 laps first (making undercutting a non-starter), like Perez had done after pitting on lap 37. Not like how Leclerc would do as he tried to catch Hamilton and not like an angry Hamilton would do a few laps later as he rejoined to discover that he'd surrendered a place to Leclerc.
If you nailed them on the out-lap on a drying track like Leclerc and Hamilton did, they would instantly grain the right-rear and you'd have a dire lack of rear grip for many laps.
That's how Perez used a standard strategy to beat the more adventurous Leclerc and Hamilton.
Hamilton's fifth place finish lost him the championship lead on a day when Verstappen did another great damage limitation job in a less than fully competitive Red Bull.
There were several ways it just didn't come together as well for Hamilton here from his penalised grid slot than it did for Verstappen from his at Sochi. First of all: Yuki Tsunoda.
On the first lap Hamilton drafted past Sebastian Vettel's Aston Martin on the back straight and Seb didn't make it too hard. In a slower car he'd only have been delaying himself fighting it out with a car that was always going to pass eventually.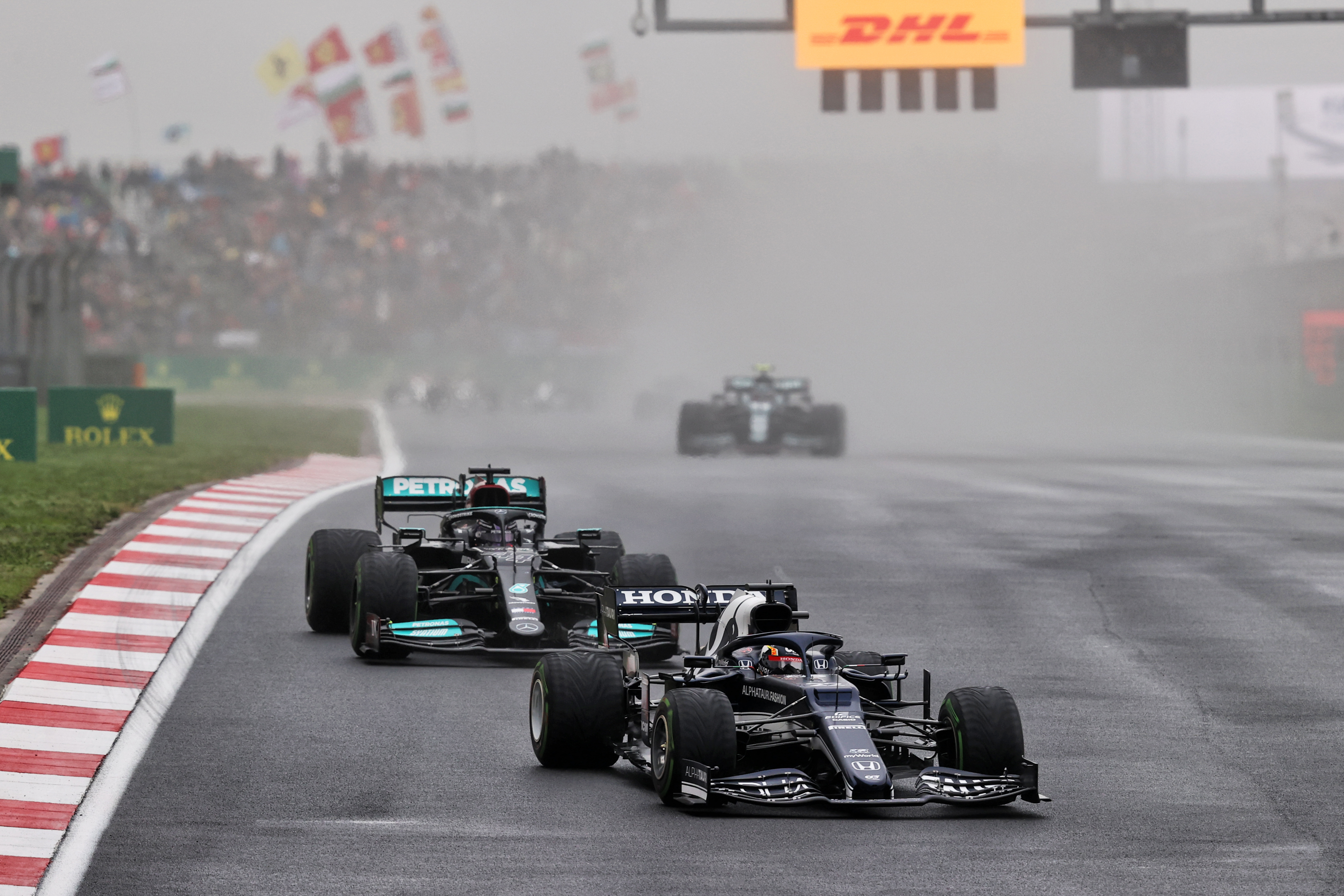 Next in Hamilton's targets was Tsunoda. One can imagine he'd have been made very aware of his potential value to Red Bull in this race by Dr Helmut Marko – and he was nowhere near as accommodating as Vettel had been.
Using the slipstream from Lance Stroll's Aston Martin ahead, Tsunoda was quick on the straights and late on the brakes everywhere.
On the second lap Hamilton was up his inside into Turn 4 and it wouldn't have been too difficult to run Yuki out wide towards the exit kerb. But in iffy visibility, and against an unfamiliar foe from the other camp, Hamilton chose to be cautious.
It would be six laps before he'd get another opportunity. That conservatism in Turn 4 would go on to cost him 12s.
Once past the AlphaTauri, Stroll's Aston and Lando Norris's McLaren were dealt with almost immediately. Hamilton was now sixth but almost 20s adrift of the lead.
He'd pass Gasly on the 15th lap and only then begin reducing the gap to the leaders as he closed down on Perez ahead. But it was all taking a toll on the tyres. "The right-hand side is getting a little bald," he reported at this time.
Bottas meanwhile was enjoying a more serene race from pole. Even taking care of his right-front through Turn 8, he had 3s margin over Verstappen by lap 16. But Max too had been tyre conserving.
On lap 17 he was let off the leash and set the fastest lap of the race so far, taking 0.5s out of the Mercedes. Would this be when Verstappen would mount a victory challenge?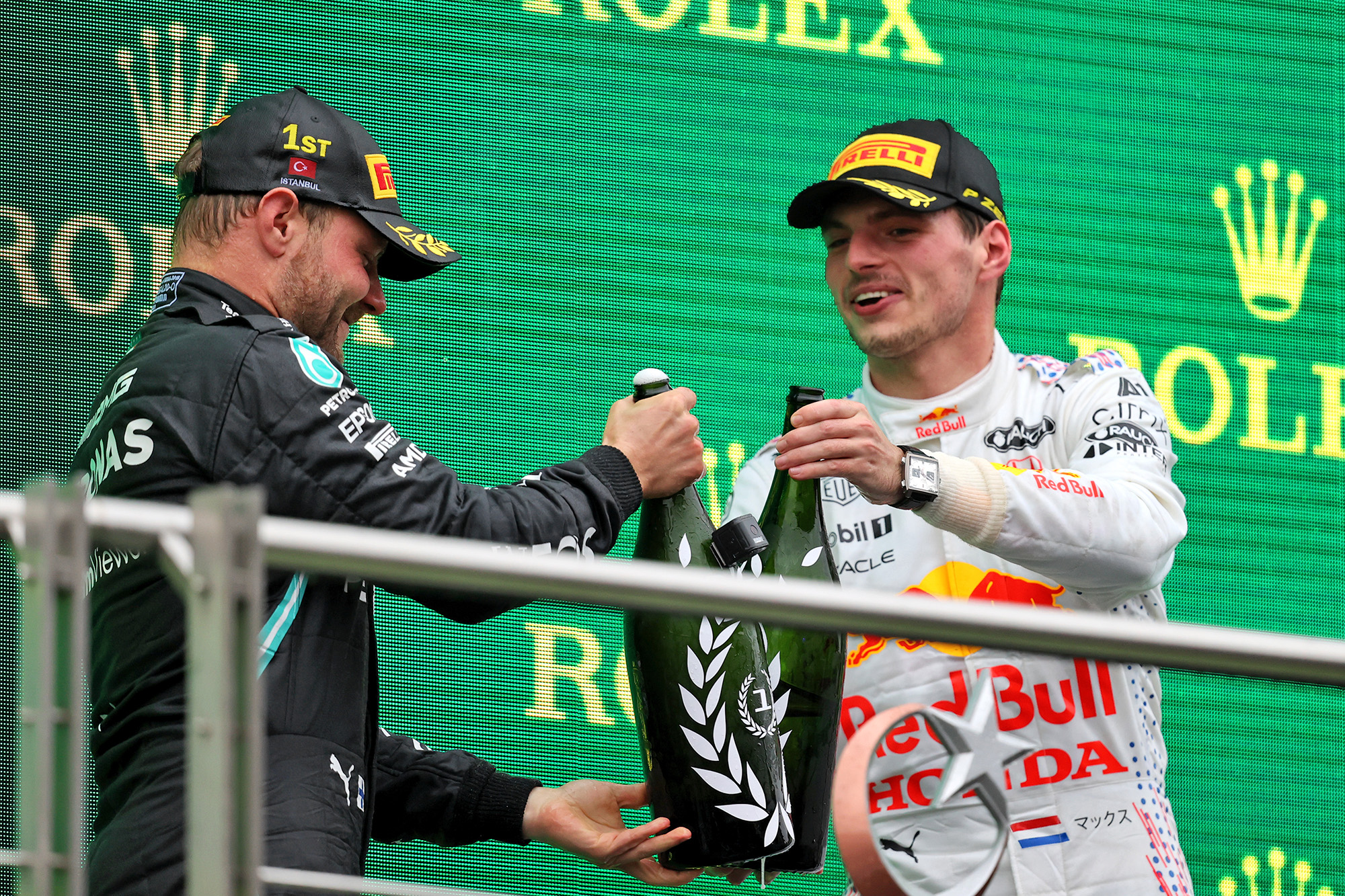 Bottas answered with a series of yet-faster laps – and Verstappen understood.
"I knew then that they were just a bit too fast for us today," he said, "and even Leclerc wasn't far behind, so I was just making sure I got to the end from there." There's a championship to be won, after all.
So now Mercedes had Bottas apparently in situ for his first victory of the season – and Hamilton in fifth steadily closing down Perez, who was some way distant of Leclerc.
"Pace is good," Bottas was told. "We are going long."
Everyone's inters were now slicks, the lap times were remaining very consistent as the drizzle replaced what water was being dispersed.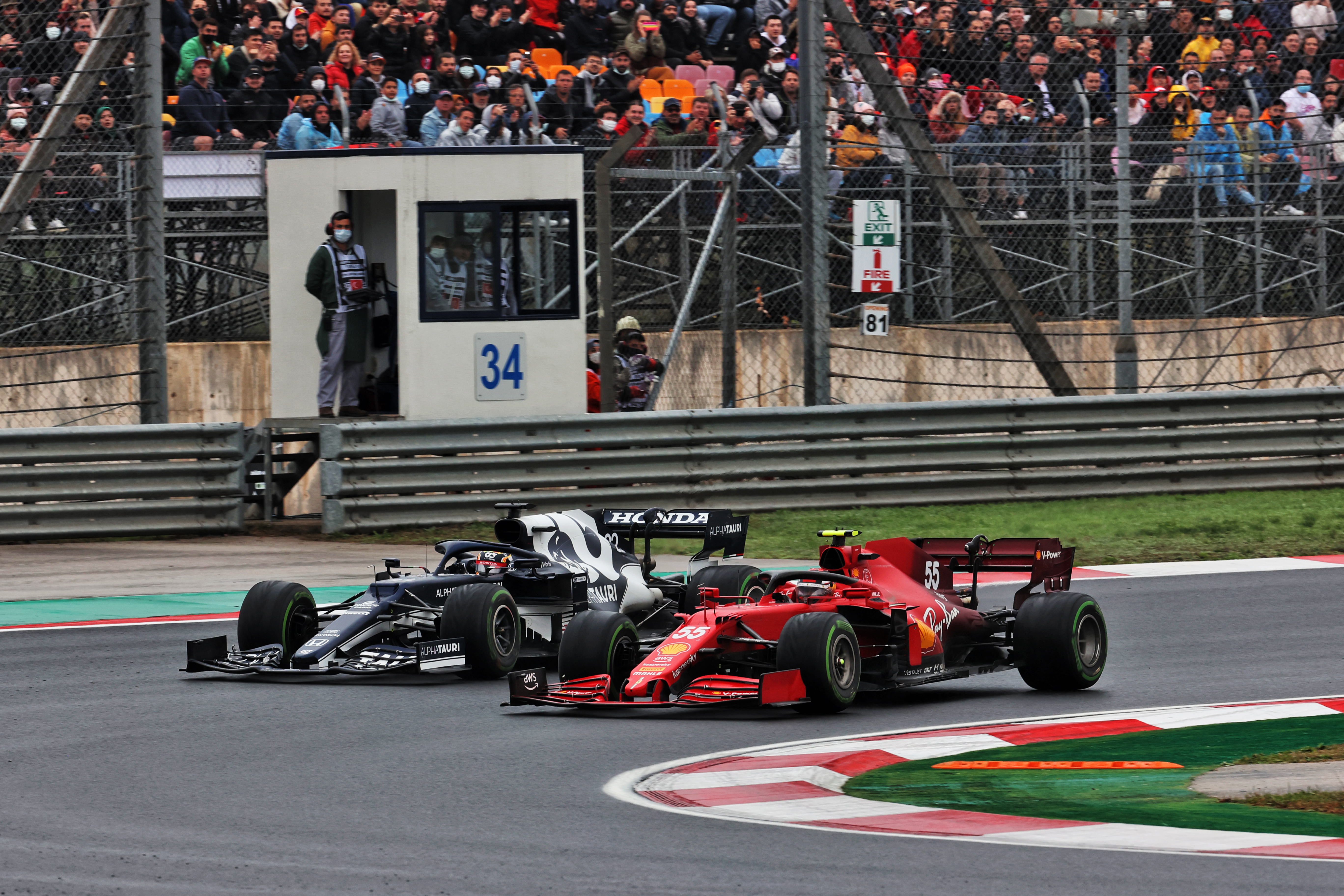 Sainz had made great progress from the back, putting a series of lovely moves on cars through the Turn 12-14 sequence at the end of the lap, and was catching Stroll's eighth place.
Sainz's fellow back row starter Daniel Ricciardo had made far less spectacular progress. He was to throw the dice with new inters on lap 21. Everyone watched his times very intently.
Initially slower as he brought them in, briefly as quick as the old-tyred Norris, then back to the sort of pace he'd been doing before he stopped. So there was no point in emulating that.
Ten laps later Alonso was the next to try – from his lowly position fighting with George Russell's Williams – and still no great advantage was apparent. Old bald inters were as quick as new treaded ones in these conditions – at least while they still had plenty of rubber.
It was as that tread became too thin and the tyres lost temperature that it would become problematical. But that wasn't yet. So stalemate again.
As a dry line began to form through Turns 8 and 9 and into the braking zone for 12, it became more difficult to pass. But that dry line didn't form through the whole lap and so the slicks stayed in the garages.
On the 35th lap Hamilton got side-by-side with Perez into Turn 12 and on the drier outside line it looked as if he'd done enough. But here was another occasion where Hamilton didn't seem up for risking anything against a car from the Red Bull camp – and Perez is always a tough cookie wheel-to-wheel anyway.
Side-by-side through the switchback turns which follow, Hamilton was ahead as they crossed the start/finish line but Perez dived down the inside of Turn 1 to take the place back. Had Hamilton succeeded in making that pass, the complexion of his race could have been quite different.
But that dice had created the perfect gap for Verstappen to drop into without having to run wheel-to-wheel with Hamilton, and he was brought in from around 6s behind Bottas.
Mercedes responded next lap with Bottas. Perez came in then too – but Hamilton stayed out. As did Leclerc, the Ferrari now leading the race.
Hamilton was within 3s of the fresher-tyred Verstappen and holding his own, but only because Max was taking care to not overstress the new rubber. Mercedes called Lewis in on the 41st lap.
"Why?" he questioned. "Because new inters are the way to go," he was told. He was far from convinced. "OK, stay out then," came the reply.
The team was ambivalent because it was a gamble that just might have paid off. If Hamilton could get the tyres to the end from here on a no-stop strategy, he'd be poised for third.
Bottas and Verstappen ahead of him on their fresher tyres would not have been in reach if the track remained as it was – but he may have been able to beat Leclerc.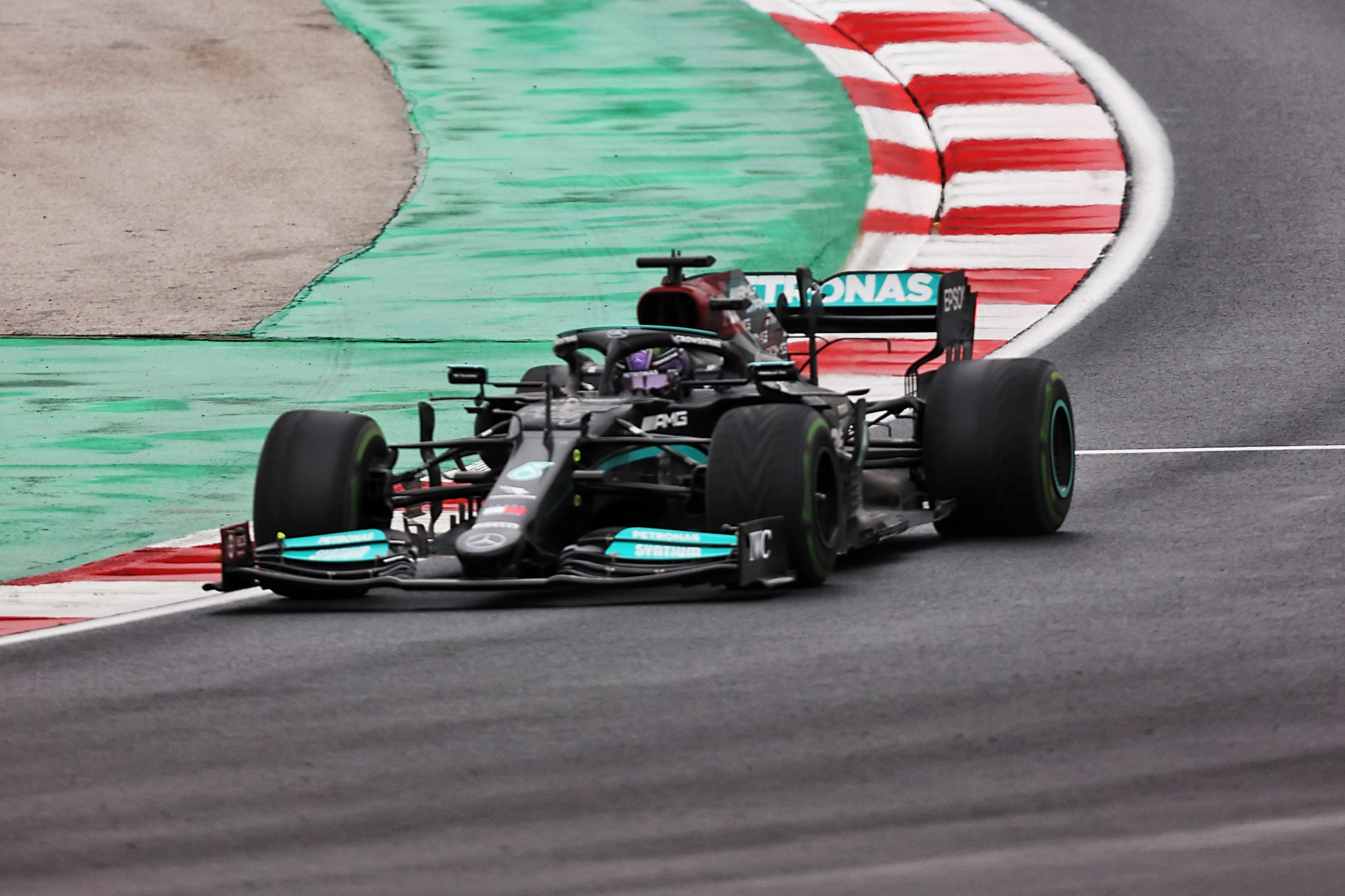 Had the track dried enough to get onto slicks, then he might have been able to ambush a win.
Vettel had tried the slicks gamble on lap 36. But all it did was switch his race from bland to oblivion, as the tyres remained stubbornly cold and completely gripless. He did a super-slow lap and was in again next lap to get back onto inters.
It wasn't long before the temperature of Leclerc's old inters were plummeting as they ran out of tread. His pace was falling away drastically.
A couple of lock-ups brought the fresh-tyred Bottas onto his tail by the end of lap 45 and past into the lead once more a few corners later.
Still Leclerc stayed out but, losing whole chunks of time, there was no way he was going to be able to hang onto the position for another 12 laps on a track that was becoming drier.
He was brought in while there was still just a pitstop's-worth of gap over Perez, promoting Hamilton to a distant third but not going very quickly.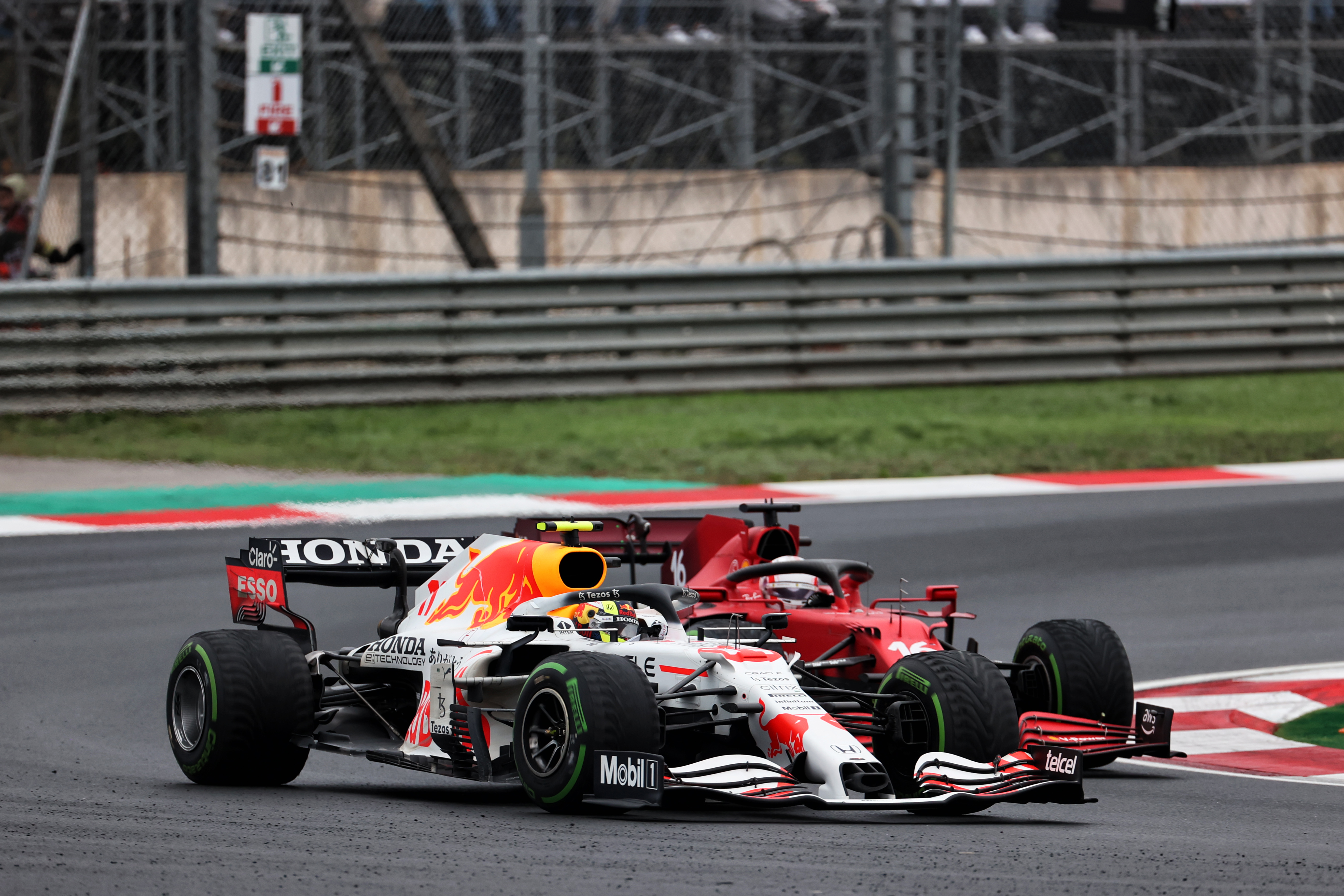 As Leclerc defended from Perez – whose nicely-treated new inters were just now coming into their own – he overworked the right-rear, the subsequent graining leaving him helpless to defend as Perez went by.
Meanwhile, Mercedes had been looking on in some alarm as the temperature of Hamilton's rears bottomed out, indicating there was almost no tread left – still with 10 laps to go.
"There's not much grip but it feels OK," radioed Hamilton. The lap times suggested otherwise.
He'd drop behind Perez and Leclerc if he stopped. But he was set to be devoured by Perez anyway and Gasly – just over a pitstop distance behind and on fresh tyres – was lapping up to 2s faster than the Mercedes, with Norris just behind going faster still.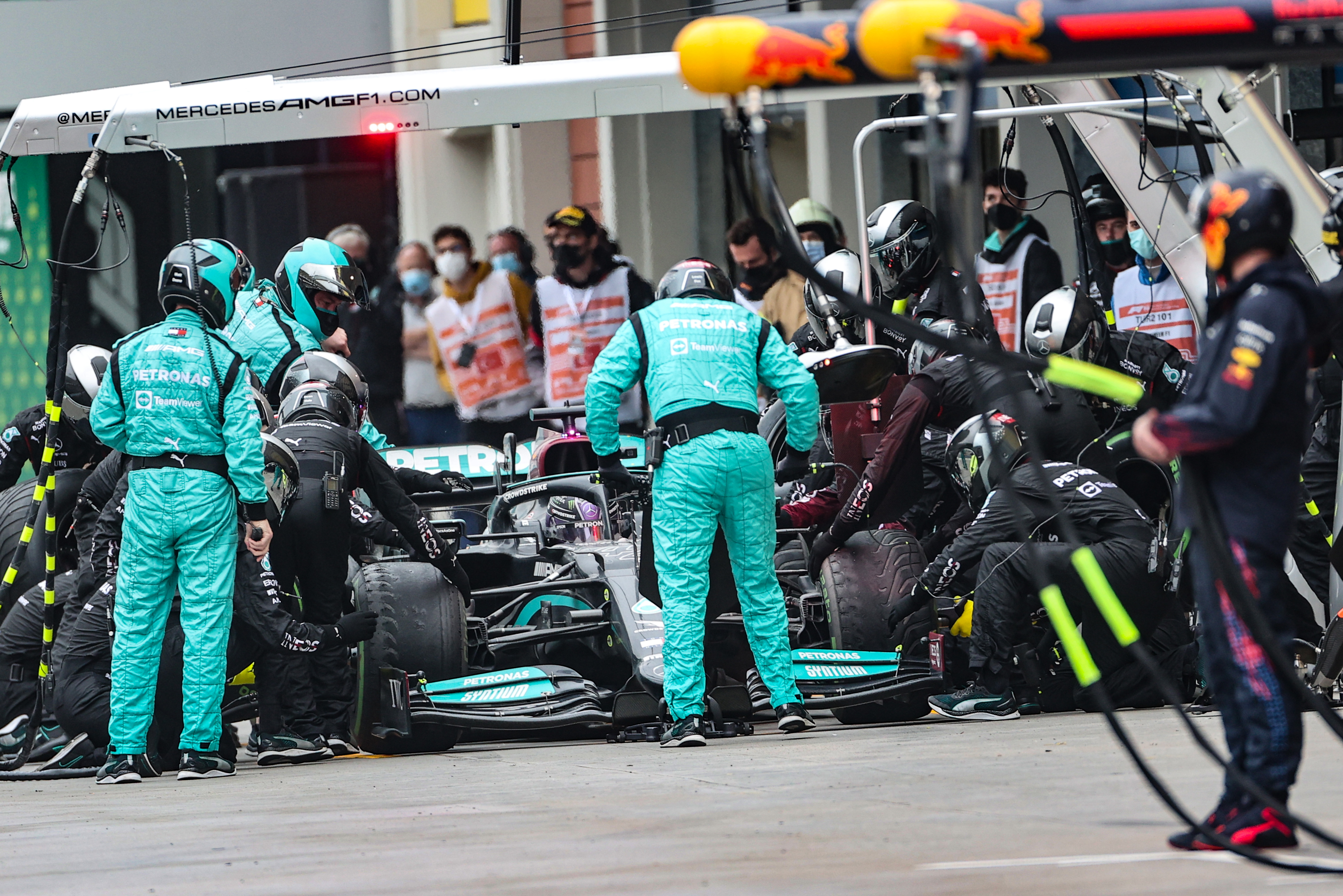 Mercedes brought Hamilton in on the 50th lap before the AlphaTauri and McLaren would have made it worse. He was dismayed as he realised he'd dropped two places and was uncomprehending about the logic in the moment.
When shown a photograph of his worn right-rear afterwards, he understood there was probably a good chance he would not have finished at all had he tried to stay out. Pirelli's Mario Isola believed the tyre would probably not have made it the remaining eight laps.
In Hamilton's anger he set about trying to make amends – and damaged the right-rear in just the way Leclerc had done.
Bottas, after a race of carefully monitoring and controlling, of intense concentration, decided he'd show what he'd had in hand. His last two laps were 1.5s faster than the best anyone else managed.
Verstappen could be satisfied with a good outcome in the circumstances but there's a concern. "We've got to step it up somehow. They are very fast everywhere," he said of Mercedes.
Leclerc in fourth had no regrets about his gamble, Hamilton held off Gasly and Norris while Sainz might have been able to better eighth had there not been a 5s delay at his pitstop with the green light system.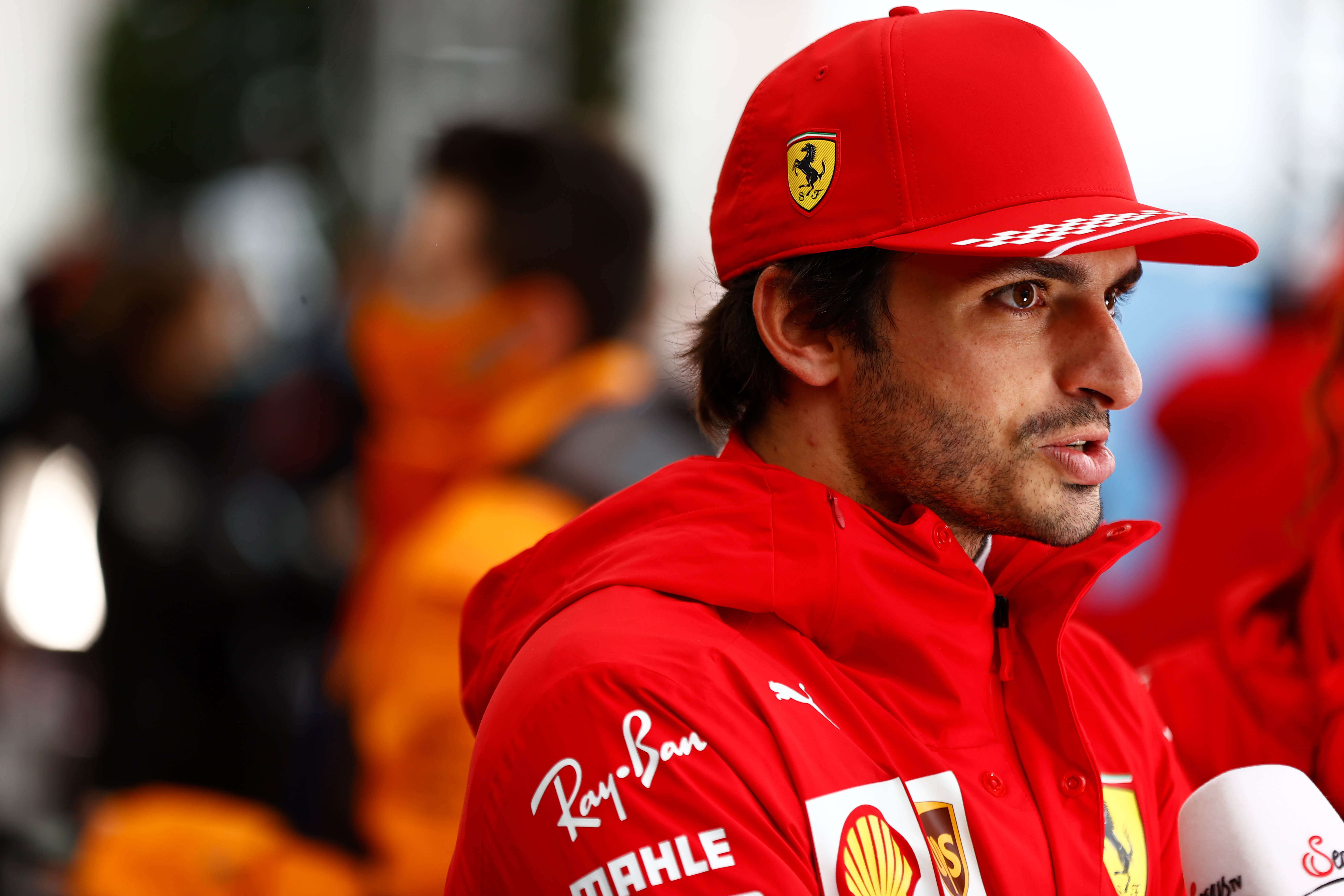 Stroll repassed the non-stopping Ocon for ninth and the Alpine was chased across the line by the Alfa Romeo of Antonio Giovinazzi (who'd earlier turned down a request to let team-mate Kimi Raikkonen past).
Ricciardo finished behind the Alfa Romeos after a very low-key weekend. Tsunoda spun away what would have been a point or two to finish just ahead of the battling Russell and Alonso.
Nicholas Latifi, Vettel, Mick Schumacher and Nikita Mazepin completed this no-retirement finishing order.
Schumacher's impressive Q2 qualifying performance in the Haas was wasted when Alonso had his second collision (for which he would be penalised 5s) just a few corners after his first. Schumacher came back from last to catch and pass his team-mate.
"I had probably the worst race of my career here last year and now one of the best," said the winner.
Hamilton's grid penalty on a weekend when Red Bull was off the pace had made it Bottas's to lose – but he had absolutely no intention of doing that and never for one moment looked like doing so.