The qualifying results from the Dutch Grand Prix suggested a decisive swing in McLaren's favour in the battle to be best of the rest in the Formula 1 field, with Lando Norris seventh and the best Alpine only 12th. But this was not as clear a 'victory' as McLaren needed at a track where it hoped to have the edge.
McLaren has fallen to 20 points behind Alpine in the constructors' championship and saw Zandvoort as the ideal opportunity to make inroads into that deficit having not outscored Alpine in any of the last seven races.
Although Norris lapped just 27 thousdanths of a second off Mercedes driver George Russell, he did leave a little time on the table on the final run. But it was enough to put McLaren at the front of the midfield.
However, but for the intervention of Red Bull driver Sergio Perez, there's every chance that Fernando Alonso would have been up there challenging him in Q3. Alonso himself felt beating Norris was eminently possible.
With team-mate Esteban Ocon struggling for pace thanks to a lack of confidence in the rear end of the Alpine, Alonso was always the team's main threat. But while on course to make Q3 comfortably on his sole fresh-tyre run in Q2, he encountered Perez going slowly through Turn 9.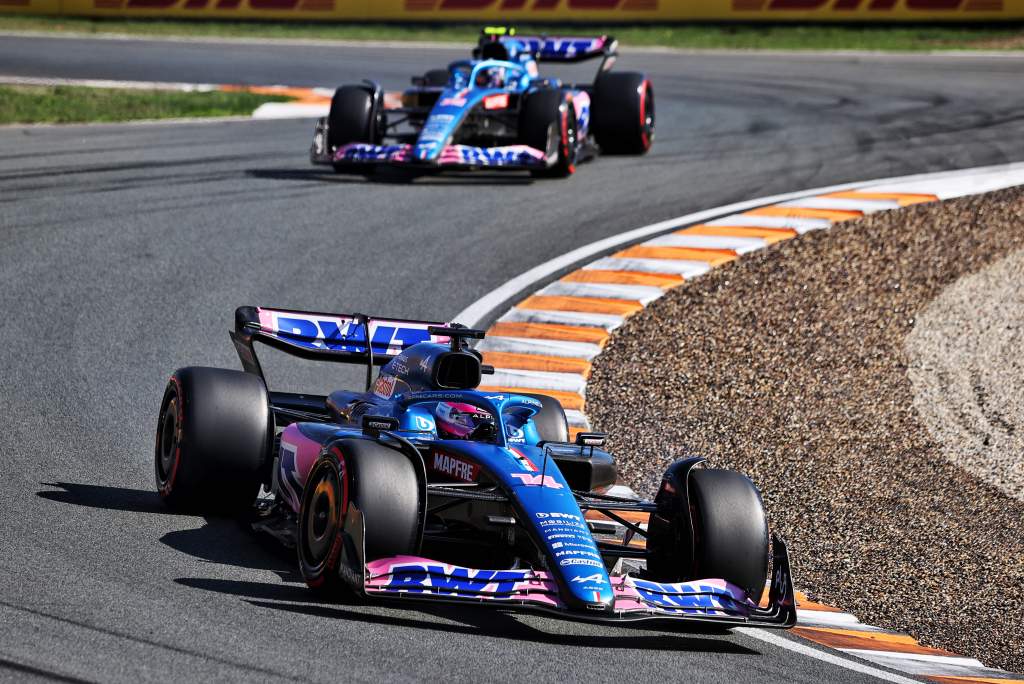 Alpine had a strong weekend last time out at Spa, but Alonso argued that the team wasn't far off that level of performance at Zandvoort but that it was masked by his traffic troubles.
"It was traffic in Q2," said Alonso when asked if the Dutch GP weekend was proving more difficult. "I was P6, P7 in all sessions so far and it was the same in Q1.
"Then in Q2 on the second attempt I was half a second better than the previous lap into Turn 9, then I had a misunderstanding with the Red Bull in front of me, and we lost a lot in that lap.
"The pace was there to be in Q3."
Alonso failed to improve on that lap so had to rely on the time he set on used softs on his first Q2 run. It was revealing that Ocon only just beat that time using fresh rubber, showing the extent to which he was, to use sporting director Alan Permane's phraseology, "not quite at one with the car".
That put Ocon 12th, with Alonso 13th. But although Zandvoort is not an easy track to overtake on, at least Alonso should have the pace to make progress in the race. If he can get close to Norris, he could potentially even be able to beat him, while Alpine will hope that having its two cars starting on the periphery of the top 10 at least raises the possibility of a damage-limiting double-points finish even if Norris does stay ahead.
McLaren's situation is made weaker by Daniel Ricciardo's elimination in Q1 after lapping 0.525s slower than Norris in that part of qualifying.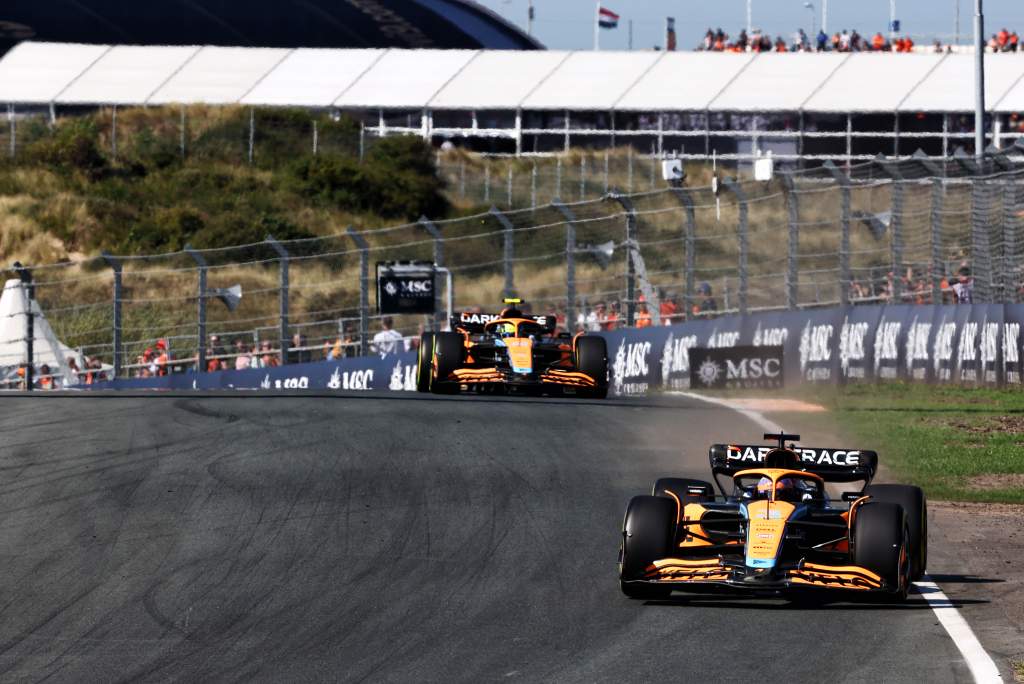 While Ricciardo has struggled at Zandvoort, bad luck played its part given he was likely to set a time good enough to get into Q2 before Lance Stroll's indirect intervention.
Stroll drifted beyond the white line at the entry to the penultimate corner while on his final Q1 lap, which kicked up a significant amount of dust. Ricciardo was the next car to arrive at Turn 13 and, despite taking a conservative approach to it, ran wide and lost time.
Although Ricciardo did go faster, his final sector was significantly slower than what he produced earlier in the session when it should have been an improvement. He suggests that it would have been at least enough to put him ahead of 15th-placed Zhou Guanyu and into Q2.
"The lap was decent, it was trending to be good enough to get me through," said Ricciardo. "It was trending for an 11m1.7s or 1m11.8s – I'll say conservatively 1m11.8s.
"Stroll dropped a left-rear on the entry of Turn 13 and brought a lot of dirt on the track, so I basically lost all the time there. I think [Sebastian] Vettel was just behind me and actually he spun for the same reason, and Lando was two cars behind and lost time as well.
"I pulled out of Turn 12 and I'm already looking up to 13 and saw a cloud of dust. As I got closer, I could see the track was covered in dirt and sand. I braked a little early to anticipate it and I still washed wide, just lost [time] all the way through the corner."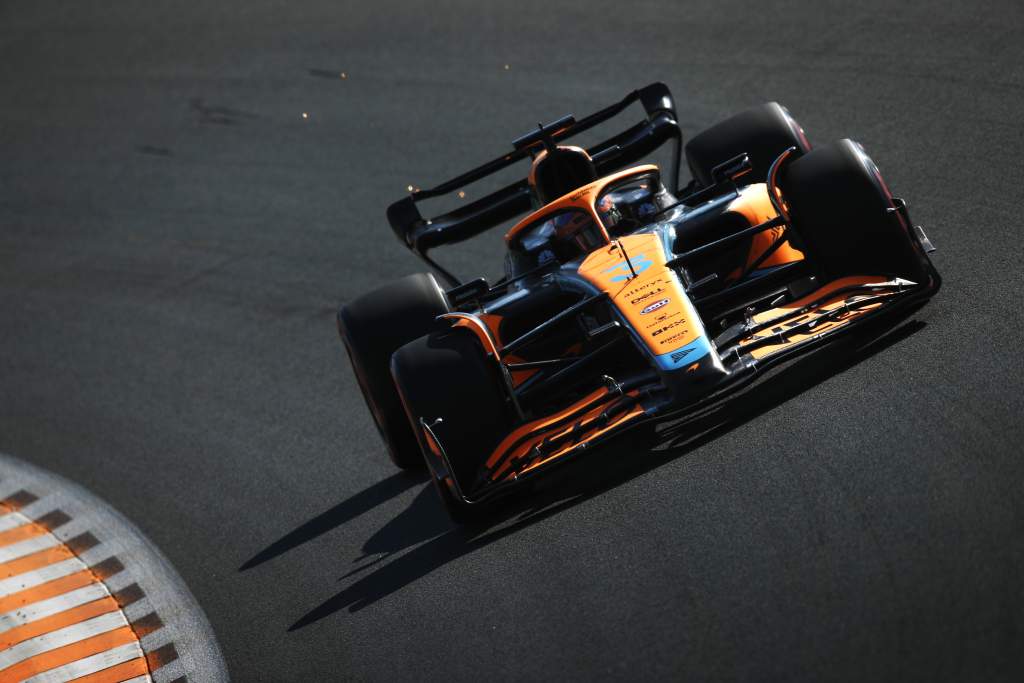 While Ricciardo still had significant time to find – he suggests around three tenths – he would have at least been in a better position to race the two Alpines than he is likely to be starting 17th.
McLaren still has every chance of closing the gap to Alpine by a few points in the race. But what will concern it most for the ongoing battle is that Alpine potentially has the speed to be ahead at a track where the McLaren might have been expected to have the edge.