The momentum in the Ferrari Formula 1 team is clearly with Charles Leclerc given his 38-point advantage over Carlos Sainz after just three grands prix.
Sainz was Ferrari's top scorer in his first season up against Leclerc last year, but risks falling into a support role already now that the team is a title contender once again.
In Australia Sainz looked closer to Leclerc on pace going into qualifying, only for a string of disasters to lead to him crashing out from the midfield on just the second lap of the race.
So what now for Sainz? Here are our writers' verdicts:
He's dangerously close to falling too far adrift
Scott Mitchell
Had things gone a little different for Sainz in Q3, Australia could have been the weekend he proved he's capable of beating Leclerc in this car. He could have qualified and won from pole, or been in the fight. Then he'd have left Melbourne closer in terms of points (not 26 further adrift…) and having sent a message internally and externally.
So it's a different kind of frustration coming away from this weekend than Bahrain, where many people would have had different versions of this same conversation: is Sainz just going to be a limited number two this year? He was second-best in Bahrain and looked like he was heading into that role. But he knew he'd just underperformed that weekend. In Australia he was quick. But it went the worst possible way.
That will sting more because this position isn't promising. The silver lining is it's still very early in the season. A DNF for Leclerc and a win for Sainz puts him right in the ballpark. If Australia up to Q3 is the new reference for Sainz's performance level then he can't be ruled out but he needs to claw back points immediately.
If he can hover at around 25-30 points, and more importantly be ahead of Verstappen and the Mercedes drivers in the points, he's in with a shout.
Instead, he's not far off two full wins behind Leclerc already. That's my threshold. It's an arbitrary conclusion but you have to draw the line somewhere.
In this context, I think the line between 'support act' and 'allowed to fight' is where you can't suddenly launch into contention with one single result. Sainz is already dangerously close to that.
Sainz's slower adaptation has cost him
Mark Hughes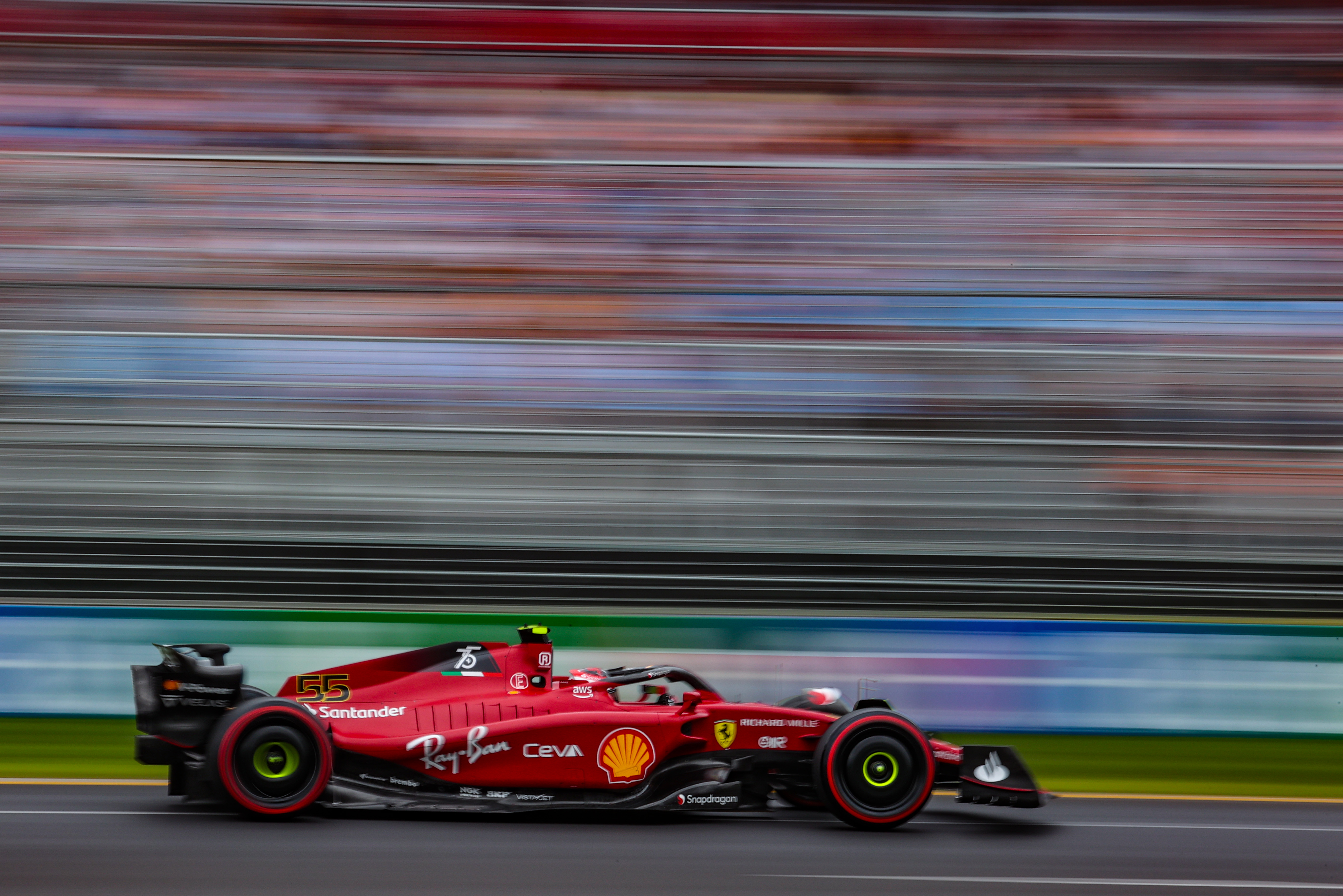 Carlos came into the season with a small but important pace shortfall to Leclerc in this car.
Leclerc adapts to new traits effortlessly, Sainz, while adaptable, usually needs to finesse the last little bit of pace from himself when something changes. We've seen it before.
The new cars are a big change in driving style, cannot be hustled over kerbs, and require a more precise and focused approach. Leclerc is improvising his way around this, manipulating the load on all four tyres with lots of input, particularly on the brake and throttle pedals. Sainz has so far been much more conventional and binary in style.
But he made a breakthrough in Melbourne and was run-for-run Leclerc-quick. It was especially galling therefore that the steering wheel glitch should strike to ruin both his qualifying and race start. Regardless of the dynamics behind it, it leaves him 38 points down after just three races and that's not a trivial matter. But there is no way I expect him now to be regularly slower than Leclerc.
On the contrary, I expect it to revert more to how it was in the latter half of last season which means there will be days where Carlos is ahead.
But what the difficult start means is that whenever he is ahead there will be a pressure put upon him that would not have been there had he been achieving similar results from the start – because of the car being a title contender. Whenever he's running ahead he's going to be waiting for the 'phone call' – and that's not a good place to be. It's a good test of his mental fortitude but I'm confident he'll be up to it.
At his best, Leclerc cannot be beaten
Edd Straw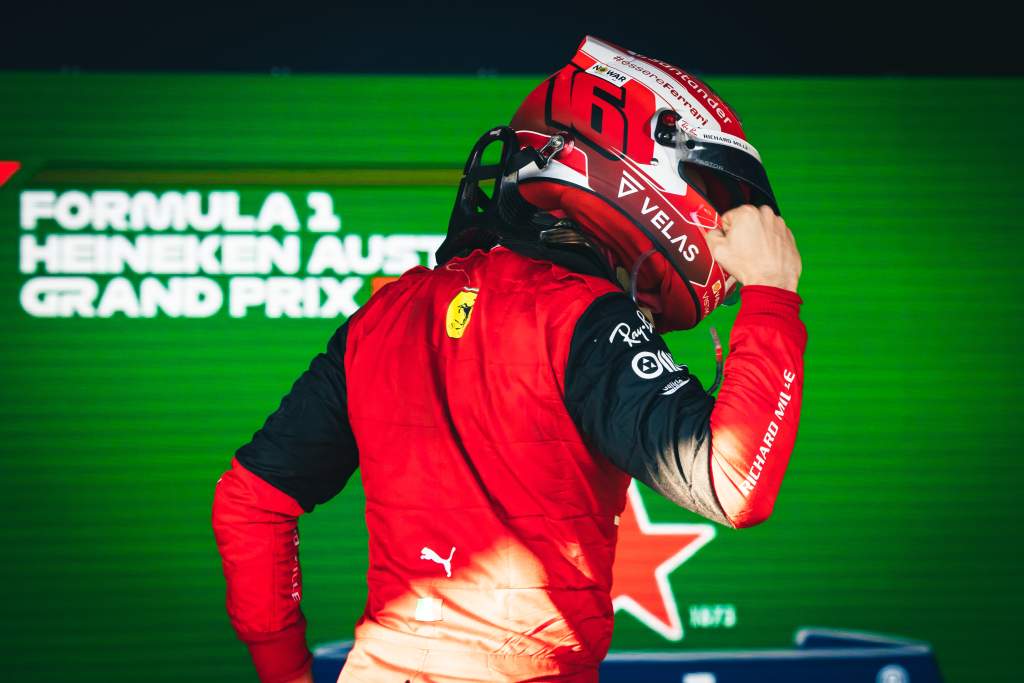 Sainz is a very good grand prix driver with a strong all-round skillset who was always going to pose a bigger threat to Leclerc than Ferrari thought when it first signed him. But he has one potential decisive weakness compared to his team-mate.
As Sainz himself admitted last year, he was shocked by what he called Leclerc's "crazy" speed. Leclerc's preternatural feel, particularly when it comes to traction-sensing, makes him capable of delivering sensational pace, as he's proved throughout his F1 career.
Sainz is a fast driver and quicker than most, but on a single, flat-out lap when in tune with the car, Leclerc will have the edge most of the time.
Sainz isn't afraid to push himself to the limit, or even beyond, to try to keep up with Leclerc. And his intelligent, calculating approach and technical skills are where he can make gains, and he did exactly that last year.
But Leclerc is strengthening his all-round game all the time and learned a huge amount from the trouble Sainz caused him last year.
There will still be weekends when Sainz outperforms Leclerc, but it's a question of the frequency. A confident Leclerc who, at least to start with, had a better handle on the demands of the car is going to be exceptionally difficult to beat.
Ironically, Sainz might need to hope life gets a bit more difficult for Ferrari as a whole if he's to turn the tables.
But at worst, he'll prove to be a crucial part of Ferrari's 2022 bid for both titles. Even if Leclerc does stay as de facto number one, Sainz can still be expected to raise his game to be a number-one-and-a-half, especially as there were signs he'd turned the corner in Australia.
Leclerc is just too well-established at Ferrari
Hannah Prydderch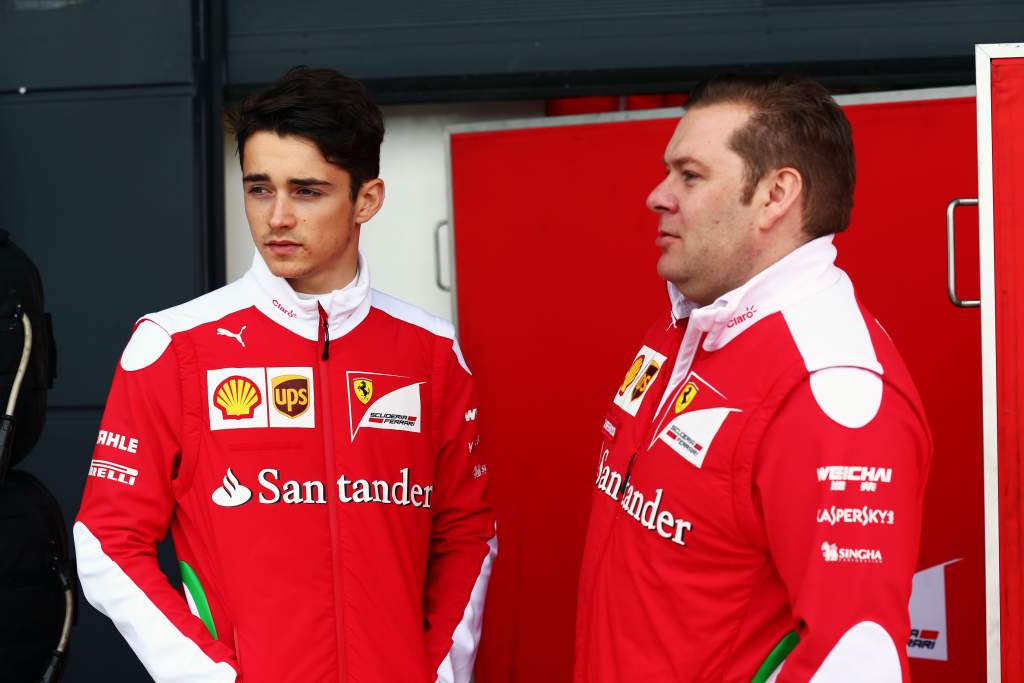 Three races in and it's clear that Leclerc holds a major advantage over Sainz, both in the points standings and psychologically.
Fundamentally. Sainz's position rests not only on his performances but those around him. Ferrari has built up Leclerc through its academy programme (he's pictured above testing for it in 2016) and the strength to which he's ingrained himself within the team echoes Verstappen at Red Bull.
Unless he can dominate the rest of the season, Sainz will never be able to overcome the security and knowledge Leclerc already has.
Additionally, a more competitive Haas puts him at a weaker position in contract negotiations should Mick Schumacher reach his potential and may compel him to accept the number two driver status for a shot at the title long-term.
However, I don't believe we've seen a true test of who's the top dog at Ferrari quite yet. Neither driver has come to blows with their team-mate during the first three races, but should that happen or the other be forced to yield, it'll set a clear precedent for the rest of the season.
Sainz is hungrier than ever to bring home his maiden F1 victory but will Ferrari sacrifice his hopes to help Leclerc should Verstappen and Red Bull prove to be a more consistent threat? I wouldn't put it past them as Ferrari has always been bigger than just one driver and that's something Sainz will be all too aware of.
It feels like 1998 again
Matt Beer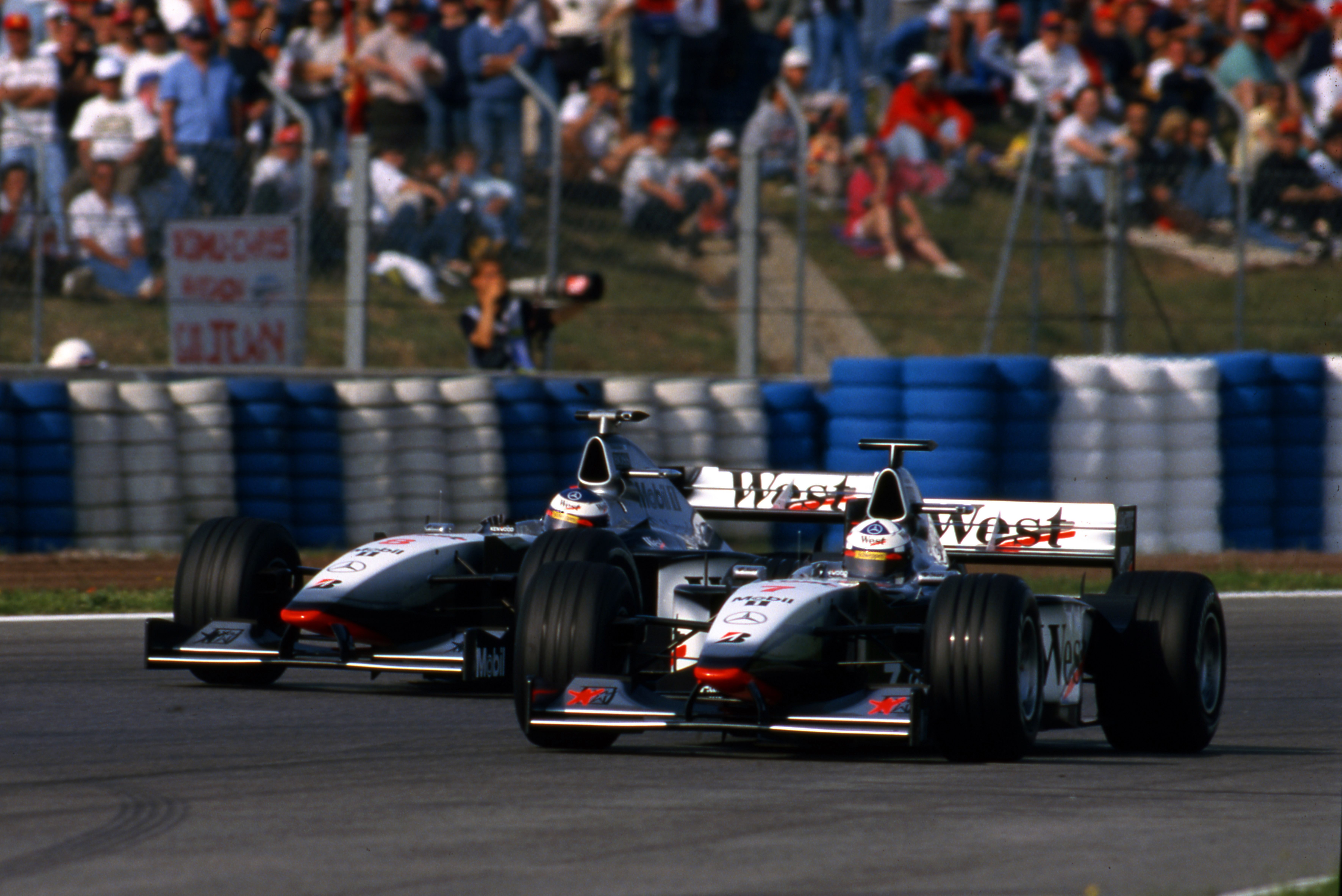 This feels a little reminiscent of 1998, when the question of whether David Coulthard would be able to stick with Mika Hakkinen when it really, really counted got a pretty swift answer.
It had been Coulthard who ended the team's win drought in 1997, his second campaign at McLaren, and he outscored established team favourite Hakkinen that year too.
But when McLaren was both the class of the field and under heavy title pressure from Michael Schumacher and Ferrari, the fact Hakkinen won eight races to Coulthard's one and scored 100 points to his team-mate's 56, said it all.
Rather like Sainz's situation, it wasn't a totally clear-cut of just Hakkinen being much faster. Luck and momentum played a significant role too. But which of the pair was 'just' a very, very good grand prix winning driver and which was of multiple championship win calibre was firmly proven on track.
That said, I would absolutely love to be wrong on this one. Sainz's attitude and intelligence are great for F1 and I'll be delighted when he wins grands prix. He's a brilliant weapon for Ferrari to have and I've still got no doubt this is the best line-up on the grid. But Leclerc has a little extra, and that's why he's Ferrari's next champion.
Leclerc's always had that bit extra
Glenn Freeman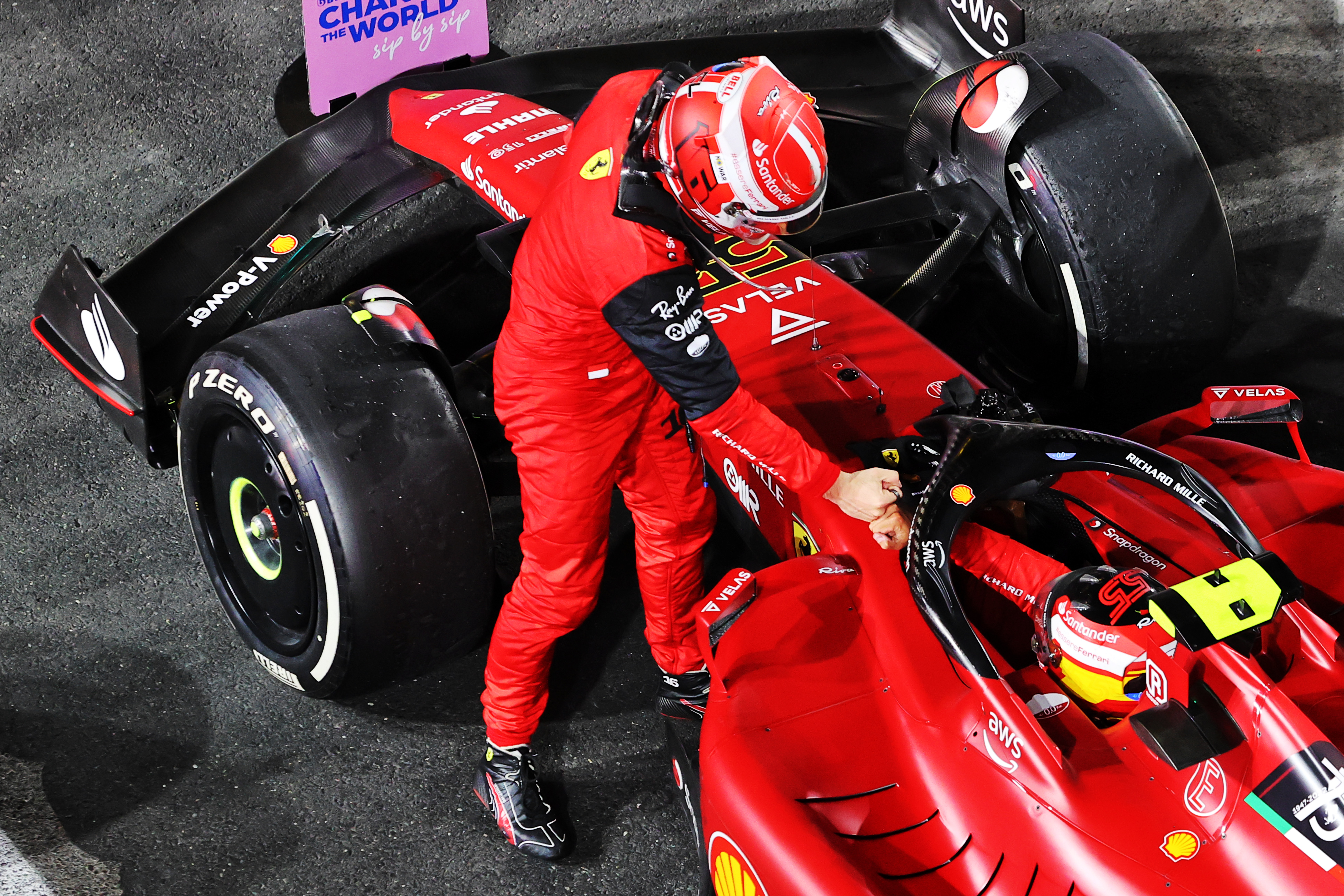 Unfortunately for Sainz, the start of the 2022 season has played out exactly how I expected it to in the battle for superiority at Ferrari.
Sainz is an excellent driver, but I've always felt Leclerc was in the absolute top echelon of superstars, and that Carlos probably sits a fraction below that.
Now Ferrari has produced a car capable of winning on a regular basis, it doesn't surprise me to see Leclerc asserting himself. Some people will point to Sainz outscoring him during 2021, but Leclerc had the standout moments that made you think he would take a more competitive car to the higher heights. And so it is proving in 2022.
It fits this narrative to hear Sainz talking about needing to adapt to this year's car to get the most out of it like Leclerc is. That's what happens when an elite driver – which Leclerc is – finds themselves in a car worthy of their talent. They find something else, and even a very, very good team-mate on the other side of the garage can be left scratching their head.
Sainz will have his days where he matches and beats Leclerc. And he's capable of being the Nico Rosberg to Leclerc's Lewis Hamilton (rather than being Valtteri Bottas). But in a title-contending car over a full season, Leclerc was my pick even before he sprinted clear in the first three races.
Give him time
Jack Benyon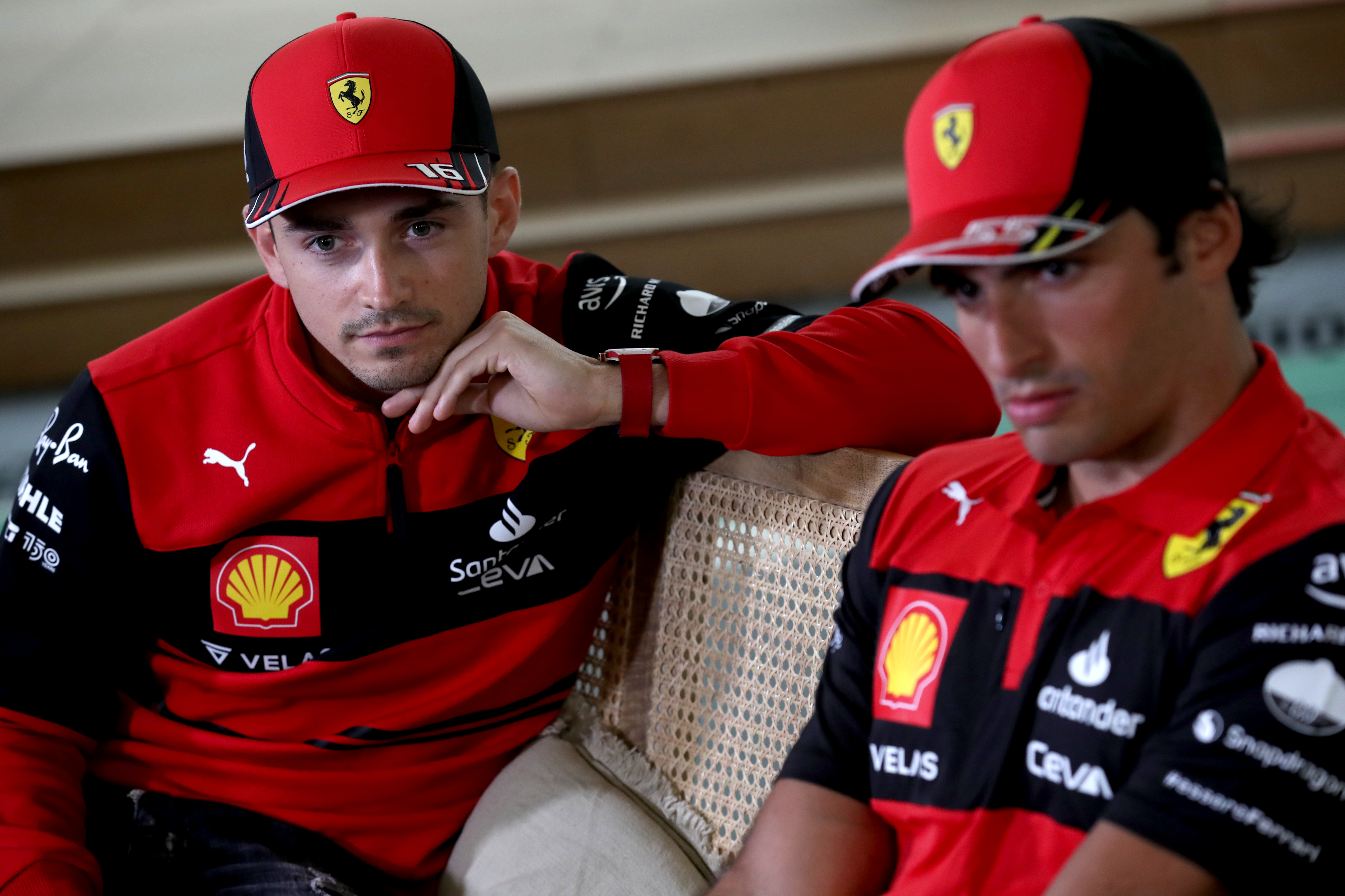 I don't think there's any doubt now that, owing to the points gap to his team-mate, Carlos Sainz is going to have to accept being a number two for the remainder of 2022.
But class Sainz as an inferior back-up act at your peril. He can use the rest of the season – unlike some of the inferior back-up drivers at other big teams in the past – to develop and close the gap.
We already saw in Bahrain just how tricky Sainz has found the 2022 car to drive, and still he erased a deficit that started at almost a second to Leclerc down into a few tenths for qualifying.
Track-to-track that's going to vary as Sainz battles to adapt, but much like Red Bull with Sergio Perez, the more Ferrari adapts and softens to Sainz's needs, the better the Spaniard is going to get.
Designing a car to suit a lead driver is something that's been done for years now, we've seen it with Lewis Hamilton at Mercedes and Max Verstappen at Red Bull. And even if that's not the case at Ferrari, it's clear the car is much more manageable much more of the time for Leclerc.
But Sainz may yet emerge as a challenger to that calibre of top driver instead of just being an understudy by default. There's work to do from team and driver, but challenging Leclerc is not a pipe dream if Sainz's given what he needs and he can adapt.