The critical view of Haas rookie Nikita Mazepin after an error-prone first weekend in Formula 1, a crash two corners into his debut, and another shunt on the opening day of the second round of the season, is that he is currently out of his depth.
The sympathetic view is that when these events are taken in isolation, they have a reasonable explanation behind them.
And the reality? A little of the latter, certainly. But a bit too close to the first view for Haas's liking.
It is unfair to rush to judge any F1 rookie let alone one whose official preparations are as restricted as 2021's three-day pre-season and driving the slowest car on the grid. Mistakes are expected. It's also going to take time to get completely up to speed.
But we should not be fooled into thinking Mazepin's that green behind the ears. He's got more than 4000 kilometres in official tests dating back to 2016 across Force India, Mercedes and Haas, almost double his fellow rookie and team-mate Mick Schumacher. And many more kilometres – who knows how many? – in private testing, including an extensive programme with Mercedes.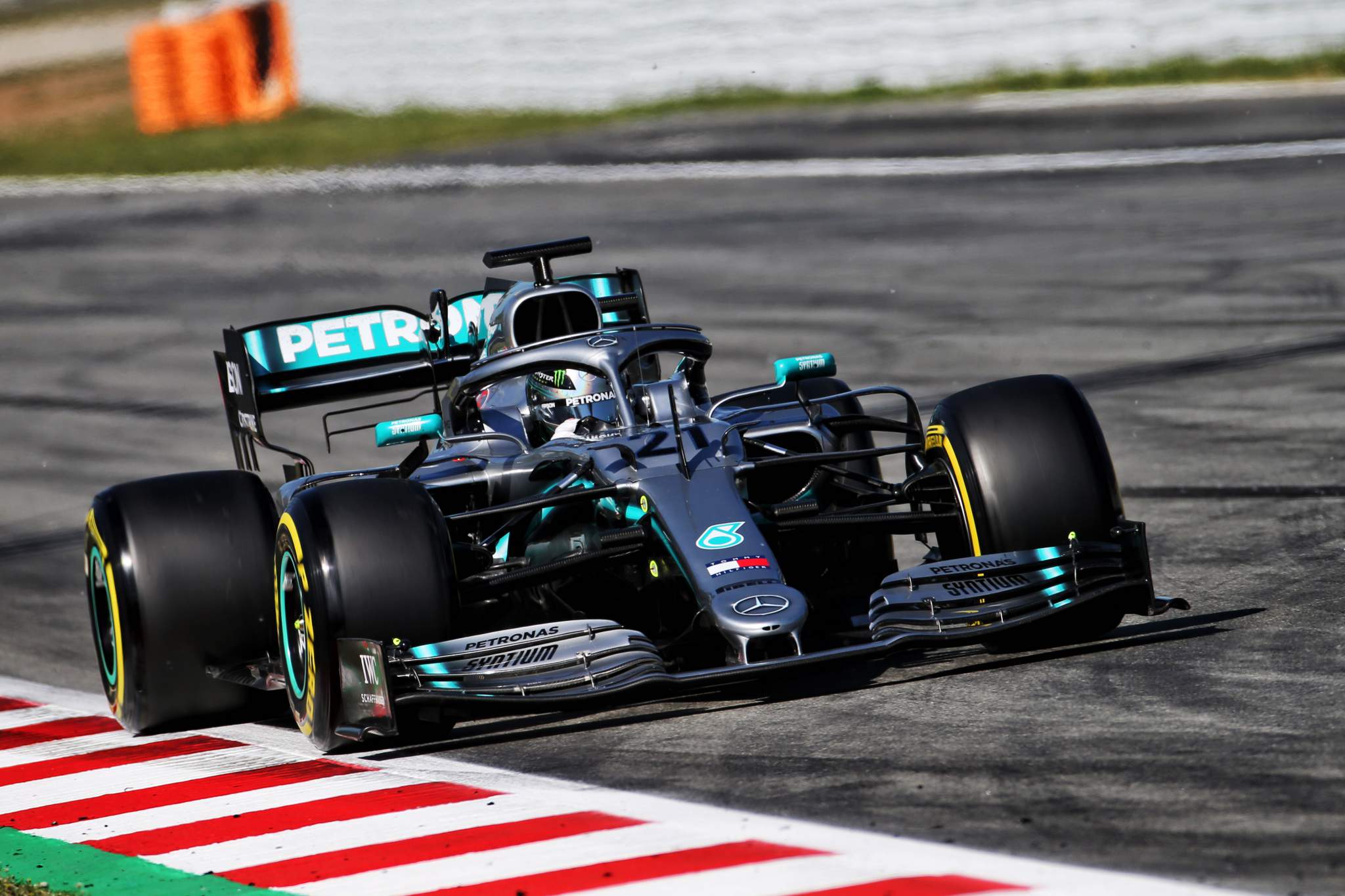 At the very least Mazepin should be on Schumacher's performance level and keep his car pointing the right way. That's not meant to be patronising, it's a reasonable expectation for an F1 driver – even a rookie. But at the moment Mazepin still looks like he's on a steep learning curve, which is where the mistakes and lack of performance are coming.
"Learning comes with pain," says Haas team boss Guenther Steiner. Mazepin had a lot of that in Bahrain, which has been excused by the team as a unique challenge given how windy it was.
Mazepin, to his credit, avoided the easy out of blaming the car for his struggles over the opening weekend. But he was also quick to point to the wind as an explanation for why his relatively trouble-free pre-season test had given way to such a rotten grand prix experience.
"I wouldn't say the car is very tricky in general, I had a very good time with the team in testing," he said on Thursday at Imola.
"Pushing 100% when the wind is that high and changing all the time is something I didn't expect and wasn't ready for it in any way.
"I've had a pretty tough learning curve in that respect and it won't happen again."
Mazepin said he moved on from that pretty quickly, while Steiner simply told him to keep his head up. Steiner also said that he'll need to get through the experience of being under-fire.
"At the moment he's the beat-up boy, you know? Everybody beats up on him," he reckoned. "That makes it tougher."
Both agree that the main thing is that the spins across practice, qualifying and the race in Bahrain were learned from. And between a pair of spins he looked OK in opening practice at Imola, feeling he'd completed a "very good quali sim" and was much quicker than Schumacher. "I was happy with it," Mazepin said.
But he ended the session with a broken front wing and facing the wrong way deep into the pitlane entry road after running wide on the exit of the final corner, getting on the gravel and spinning into the wall.
"You make a mistake here and there, if you drop a wheel, there is no coming back," he said.
Steiner admitted after FP1 that "at some stage" the spins "need to be reduced". He wondered if Mazepin was trying "a little bit too hard" at times.
"Maybe I want to try a bit too much because I like him too much," Mazepin joked in response to Steiner's comments.
"I think that I'm definitely not leaving anything on the table out there, that's the nature of my life in general. I wouldn't want to sleep and feel like I left time out there.
"But there is a balance l haven't mastered yet."
Steiner has put it on Mazepin to do that. Haas, he says, can only guide him. Then "at some stage that will hopefully stop and they will be in a good place," Steiner reckons. In his words, it will "sort itself out".
That process didn't look too far advanced on Friday at Imola. Beyond the obvious disappointment of the spins and light damage in FP1, Mazepin didn't have a very impressive FP2 despite reflecting on Friday overall as a "positive day".
He feels he's closer to understanding the car he wants to drive but also said "it's quite difficult to keep it on track but I'm doing my best", referring to the car's main limitation as a broad "rear instability" problem.
"There are obviously things that you can do but nothing comes for free," he says. "If you gain rear stability you lose front grip.
"It's about balancing both worlds and this car is something more difficult to drive than what F2 offered as rookies.
"But no excuses and I have to get on top of it."
The problem following his session as it happened is that he seems to be struggling with that.
It's very common for drivers to get extensive feedback on-track between runs but it must be said Mazepin did not handle Haas's efforts on this front with much grace in FP2.
During his qualifying simulations on softs he had asked what gear Schumacher was in for the first chicane. After being told the answer he was also offered basic feedback about his first run, but cut his engineer off with the message: "Forget it, let's talk about it after. I don't need to talk about it now."
But he did need it, because he was considerably slower than Schumacher after the first run. And after the second run, in which he appeared to not be using the gear that he'd been advised Schumacher was using.
So again, Mazepin was offered some specific time losses relative to Schumacher to help with apex speeds for his final run, but with his voice raised this time he cut his engineer off again: "Let's talk about that after the run!"
Contrast that to Schumacher, whose engineer relayed information between runs for him to take on board. Sometimes Schumacher took it on board silently, though there was one moment where he was told that a brake balance or differential setting change would help with some entry understeer, so they had a little conversation about it and eventually settled for the diff change.
If Mazepin is to adapt to F1 more quickly he may need a bit more mental bandwidth behind the wheel. There were other examples that indicated Mazepin might be overloaded on-track at the moment.
Early in FP2 he was preparing for a lap on mediums, and got a bit close to Lewis Hamilton in the final two corners when the world champion was going really slow preparing for his own lap. But Hamilton didn't outrageously hold him up, and Mazepin didn't really slow enough in response.
When Mazepin accelerated through the final corner he had a wobble and immediately dived into the pits without even starting the lap. "Tyres were too cold," he said over the radio, before complaining about how much Hamilton slowed down at the end. This was set to be the last push lap on a set of mediums, so it was not as though he unilaterally aborted a crucial run for no good reason. But it was a curious moment that could probably have been avoided with a bit more awareness.
There were also a couple of instances of dawdling to the exit of corners moving aside for traffic, despite clear instructions in advance that cars were approaching. At one point, Esteban Ocon was particularly frustrated with how Mazepin had failed to move aside.
It may be that the crash late in FP1 was simply a blow to Mazepin's confidence and the rest of FP2 was a manifestation of some frustration from that. His final run in FP2, which should have been an important data-gathering exercise in long running, was pretty much a waste of time.
Haas admitted it had given him a potentially difficult task by running him on hard tyres – conditions haven't been ideal at Imola all week – but nonetheless Mazepin looked at sea. He almost lost the rear on the outlap into the second chicane and on his first flying lap was 1.3s slower through the first sector on the first lap of the run than Schumacher on mediums.
"I am on ice, man. Absolutely on ice," said Mazepin, who spent two and a half laps running 10 seconds off the pace because of his caution and having to move aside for faster cars. A red flag for Charles Leclerc's crashed Ferrari curtailed the fruitless exercise.
Saturday's a new day, and qualifying might bring greater fortune for the rookie, but FP3 was again unimpressive. It was a messy session for many drivers but Mazepin had lap times deleted for track limits infringements – and complained over the radio about the first one – then ended up adrift at the bottom of the times and almost a second slower than Schumacher, who was 16th-fastest.
Haas, at least, is not rushing to judge like others.
"We jump to conclusions too early," says Steiner. "To judge somebody on this, it's a little bit early – but for sure Bahrain, he had a few spins and maybe F2 to F1 is still a difficult step. I don't know. Bahrain was very difficult conditions but put it down to learning.
"It's like him driving the Mercedes last year. I think he learned something, but he has to learn that our car is not as good as a Mercedes. The Mercedes is a little bit less temperamental than ours.
"I can only repeat, we have got the whole year to learn. We haven't got the whole year to spin but that [learning] is what we are trying to do this year."
Clearly, Mazepin has struggled more than expected in the beginning. He does look out of depth, but it is so early on in his rookie season – and his proper F1 career – that this is almost certainly going to improve.
Even if he should be further along in that process than he presently is.