Even away from the spotlight of a title battle that he's been most familiar with in recent years, Lewis Hamilton is still a magnet for attention – good or bad.
It's been more of the latter of late. If he gets outqualified or beaten by Mercedes team-mate George Russell, sounds defeatist over the team radio, or looks like he's playing for sympathy after suffering back pain in Azerbaijan, Hamilton critics are quick and keen to strike.
Factors like the above combine to make it very easy to paint a specific picture of Hamilton's season and how he is handling Mercedes' struggles.
The simple narrative is this: Hamilton's a bit off his young new team-mate, he's complaining or looking for excuses, and he's just not up for the fight in the midfield.
Within these very broad brushstrokes there may be some truths. Maybe Russell is getting a little bit more out of the compromised W13 package at the moment. Maybe sometimes, like in Spain, Hamilton does question whether it's worthwhile to pound around a track for an hour and a half if there's a serious chance there'll be no reward at the end of the afternoon.
These circumstances do not really provide much accurate insight into how Hamilton's really handling his situation at Mercedes. They are snapshots of tricky moments, and little else.
It was interesting in Azerbaijan to observe Hamilton's body language in the half an hour or so after qualifying and the race that he is performing his media duties in the TV pen and then with the written media. Especially as in Baku he'd had yet another qualifying defeat to Russell after a difficult run through practice, and then after the grand prix he was in physical discomfort with back pain.
Hamilton's demeanour didn't look much different to when he appears in those sessions as a pole or race winner. Obviously, sometimes this season he has been more stony-faced and not very talkative. But this has long been a Hamilton trait – he's always been much better value when his media briefings have taken place a little further away from a competitive session and he's had chance to relax.
Still, in Baku, he didn't look like a driver who was growing overly frustrated or being beaten down by the situation – which, in simple terms, is him having to accept that one of his last chances to win a title (which he felt was robbed from him in 2021) has all but disappeared. So, The Race asked exactly that – "you seem in good spirits, given the circumstances".
"It is what is," Hamilton shrugged with a smile. "We accept the reality in which we are presented, so there's nothing I can do.
"I was here until 1:30 last night, all the mechanics, all the engineers. I'm here studying, I'm doing everything I can, I'm working with the guys back at the factory.
"I was at the factory for two days in the sim, like I'm giving everything I can, there's not much more I can do."
The sim reference is a good one because Hamilton famously hates being in the simulator. Mercedes has had a good enough run in recent years where he's probably got away with not having to use it as much. Now he's making himself more available and he's working hard because he knows it will take a team effort for Mercedes to turn this around.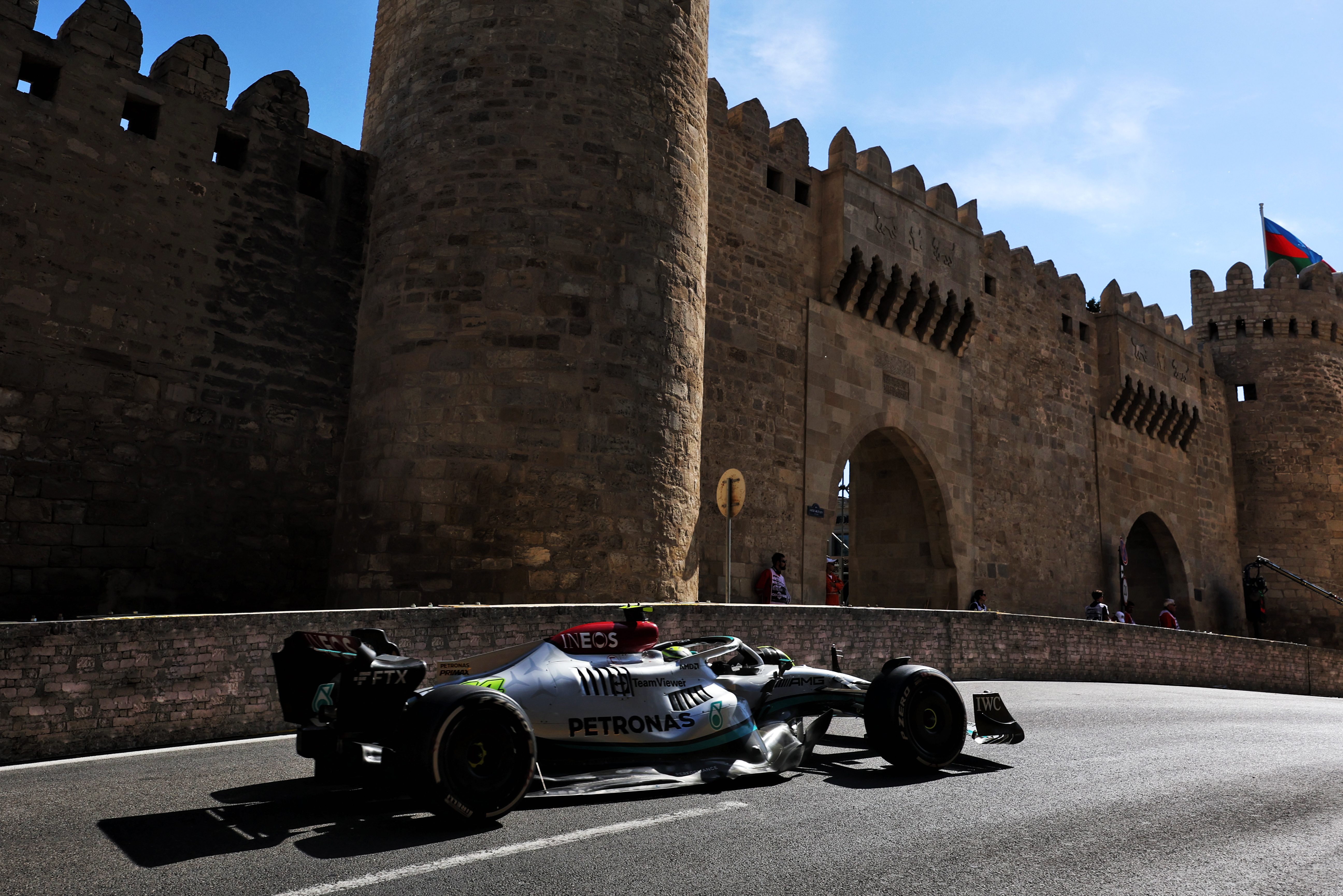 Hamilton's work ethic has always been underrated. Another example of what he's offering Mercedes at the moment is he is the driver taking on more experimental work as it tries a few different things to understand and address its lingering car problems – the focus of which is now on the inherent ride quality.
"He's absolutely in the driving seat, all the decisions that are taken between him and his engineering team are agreed in the sense that sometimes it goes wrong," said Mercedes team boss Toto Wolff.
"He has had a car that was more than a handful [in Baku]. We went in this experimental direction – that's very good. It's good for us to progress as a team."
Even if that is bad for Hamilton himself in that moment, the attitude is – if there's an experiment to try, why not try it? There's not much to lose.
Ultimately, in Mercedes' current position, whether Hamilton batters Russell to finish fifth or has a tough run to sixth doesn't make much difference to anything except external perceptions. And that's not something Mercedes or Hamilton are particularly bothered by.
What they care about is just limiting the damage as much as possible while this situation drags on – as they did in Baku, where Russell was third and Hamilton fourth. That was a good return from a weekend that started with Mercedes in serious strife.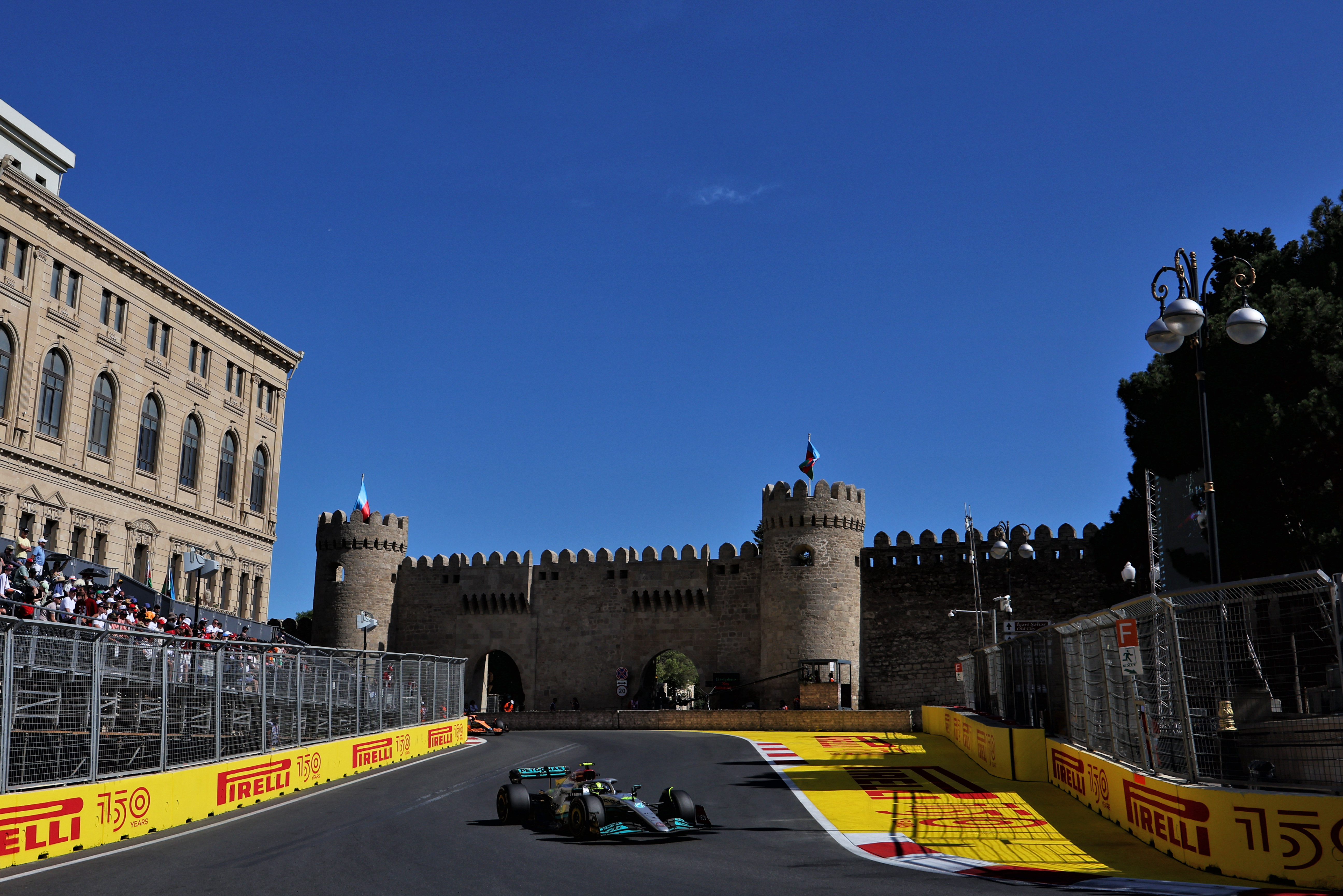 "It's amazing," said Hamilton. "Really, really great points.
"There is potential in this car. We just can't unlock it at all until we stop this bouncing.
"But we have a much different-looking car to everyone else. And we need to have a look and see whether that's right or wrong."
Hamilton's experimental work will be key to Mercedes establishing whether its car concept is inherently flawed, as he has indicated there. That's the sort of behind-the-scenes thing that matters more than results at the moment. A fourth or fifth can't change Mercedes' prospects. A breakthrough with its car limitations can.
Results, and to a degree performances, don't matter as much for now. Though it's also worth remembering Hamilton has hardly been second-rate.
If some circumstances had been different then he, not Russell, would have been the driver grabbing the podium in Australia and Spain, for example. In those races, external factors changed the results.
Russell's doing a great job and really acquitting himself well in a bad situation. His results and consistency are rightly earning plaudits and he looks like a driver Mercedes can really depend on.
Hamilton's the same. The nature of his season so far just makes that a little less obvious from the outside.