Formula 1 pre-season testing has confirmed something that team development curves have been hinting at for a while: the 2022 cars are looking seriously quick.
Back at the initial presentation of this new technical ruleset in late 2019, the FIA's simulations from detailed research into the new concept suggested the cars would be around 3.5 seconds slower than the designs of the time.
Now those new cars are here, in the flesh. And they have validated the increasing expectations that the cars would be quicker than anyone initially expected.
"The 2021 cars were amazing to drive and I think our starting point in terms of performance is not so far from last year," says AlphaTauri driver Pierre Gasly.
"So, considering all the development that we're going to see at the start of the season and over the next couple of months, I think we will see pretty much similar performances."
This echoes a recent prediction from Aston Martin technical Andrew Green that before long the 2022 generation would be on a par with their predecessors.
In our feature identifying key lessons from the first pre-season test, we drew the following comparison to give an indicator of how close the 2022 cars might be already.
Lewis Hamilton's Spanish Grand Prix pole lap in 2021 was 1m16.741s. That's 2.4s faster than the fastest time we saw last week, also set by Hamilton.
BARCELONA BENCHMARKS
| | |
| --- | --- |
| Year* | Fastest time |
| 2022** | 1m19.138s (Hamilton, Mercedes) |
| 2021** | 1m16.741s (Hamilton, Mercedes) |
| 2020 | 1m15.584s (Hamilton, Mercedes) |
| 2019 | 1m15.406s (Bottas, Mercedes) |
| 2018 | 1m16.173s (Hamilton, Mercedes) |
| 2017 | 1m19.149s (Hamilton, Mercedes) |
*All times from qualifying except 2022 (pre-season test) to give fixed point as benchmark
**Tweaked track layout with reprofiled Turn 10 hairpin
The grand prix would have been held in more favourable conditions, the cars were a known quantity, and everything would have been prioritised for performance. So it is reasonable to expect that gap will be closed by the time F1 returns to Barcelona this May for the 2022 race.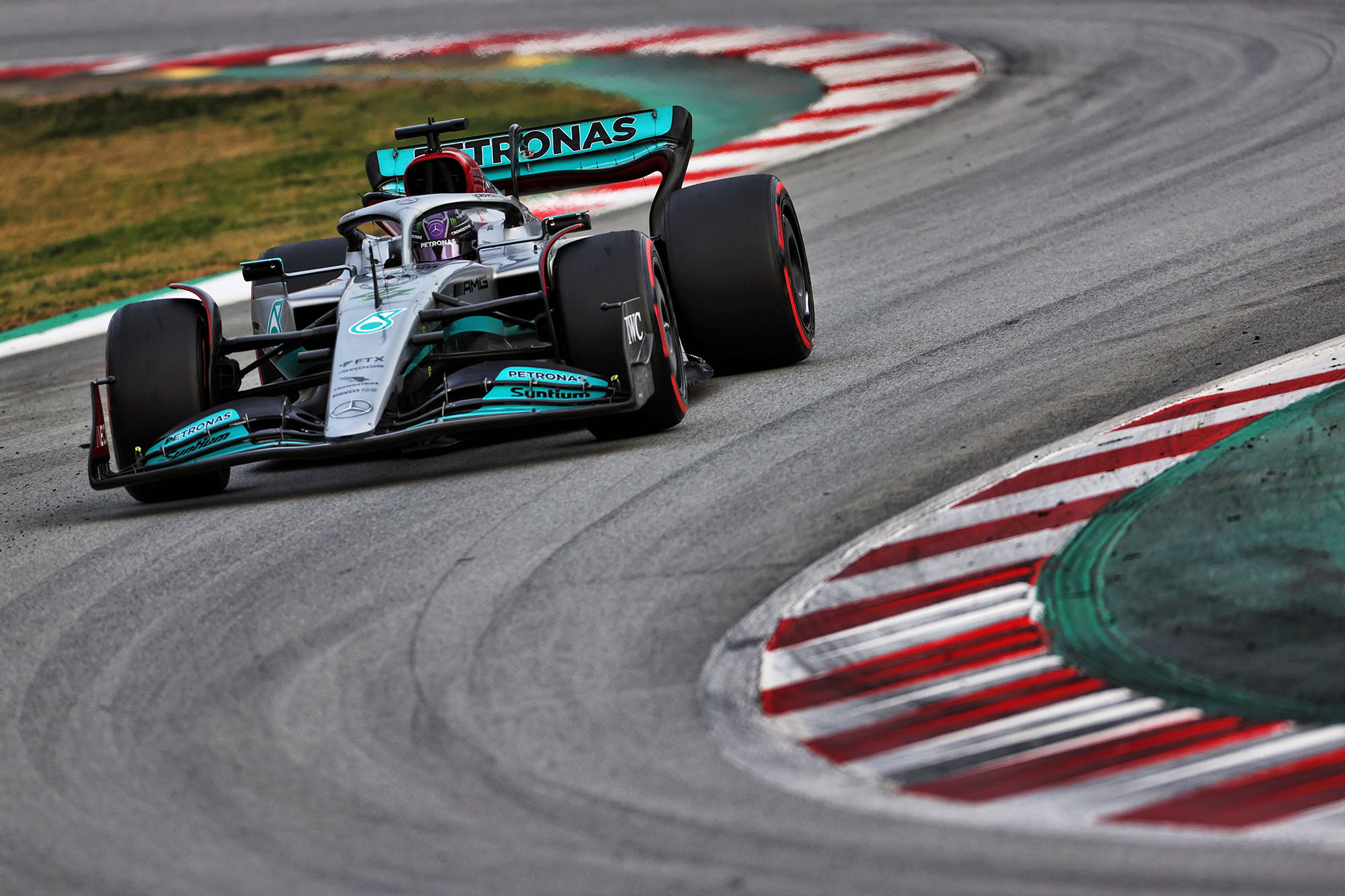 In 2019, the benchmark from the first week of pre-season testing was 1m17.393s. In qualifying a few months later, the pole time was 1m15.406s.
That year, the cars were two seconds faster when it mattered. If that happens again, the 2022 cars will match the 2021 cars.
It's also interesting to note how the sector times from Hamilton's testing benchmark this week and his 2021 pole lap compared – with the smallest difference found in the high-speed first sector, and a bigger deficit in sectors two and three:
| | | | |
| --- | --- | --- | --- |
| | Fastest sector 1 | Fastest sector 2 | Fastest sector 3 |
| 2022 testing | 22.189s | 29.464s | 26.976s |
| 2021 qualifying | 21.724s | 28.543s | 26.295s |
| Difference for new cars | 2.14% | 3.20% | 2.59% |
There's an element of this reflecting the length of the sectors, but it's a handy reference point.
Given the way the new cars generate lap time differently – as fast if not faster in the fast stuff, slower in the slow stuff – it seems likely that the outright pace of the 2022 designs compared to last year will vary from track to track.
For now it's simply impressive that despite a 43kg weight increase it looks like the rule changes have resulted in cars that have suffered no overall loss of performance.
"Overall I think they have probably outperformed the initial projections that Formula 1 set for these new regulations," Mercedes driver George Russell reckons.
"I think we've seen every single team far faster than the four seconds slower than they were planned to be.
"Obviously the high-speed performance is on a par with what we were seeing last year. It was pretty impressive.
"The additional weight makes it a bit slower and sluggish in the low speed corners.
"That's something we'd all love as drivers, to have a much lighter car which will also be better for the tyre degradation as well, but I appreciate it's not quite as simple to achieve.
"So, maybe in the next regulations we can try and achieve that."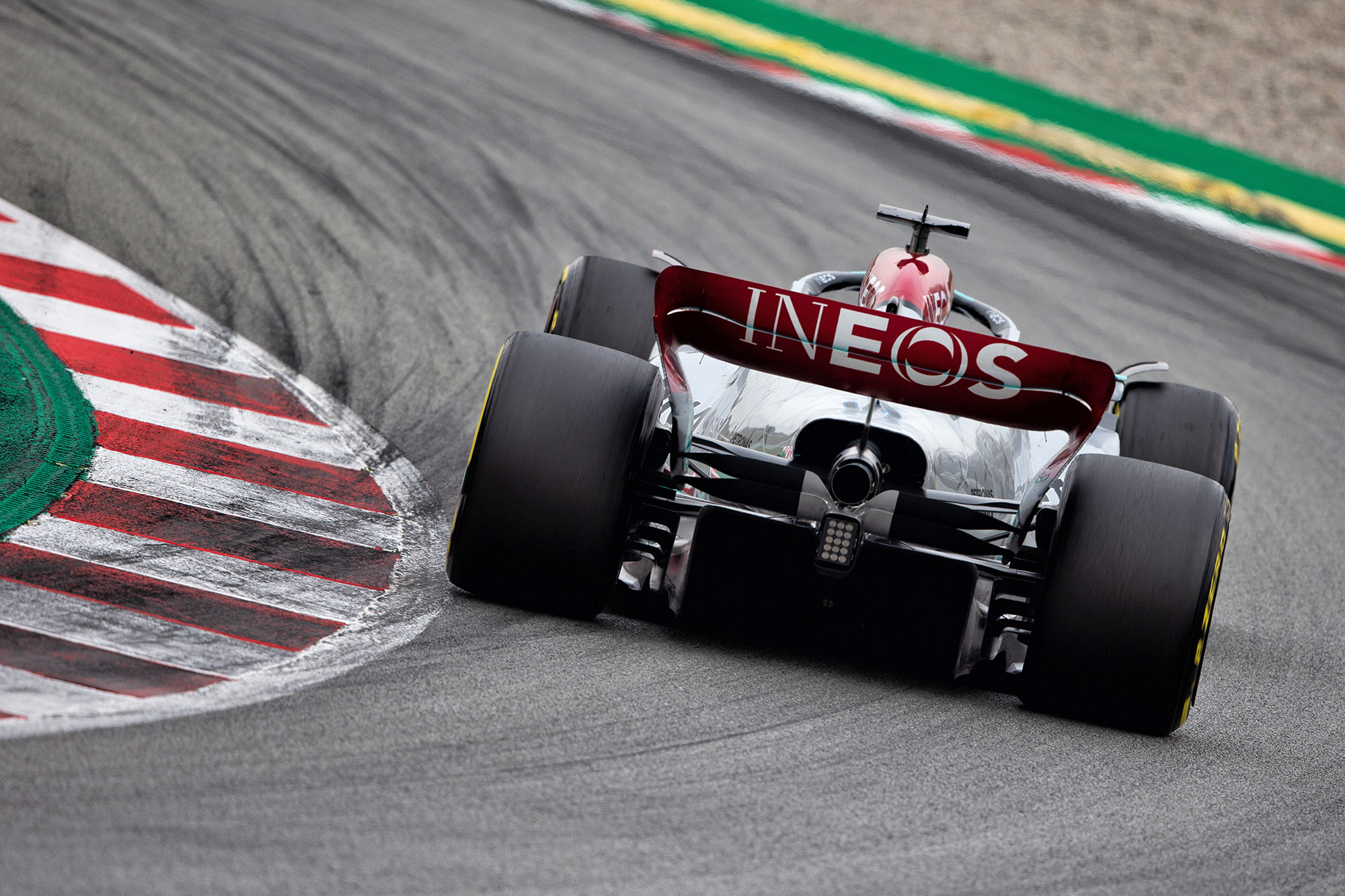 Russell's reference of a target to make these cars four seconds slower makes it sound like that was a specified objective.
But F1 and the FIA insist it was more of an estimated consequence of the changes they were making.
"If I may say there's never been any clear objective to have a very specific time target for laptime," says the FIA's technical lead Nikolas Tombazis.
"We wanted to be close to where the previous cars were. But honestly, if they had been four seconds faster, four seconds slower, I don't think we would have really been bothered that much.
"We don't think that is so important for the show if it is a few seconds faster or slower.
"The more important thing is the cars manage to race closer to each other, and hopefully have smaller performance differentials between them."
That's what drove the simplification of the aerodynamic surfaces and tighter prescriptions in the regulations. It was in the interest of creating cars that leave behind a kinder wake, and are also less sensitive to wake anyway because most of the performance comes from underneath the floor.
A performance drop-off was expected to be a natural consequence of this. That the teams have already recovered the gap is impressive in terms of development but not a long way from what was expected – at least according to F1 managing director of motorsport Ross Brawn.
"We said let's target a couple of seconds less than where we are now because that's what the teams will make up when they get hold of the designs," he says.
"Knowing the progress teams make, when there were 10 teams and all their engineers working at this challenge, then it was going to evolve.
"So I'm not surprised by what's happened. I'm not personally concerned by what's happened."
A key question of course is whether the laptime of the cars is linked to their raceability. However, there are no alarm bells ringing that the cars being quicker than most expected means the teams have subverted the intentions of the new rules.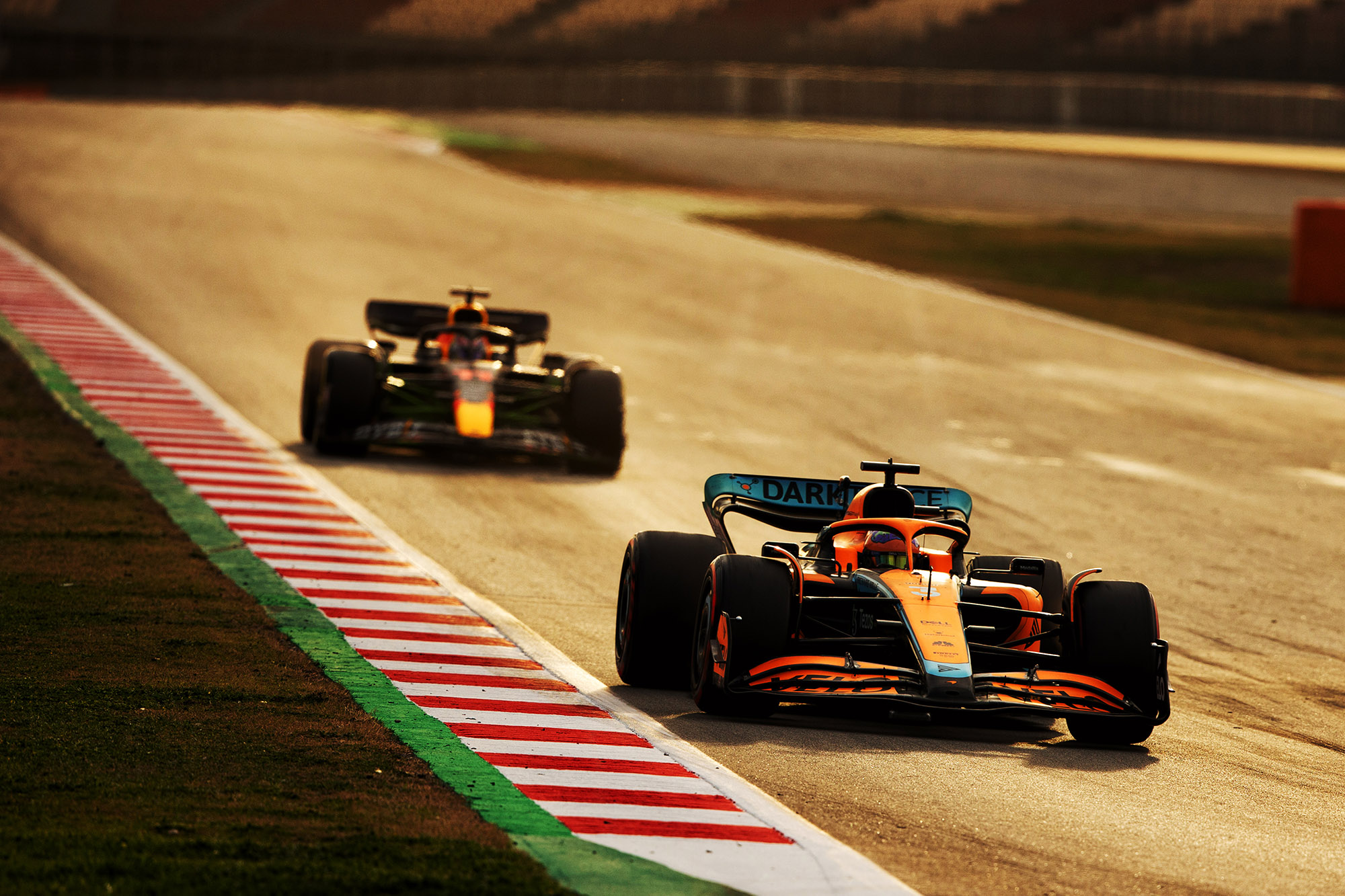 It appears that the cars are still easier to follow than before. And, as the laptime appears to be coming from high-speed corners and faster straightline speeds, it's possible that braking zones will be slightly extended compared to before – which may create more overtaking possibilities.
Either way, there are positive noises about the combination of the cars still being very quick and the turbulence being less problematic.
McLaren driver Lando Norris says: "I look forward to the high-speed circuits which we will be going to because that's obviously the corners where we tend to not be able to follow so much over the last few years.
"But if you have such good cars in the high speeds, which it's looking like at the minute, and are able to follow much closer and so on on those types of tracks, it should prove to be good racing and exciting for everyone to watch."
F1 and the FIA will be alert to the cars getting too fast from here. But not necessarily out of fear it'll wreck the ambitions of the new regulations.
"Over time, there'll be some trimming of the laptime to keep it in a certain region," says Brawn.
"You've got to be careful they are not too fast, because of course the safety standards of circuits then need to be modified. And we don't want circuits having to change things all the time.
"So we keep it within a margin, a boundary, and I'm pretty comfortable that's where we'll be.
"We'll see what the development rate is and decide if that needs adjusting in the future."