Mercedes lost the lead of both Formula 1 championships in the Monaco Grand Prix, had to retire a car from second with a bizarre fault in a pitstop, and watched its world champion talisman driver struggle to a disgruntled seventh in both qualifying and the race.
Was this a day when the title battle advantage swung back towards Red Bull? Or was this a typical Monaco anomaly that will count for nothing in the long term?
Here are our writers' thoughts:
RED BULL'S ADDED SATISFACTION
Scott Mitchell
Max Verstappen and Red Bull might take extra pleasure from their victory and Mercedes' awful Sunday given the narrative their chief rival has tried to stoke during the early events.
Mercedes and Lewis Hamilton were happy to point out the errors from Verstappen and Red Bull that they felt had let the world champion team off the hook while it ironed out some kinks in its W12.
The idea was that Verstappen was making mistakes (which he was) and Red Bull wasn't always capitalising on a car advantage (also correct). Pre-Monaco Hamilton even said that Verstappen might have something to prove.
This was the perfect response from the Red Bull side of the fight, one that coupled with a Mercedes implosion should put an end to the mindgames and little digs that accompanied the early races.
It resets everything and shows Red Bull's just as much in this battle as Mercedes – and that neither side is perfect.
This was never going to be a Mercedes stronghold in 2021
Mark Hughes
It was of course a disastrous day for Mercedes with just one car finishing and in seventh place! But actually, this is not a long wheelbase/low-rake track.
Yes, Mercedes dominated here in '19 but that car had a hugely dominant advantage over its rivals. With a car that is – at best – usually only marginally faster than its nearest rivals, it was always looking likely Monaco would be a struggle.
Not this much of one, obviously! But a struggle nonetheless.
The Red Bull has always been able to have more downforce loaded onto it and it would have been a real surprise if the Mercedes was a match here.
Pit operations have not been good this year and on this occasion that was more expensive than usual.
Hamilton dropped the ball
Gary Anderson
First of all congratulations to Max Verstappen, Carlos Sainz Jr and Lando Norris, commiserations to Charles Leclerc – to suffer a DNS when on pole in Monaco is difficult to take.
That result didn't happen because Mercedes had the common Monaco accidents or incidents. Basically it made mistakes.
Taking Bottas first, who suffered a pitstop failure when a wheelnut stripped the thread off the axle – this is not the first time Mercedes has had problems in that area and with the pitstop competition as close as the championship competition it is an area that needs to run click-clunk. You can't afford mistakes anywhere.
As for Hamilton, he hasn't been a happy chappy all weekend. Being outqualified by his team-mate by four grid positions meant he didn't have a good Saturday and it didn't get any better on Sunday. Actually he was never really in the race, he started seventh and finished seventh and was verbally less than excited by his team's strategy on the radio.
Mercedes obviously didn't get it right for Monaco. But that said Bottas in qualifying and the race was running around in his normal position so had no real problems on pace.
So from that you would say it was Hamilton who dropped the ball. If I could wish for anything, I would really love to be a fly on the wall in the Mercedes post-race debrief in Monaco.
It actually could've been worse
Edd Straw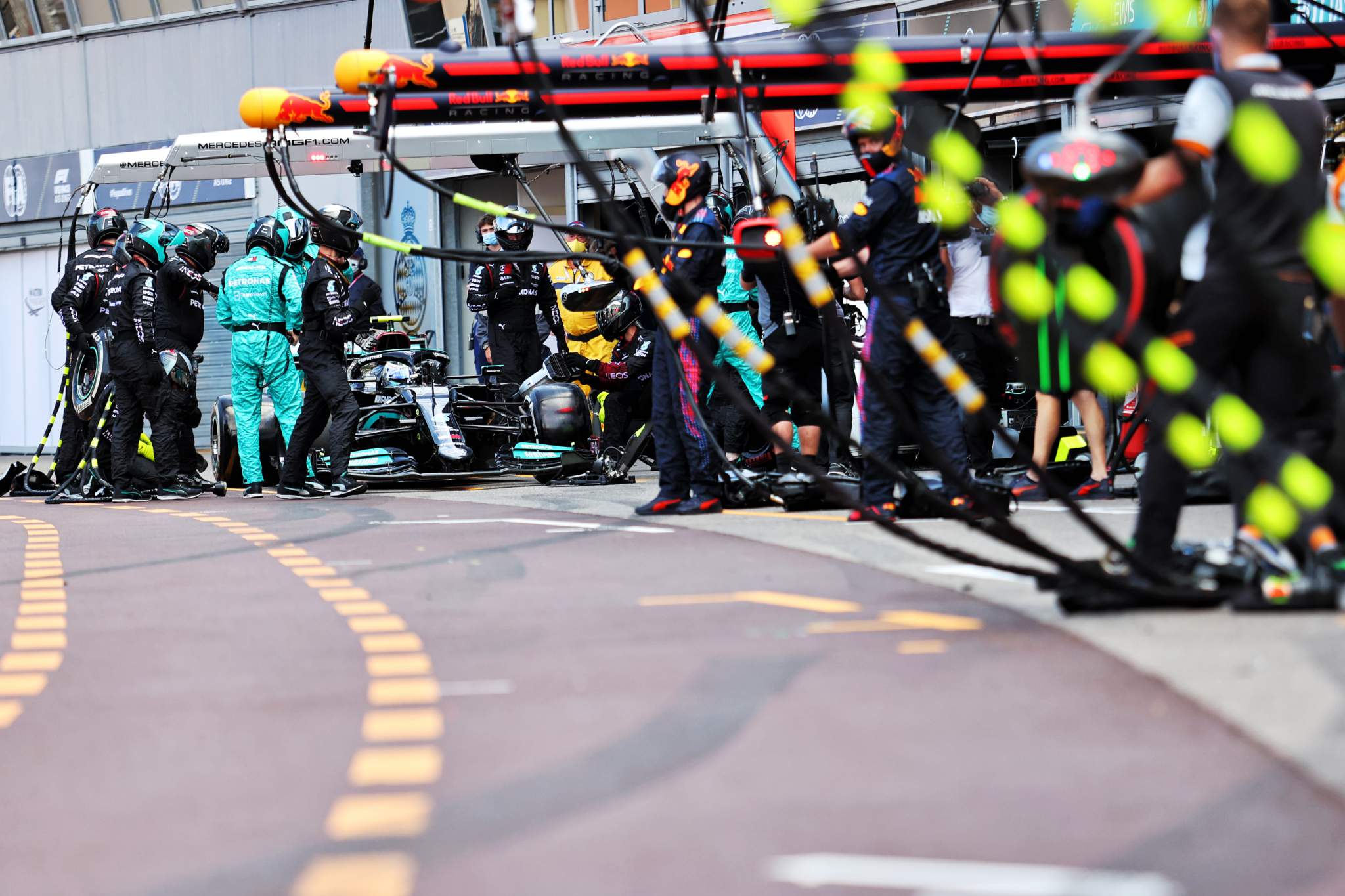 This was certainly a bad day for Mercedes with the pitstop disaster for Bottas and Hamilton losing two places to other drivers running longer.
But if you're going to have things go wrong, it's no bad thing for it to happen on a weekend where the team is not at its best.
While it was a big swing in favour of Verstappen and Red Bull in the world championship, it would be more damaging were this an event that Mercedes looked destined to dominate. That's hardly a silver lining, but it at least tempers the disappointment given the damage isn't quite as bad as it might have been on another day.
Mercedes now needs to look very closely at what's going wrong with pitstops as while this is the most extreme problem, it's not the only one the team has encountered. Likewise, strategy in races where things aren't going so well needs to be sharpened up.
This was a bad day for Mercedes, no question. But at least it wasn't a disastrous one.
A well-timed change of narrative
Matt Beer
Mercedes tends not to have slightly bad days when things go wrong – when it rains, it gets saturated, to mangle a phrase – but one off-weekend in what should be a 23-race season might not mean a lot.
The significance here though is the timing. Red Bull was starting to look like it had squandered the pace advantage it began the season with and couldn't handle taking on the relentless title-winning machine of Hamilton + Mercedes. Verstappen ending Monaco practice day declaring his car was "weak" suggested more of the same this weekend.
Instead Verstappen is now a Monaco winner and F1 world championship leader for the first time in his career, and Hamilton's comments both after qualifying and over team radio during the grand prix are a reminder that he and Mercedes can still drop balls and get rattled. Red Bull needed that chink of light.
A warning not a crisis
Rob Hansford
While it is a concern that Mercedes had so many issues today, it doesn't necessarily mean that this was a defining moment of the season.
Mercedes was never really on the pace this weekend, but Monaco is a unique circuit and it would be ridiculous to think the champion team has suddenly lost a huge amount of performance.
Everyone is allowed an off-day and Mercedes will no doubt write this off as one, though it did highlight a number of weaknesses for the team.
The W12 will no doubt be the fastest car at the majority of tracks going forwards and so today is unlikely to have a monumental effect on its championship, but it can't afford to gift Red Bull and Verstappen too many victories.
Mercedes needs to ensure it has no more repeats of today.