The thrilling 2014 Bahrain Grand Prix was just what Formula 1 needed after a messy and widely derided start to its hybrid era.
But it also marked the first sign of just how dominant Mercedes could be, and the first big flashpoint in the fractious intra-team relationship between Nico Rosberg and Lewis Hamilton that would cause so much angst over the following three years.
Earlier this year, Bahrain 2014 was one of the races we re-evaluated in our F1 Revisited series. As F1 returns to the track, here's another chance to read that feature.
So dull had been the Melbourne and Sepang races that Bernie Ecclestone and Luca di Montezemolo believed they could be used to abort the new hybrid formula.
"It's a taxi driver's formula," derided Montezemolo, believing the fuel limitation was preventing the cars being raced hard.
That may have been true of his Ferraris – Fernando Alonso and Kimi Raikkonen literally powerless to stop cars breezing past them on the straights at Sakhir.
But this epic race proved it definitely wasn't true of the Mercedes, much to the watching Montezemolo's dismay.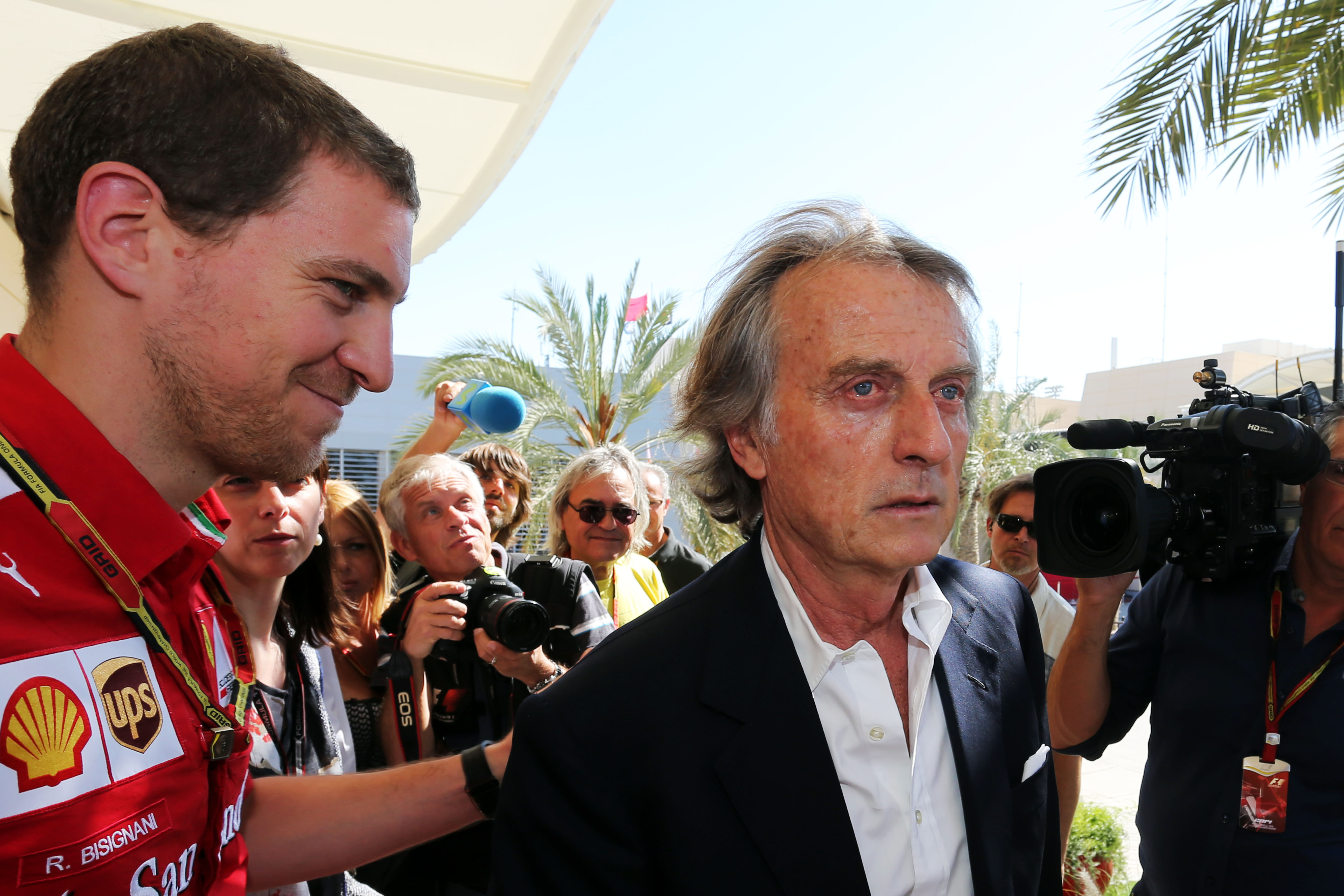 In the process, Lewis Hamilton and Nico Rosberg drew the battle lines very clearly in what looks certain to be their squabble over the sport's biggest prize. The intensity of their fight has just stepped up several notches.
As the gantry lights went out, Hamilton got the better start, overturning the advantage of Rosberg's pole within a couple of seconds, as the sister Mercedes was forced to tuck in behind.
The two Mercedes pulled out a comfortable gap over a pack headed by fast-starting Felipe Massa's Williams from Sergio Perez (Force India), Valtteri Bottas in the second Williams, McLaren's Jenson Button, then the Ferraris of Alonso and Raikkonen.
Alonso was very aggressive with team-mate Raikkonen into the first corner, with Raikkonen then taking a hit from Kevin Magnussen's McLaren that damaged the Ferrari's bodywork.
Hamilton's racecraft remained flawless as he used every resource at his disposal to keep Rosberg from stealing the track position advantage he'd bought himself
In the early stages Hamilton got himself out of DRS range and Rosberg conserved fuel, not far behind. The pre-race plan at Mercedes was that whoever was behind going up to the first stops would be put onto the harder tyre for the second stint and thereby be on the faster tyre for the third stint, giving him a second bite at the cherry.
Once he'd lost the start and the first-lap dicing, Rosberg was planning on having plenty of fuel to burn in that softer-tyred last stint, so as to maximise his advantage. From as early as lap three Rosberg was asking his engineer Tony Ross for fuel comparisons to Hamilton. His deferred battle plan was very evident.
Except… Hamilton wasn't going as quickly as Rosberg had expected. The longer the stint went on, the stronger Rosberg looked, until he was closing fast and reporting "I feel a lot quicker than he is" over the radio.
"I didn't have the pace today," admitted Hamilton later, "and that's in the back of my mind. I've got to really go and work to find out what it is because it wasn't the case in the last race."
Hamilton was using more fuel than Rosberg – in stark contrast to Malaysia – and was constantly having to back off to keep his left-front from overheating, under instruction from race engineer Pete Bonnington. He just wasn't in as good shape as Rosberg, but held track position over him.
Maybe Rosberg wouldn't have to rely on the third stint tyre offset to pass. Maybe he could try and win it from the front, by passing Hamilton on-track now before the stops, the first of which was scheduled for lap 19.
One lap before that Rosberg got a DRS-assisted tow down the pit straight and was then super-late on the brakes up the inside. Hamilton smartly just waited until Rosberg had over-committed and run wide, to nip behind and back ahead through the switchback left-hander of Turn 2, ruthlessly chopping across Rosberg's bows.
Rosberg had one more lap left in which to try to make the pass stick before the leading Mercedes – whichever of them it was – would be called in.
Rosberg again got DRS on the pit straight, again braked super-late, both of them momentarily locking up, but Rosberg was now ahead.
Yet still, Hamilton wouldn't surrender, running through the switchback of Turn 2 on the outside, this getting the inside line through Turn 3 onto the back straight up to Turn 4. Towing Rosberg up there, getting alongside on the outside and thus forcing Rosberg to turn into Turn 4 shallow, Hamilton got better momentum through the corner and was able to grind ahead on the exit.
He may not have been happy with his pace, but Hamilton's racecraft remained flawless as he used every resource at his disposal to keep Rosberg from stealing the track position advantage he'd bought himself at the start. This was shaping up into the hybrid era's first great race – much to the inconvenience of Ecclestone and di Montezemolo.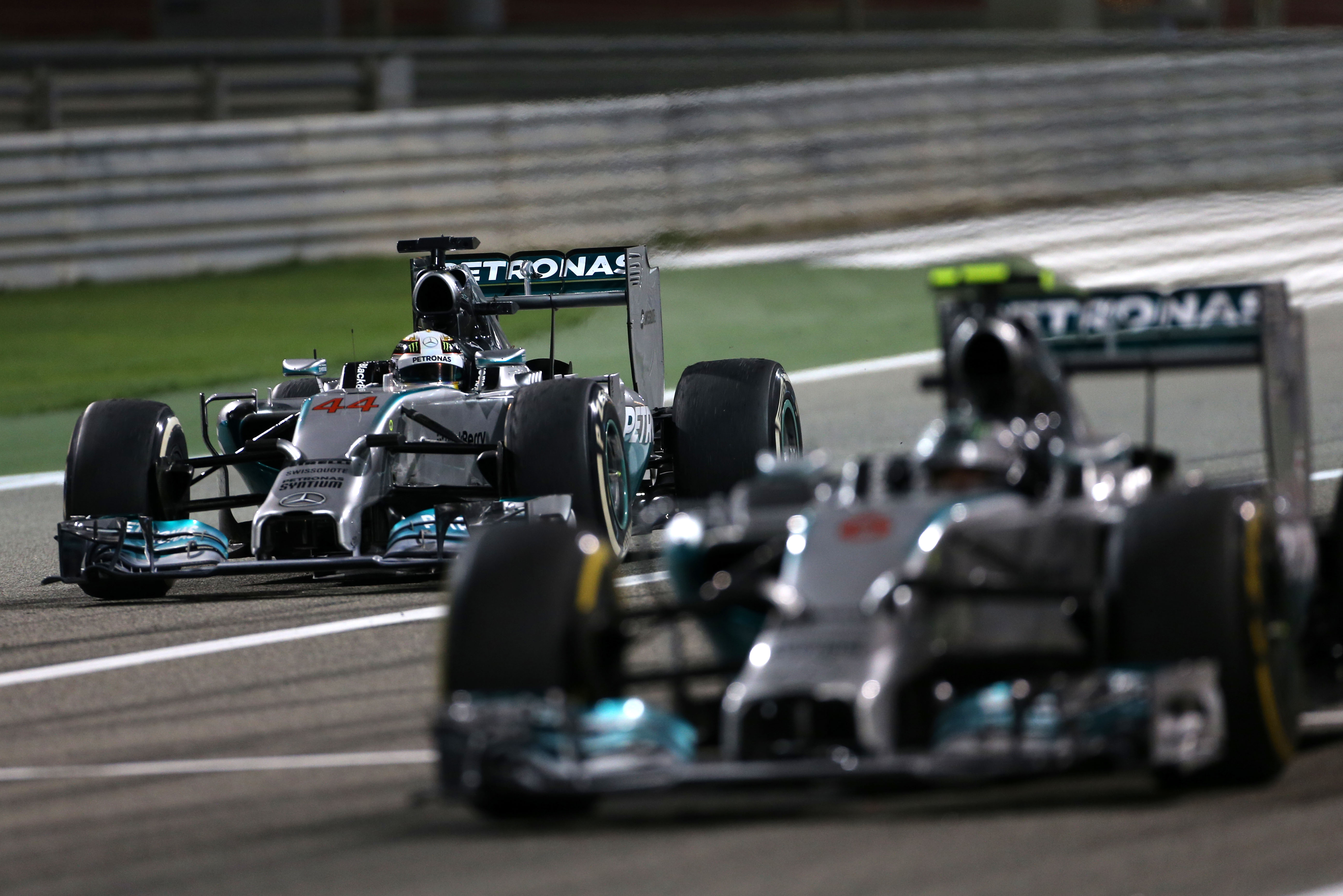 Hamilton, having just survived the onslaught on his favoured strategy through sheer street-fighting smarts, was brought in at the end of the lap and fitted with another set of softs.
Rosberg was left out for a further two laps before being put onto the harder tyres for the middle stint of what was clearly now a two-stop race for the Mercs. Rosberg had almost been able to put himself onto Plan A, but his team-mate's intense resistance before the stops had put him back onto Plan B – a higher-power, stickier-tyre attack in the final stint.
He rejoined now 6s behind Hamilton, who needed to pull out a good gap in this middle stint if he was to have the margin to stave off what was sure to be a mighty Rosberg challenge in the final stint.
Within the next 10 laps Hamilton pulled that gap out to 9s. To the casual observer, it looked like game over, but actually this was poised beautifully for the final stint when Rosberg was sure to be around 1s per lap faster.
"I was certain I was going to win it. I thought I'd got him about nine times. But…" :: Nico Rosberg
As the second stops beckoned Hamilton's advantage was around 10s. Rosberg's middle stint hadn't been brilliant and he'd actually used up the harder tyre's grip sooner than Hamilton had the softer tyre. But still it was all to play for.
Then Pastor Maldonado gave Rosberg the most fantastic gift. The Lotus driver made a spectacular misjudgement as he exited the pits and accelerated towards the apex of Turn 1 just after Esteban Gutierrez's Sauber had already turned in.
With the Lotus in his blind spot, the Mexican made for that same apex at the same time. They interlocked wheels, double-rolling the Sauber spectacularly, thankfully without harm to anyone.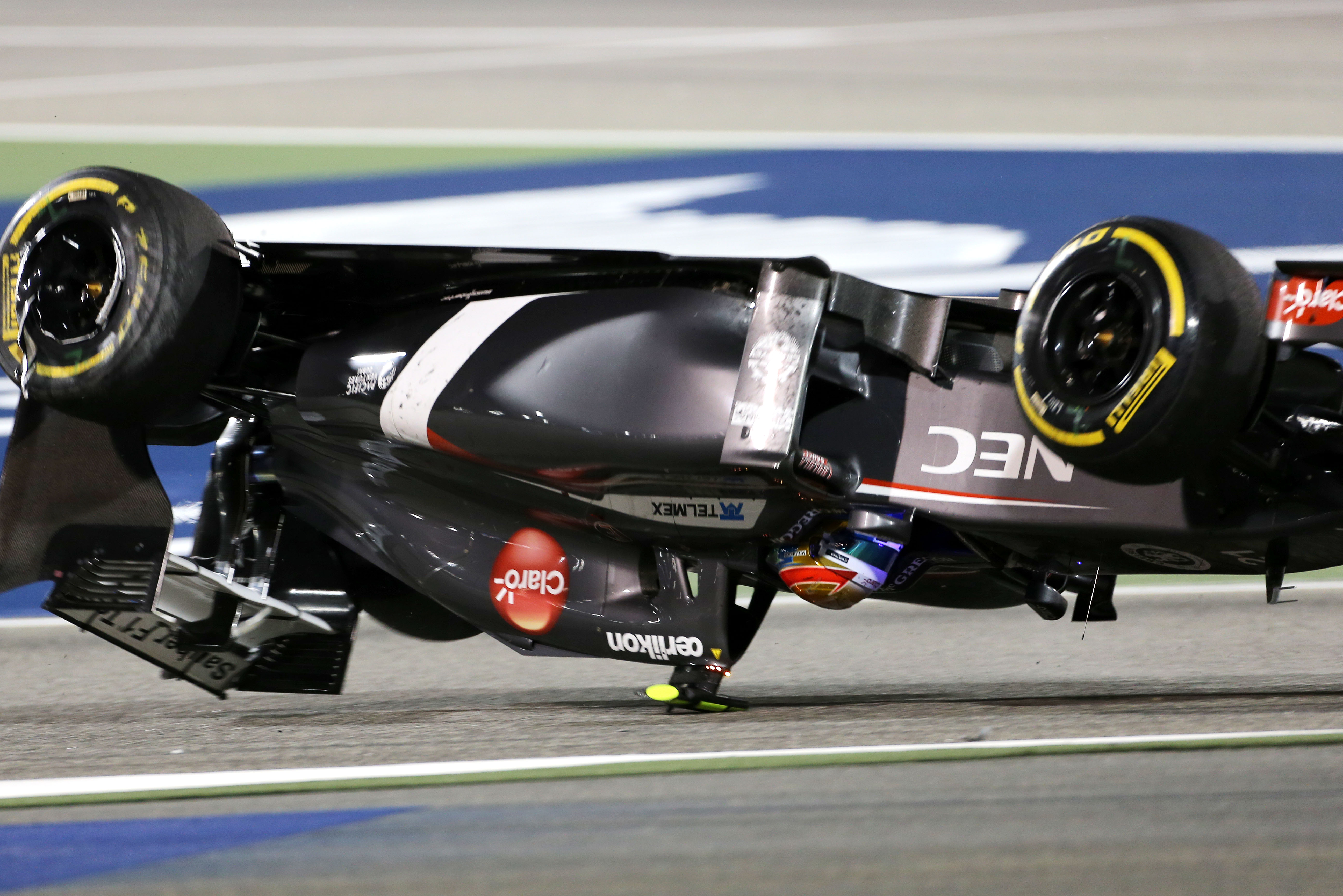 The incident brought out the safety car – and both Mercedes made for the pits where Hamilton was fitted with the harder tyre, Rosberg the softer one. As they all circulated behind the safety car, Hamilton's 10s advantage had been wiped out – and he now had Rosberg right behind him and on a much faster tyre.
Surely, he wouldn't be able to hold him off for the 10 laps that were left when the safety car finally came in?
But this was the same resolute Hamilton who'd fended off a faster Rosberg earlier. Now, he set about doing it for 10 laps rather than just two. What unfolded was a simply epic wheel-to-wheel, gloves-off, flat-out brawl.
"I was certain I was going to win it," said Rosberg. "I thought I'd got him about nine times. But…"
Hamilton defended the inside line down to Turn 1 on the restart, allowing Rosberg a better run through there and onto the back straight. Rosberg got alongside on the outside of Turn 4 but Hamilton hung him out to dry over the kerb – Rosberg complaining over the radio that Hamilton was out of order.
There were repeats of Rosberg's late down-the-inside into Turn 1 moves, with Hamilton again doing the switchback to lead again into Turn 2 as Rosberg ran wide.
"Hybrids sometimes have more power than at other times and so it's difficult to be in the right place [relative to the other car] coinciding it with when you have the power," Rosberg explained.
"Many times I just didn't even know where he was because there's a big dead angle in the mirrors when you're this close. So many times I didn't know where he was and then he'd suddenly reappear again."
But basically, Hamilton's stunning defence led Rosberg to push hard enough to lose his tyre advantage after a few laps.
"They just got too hot from sitting in the slipstream and pushing so hard," he reported.
Going into the last lap Rosberg already knew the race was lost. Not just the tyres, but the electrical energy had been spent on the previous lap.
It later emerged that Hamilton had used unauthorised engine maps in his desperation to keep Rosberg behind.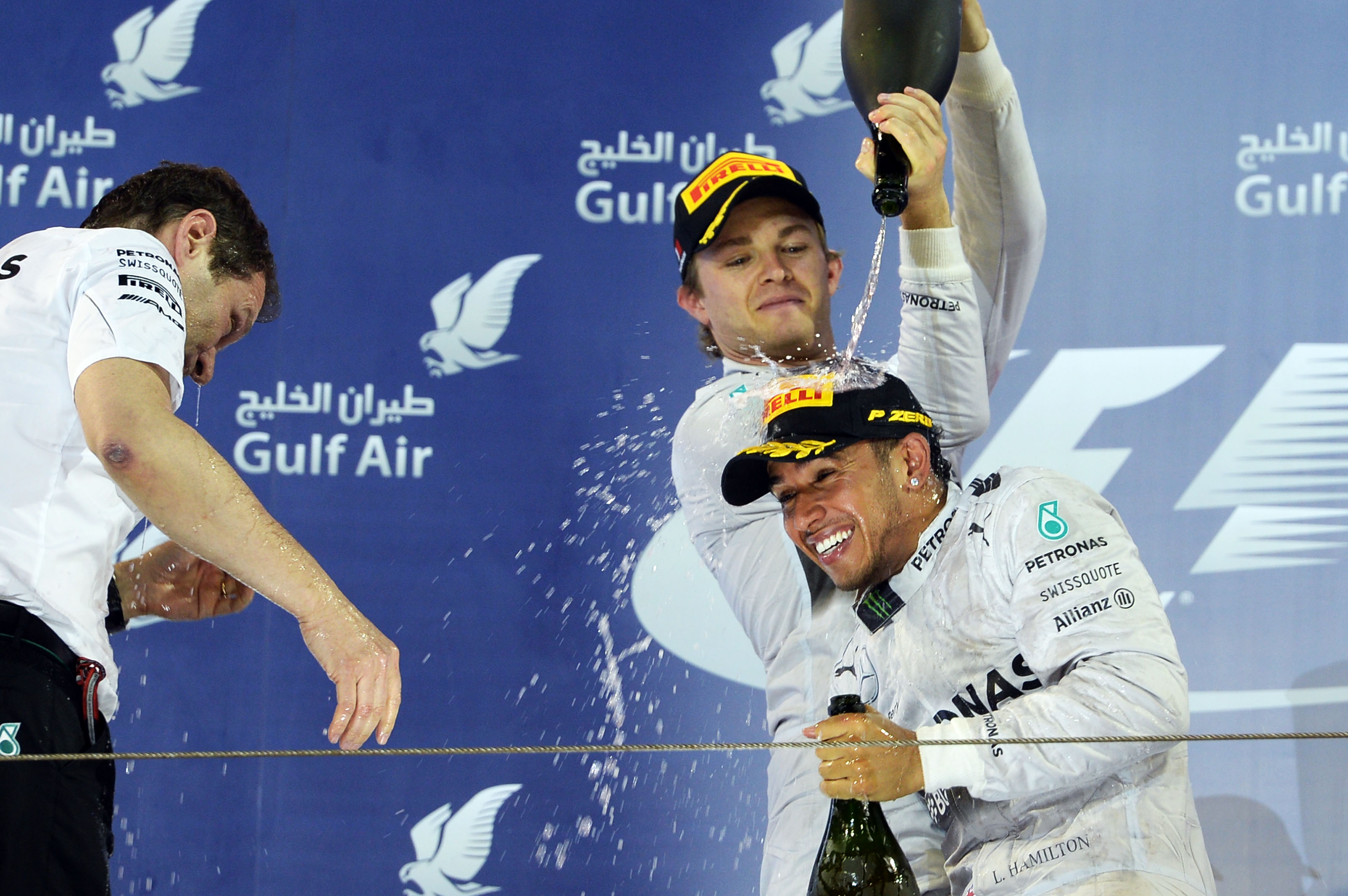 Hamilton took the hardest-fought victory of his F1 career to date. He was thrilled.
"To have a real racer's race and to be able to use whatever skills I've acquired over the years since karting, pulling them all out the bag and using them again just feels fantastic, one of the greatest feelings you can have."
"That was the toughest defeat I've ever had to deal with," Rosberg said later.
This was the first time we'd seen the awesome Mercedes stretched flat-out as Hamilton and Rosberg gave it everything. In 10 laps they pulled out 24 seconds on third-place finisher Perez!
Nonetheless it had been a great drive by Checo, getting the better of Force India team-mate Nico Hulkenberg wheel-to-wheel (in similar style to Hamilton on Rosberg at Turn 4) and then fending off the charging soft-tyred Red Bull of Daniel Ricciardo at the end. Ricciardo's team-mate Sebastian Vettel was similarly pushing Hulkenberg but ultimately stayed behind it, sixth.
Despite starting two places ahead of his grid-penalised team mate, Vettel had finished the race two behind. Looks like being a tough season for the reigning champ.
The Williams was using its rear tyres too hard to allow Massa and Bottas, in seventh and eighth, the optimum strategies.
Button dropped out of this group late in the race with a mechanical problem and Alonso headed a Ferrari 9-10.
As he crossed the line, Alonso punched the air in a sarcastic victory salute at the Ferrari's woeful race pace – and no one was buying his explanation afterwards that it was a genuine gesture.
By this time a disgusted di Montezemolo was long-gone, headed for the airport. His plans to aid Ecclestone in pulling the rug from the new formula were in tatters – as surely were the seasonal hopes of any team other than Mercedes.