Fernando Alonso said his and Alpine's performances in the closing stages of his comeback Formula 1 season have been at "another level" after the first part of the year, after ending his seven-year podium drought with third place in the Qatar Grand Prix.
The 40-year-old last finished on the podium when he was second for Ferrari in the 2014 Hungarian Grand Prix after being passed for the lead by Red Bull's Daniel Ricciardo with just under three laps remaining.
He felt that Qatar was probably his best weekend of the season so far, having set the fifth fastest time in qualifying, started third thanks to grid penalties for Max Verstappen and Valtteri Bottas and briefly ran as high as second after passing Pierre Gasly on the opening lap.
"Probably as a weekend in general, this one was the best because Friday, Saturday, Sunday was very consistent," said Alonso when asked by The Race if this was the best performance of his comeback.
"Sochi I think was quite well-executed as well. Only the rain at the end stopped us from [getting] the podium there.
"The last part of 2021, it's another level compared to the first part. So I'm happy with this year of comeback and the preparation for next year is definitely another level now."
Alonso's pace was strong throughout the Qatar weekend on a Losail International Circuit that he described as "fantastic". He executed a one-stop strategy well, keeping the charging Sergio Perez at bay in the closing stages – aided by team-mate Esteban Ocon's defensive work and the late-race virtual safety car.
While that was his first podium of the comeback, he came close in the Russian Grand Prix before finishing sixth after a late pitstop in the rain. That was the position he held when the rain hit, having earlier overtaken Max Verstappen, but he climbed to third in the initial shower before having to make a stop only when the second rain front swept in.
Alonso now holds 10th in the drivers' championship having scored points in 14 of the season's 20 races, picking up four top-six finishes in the last 10 races. That includes his fourth place at the Hungaroring, where he held up Lewis Hamilton for 11 crucial laps, protecting team-mate Esteban Ocon's lead.
While Alpine's form has been erratic this season, with its strong showing in Qatar ending a difficult run. But despite that, Alonso is confident about the prospects for 2022 and the new technical regulations.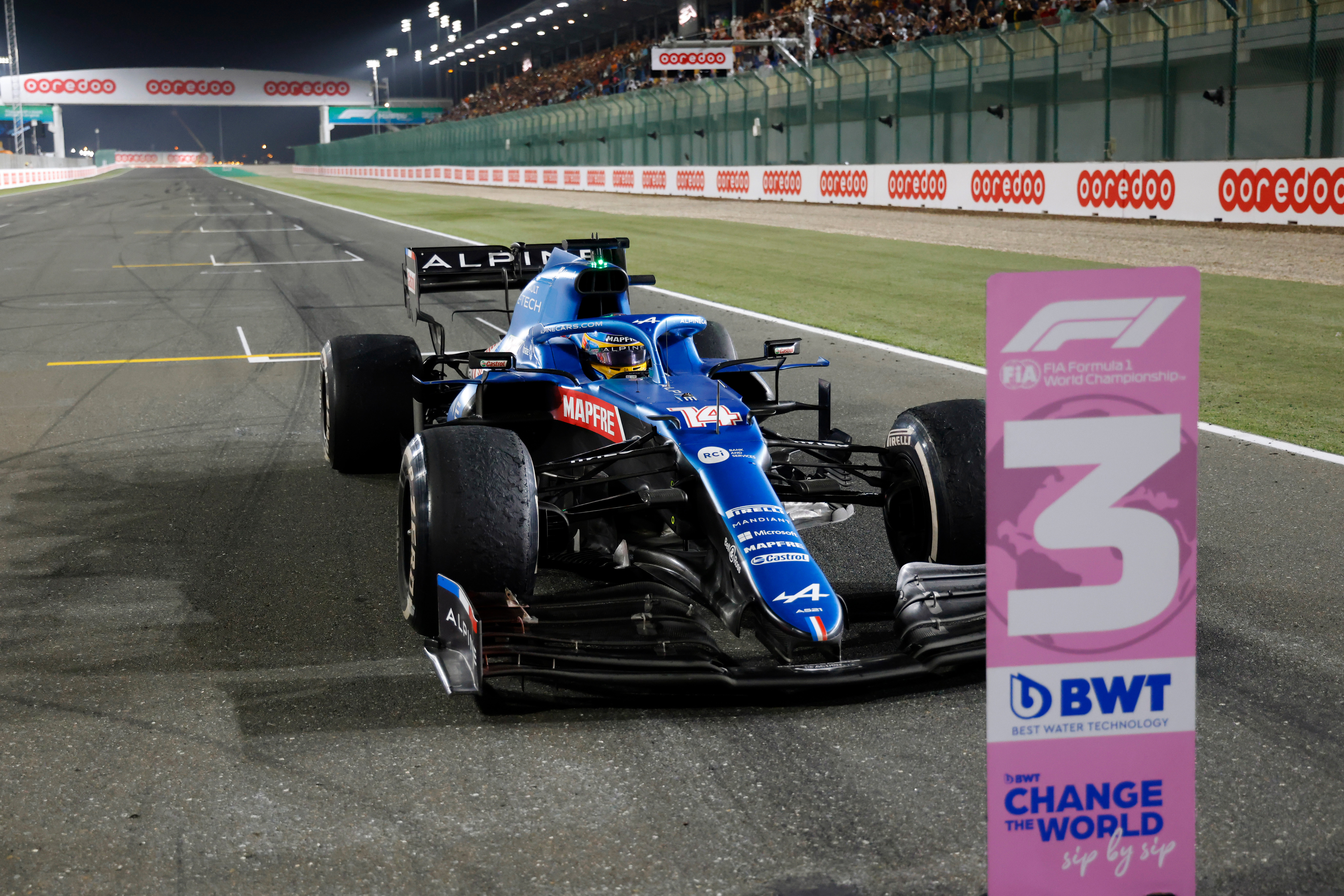 "It feels good," said Alonso of the podium finish. "Obviously, it's a long wait from the last podium in 2014, I'm happy for this one.
"Your career sometimes goes up and down. I had wonderful moments two, three years ago winning Le Mans, winning the World Endurance Championship etc, but obviously coming back now in preparation for 2022 and the new rules and to have this podium now, at the end of the year, it feels really nice.
"We are more ready than what we were 10 months ago. "
Despite some questioning Alonso's comeback when what was then called Renault announced his signing in July 2020 on the basis of his age and two seasons out, the Spaniard has shown himself to be an outstanding performer still.
He admitted it took him a little time to re-adapt, but sixth place on his sixth outing in the Azerbaijan Grand Prix marks a breakthrough. While his fortunes have ebbed and flowed with that of Alpine, with the team's form in the three races that preceded Qatar in the USA, Mexico and Brazil far worse, there's no doubt he's still capable of race wins in a competitive enough car.
His 98th podium finish in Formula 1 shouldn't be his last, and if Alpine can take a big step forward next year – no foregone conclusion given it has plateaued in F1's midfield in recent years – then perhaps even adding to his tally of 32 grand prix victories is possible.