Lewis Hamilton took an against-the-odds Bahrain Grand Prix victory after Max Verstappen was asked to let his rival back through in a late battle.
Verstappen had closed in rapidly on Hamilton, having lost the lead in the first pitstop sequence, and overtook the Mercedes for first place three and a half laps from the end.
But having gone over the edge of the track limits line to do so, Verstappen relinquished the lead at race control's request and could not reclaim it.
Hamilton had hovered within two seconds of polesitter Vertappen through the opening laps, then forced Red Bull's hand by diving in for an early first pitstop for new hard tyres on lap 14.
With the fresh tyre advantage, Hamilton was soon lapping up to 3s faster than Verstappen, and though Red Bull kept its race leader out for four laps, its situation was only getting worse.
By the time Verstappen emerged – on mediums – from his first stop, his lead over Hamilton had become a 7s deficit. But he was able to swiftly reduce that, and within 10 laps was under 2s behind Hamilton.
Mercedes responded by bringing Hamilton in for another early stop at exactly half-distance, staying on hards.
Red Bull told Verstappen it expected Hamilton to struggle to get those tyres to the end from there, and stayed out another 11 laps.
Hamilton did chip away at Verstappen's lead during that time, but at a less ferocious rate than during the first pit sequence.
Even so, Verstappen was still 8.8s behind Hamilton as he rejoined on hards following his final stop with 16 laps left.
Verstappen immediately started cutting the gap, and was within range of the leader going into the final five laps.
Hamilton running wide in the middle sector then let Verstappen get right back on his tail, and he attacked down the outside into Turn 1 on lap 53 of 56 before getting a run on the following straight.
Verstappen drew ahead going into Turn 4, but went wide over the edge of the circuit on the exit of the corner as he took the lead.
LAP 54/56

WOW 😮

Max gets past Lewis to take P1 but runs wide

So Max gives P1 back to Lewis

Can the champ hang on? #BahrainGP 🇧🇭 #F1 pic.twitter.com/smH5VEkuoC

— Formula 1 (@F1) March 28, 2021
Red Bull received a swift message from race control and ordered its driver to let Hamilton back past to avoid a penalty.
Verstappen then struggled to get close enough to have another attempt in the remaining laps, and that meant Hamilton took an unlikely victory by just 0.7s after an enthralling season-opener.
Valtteri Bottas lost touch with the lead battle initially when he was outduelled by Charles Leclerc's soft-tyre-shod Ferrari on the opening lap and spent the first six laps in fourth place, and then fell away again when a problem on the right front led to a slow second pitstop.
He completed the podium, ultimately very distant after an extra stop to successfully chase fastest lap.
After his poor qualifying, Sergio Perez's Red Bull debut got even harder when the car cut out on the formation lap and forced an aborted start.
But having managed to restart the RB16B and get back to take the start from the pitlane, Perez starred with a superb charge through the field to fifth place.
He couldn't quite catch Lando Norris, who emerged on top of a brilliant first-lap duel with team-mate Daniel Ricciardo to lead McLaren's charge.
Norris soon overtook Leclerc too and then had a clear run to fourth place.
Leclerc was demoted to sixth by Perez in the closing laps, with Ricciardo seventh ahead of the second Ferrari of Carlos Sainz Jr.
Fernando Alonso had been up with the McLarens in the first stint before losing pace on medium tyres and tumbling down the order. He later retired with brake problems.
LAP 34/56 – ALO OUT

Frustration for Fernando Alonso in his first Grand Prix back in F1

He's out of the race after reporting brake issues 😬#BahrainGP 🇧🇭 #F1 pic.twitter.com/wTUPrO8sZI

— Formula 1 (@F1) March 28, 2021
His Alpine team-mate Esteban Ocon was only 13th, partly due to a collision in which Sebastian Vettel sent him spinning, though he had not been near the points even before that.
Vettel went for a one-stop strategy after his disappointing qualifying and subsequent penalty, allowing him to spend a while in the top 10, but he ended up 15th. He also received a 10-second penalty that was immaterial for the race order, and two penalty points, taking his total from this weekend alone to five.
Despite all the promise AlphaTauri showed up to race day, it only came away with ninth place.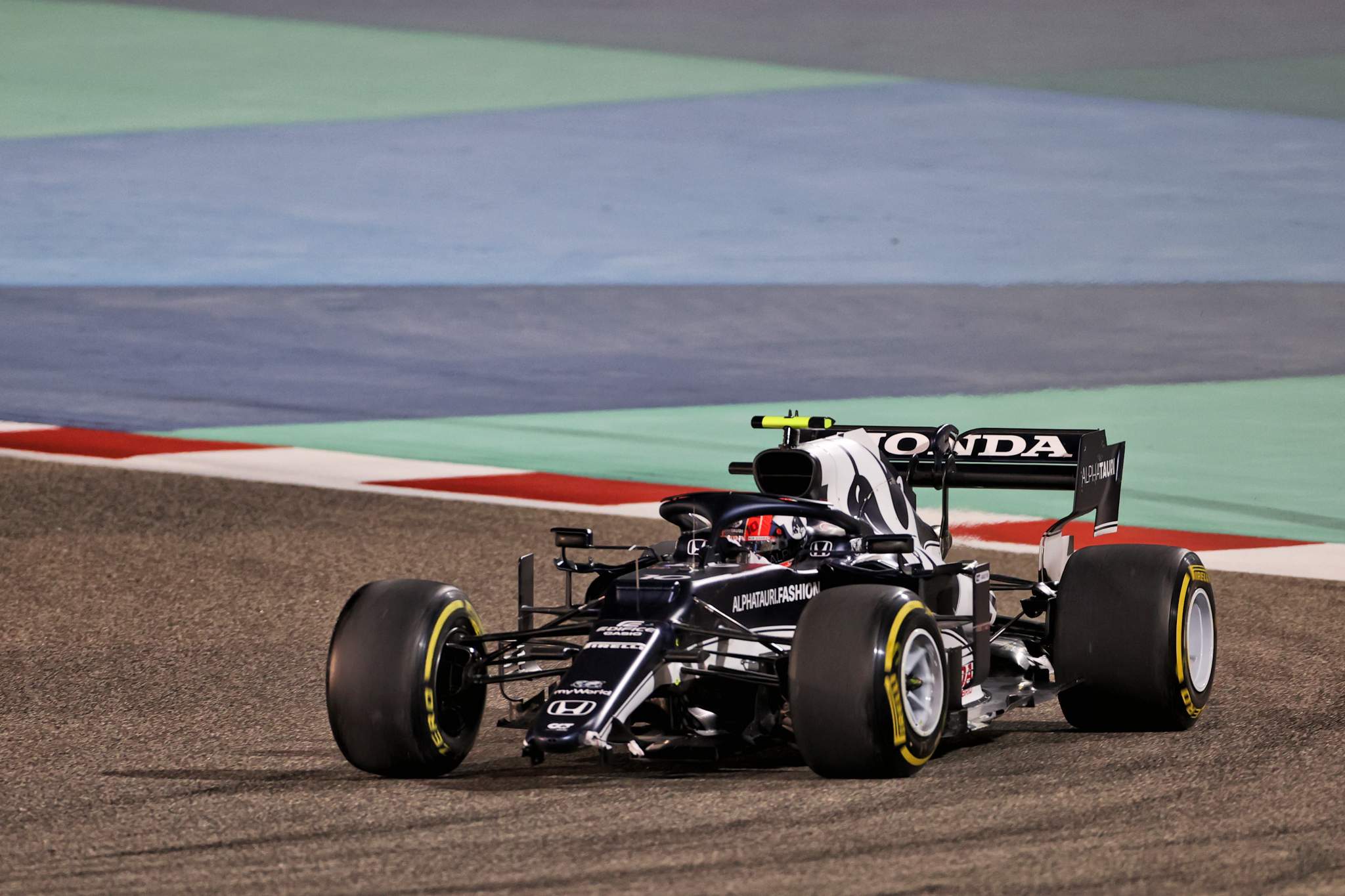 Pierre Gasly removed his front wing by tagging Ricciardo in an early dice and made little progress from the back thereafter, running 16th before parking late on.
Rookie Yuki Tsunoda dropped back to 16th in an opening lap brush with Vettel but recovered well to overcome Kimi Raikkonen and Lance Stroll in the final stages to take ninth.
Haas's rookie Nikita Mazepin's F1 debut was extremely brief, as he caused an early safety car by spearing into the barriers by himself on the exit of the opening complex on lap one.
His team-mate Mick Schumacher showed the Haas was definitely tricky to handle as he had a similar spin on the subsequent restart lap, though he avoided the barriers and continued to finish 16th and last.
Race Results
| Pos | Name | Car | Laps | Laps Led | Total Time | Fastest Lap | Pitstops | Pts |
| --- | --- | --- | --- | --- | --- | --- | --- | --- |
| 1 | Lewis Hamilton | Mercedes | 56 | 27 | 1h32m03.897s | 1m34.015s | 2 | 25 |
| 2 | Max Verstappen | Red Bull-Honda | 56 | 29 | +0.745s | 1m33.228s | 2 | 18 |
| 3 | Valtteri Bottas | Mercedes | 56 | 0 | +37.383s | 1m32.09s | 3 | 16 |
| 4 | Lando Norris | McLaren-Mercedes | 56 | 0 | +46.466s | 1m34.396s | 2 | 12 |
| 5 | Sergio Pérez | Red Bull-Honda | 56 | 0 | +52.047s | 1m33.97s | 3 | 10 |
| 6 | Charles Leclerc | Ferrari | 56 | 0 | +59.09s | 1m34.988s | 2 | 8 |
| 7 | Daniel Ricciardo | McLaren-Mercedes | 56 | 0 | +1m06.004s | 1m34.932s | 2 | 6 |
| 8 | Carlos Sainz | Ferrari | 56 | 0 | +1m07.1s | 1m34.509s | 2 | 4 |
| 9 | Yuki Tsunoda | AlphaTauri-Honda | 56 | 0 | +1m25.692s | 1m34.761s | 2 | 2 |
| 10 | Lance Stroll | Aston Martin-Mercedes | 56 | 0 | +1m26.713s | 1m34.865s | 2 | 1 |
| 11 | Kimi Räikkönen | Alfa Romeo-Ferrari | 56 | 0 | +1m28.864s | 1m35.192s | 2 | 0 |
| 12 | Antonio Giovinazzi | Alfa Romeo-Ferrari | 55 | 0 | +1 lap | 1m35.122s | 2 | 0 |
| 13 | Esteban Ocon | Alpine-Renault | 55 | 0 | +1 lap | 1m35.25s | 2 | 0 |
| 14 | George Russell | Williams-Mercedes | 55 | 0 | +1 lap | 1m35.036s | 2 | 0 |
| 15 | Sebastian Vettel | Aston Martin-Mercedes | 55 | 0 | +1 lap | 1m35.566s | 1 | 0 |
| 16 | Mick Schumacher | Haas-Ferrari | 55 | 0 | +1 lap | 1m36.134s | 2 | 0 |
| | Pierre Gasly | AlphaTauri-Honda | 51 | 0 | DNF | 1m34.09s | 2 | 0 |
| | Nicholas Latifi | Williams-Mercedes | 50 | 0 | DNF | 1m36.602s | 3 | 0 |
| | Fernando Alonso | Alpine-Renault | 31 | 0 | DNF | 1m36.063s | 3 | 0 |
| | Nikita Mazepin | Haas-Ferrari | 1 | 0 | DNF | 0s | 0 | 0 |