Lewis Hamilton expects the FIA to stop further displays like his T-shirt demanding action over the killing of Breonna Taylor but has "no idea" what will be demanded of drivers.
F1 and the FIA have incorporated anti-racism messaging into the pre-race build-up with its #EndRacism and #WeRaceAsOne initiatives, while Hamilton and several other drivers have taken the knee to join a global anti-racism movement that has flared up again in 2020.
Where other drivers have worn T-shirts with the #EndRacism slogan pre-race, Hamilton has opted for one with the "Black Lives Matter" message, but at Mugello two weeks ago wore a T-shirt referencing the killing of emergency medical technician Taylor in the United States with the words "Arrest the cops who killed Breonna Taylor" on the front and "Say her name" plus a photo of her on the back.
He wore the T-shirt pre-race and post-race and on the podium, which the FIA took notice of – and while it opted against a formal investigation it is expected to clarify its guidelines of what drivers are allowed to do from this weekend's Russian Grand Prix onwards.
How it will do that without unfairly censoring drivers is unclear, but the clarification is expected to be communicated through race director Michael Masi's instructions to drivers over the course of the weekend.
"I have no idea, I've not spoken to them," Hamilton said. "What was really positive was the support that I got from the fans. The fans have been amazing, and I don't regret a single moment of it.
"I usually follow my heart and do what I think is right, I felt that was me following my heart, I did something that's never really happened in Formula 1, and obviously they'll stop it from happening moving forwards.
"People do talk about sport not been a place for politics. Ultimately it's human rights issues.
"In my opinion, that is something we should be pushing towards, we have a huge collective group of amazing people that watch our sport from multiple different backgrounds and cultures.
"We should definitely be pushing constant messages towards them, especially for equality.
"I don't know what they're going to do this weekend, but lots of rules have been written over the years that haven't stopped me."
Hamilton said he recognised that the FIA has "certain limits that they feel that they have to work within".
"Obviously trying to make everyone happy which is what they try to do and do the right thing," he said.
"So this is a learning process for everyone, because people have been happy with the norm here, with how life and society has operated.
"But ultimately the world, and the younger generation in particular, are more conscious that things aren't equal and change is needed.
"It does take conversations with people, and things like Mugello happening, for people to spark a conversation that would perhaps never have taken place if it didn't happen.
"I haven't spoken to them, but I've heard that tomorrow they'll come out with a new ruling of some sort saying what you can and cannot do.
"We will just try to continue to work with them, whether or not I agree or disagree is kind of irrelevant. It's just trying to find a common ground on how we can do it together maybe.
"Do I believe that they fully understand? I don't know. But perhaps in the future, we all will to the same extent."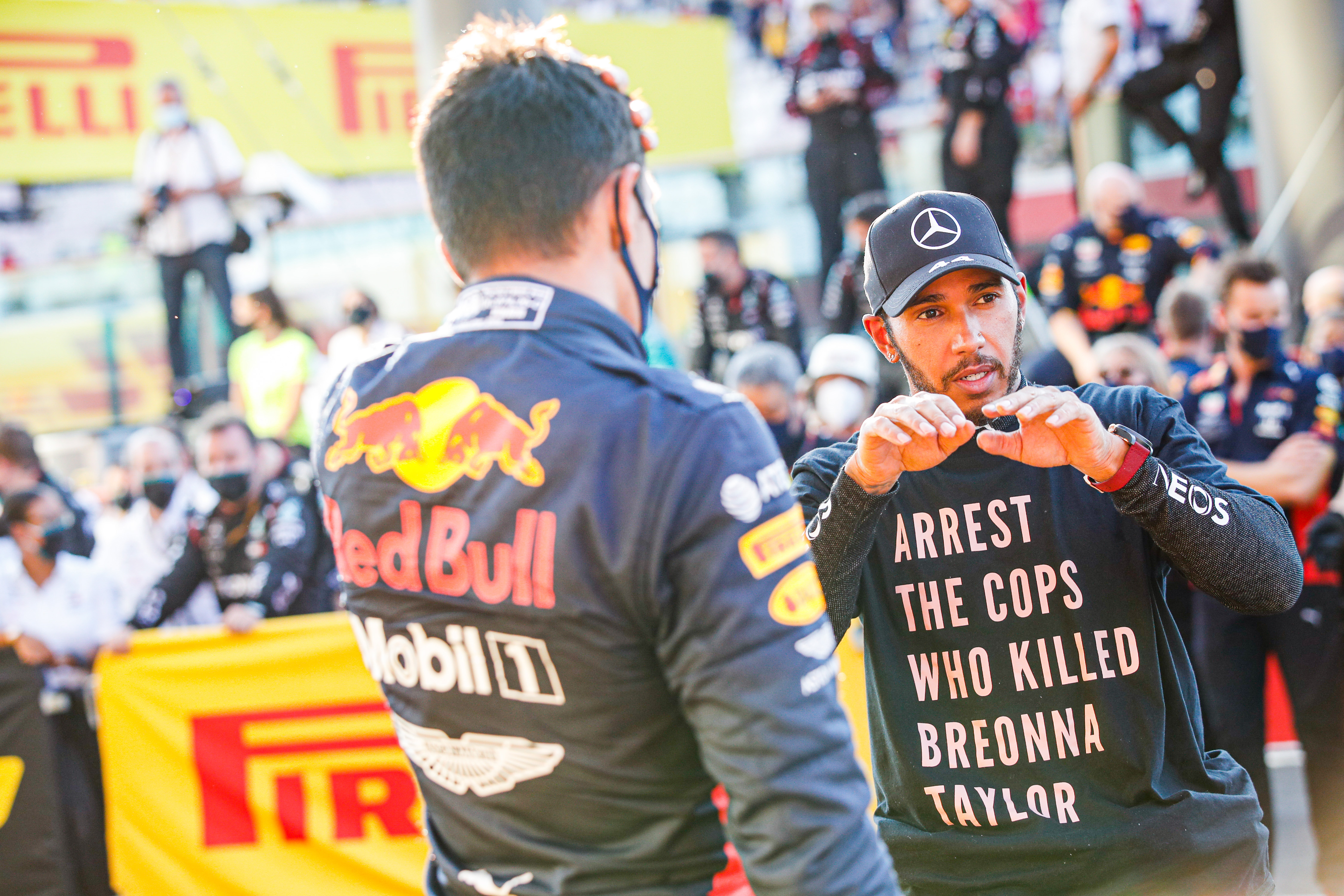 Hamilton, the first black driver in F1 and only black driver on the current grid, has used his enormous social media platform to support anti-racism campaigns and other issues but has escalated that into high-profile gestures and action at races as well.
He has been one of many high-profile sportspeople demanding justice for Taylor, a black woman who was shot multiple times as officers raided her home in March.
It was announced this week that no charges will be filed against the officers in relation to her death, which Hamilton said on social media he was "so sad but [I am] not surprised" to.
He wrote: "Police continue to get away with murder every single day and it needs to stop!
"She was innocent and did not deserve to be shot and killed. Where is the justice, this clearly isn't it.
"It hurts to know somebody was killed and nobody was held accountable.
"Imagine that was your mum, your brother or sister or friend, her life mattered but the system which was meant to protect her failed her all because of her skin colour. So mad."
In the aftermath of the Tuscan GP he had pledged that he "won't stop, I won't let up, I won't give up on using this platform to shed light on what I believe is right" but says he has nothing "special" planned for this weekend's race in Russia.
"We will continue to do the symbolic gesture that we do at the start of the race, but there's nothing majorly significant," he said.
"I don't know much about the history here in Russia, we continue to utilise the platform as we have been doing collectively.
"It's not something that's changing overnight, and never will, it's going to take a long time, a long, long time, probably definitely beyond my career and I'm sure in my lifetime and beyond.
"The goal is to collectively change things for the future generations."