Haas will retain the same driver line-up next year after confirming Mick Schumacher and Nikita Mazepin for the 2022 Formula 1 season.
F1 rookies Schumacher and Mazepin graduated from Formula 2 this season, which was always billed as a transition year for the team.
Next season will be a bigger test for both drivers as Haas aims to re-establish itself as a competitive part of the F1 midfield.
Haas opted to do minimal development work on its 2021 car so it could focus its resources on the new technical rules that will be introduced in 2022.
That combined with its all-rookie line-up meant the team acknowledged this season would be spent at the back of the grid and it is on course to register its first point-less season in F1.
Reigning F2 champion Schumacher, a Ferrari protege, has been the stronger performer over the course of the season.
He has made it through to the second part of qualifying once, in France, but has otherwise been eliminated in Q1 at every event while Mazepin has never made it to Q2.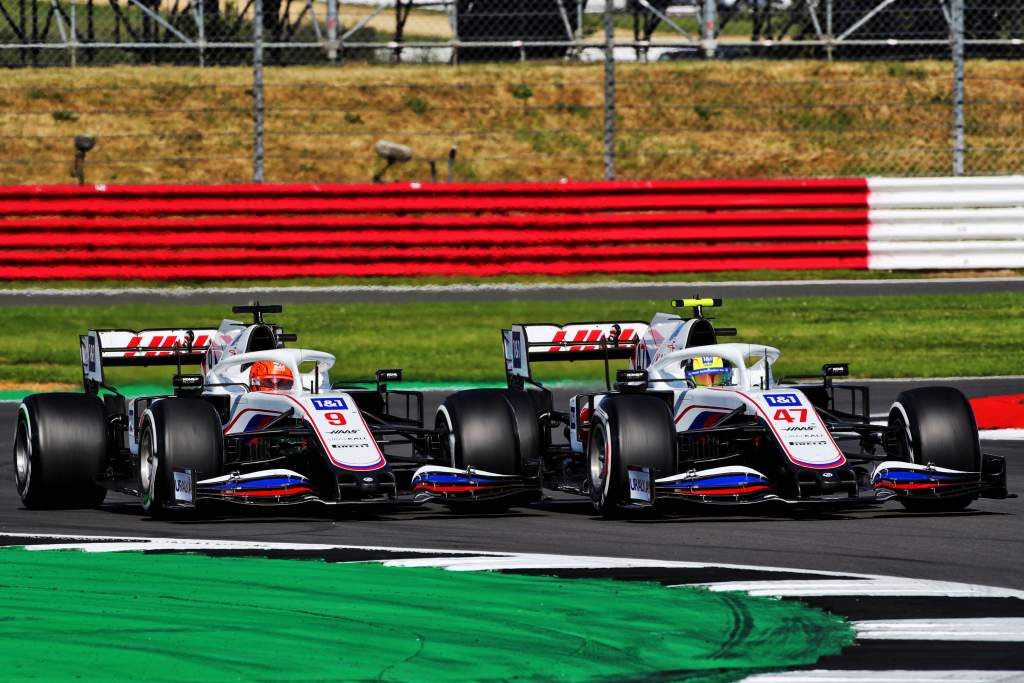 Schumacher's best result is a 12th-place finish in the attrition-hit Hungarian Grand Prix and Mazepin's is 14th in Azerbaijan.
Laurent Mekies, Ferrari racing director, said "in his first season in Formula 1, Mick confirmed the qualities and abilities that had characterised the early stages of his career to date.
"Speed determination, a strong work ethic and a desire and ability to learn are some of the qualities that have stood out during his time with our Academy and in his first year with Haas."
The season has been complicated by a growing rift between the two drivers, who have disagreed with each other over several on-track incidents and clearly fallen out as the season has progressed.
However, Mazepin's funding and Ferrari's control over one of the Haas seats meant both drivers were always likely to stay in 2022 even though it was understood that Schumacher's camp explored the possibility of him moving to Alfa Romeo, another Ferrari customer team that Schumacher has tested for previously.
"We knew we wanted continuity behind the wheel in 2022 and I'm happy to confirm exactly that," said team principal Guenther Steiner.
"2021 has afforded both drivers the opportunity to learn Formula 1 – and as rookies – they've done a lot of that this year.
"It's been a tough season for sure with the package we've had, but at the same time they've both embraced the challenge and worked closely with the team to learn our processes and adapt to the rigours of a Formula 1 campaign and all that brings – both internally and externally.
"Now as we look ahead to the 2022 season, we're confident we can move forward as a team and give Mick and Nikita a competitive race package to make the next step in their Formula 1 careers."
Haas confirming its line-up means the identity of Valtteri Bottas's Alfa Romeo team-mate is the only question mark remaining in the 2022 driver market.
F1 2022 driver line-up
Mercedes: Lewis Hamilton, George Russell
Red Bull: Max Verstappen, Sergio Perez
McLaren: Lando Norris, Daniel Ricciardo
Aston Martin: Sebastian Vettel, Lance Stroll
Alpine: Fernando Alonso, Esteban Ocon
Ferrari: Charles Leclerc, Carlos Sainz
AlphaTauri: Pierre Gasly, Yuki Tsunoda
Alfa Romeo: Valtteri Bottas, TBC
Haas: Nikita Mazepin, Mick Schumacher
Williams: Nicholas Latifi, Alex Albon