The Mercedes Formula 1 power units were again struggling on the straights in Saudi Arabia, just as they did in Bahrain.
Both the works and customer teams seemingly had difficulties with these new regulations and lacked the power that would allow them to run higher wing levels.
When these new hybrid power unit regulations were introduced in 2014, Mercedes came out of the blocks better than the other engine manufacturers.
As the years went by, the others – Ferrari, Renault and Honda, which joined in 2015 – closed that gap and going into 2022 it seemed it would be a much more level engine playing field than we had seen for many years.
All manufacturers have new hybrid power units for 2022. These are being homologated up to the end of 2025, with most parts already frozen. The MGU-K, energy store and control electronics are still open – for these components the homologation deadline is at the start of September.
This means that having plenty of donkeys produced by your power unit is more important than at any time over the last seven years.
Toto Wolff has been very defensive about the Mercedes power unit as he's had so many questions about its performance. It's true that Mercedes doesn't have a proper low-downforce rear wing assembly as those are still in the pipeline, and to a certain extent all of its customers are struggling for other reasons beyond the engine. But sometimes you have to look at the facts, take them on board and react.
I'm sure this is exactly what the Mercedes partner teams want to hear from him and for it not to be shrugged off as all of its customers having higher-drag cars than the other power units' users.
But Jeddah gave us another circuit's worth of data and the situation is not quite as black and white as it was in Bahrain. Red Bull being first and fourth in qualifying and first and second on the average speed trap figures bodes well for its rebranded Honda power units.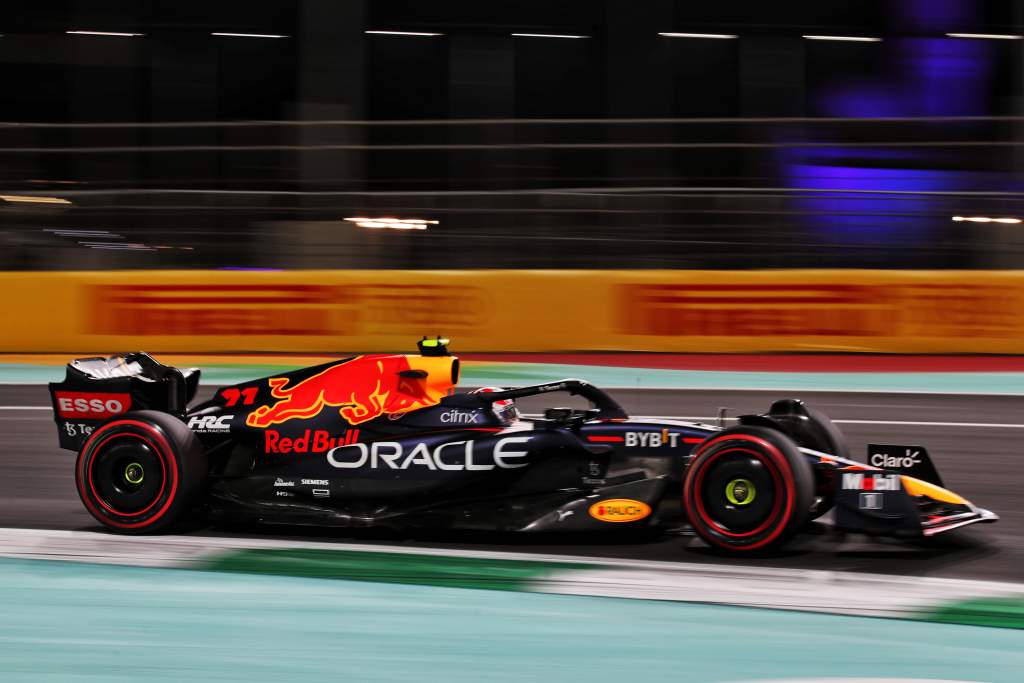 However, the fact both Ferraris, second and third in qualifying, are down in 13th and 14th on the average speed trap figures suggests Charles Leclerc and Carlos Sainz ran relatively high downforce and with it drag levels.
This could have helped with tyre warm-up in qualifying, which is something that Max Verstappen was struggling with. But as we saw, Ferrari paid the price for that extra drag in the race.
But this does show that, for Ferrari, at least if you increase downforce you get it back in laptime and for that to happen you need to have good power levels.
Let's look at the numbers in detail. In this table, one column ranks the qualifying positions before any penalties were applied. In the second, the five speed trap figures from a lap are averaged out. We're looking at all of the speed traps averaged out because the speeds are so fast in all of them – those at the end of each sector and in the main speed trap 200 metres before the last corner. This means that none of them reflect pure acceleration that could be attributed to power unit performance.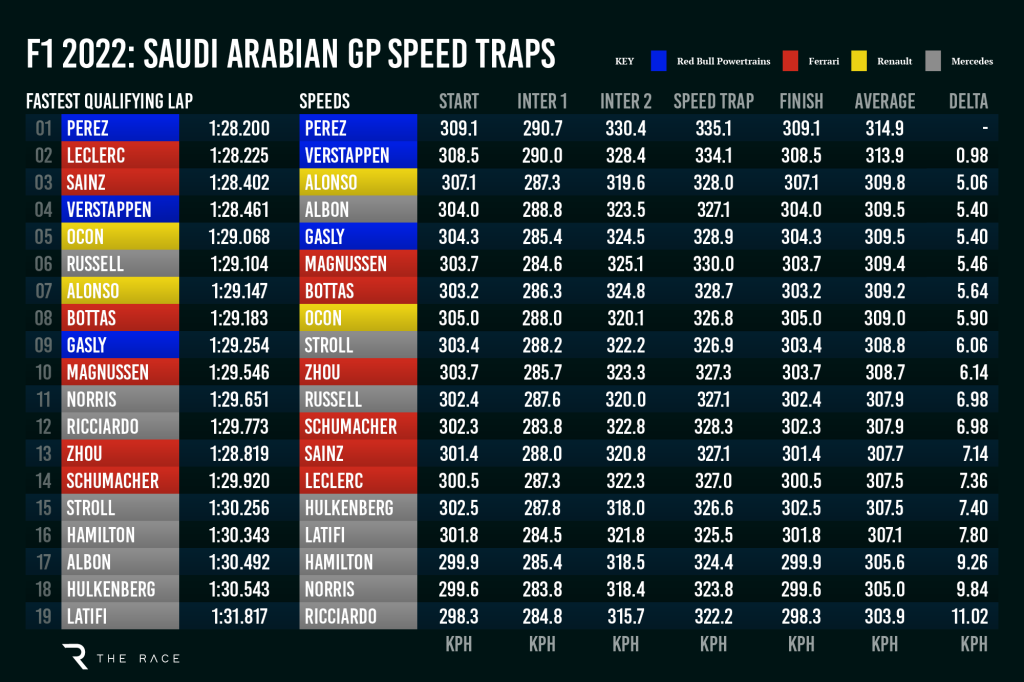 To see the patterns more clearly, each driver is colour coded according to engine supplier. And there is a lot of Mercedes silver at the bottom of each of these columns.
Qualifying performance and average speeds appear to me at least to go hand in hand. And as Ferrari has shown, even if you run a little more downforce you get it back in laptime so this Mercedes problem is not all about wing levels.
If you look at the Williams cars, they were running as high a level of 'visual' rear wing as any Mercedes-powered car. Alex Albon was 17th in qualifying and surprisingly fourth in the average speed trap ranks.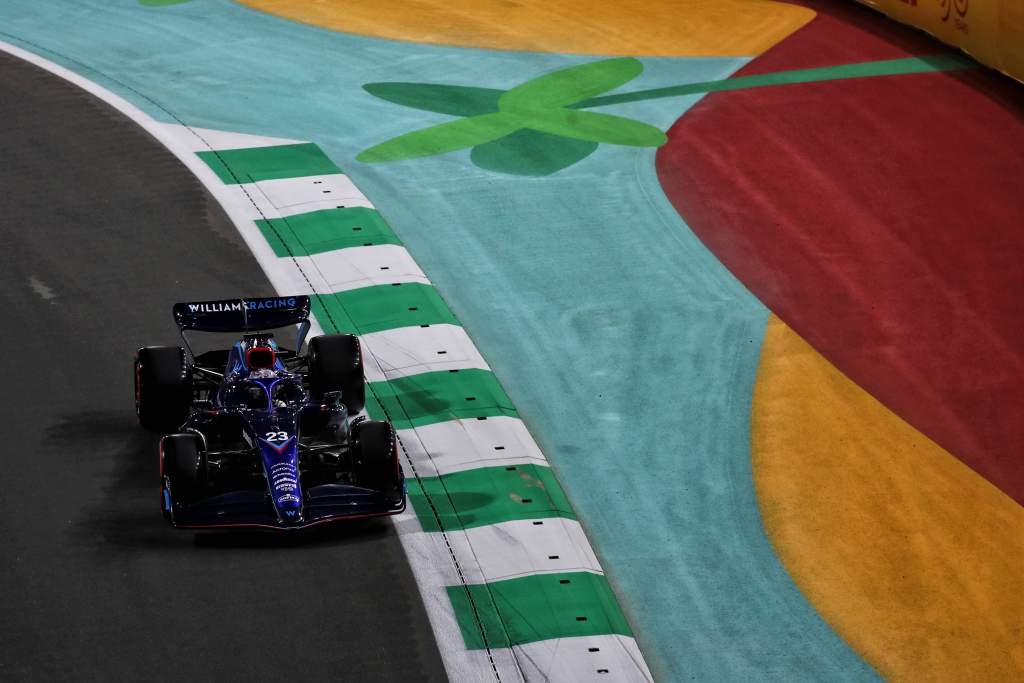 This shows that it is not just the visibly obvious rear wing section that contributes to the drag of the car. Nicholas Latifi was 19th and 16th in the speed traps, but his performance was compromised by a crash at Turn 12.
The two Aston Martin cars were running what was visually the lowest rear wing among the Mercedes-powered cars and qualified 15th and 18th. On the average speed charts, its cars are 19th and 15th. This just shows that for these Mercedes-powered cars, there is no clear direction of what levels of downforce you need to run to get best lap performance.
Looking at the Alpine team and its Renault engines, Esteban Ocon and Fernando Alonso were fifth and seventh on the grid and third and eighth in the average speed traps. If you look at its rear wing, 'visually' it is as low as anyone's. So it's the opposite to Ferrari – run less downforce and you can still drag a lap time out of the car.
Somewhere between the downforce and drag level that Red Bull and Ferrari were running is probably the correct way to go to get the best combination of tyre warm-up, tyre life and top speed when the DRS is open to be able to overtake and when the DRS is closed still have a chance to defend. Better still, but not easy to achieve, is to run the Ferrari downforce level and find more power.
As for Mercedes, a great effort from George Russell put him sixth on the grid. But he was 11th in the average speed traps, 7km/h down on polesitter Sergio Perez's Red Bull.
Hamilton was out in Q1 down in 16th and ranked 17th through the average speed trap and over 9km/h down on Perez in his Red Bull.
So as a multiple championship-winning team this wasn't a great day in the office. Russell limited the Mercedes embarrassment in qualifying, but the team must realise that a performance like this is not going to win a championship. As Wolff said, it's "not acceptable".
Mercedes has problems with both the power unit, as the block of grey at the bottom of the average speed chart shows, and the chassis, as its lack of qualifying performance shows. Even though the porpoising problem is the bigger limitation at the moment, once that's solved there's still a potential power deficit to address.
With all the tools Mercedes should have in place to optimise every last detail of the car from design through to lap simulation, it should still be able to hit the ground running at any given track.
But that is not the case, so somewhere along the line something is not doing what it should be doing. As the team admits, other teams have done a better job controlling the porpoising phenomenon without raising the car and in turn sacrificing so much performance.
If you look at the Ferrari or Red Bull sidepod concepts, which are very different but obviously both working well, the Mercedes version is another approach.
It doesn't generate any of the outwash that all nine other teams have sought to achieve to differing degrees, and right in the middle of the body area that others are using to generate outwash Mercedes has a radiator inlet duct. This just might be an area it needs to focus on.
During the relevant period of the old regulations Mercedes never went the high-rake route that all the other teams did. It served it well during that period but perhaps by not going in this direction it didn't learn much about how to use the outwash to its advantage.
Now it's a whole different kettle of fish. Sealing the floor aerodynamically as opposed to mechanically with low ride heights is the best way to reduce porpoising.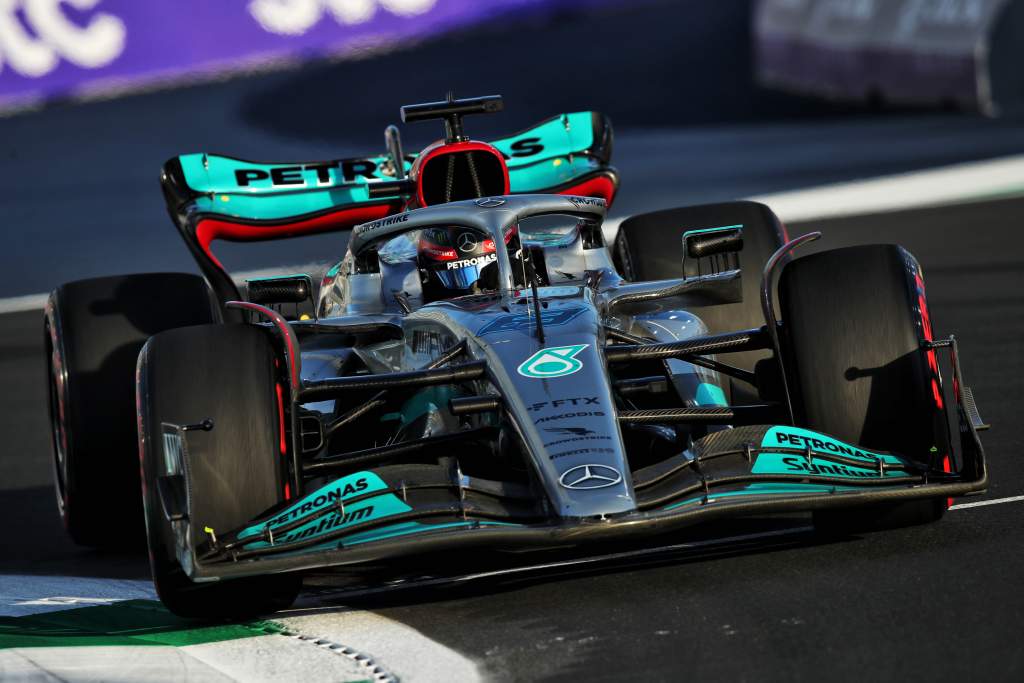 As I said when I first saw the package, Mercedes must have had very positive numbers from it to commit to such a radical design.
I am by no means writing off Mercedes for this season. It has shown time and again in the past that it can engineer its way out of trouble.
But to arrive at the second race of the season cutting bits of the rear wing flap to create a lower downforce and drag level is not what I would expect from the team that has won eight consecutive constructors' championships.
From a smaller team, yes, but for Mercedes with its infrastructure, no. Going about it this way will also reduce the effectiveness of the dreaded DRS. The smaller the flap, the smaller the drag reduction when it goes from closed to open.
Perhaps these are signs that the cost cap and the sliding scale of aerodynamic testing that gives the top teams less windtunnel time and CFD items are starting to have an impact.
After all, if you can't spend your way out of trouble then it just might improve the performance equality across the teams.