Fernando Alonso admitted to being 'worried' after qualifying for the French Grand Prix, suggesting the fact Lando Norris had split the two Mercedes and out-qualified Alpine by half a second might cause a decisive swing in their fight to be fourth in the Formula 1 constructors' championship.
But Alonso emphatically redressed the balance in Sunday's race, vaulting past both Norris and George Russell's Mercedes on the first lap and at one stage taunting his former McLaren team by saying over Alpine team radio that he was deliberately holding back to try to get Norris to destroy his McLaren's tyres.
Alonso averaged 0.188s per lap faster than Norris during the first stint on medium tyres, and was 0.192s per lap quicker across the second stint (on hards) – until the VSC intervened. This suggests Alpine still holds a small but significant race pace advantage over McLaren, even though Norris was able to perform heroics in qualifying.
Although Norris wheelspun away his qualifying advantage at the start, he felt "Fernando still would have passed me" and declared the race "frustrating" because qualifying had raised McLaren's hopes of a better result.
According to Norris, the way Mercedes dropped him so easily in the early stages of the race "shows the differences between people's pace in quali and races, and for whatever reason, we show a bit more pace in quali".
"The new tyres, low fuel, hides a lot of our issues and problems," he added. "And as soon as we get into high fuel, old tyres, all those issues are exposed, and we're just quite slow.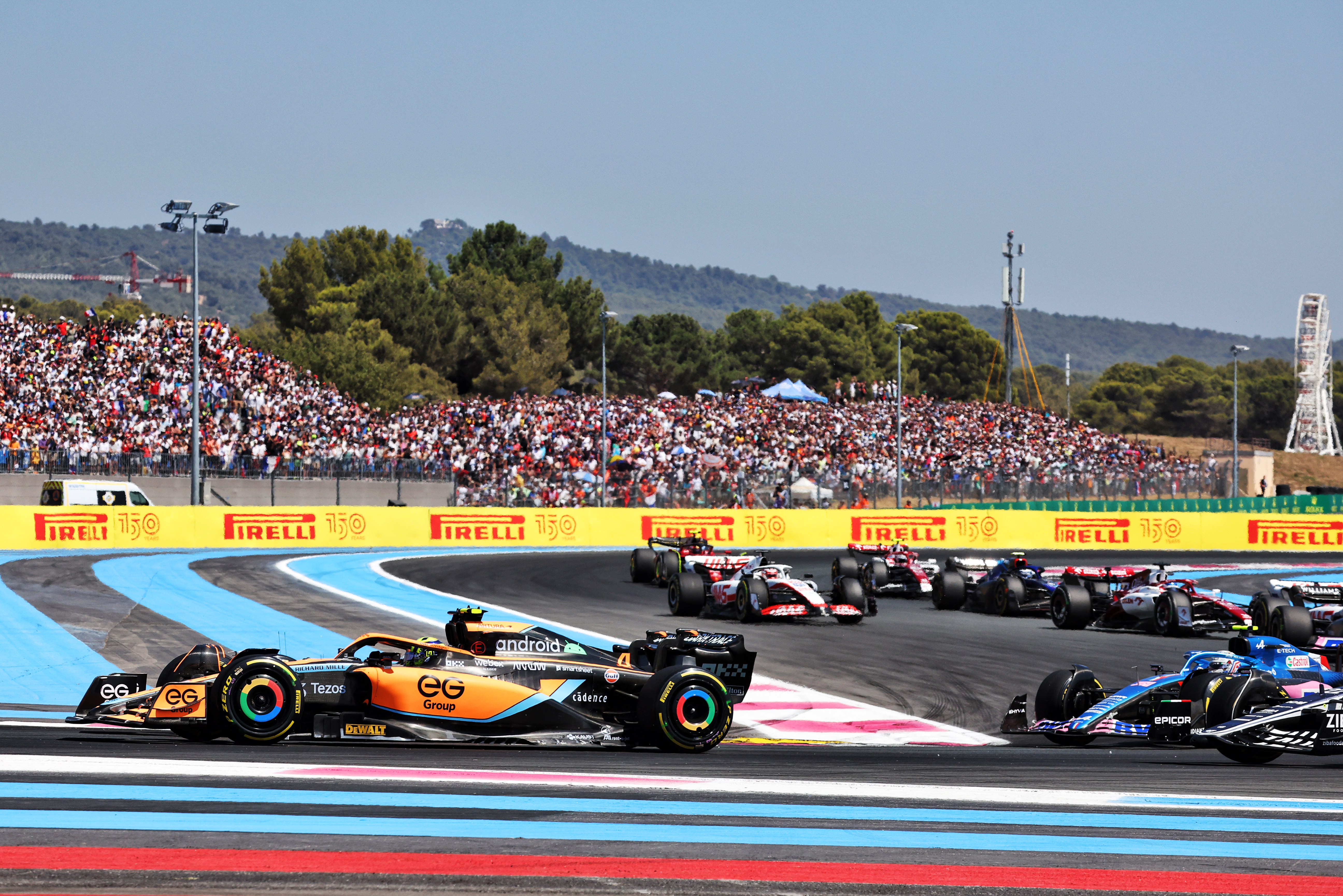 "It definitely goes away, the balance we have, the balance which is giving us good lap time in qualifying. I lose a few of those things. And that's why we struggle in the race with the front end through the apexes and stuff like that."
Norris said McLaren would have been even worse off without the substantial update package it brought to Paul Ricard, and felt Alpine would be much further ahead in the championships but for points lost to errors.
"Alpine, all season, have been much quicker than us," Norris added. "They've just made a lot more mistakes and we've done a very good job to be ahead.
"Now being behind them, it's just more realistic and where we deserve to be with the car we have."
For his part, Alonso – who finished the race more than nine seconds clear of Norris – said he was "a little bit surprised" by Alpine's comparative form in the race.
"We saw on Friday, in the long runs, we were quite OK," Alonso said. "It seems we miss a bit of one-lap performance here this weekend, so we need to fix that – obviously Budapest will be crucial to have a good Saturday. The car was a good surprise [on Sunday].
"As we touched a few times already, the bad luck was probably hurting me a lot in terms of points, but every normal race I'm top six, top seven – hopefully we can keep this consistency for the second part of the year."
Alonso's team-mate Esteban Ocon was able to catch and pass Daniel Ricciardo, who was having to keep his distance from his McLaren team-mate Norris to keep his ailing hard tyres alive in the second half of the race.
Sixth and eighth places for Alpine versus seventh and ninth for McLaren allowed Alpine to move into a four-point lead in their fight for fourth in the constructors' championship.