Formula 1's return to Turkey created an exceptionally unusual Friday practice as the low-grip circuit left drivers looking like they were grappling with invisible rain.
By the end of the day the on-track action had settled down, albeit yielding an unusual Friday order.
But there still constant complaints of how little grip drivers had, especially on the medium and hard compound tyres.
It made the troubles encountered at another recently resurfaced track, Algarve, seem fine by comparison. Renault boss Marcin Budkowski described Istanbul's slipperiness as "Portugal to the power of 10".
How the different drivers and teams tried to cope with that challenge made for fascinating viewing.
In the first practice session, for which the track was actually damp in places because it had been cleaned beforehand, Friday pacesetter Max Verstappen compared it to driving on ice.
He and McLaren's Lando Norris were among the earliest runners and found themselves wheelspinning halfway down the first notable straight. Watching Verstappen crawl round was almost comical. Pierre Gasly said his initial run was his first experience of rallycross.
FP1 = Ice-tanbul, according to Max 🎧#TurkishGP 🇹🇷 #F1 pic.twitter.com/08TF8WCLFI

— Formula 1 (@F1) November 13, 2020
It became clear that some teams had a different strategy than others. For example, while Verstappen logged a lot of early running, ending on a session-high 28 laps, others like Mercedes driver Lewis Hamilton stayed in the garage and clocked only 10 laps all session.
What the track sorely needed was lots of cars on it to rubber it in, but the likes of Verstappen had to do that on their own for quite a while. And those that did run early stuck with the very low-grip hard tyres, not wishing to sacrifice softer rubber so early in the weekend.
In fact the hard tyre was used for the vast majority of the session's 418 laps, with the exceptions being Norris, Esteban Ocon and Romain Grosjean completing 13, eight and eight laps on mediums, respectively and George Russell six laps on the softs.
This contributed significantly to the illusion that, in addition to some parts of the circuit being artificially dampened by the morning clean, this was a wet session being conducted on slicks: no grip, lairy driving and minimal lessons to be learned.
Seeing cars slide past the apex at incredibly low speeds in the dry, even on out-laps, was an entirely new experience.
Verstappen opted for a long medium-tyre stint early on when FP1 was at its trickiest, and pushed as much as possible. He was even launching some late, quite aggressive passes – considering how difficult the braking and traction zones were – in a bid to avoid dropping tyre temperatures.
By the time Hamilton committed to proper running Verstappen was in something of a rhythm, albeit still suffering from a lot of snap oversteer and wheelspin.
But the Red Bull driver's steering inputs were much more controlled having built tyre temperatures over time and gained a better feel for the track's limitations and its evolution.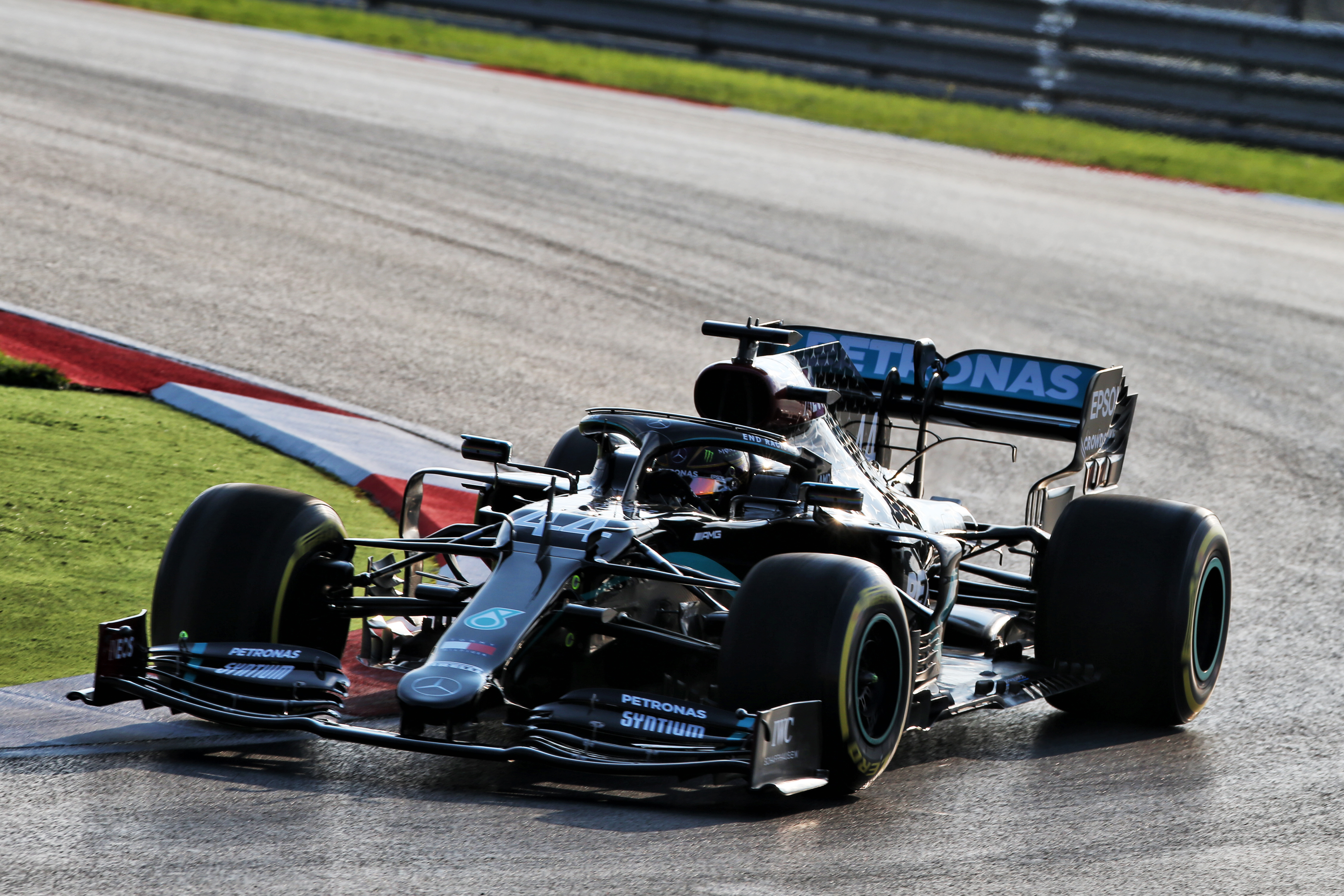 Hamilton, by contrast, was left to suffer all-round poor temps and seemed to be employing higher gears to eliminate wheelspin, but this was inducing a bit of understeer. Romain Grosjean had a similar experience in his Haas.
It was quite common to see drivers running deep into corners and occasionally this triggered spins, with Valtteri Bottas, Nicholas Latifi and Daniil Kvyat all losing it, particularly at low-speed.
"It's terrifying the whole way round," said Hamilton. "It's almost like there's wet patches all over. You're accelerating and it goes so fast."
These factors continued into FP2 and although they were present at a reduced level it still gave the aura of a wet-weather driving experience, with drivers applying minimal lock on the approach to the corner to keep the turn-in phase as short as possible, and waiting until they were almost pointing straight before applying the throttle to keep mid-corner acceleration to a minimum.
There were exceptions to this, particularly at Turn 1, and as FP2 developed there was a clear shift towards a more conventional driving style, and more aggressive approaches.
That Verstappen's fastest lap in FP2 was almost seven seconds faster than his best in FP1 furthered the feeling that drivers had just had to grin and bear it during an opening session that might as well have been wet, an extreme indicator of just how much the track improved.
This brought with it different challenges as the softer compounds, which were by far the more common tyre in FP2, began to grain.
Williams seemed to get a handle on that quicker than others, bringing the softest tyre in slowly, and Verstappen started to take it extremely easy through Turn 8 to minimise the stress on the front right on his slow laps.
Pierre goes for a spin in FP1 at Istanbul 👀 😵#TurkishGP 🇹🇷 #F1 pic.twitter.com/DYTk0JPNOw

— Formula 1 (@F1) November 13, 2020
Verstappen's FP2 benchmark was still more than three seconds slower than the pole time on F1's last visit to Istanbul in 2011 (with cars substantially slower than the 2020 rules), so there will likely be big improvements to come in final practice and again in qualifying.
But F1 at least ended Friday resembling something of its normal self. The teams and drivers just had to adopt unorthodox methods to get there.