The helmet camera Formula 1 has been trialling at recent events could be fully integrated into its broadcasts of races next season.
Fernando Alonso used the device in free practice at the Belgian Grand Prix before it returned at the Italian Grand Prix with George Russell, who used it in qualifying and the sprint race.
Viewers watched via the F1TV service, which can broadcast live from a locked onboard camera on any car, and were even able to follow the start of the sprint race live from the driver's eye camera in Russell's helmet.
Just mega! 💪🍿#ItalianGP 🇮🇹 @GeorgeRussell63 pic.twitter.com/YOVCzmfXwm

— Formula 1 (@F1) September 11, 2021
It was not used in the grand prix but the use in competitive sessions marked an escalation in F1's live experimenting of the technology, which will continue to be used this season with a view to being incorporated on a grander scale next year.
"I'd love to say it was really planned," F1 executive producer Dean Locke told The Race of the helmet camera's use in qualifying and the sprint at Monza.
"But this is our sort of testing and development programme and this is very much a version one for it.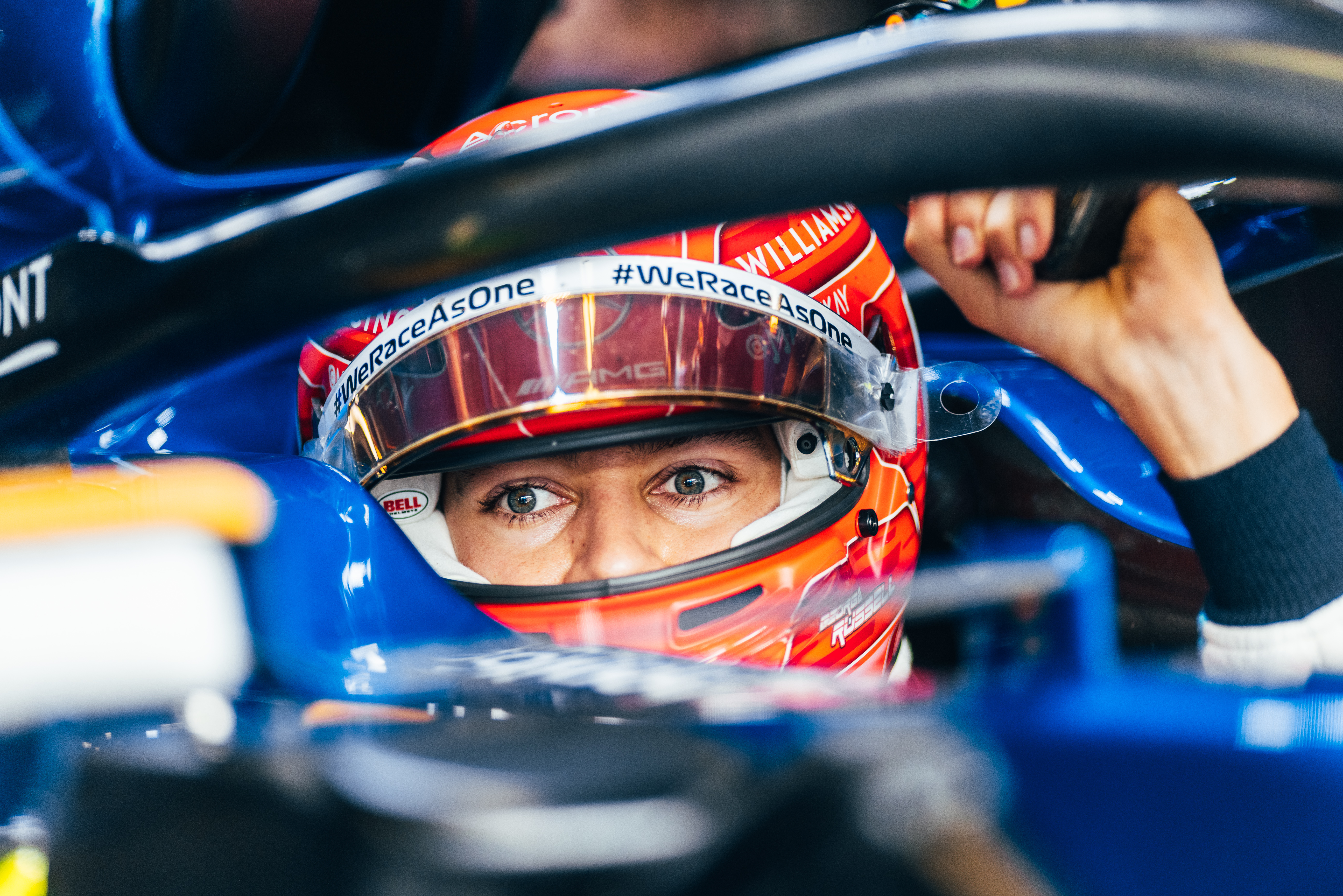 "We always wanted to do it in a race, we always wanted to do it in a sprint and also a qualifying session, actually, because we always felt that'd be quite a powerful tool, certainly when you've got a lot of traffic, or they're building up to that last lap in Q2 or Q3.
"But with the system we have and the way the system is, that is in the hands of the teams to help us to do that until we can get it integrated and fully finished into our systems.
"That's probably a 2022 element to that. So, we're just working with the teams very closely to open those opportunities up to do it in the race."
The new viewpoint is the latest effort to incorporate a driver's-eye view into F1's broadcast coverage, a quest that began at Spa in 1994 with a camera worn by Mark Blundell.
As the technology has become more prevalent in other major categories in recent seasons, notably IndyCar and Formula E, so has F1 been working to incorporate it properly.
Significant safety requirements have to be met for helmets to achieve homologation though, which is partly why it has taken so long for the technology to be adopted by F1.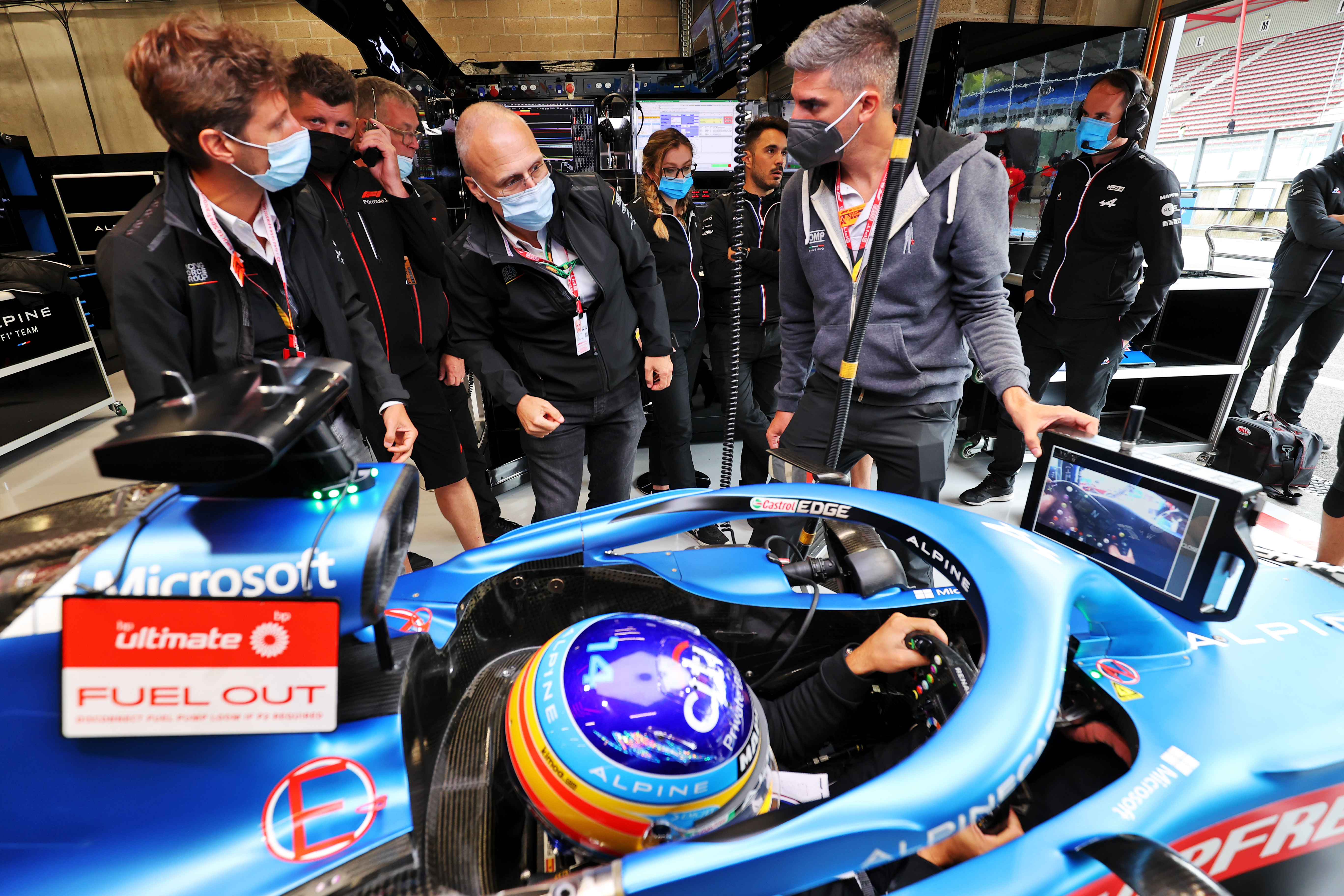 "It's advancing at a rapid rate and changing all the time," says Locke of helmet safety.
"So, whilst we may be able to have a system that works within the rules of the FIA, working with helmet suppliers and third parties that tick all those boxes, the following season it might not be allowed."
The 2.5-gram helmet camera technology F1 is now using is the same as in FE because it is developed by the same group, Racing Force, which owns Bell Helmets and Zeronoise.
These two companies are key to the design and implementation of the 'Driver's Eye' camera, with Bell one of motorsport's most prominent helmet suppliers and Zeronoise a technology specialist.
That's why you've seen it on Bell helmet users so far. Whether the camera would be made available to/compatible with the likes of Stilo, Schuberth or Arai helmets as used by other drivers in F1 is unclear.
F1 has a very specific challenge in terms of extracting data from the car, and that includes the onboard cameras. Locke says that F1 is "exceptionally good" at working out how to get a signal from the car at high-speed with no delays – which would otherwise impede the camera's compatibility with being part of the live coverage – but there are limits to the current system. That is all part of the current learning process.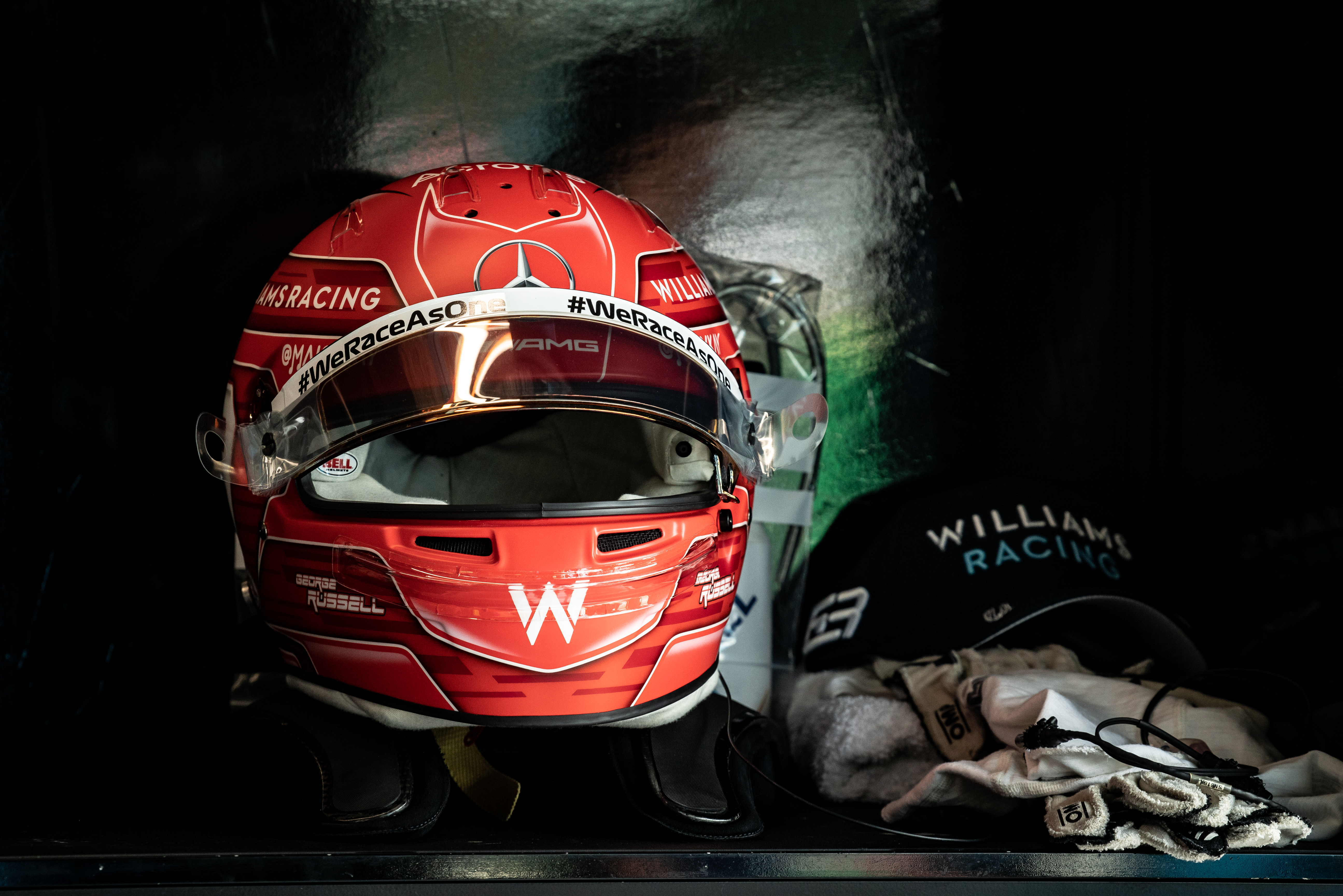 "That's why we're doing the testing of those systems, and see if we can improve them," he says.
"This is very much a test module for us at the moment. There are bits that need to be fully in tune and embedded into our systems and built on to the cars moving forward.
"We have a pipe off the car, you can stream a camera, sometimes two cameras. We also take all the data off the car, but through that pipe there's only a certain amount that we can get off the car.
"Some of the developments in the future will be to be able to get more data, more imagery, more content off the car while it's live, which is massively challenging.
"That is a technical roadmap that we're going down."
This is partly why the Alpine/Williams assistance at Spa and Monza was so important, because F1 needed to see whether there was any interference by adding another data source into the mix.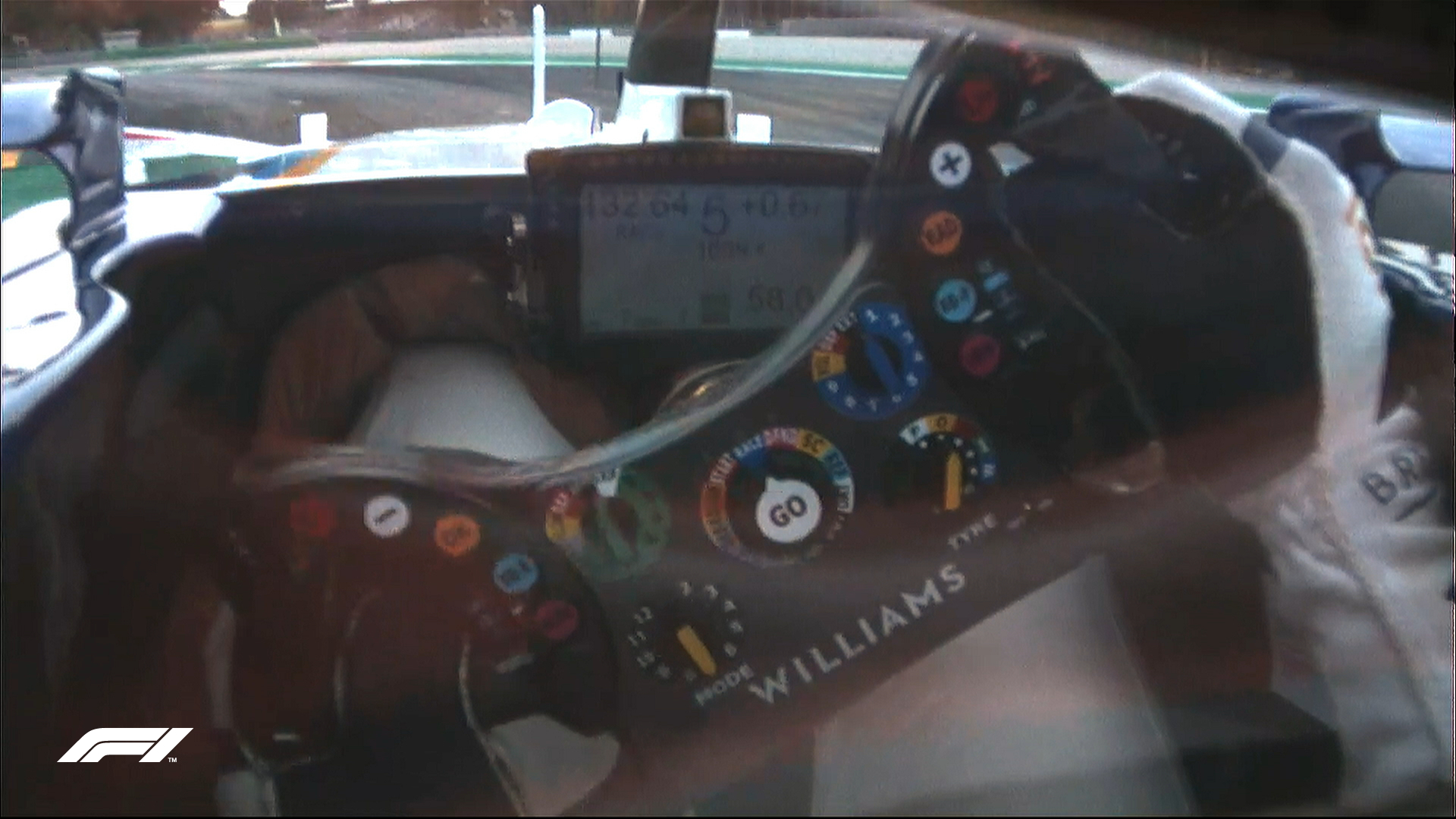 It seems as though this passed without concern, which is why Williams was happy to let Russell keep using the helmet camera in qualifying and the sprint race. The fact the camera was available live in F1TV – unbeknownst to many – shows that the technology can be utilised in an uncompromising way.
In fact, the only minor negative from Williams was that the helmet camera displayed its dash so clearly. That was something noted on Alonso's car, too. Williams indicated its preference would be not to show so much information but it did not block the camera being used in qualifying or the sprint, so this appears to be a preference rather than a dealbreaker.
In FE, though, the dash displays are blurred. Information on the steering wheels in the electric single-seater series is more sensitive given it relates to energy consumption and levels. But if F1 teams were precious about it, it seems reasonable to think something similar could be done.
The point is that F1's early in-weekend trials appear to have been overwhelmingly successful. There are still plans to improve the output, including trying to improve the clarity of the image.
Further use of the 'version one' device is planned for this season but the end goal is for multiple drivers to be using the camera so it can be part of the suite of onboard cameras F1 has to choose from for the world feed and other broadcast options.
"There's some other tracks that we still have on the calendar, which I think will work really well with it," says Locke.
😍

No words required. #SkyF1 #BelgianGP 🇧🇪 pic.twitter.com/sio97w38UH

— Sky Sports F1 (@SkySportsF1) August 28, 2021
"So that will be the rollout for this year, open the doors to our testing, rather than doing it behind closed doors so the viewers can be part of that journey. It makes me a bit nervous!
"Our future will be to do more, to do it all weekend, on [more] cars as well. Eventually, as many cars as we can. But like anything, there's a technical product roadmap to that."
Once F1 is satisfied that the technology is primed for a bigger rollout, the helmet camera can be utilised in the live coverage or just to augment the replay offering to help tell the story of the race.
Locke points to the Russell/Valtteri Bottas crash at Imola earlier this year as a good example of the role the new camera can play.
"It was really stretched between our camera angles and our track camera angles," he says.
"And our onboard camera angles couldn't quite see what caused that incident really effectively.
"An extra addition like a camera placed in the helmet just gives you a better concept of that. If we had that to replay rather than live, that would have just been a huge addition to all our outputs, predominantly the world feed and to our broadcasters.
"If we can have that, that's an advantage. But the live experience is also incredibly good."