Max Verstappen described it as "extremely painful" and Red Bull team principal Christian Horner called it "horrible" – both fair descriptions of a day on which the reigning world champion completed only 15 laps across two free practice sessions at Formula 1's Miami Grand Prix.
By Verstappen's own estimate, that amounted to only "four or five" proper laps. There were five push laps, but these were his initial fliers, starting in the 1m36s bracket, dropping into the 1m33s then posting two times in the 1m33s.
Although team-mate Sergio Perez demonstrated the Red Bull is working well with the third-fastest time and strong long-run pace in FP2, Verstappen is on the back foot.
During FP1, Verstappen touched the wall exiting the Turn 16 left-hander but was able to continue, although overheating problems in the high temperatures did restrict him to 14 laps. He ended up third fastest, 0.179s off the pace.
But on his outlap in FP2, a hydraulic issue restricted his steering and then led to the right-rear brake catching fire. He made it back to the pits, but wasn't able to run again in the session.
"Just not a good day," said Verstappen. "And of course these days are extremely painful, especially on a track like this where you want to be out there, learn the track and get up to speed.
"I basically did four or five laps today – that's not what you want."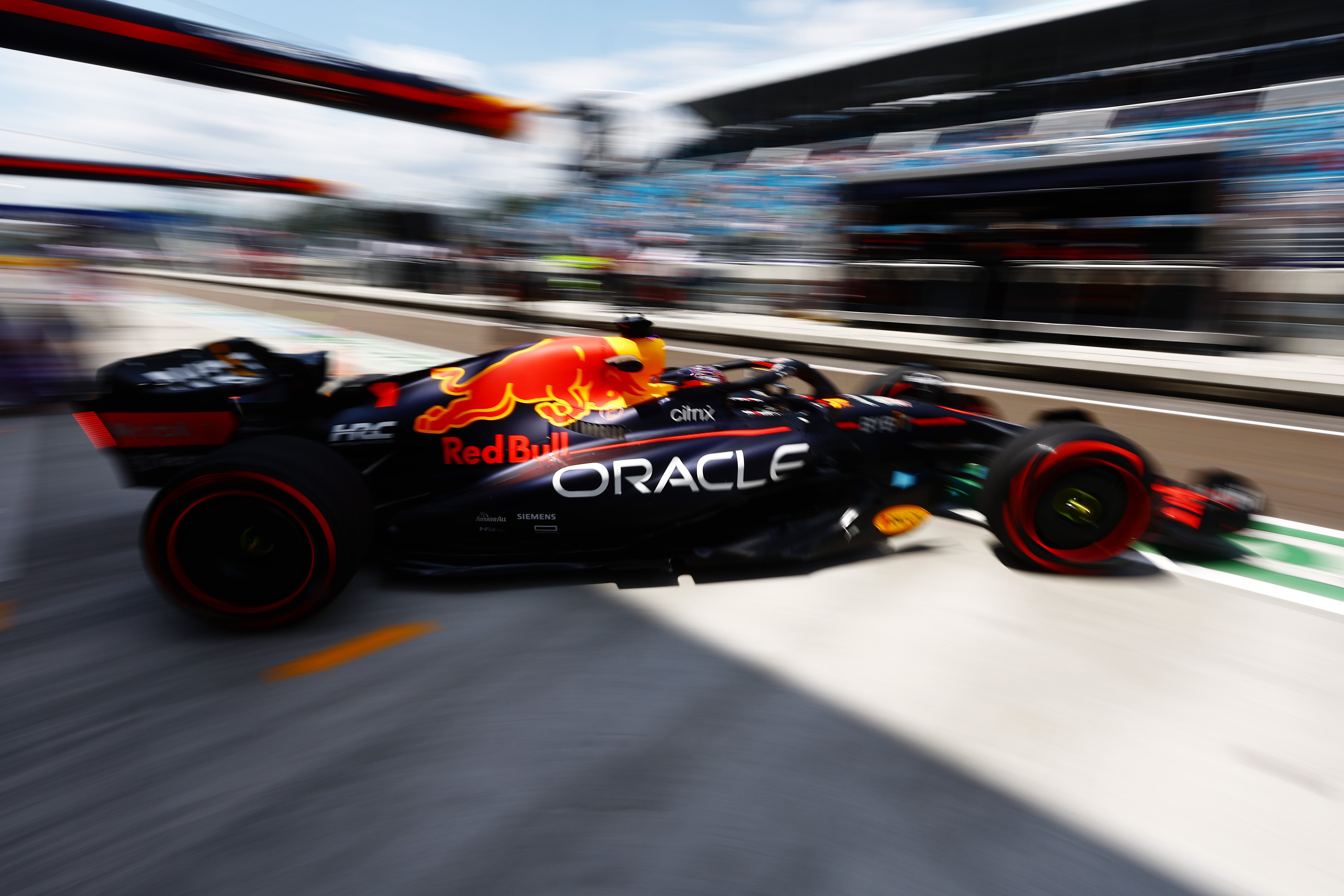 The FP2 hydraulics problem led to Verstappen reporting he was unable to steer properly – leading him to get in the way of Aston Martin driver Lance Stroll.
"Some hydraulic issues, so as soon as I went out of the pits I couldn't really steer, like I was locked," said Verstappen.
Trouble for Max Verstappen 😩

His right rear brake is seemingly on fire, with the Dutchman forced back into the pit lane! #MiamiGP #F1 pic.twitter.com/5C7xYiN3hK

— Formula 1 (@F1) May 6, 2022
"And yes, also the brakes were on fire. So a lot of problems."
Horner explained that Verstappen's lack of running means that the team is relying on Perez for its set-up direction.
Verstappen will only have tomorrow's FP3 session before locking in his qualifying set-up for a crucial session given his chase of Ferrari's Charles Leclerc in the drivers' championship.
"He's had a horrible day [and had an] issue this morning, so as a precaution changed gearbox," Horner told UK broadcaster Sky Sports F1.
"Then he's driven out of the pitlane, had a hydraulic failure and that's caused damage to rear brakes.
"Thankfully, with red flags he's not lost too much. He'll probably do a few more laps in P3 than usual.
"We know how good he is at adapting. Checo had a good session. We're relying heavily on him, that will influence Max's set-up choices."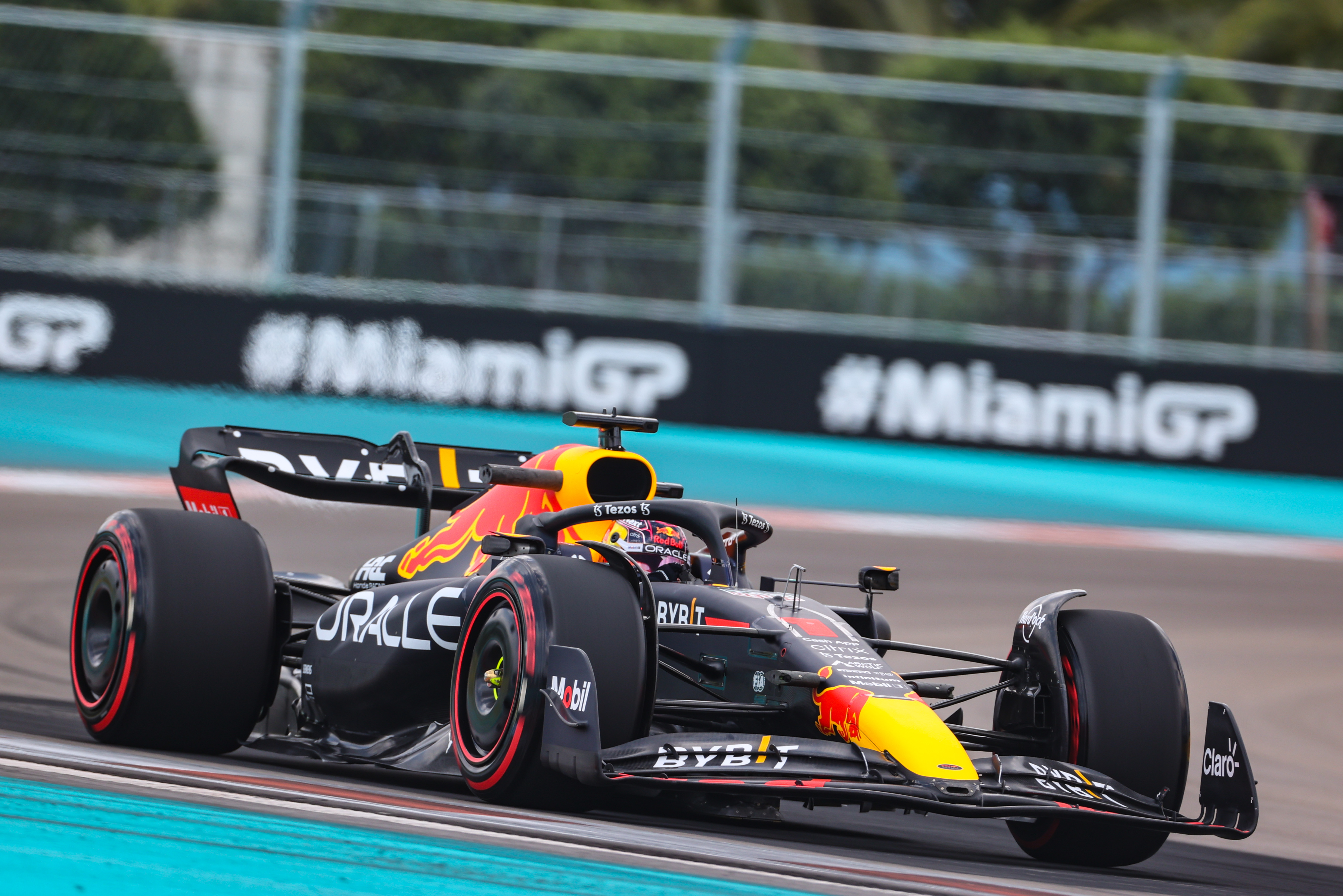 Championship leader Leclerc has no doubts over Verstappen's speed and believes it's just a case of when the team solves the issues.
"Max will be quick for sure, whenever they will solve their problems, he will be quick," Leclerc said.
Verstappen said he will "try to catch up" despite the lack of running and history tells us he should have no problem getting on top of the car quickly during FP3.
But he warned that the team needs to ensure it minimises such problems when given the opportunity to blame red flags, which did interrupt his FP1 running.
"That's not an excuse for what's happening for us today," said Verstappen.
"We just have to look at ourselves and I don't care what happens on the track with red flags. We could have done a lot more today.
"I think it's more procedure things that we have to get on top of for these Friday practice sessions. But we'll talk about it."