Formula 1's carry-over of major car components to 2021 projects the impression that not much is changing this year – but that is far from the truth.
A raft of new technology, rules and races – combined with driver moves and big team partnership changes – promises to make F1 2021 a year of big talking points.
Our F1 journalists Mark Hughes, Edd Straw and Scott Mitchell explain what's new.
NEW SCHEDULES
Pre-season slashed, post-season bolstered
F1's only pre-season test will take place over just three days this year. But at the end of the season, a much bigger three-day test has been planned. Teams will be restricted to one car – and must field a car from 2018-2021 modified to run with F1's planned 18-inch 2022 wheels.
Any other 2022-relevant tech will not be allowed on the mule cars.
At least one of the days must be used by 2021 race drivers for the purpose of tyre evaluation.
At least one day must be for young drivers, who have not competed in more than two grands prix in their career (the same rule exceptions to which proved controversial this year, allowing Fernando Alonso, and other experienced former drivers, to participate).
F1's biggest calendar
A record 23 races are on the 2021 schedule. While the disruption of the ongoing COVID-19 pandemic means there's a risk they might not all take place, seasons of this size are the shape of things to come for F1, with the Concorde Agreement allowing up to 25 grands prix to be on the calendar.
GP weekends altered
Friday practice will be reduced in length this year, with each session 60 minutes instead of 90.
The amount of running will likely remain the same as the number of tyres available isn't changing. This should eliminate the spells of inaction through the sessions.
One of the consequences of the expanded schedule is the increased burden that will be placed on staff.
A small amount of time will be bought back in the form of an extended curfew, giving personnel an extra one hour away from the paddock overnight Friday to Saturday.
W Series and split F2/F3
Added to the support schedule in 2021 as a regular feature is W Series, the championship only for female racers.
Formula 2 and Formula 3 have been the only consistent single-seater categories on the F1 bill, although others (including regional Formula 4) have appeared at times.
This year, F2 and F3 weekends have been separated. But the amount of single-seater action has been reinforced by the addition of W Series, which will support eight F1 grands prix in its second full season.
W Series was due to support the United States and Mexican GP in its planned sophomore campaign in 2020 but that was postponed by the coronavirus pandemic.
The championship will run at the French, Austrian, British, Hungarian, Belgian, Dutch, US and Mexican GPs.
NEW TECH
Aero restrictions
With the all-new aero and tyre regulations deferred by a year into 2022, there was a concern that the continued development of the cars would lead to more downforce than the existing Pirelli-spec tyre (carried over from 2019) could safely handle.
To mitigate against this, the floor has been narrowed at the back – just ahead of the rear tyre – by 10cm. The outer edge of the floor must diagonally run to this point from a point 180cm behind the front axle line.
In addition, vortice-creating slots in the floor are banished, thereby reducing the effectiveness of the underfloor's seal, as are the lateral slots ahead of the tyre, which helped create a cleaner flow for the diffuser.
The diffuser fences have been clipped by 5cm and the winglets on the rear brake ducts have been limited to a maximum width of 4cm. The target of these changes was to cut downforce by 10% in the expectation that it would all be regained by the end of '21.
Pirelli's revised construction
Although the 2021 Pirelli tyre is of the same basic philosophy as that of the 2019-20 tyre, the construction has been stiffened around the shoulder area, leading to a slightly squarer shape viewed head-on.
Pirelli hopes this will allow lower minimum pressures, and thereby more usability across a variety of temperatures. The different tyre shape will impact upon aerodynamic performance in what is a very aero-sensitive part of the car.
Mercedes' rear end on the Aston
The biggest technical advance of the 2020 Mercedes W11 over its predecessor was its swept-back rear suspension, which gave a big increase in downforce-inducing volume around the diffuser.
For '21, the former Racing Point RP19 (based on the Mercedes W10) gets the W11 rear suspension in its Aston Martin guise. It's potentially a big advantage, and comes with no token spend.
Ferrari's token spend
Ferrari is devoting its chassis token spend on a completely new rear end that encompasses both aero and suspension changes.
Last year's car suffered a rear stability problem in addition to the shortfall in its power unit. This instability was assessed to be inherently aerodynamic in nature but the suspension was also felt to be a limitation in creating the best aero solution.
New Ferrari engine
Part of the pandemic-induced cost restrictions last year included freezing the spec of the power units (with the exception of MGU-K, control electronics and battery) on the understanding that for '21 one change each could be made to the ICE, turbo and MGU-H and fuel/oil.
Ferrari has by far the most to gain from the changes, as its design of those components was based around its previous interpretation of the regs, not those imposed by the pre-season Technical Directives. Ferrari boss Mattia Binotto is confident that the new PU will be 'competitive'.
New Honda engine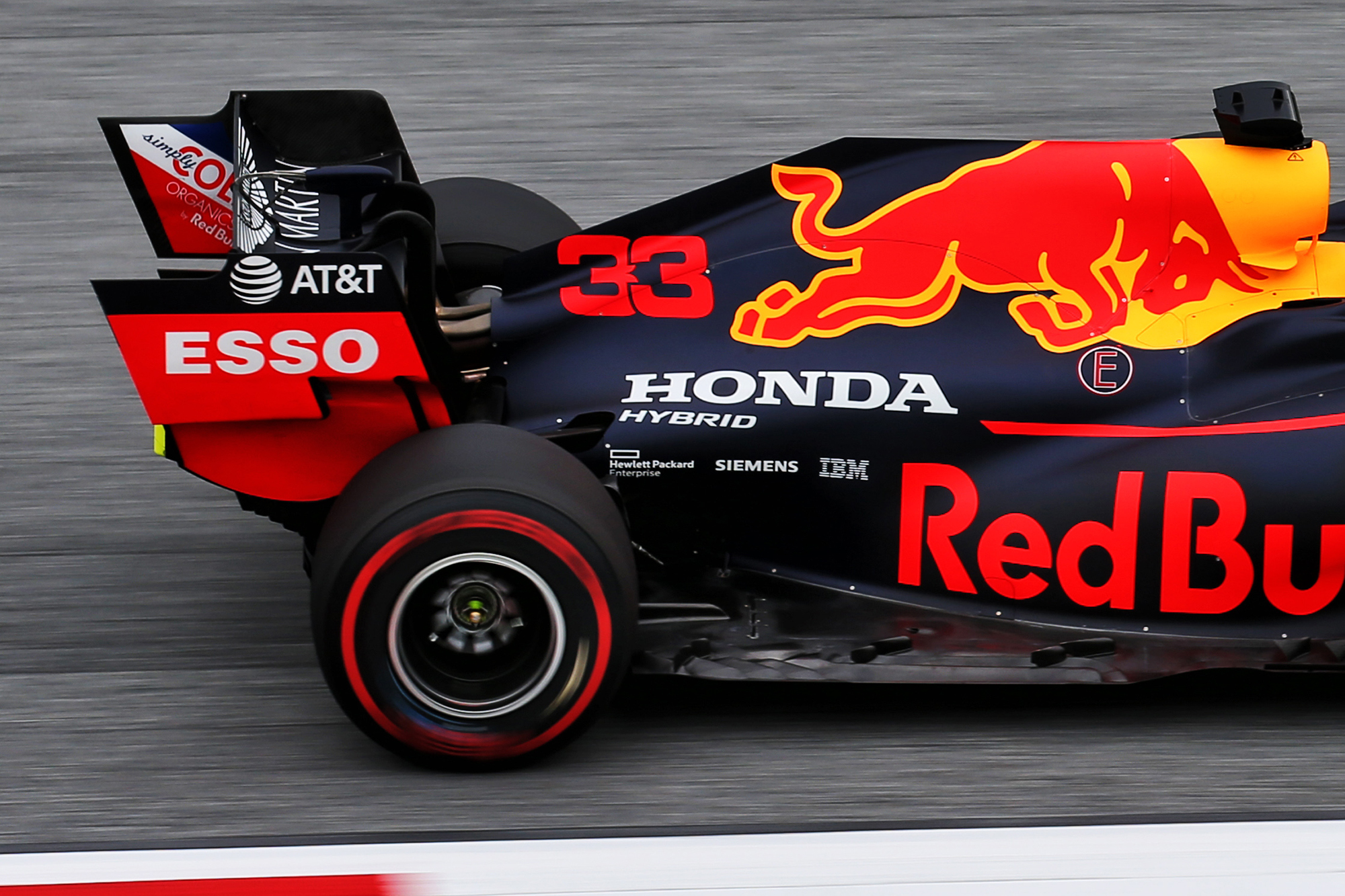 In Honda's final season as a works power unit supplier, it intends to go all out in trying to help Red Bull finally defeat Mercedes and is taking full advantage of the changes permitted.
The short-notice limitation upon spec changes in 2020 put the brake on Honda's previous aggressive development programme. It feels there is a lot to unleash with this latest round – and if the PUs are then frozen, as looks likely, it will help the unit remain competitive should Red Bull run it independently of Honda from 2022-on.
NEW DILEMMAS
2022 development can start
As you read this, parts of every F1 team will be busy working on next year's car. Because this is only the fourth day such work has been allowed.
When the major new technical rules were deferred to 2022, the decision was made for cost reasons. In tandem, development was banned until January 1, 2021.
That means last year teams knew that a major new set of rules was approaching but they just had to sit idly by and wait to get down to business – at least in the factory and the windtunnel.
Now those design brains have been unleashed. But there is also the small matter of the entire 2021 season to tackle as well. And with aero development unrestricted in the off-season, plus a pretty big rule change as outlined above, that means plenty of work is still required to get the most out of this season.
Balancing up the 2021/2022 workload will be a major headache for teams, especially those that couldn't get ahead on 2021 last year. If a team starts slowly, will it sacrifice the season to make sure it doesn't fall behind in 2022?
Aero testing handicaps
The development dilemma this year will coincide with the introduction of a first-ever aero testing restriction handicap. The worst teams last year have more development time to work with, while the most successful teams have less: Williams will be allowed 112.5% of the respective windtunnel and CFD limits, dropping in 2.5% increments for each position before arriving at 90% for Mercedes.
In the first year of this new system, the differences aren't huge. But every little helps. So Mercedes has to ration its reduced amount better while Williams can apply its improved resources under new owner Dorilton Capital to try to squeeze even more performance from its increased allowances.
But this could change during the year. The system will reset on June 30. Each team's allowance for the rest of 2021 will depend on where it is in the constructors' championship as of June 30, to keep the system as relevant to the real order as possible.
Budget cap
And just to complicate all this a little further, F1's first budget cap is coming into force in 2021. Ostensibly $145m (but with a bit of wiggle room either side depending on the final number of races), this will force F1's biggest teams to dramatically reduce their spending.
Not every team expects to compete at the budget cap level. Some (like Haas, and maybe still Williams) will be beneath it. Given the extent of the change (and the fact the budget cap amount is even lower than originally planned) the biggest spenders have until the middle of the year to reallocate staff completely, to avoid large-scale redundancies, with the pandemic still affecting many people's lives.
NEW FACES IN NEW PLACES
Sainz at Ferrari
Carlos Sainz's move to Ferrari to replace Sebastian Vettel was the one that kicked off the cascade effect in the driver market. After two outstanding years at McLaren, Sainz has already started to familiarise himself with Maranello and is due to drive a 2018-specification car at Fiorano this month.
Ricciardo to McLaren
New year, new look, same smile 😄

📸 @danielricciardo #F1 @McLarenF1 pic.twitter.com/GcfWB70HKJ

— Formula 1 (@F1) January 2, 2021
Shortly after Sainz was confirmed as a Ferrari driver last year, Daniel Ricciardo's move from Renault to McLaren was announced. Having missed out on the Australian's services to Renault for 2018, McLaren got its man this time and, in doing so, landed one of the few drivers who might prove to be an upgrade on the excellent Sainz.
Alonso's return
The next domino to fall in the driver market was Fernando Alonso taking Ricciardo's seat at what is now called Alpine. The 39-year-old Spaniard last raced in F1 in 2018, but has tested old-specification Renault machinery and the 2020 Renault in preparation for his third stint with the Enstone team.
Vettel keeps going
The longest-running driver market saga of 2020 was over the future of Sebastian Vettel. His Ferrari departure was announced in May, but it wasn't until September that his move to what will be called Aston Martin this year was announced. At 33, he appears determined to return to form after the worst season of his F1 career in 2020.
Perez's big break
After nearly 12 years we will work together again, mate. Thank You Christian Horner for this great opportunity.
Helmut Marko, I'm very happy and thankful for the confidence placed in me, I'm going to work very hard to help this team to bring one more Championship #givesyouwings👐 pic.twitter.com/j2cJarBLon

— Sergio Pérez (@SChecoPerez) December 19, 2020
Vettel's availability resulted in Sergio Perez being released from his deal with Racing Point/Aston Martin, but though he'd looked at risk of dropping off from F1 completely he instead moved up the constructors' championship order by replacing Alexander Albon at Red Bull.
It's the big break Perez's 2020 has merited and the top team chance he has long hoped for, ever since his 2013 move to McLaren coincided with it ceasing to be a frontrunner.
All-rookie Haas line-up
Having added the Formula 2 crown to his 2018 European Formula 3 title, Mick Schumacher graduates to F1 with Haas this year. While his surname inevitably means he will be under more scrutiny than the average rookie, he's a fine driver and has earned his place in F1 in his own right. Nikita Mazepin is his team-mate.
Japan's latest F1 hope
Honda and Red Bull protege Yuki Tsunoda makes his F1 debut for AlphaTauri this year, having made remarkable progress in F3 and F2 over the past two seasons. He's the first Japanese driver on the grid since Kamui Kobayashi's last season with Caterham in 2014, and has the potential to develop into Japan's first world championship race winner. But first up, he has to make a good impression in F1's midfield.
New F1 CEO
Stefano Domenicali has succeeded Chase Carey as F1's CEO, an appointment that was unusual in being greeted with unanimous support when it was announced last year. The ex-Ferrari team principal knows F1 inside out and is a well-liked, collaborative character who is ideally placed to steer the ship now that Liberty Media has achieved its raft of technical, sporting and financial rule changes.
New Williams CEO
When Dorilton Capital took over the Williams team and the founding family departed, it began the search for a new team principal. While that role has gone to the man who initially took the role on a temporary basis – Simon Roberts – he reports to incoming CEO Jost Capito.
The former Volkswagen and Ford motorsport boss, who had a brief stint at McLaren in 2016-17, joins at the start of February.
NEW PARTNERSHIPS
Aston Martin's 'return'
New year, new me. 😉 #IAMF1 pic.twitter.com/6wTC3ZaHIS

— Aston Martin F1 Team (@AstonMartinF1) January 1, 2021
A works Aston Martin team will race in F1 for the first time since a grand total of six grands prix were participated in across 1959 and 1960.
Racing Point's rebranding from independent (in BWT pink) to the official Aston brand (decked out in green) is the latest step in chairman Lawrence Stroll's masterplan for the team formerly known as Force India, Spyker, Midland and Jordan.
Vettel's move completes a massive statement of intent that means there's a lot riding on 2021 for one of F1's most upwardly mobile teams.
Alpine
Another team with a new name and new coat of paint, but without the same sort of shift in expectation, is Renault's works team being rebranded in the Alpine name.
Alpine? Yes, Alpine. Renault's commitment to F1 as a company was reaffirmed despite its miserable 2020 year financially as a group. But it comes in the form of making its standalone performance brand the centrepiece of its focus.
This is still the Renault team that made huge strides in 2020 though. Enstone and Viry will continue as they were. There's just a new name above the door.
McLaren-Mercedes alliance reforms
McLaren used Mercedes engines from 1995-2014, a partnership that is revived this season. While the timing has proved challenging, with McLaren having to use its development tokens to adapt its carried-over 2020 car to take the Mercedes, this is another important strategic move in McLaren's bid to get back to the front in the long-term.
NEW RACES
Dutch GP
Last year, F1 should have returned to Zandvoort for the first time since 1985. That race was cancelled, but there will be a second attempt to revive the Dutch Grand Prix this year. The race has joined the calendar on the back of the popularity of Max Verstappen, with hopes that circuit modifications should at least make overtaking possible at the twisty, but challenging, track.
Saudi Arabian GP
The addition of Saudi Arabia to the F1 calendar is as controversial as it is inevitable. The Jeddah Street Circuit will host the race on November 28, with organisers following the template of the Bahrain and Abu Dhabi GPs by holding it under floodlights.
"Sao Paulo"
Interlagos's place on the calendar was under threat from the mooted new Rio circuit, but to the relief of pretty much everyone it earned a reprieve. As part of the five-year deal that saved the Interlagos F1 race, the name has been changed to the Sao Paulo Grand Prix. But like most, we'll still think of it as the Brazilian Grand Prix.