This ranking, originally released in February of 2021, has been republished on the occasion of the passing of legendary team founder Frank Williams.
In the months following its original publication, the Williams team snapped its podium-less streak with George Russell's second place in the rained out Belgian GP. Both Russell and team-mate Nicholas Latifi have made significant contributions over the course of 2021.
---
For all of its recent struggles, the Williams Formula 1 team remains one of the most successful in world championship history, with 114 victories and 16 titles.
Since starting up in 1977, initially running a customer March before becoming a constructor the following year, Williams has been an ever-present in F1 with a litany of illustrious drivers on its books.
With the team now seemingly on the up under new owners Dorilton Capital, what better time to look back at that history and rank its drivers from best to worst?
This ranking is not based on the absolute ability of the driver, but specifically on their performances for Williams, their role in legendary moments for the team and also factors related to their wider contribution.
This also covers only the current incarnation of the team, created as Williams Grand Prix Engineering. The earlier entries made by Frank Williams are considered as a separate entity.
45 Mario Andretti
It seems sacrilegious to put a great like Andretti at the bottom of this list, but he had the briefest Williams career of all.
Andretti had a gap in his IndyCar campaign for a one-off outing for Williams in the 1982 Long Beach Grand Prix after Reutemann's sudden retirement. Suspension damage after hitting the wall forced his retirement early on, with his tally of 19 racing laps completed the lowest of all Williams drivers.
44 Jack Aitken
A one-off appearance as substitute for George Russell in last year's Sakhir Grand Prix is the sum total of Aitken's F1 career to date. He did a decent job despite wiping off his front wing in a final-corner off that meant he was fortunate to reach the chequered flag in 16th place.
43 Jonathan Palmer
Williams test driver Palmer made his F1 debut in the 1983 European Grand Prix at Brands Hatch driving a third FW08C.
He qualified 25th, 2.5s slower than team-mate Keke Rosberg, and finished 13th. But considering Jacques Lafitte in the other Williams didn't qualify and Palmer lapped faster in the race than in qualifying, having finally got the front tyres working properly, it was a respectable effort.
42 Jean-Louis Schlesser
Schlesser's sole F1 start at Monza in 1988 went down in infamy after he collided with leader Ayrton Senna at the first chicane when the Brazilian was just two laps away from victory.
While Schlesser is commonly blamed, a look at the replay suggests Senna should have left him space to get through the chicane rather than taking the second apex.
41 Paul di Resta
Di Resta jumped straight into qualifying for the 2017 Hungarian Grand Prix, three-and-a-half years since his last F1 race.
Astonishingly, he outqualified Sauber driver Marcus Ericsson but inevitably struggled with tyre management in the race before retiring.
40 Martin Brundle
Brundle sat out the 1988 F1 season while racing in sportscars, but was drafted in to replace Nigel Mansell, who had chickenpox, for the Belgian Grand Prix.
He finished a lapped seventh in a car limited by using normally-aspirated Judd engines on what proved to be his sole outing for the team as he narrowly missed out on a drive in the all-conquering 1993 Williams.
39 Marc Gene
Gene was a Williams test driver for four years, twice getting the chance to substitute for the injured Ralf Schumacher.
He finished fifth on his first outing at Monza in 2003 but was less successful when he contested the French and British Grands Prix the following year and was then replaced by fellow test driver Antonio Pizzonia.
38 Patrick Neve
Neve was the original Williams Grand Prix Engineering driver in 1977, with his funding helping it to run a customer March chassis during most of the season as the team established itself.
It's for that, rather than his modest talent behind the wheel, that he has a place in Williams history.
37 Antonio Pizzonia
Pizzonia had two race stints with Williams in 2004 and 2005, filling in after injuries to Ralf Schumacher and Nick Hedifeld.
He produced three seventh places in four outings in '04, but having missed out on a race seat to Heidfeld in '05, his five late-season stand-in outings yielded only one points finish.
36 Alex Zanardi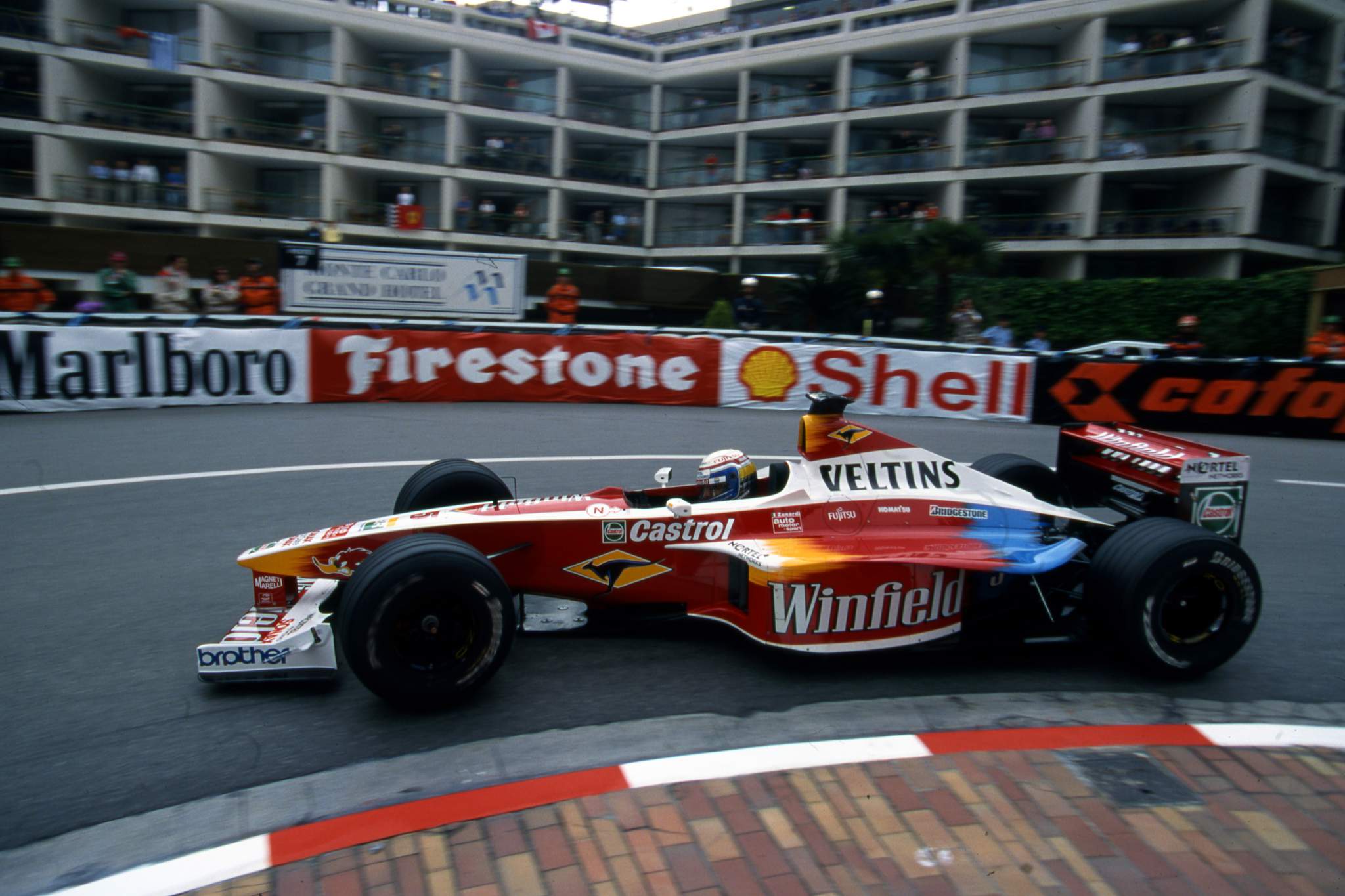 Signed off the back of his stunning performances in CART, Zanardi's return to F1 in 1999 proved to be a damp squib as he failed even to score a point.
This led to his three-year deal coming to a premature end and confirmation that his remarkable talent couldn't quite be tuned to thrive in F1.
35 Nicholas Latifi
Latifi has one season under his belt with Williams and is heading into his second. He was very much its second driver in 2020 given George Russell's pace, but did turn in some decent race drives.
But he has to do more in 2021 to make a big impact as a Williams driver.
34 Sergey Sirotkin
The Russian had the misfortune of his sole season in F1 coinciding with what was then the worst season Williams had ever experienced in 2018, so had little chance to show his true ability.
He had the edge over team-mate Lance Stroll in qualifying, although managed just one points finish with 10th at Monza after Romain Grosjean was disqualified.
33 Derek Daly
After Reutemann's shock retirement and a brief appearance by Andretti, Williams signed Daly from Tyrrell for the remaining 12 races of 1982.
He picked up five top-six places and his Williams stint is best remembered for the misconception that he was on course to pass the retired Didier Pironi to win at Monaco when he retired with a gearbox problem related to oil loss, even though Riccardo Patrese had bump-started his Brabham and was still well ahead.
32 Kazuki Nakajima
Nakajima owed his place at Williams to the fact running him allowed it not to pay for its Toyota engines.
There were genuine signs of progress in his first full season in 2008, but these vanished during a pointless 2009 campaign in which he lagged well behind team-mate Nico Rosberg.
31 Robert Kubica
After missing eight seasons thanks to the horrendous injuries suffered in a rallying crash in 2011, that Kubica was able to contest a full season of F1 with Williams in 2019 was incredible.
But despite the awful situation the team was in that season, it's impossible to escape the conclusion that he was no longer the same brilliant driver he was in his pomp.
30 Bruno Senna
Senna raced for Williams in 2012, showing good race pace but held back by his poor qualifying form.
While he scored points 10 times, he didn't make the most of the competitive Williams FW34, but had the ability to get some stronger results had he started in the top 10 more than twice.
29 Alex Wurz
After spending a season as test driver, Wurz stepped up to a race seat in 2007 and did a solid job, finishing third in the Canadian Grand Prix.
He retired from racing in F1 before the final race of the season, with Nakajima taking his place, to focus on the Peugeot sportscar programme – keeping his F1 hand in with a Honda test role.
28 Jacques Laffite
Laffite is the only driver to have driven for both of Frank Williams's teams, although his performances in 1974-5, which include the first podium for a car carrying the Williams name, don't count for this list.
Instead, it's his two subdued campaigns in 1983 and '84, during which he was unable to grab the car by the scruff of the neck as effectively as team-mate Keke Rosberg.
27 Lance Stroll
Reigning Formula 3 European champion Stroll landed a 2017 Williams seat thanks to his family backing, setting aside a shaky start to the season to show real promise with a breakthrough points finish in Canada, third place at Baku and a front-row start at Monza.
Thanks to the team's slump to the back, he only scored points twice in '18 before moving to Racing Point.
26 George Russell
He's yet to score a point for Williams in two seasons, but Russell has single-handedly dragged it to respectability with some outstanding qualifying performances.
Unfortunately, his best race drives have tended not to coincide with the races where points are on offer, meaning he is perhaps best described as achieving 'cult', rather than 'legendary', status as a Williams driver.
25 Nico Hulkenberg
Hulkenberg was initially signed by Williams as a junior driver after impressing on his first test outing in 2007. After winning the GP2 title, he was given a race seat in 2010 and emerged as a consistent points-scorer after a shaky start.
His day of days came on Saturday at Interlagos where he took pole position, but he was dropped at the end of the season so Williams could take Pastor Maldonado and his PDVSA millions.
24 Ayrton Senna
A partnership that appeared destined to yield countless wins and several world championships came to a tragic end after just three races.
But Senna did show his class with three extraordinary pole positions in a tricky-to-drive car, a tantalising hint of the success that should have put him at or near the top of this ranking.
23 Jenson Button
Plucked from British Formula 3 to race for Williams in 2000 after beating Bruno Junquiera to the seat, Button scored points on his second start and made a big impression in his first season – particularly at Spa and Suzuka.
He headed to Benetton at the end of the season when on-loan Williams prospect Juan Pablo Montoya returned from a victorious CART campaign. Button returns to Williams this year as a special advisor.
22 Rubens Barrichello
Barrichello had a strong season with Williams in 2010 having been signed from Brawn, peaking with fourth place at the Nurburgring.
But the team's struggles in 2011 meant he could only score points twice in his swansong F1 season.
21 Nick Heidfeld
Having beaten Pizzonia to a 2005 drive, Heidfeld performed well in his sole season with Williams before it was brought to a premature end five races before the end of the season by a big accident in testing at Monza – exacerbated by a subsequent cycling accident.
But before that, he had taken pole at the Nurburgring and a superb second place at Monaco.
20 Felipe Massa
After his eight-season stint with Ferrari came to an end, Williams picked up Massa in 2014, which proved to be the start of a successful four-season stint with the team.
He bagged pole position in Austria 2014 and five podium finishes in total, and also got to retire from F1 twice after returning in '17 to replace the Mercedes-bound Bottas.
19 Valtteri Bottas
Originally signed by Williams as a junior in 2010, Bottas landed a race seat in 2013 and struggled for results in his first season given the team's lack of competitiveness.
But the following year, he picked up six podiums and fourth in the championship. He had the edge over Felipe Massa in his three years with the team before being bought out of his contract by Mercedes for £10million.
18 Pastor Maldonado
It might be controversial to have Maldonado so high, but that famous victory in the 2012 Spanish Grand Prix stands as the most recent Williams win and assists his ranking.
Erratic and error prone, as he showed in that race he was capable of something special when the stars aligned, which they did rarely.
Less well-remembered is his superb drive to fifth in Abu Dhabi despite a KERS failure, but best forgotten are the many incidents and accidents in his three years with the team.
17 Heinz-Harald Frentzen
Frentzen joined Williams in place of world champion Damon Hill in 1997 hailed as a driver who could be better than Schumacher, but left after two years, with his reputation damaged, having won just once – although he did technically finish second in the championship after Schumacher's exclusion.
He never seemed to fit in at Williams, with the subsequent move to Jordan reigniting his F1 career.
16 Mark Webber
Webber had the ingredients to be the perfect Williams driver, a next-generation Alan Jones, when he joined Williams in 2005. Sadly, his timing was poor and the two years he spent there didn't produce the anticipated success.
His high points came at Monaco, where he finished third in 2005 and retired while on for a repeat – and maybe even victory – the following year.
15 Nico Rosberg
After setting fastest lap on his debut in Bahrain in 2006, Rosberg spent four seasons at Williams at a time when its performance was erratic, and picked up three podium finishes along the way.
His final season was his strongest, with Rosberg scoring consistently and finishing seventh in the championship before heading to Mercedes.
14 Thierry Boutsen
Often forgotten despite a successful two-season stint with Williams in 1989-1990, the voluminously-coiffured Boutsen brought three wins to the team.
His non-stop run to victory from pole in Hungary in 1990, holding off Ayrton Senna, was his high point but when Williams re-signed Nigel Mansell, Boutsen was out.
13 David Coulthard
Promoted from his role as test driver with the unenviable task of taking Ayrton Senna's seat, Coulthard made a good impression in his part-season during 1994 despite Nigel Mansell occasionally taking his place, then came on strong as 1995 progressed.
He only won once, at Estoril in 1995, but claimed five pole positions before moving to McLaren.
12 Clay Regazzoni
Former Ferrari Regazzoni was very much the experienced support act to Alan Jones at Williams in 1979 on his unexpected return to a frontrunning team.
But it was Regazzoni who took the historic first win for Williams at Silverstone in 1979 after Jones retired, earning him a place in Williams legend despite only staying for one season.
11 Riccardo Patrese
The popular Italian racked up 81 starts and four wins for Williams from 1987-1992, putting him third in the team's starts list.
His win at Imola in 1990 came six and a half years after his last for Brabham, with the following season his Williams peak as he pushed Nigel Mansell hard – before struggling to get to grips with the active ride car in 1992.
He even came close to returning after Senna's death in 1994 before ruling himself out.
10 Carlos Reutemann
The Argentinian joined Williams as number two to Alan Jones in 1980, taking the team's first Monaco Grand Prix win and finishing third in the championship.
His relationship with Jones took a dive early in 1981 when he refused to hand over victory in the Brazilian Grand Prix, but it was Reutemann who almost won the title but lost out to Nelson Piquet after a tame run to eighth in Las Vegas.
He walked away two races into the 1982 season.
9 Juan Pablo Montoya
Montoya erupted onto the F1 scene and was leading in only his third grand prix at Interlagos in 2001, having overtaken Michael Schumacher, before being wiped out by backmarker Jos Verstappen.
In four years with Williams, he scored four wins and had a run at the 2003 title before heading off to McLaren for 2005.
8 Ralf Schumacher
Schumacher had his best days with Williams from 1999 to 2004, taking half-a-dozen victories. When he took back-to-back wins in the space of a week at the Nurburgring and Magny-Cours in 2003, he even looked like world champion material.
It was occasionally a bumpy ride with Montoya, but he was well-regarded by the team and notched up 94 starts – second only to Mansell.
7 Alain Prost
Prost returned from a sabbatical to win the 1993 world championship at a canter.
But although this earned him a place in Williams legend, the fact he had a relatively measured run to the title and only stayed for one season – thanks to being paid to skip the second year of a two-year contract to accommodate arch-rival Ayrton Senna – means he isn't quite among the absolute superstars of the team.
6 Jacques Villeneuve
It's often forgotten just how big an impact Villeneuve made when he joined Williams as CART champion in 1996. He so nearly won his first race in F1 in Australia, then took the title fight with Damon Hill down to the wire before becoming world champion in '97.
After three seasons, the last of them winless thanks to Renault's withdrawal, he made his ill-fated move to BAR.
5 Nelson Piquet
Piquet won seven races and the 1987 world championship during his two-year stint with Williams, which was characterised by the fractious battle with team-mate Mansell.
While portrayed as the villain by some of the British media, Piquet was an outstanding performer for Williams, even if he didn't consistently replicate the form of his Brabham peak.
4 Keke Rosberg
Rosberg was plucked from struggling Fittipaldi to drive for Williams in 1982, unexpectedly winning the world championship.
He took just one win that year, adding a further four victories before leaving for a swansong with McLaren in 1986.
His victory at Monaco in 1983 after starting on slicks in the wet is perhaps the greatest of all Williams wins, earning him iconic status.
3 Damon Hill
Having played an important role as test driver, Hill was very much the number two when he was promoted to the race team as Prost's team-mate in 1993 but soon won races.
He helped keep the team together after the death of Senna in 1994 and, in 1996, bounced back from a bad previous season to win the world championship.
Only Mansell has bettered his tally of 21 wins for Williams.
2 Alan Jones
The first Williams world champion, and the driver who really put Williams on the map with his run of four wins in five races in 1979 before winning the following year's title.
A no-nonsense hard-charger, he was the standard against which Williams drivers were judged for decades, with few measuring up.
1 Nigel Mansell
Nobody has started more races (95), won more of them (28) or taken more pole positions (28) for Williams than its quintessential driver.
In three stints with the team, Mansell was unlucky not to win more than one world championship.
Adrian Newey even suggested Mansell would have won the 1995 title for Williams had he been kept on after his four '94 outings.