Among all the notable elements of Sergio Perez's stunning Sakhir Grand Prix win, one of the most significant was that he spent part of it running last.
Coming from last to victory is a very, very rare feat in Formula 1 history.
Indeed, Perez's achievement is only the sixth time it's been accomplished.
He was 18th and last from laps one to six under the early safety car after being punted into a spin by Charles Leclerc and then diving in to get medium tyres and change his strategy.
But it wasn't just that tactic that got him to the front – it also required a huge amount of overtaking.
Here are the previous five occasions in F1 when the winner has spent part of the race running last.
Australia 2003 – David Coulthard
Ran last (20th) for laps 2-3
The first weekend of one-shot qualifying in F1 had been a disaster for McLaren, with both David Coulthard and Kimi Raikkonen making a mess of their Saturday laps and dumping themselves 11th and 15th on the grid respectively.
But with nothing to lose, they ended up picking perfect moments to change to dry tyres after a damp start to the race – Raikkonen coming in at the end of the formation lap, and Coulthard taking the plunge at the end of lap one.
Though that dumped him to last, he made quick progress as his tyres got up to temperature and others made belated pit trips.
He was already up to seventh by the lap 11 restart from a safety car period caused by Rubens Barrichello and Ralph Firman crashing.
The key to Coulthard's eventual win was keeping his head on a messy day. Team-mate Raikkonen picked up a pitlane speeding penalty, Michael Schumacher had to pit with bargeboard damage after a tough battle with Raikkonen, and Juan Pablo Montoya spun away the lead under pressure from Coulthard 11 laps from the finish.
No such scruffiness from Coulthard, as he kicked off McLaren's 2003 – a year in which it never actually managed to introduce its planned new car – with what turned to be his final F1 win.
Brazil 2003 – Giancarlo Fisichella
Ran last (16th) for laps 18-19
Giancarlo Fisichella wasn't entirely convinced by the Jordan pitwall's instruction to pit under an early-race safety car in the 2003 Brazilian Grand Prix.
After all, he was holding the eighth position he was running in and didn't want to drop to the back.
But The Race's technical expert Gary Anderson had formulated a strategy that would allow the Jordans to run long enough after brimming the tank still to be out there at the 75% mark of the race – the first point at which the race could be red-flagged and stand as a full grand prix.
After stopping, Fisichella was initially not last, but then team-mate Firman suffered a suspension failure while behind him, sliding past the sister Jordan and collecting Olivier Panis's Toyota.
So on laps 18 and 19, Fisichella was 16th and last of the runners.
Fisichella, driving superbly in wet conditions while others – including Michael Schumacher – were caught out, moved up to second and passed leader Raikkonen towards the end of lap 54.
As it turned out, the end of lap 54 was eventually used for the final classification of the race thanks to a red flag caused by Mark Webber crashing as Jaguar and Fernando Alonso ploughing into the debris.
Initially, the win was given to Raikkonen but, six days later, the FIA awarded it to Fisichella.
Singapore 2008 – Fernando Alonso
Ran last (20th, then 19th) laps 13-14
Alonso was running 20th and last having made an early fuel stop in the notorious 2008 Singapore Grand Prix.
Conveniently, Renault team-mate Nelson Piquet Jr spun heavily into the wall, bringing out a well-timed safety car that allowed Alonso to win.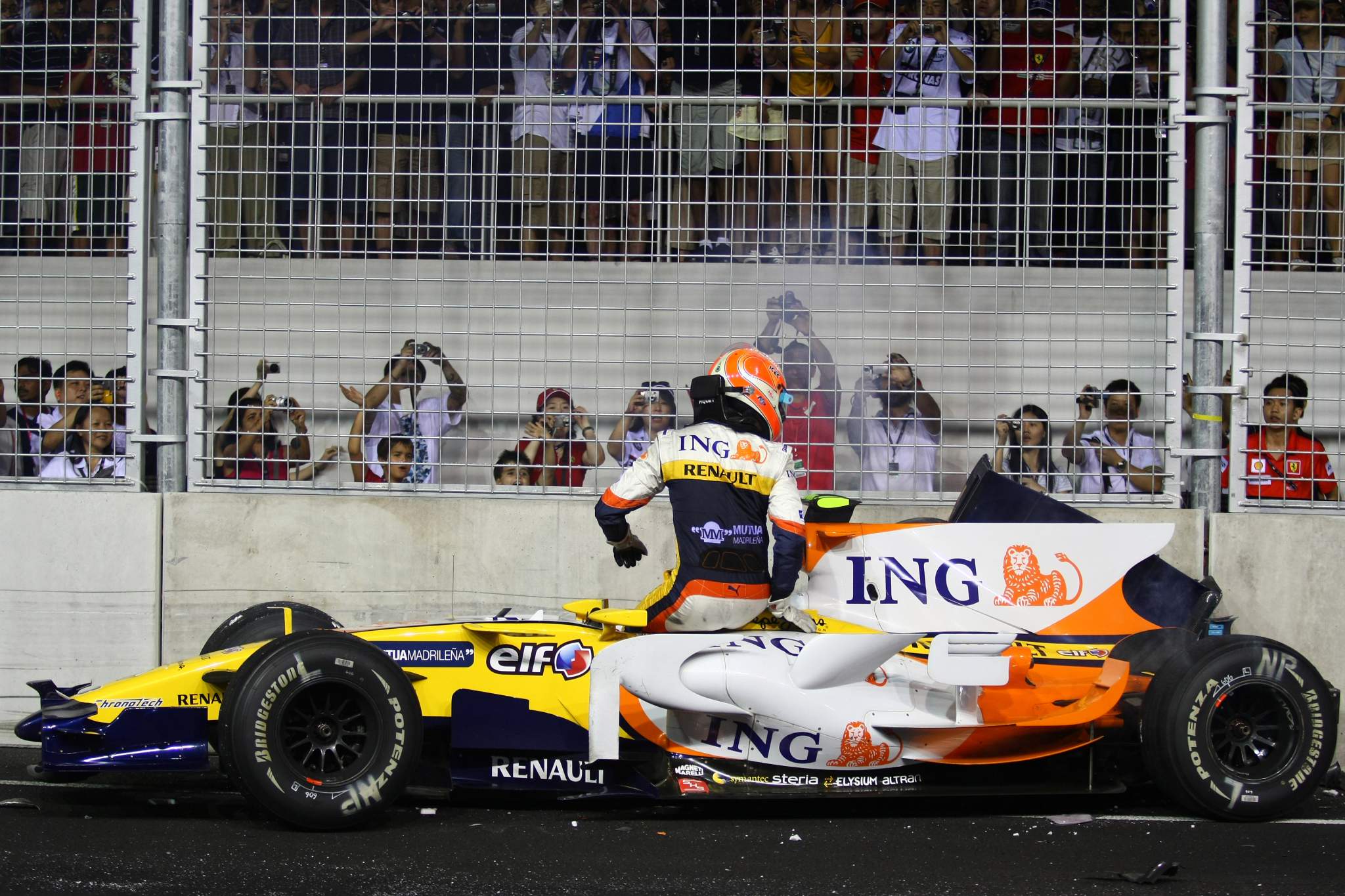 Alonso moved from 20th to fifth as drivers made their pitstops under the safety car, then picked up the lead on lap 34 when the last of the group of one-stoppers in front of him pitted.
He then had a big enough lead to make his second stop seven laps later and hold first place.
At the time, it seemed to be an outrageous piece of good luck. But the following year it was exposed as a deliberate plot concocted by the team after Alonso had qualified only 15th following a fuel system problem on Saturday.
Team principal Flavio Briatore and executive director of engineering Pat Symonds were both given bans and Renault subsequently sold the team.
But regardless of the circumstances, Alonso's last-to-first victory was allowed to stand.
Australia 2010 – Jenson Button
Ran last (19th) laps 6-7
If Button collides with Alonso and drops to last in the same race, he always wins. As you'll find out across this article.
Button made a habit of excelling in races with mixed conditions and that was the key to his first win for McLaren.
A disappointing debut in Bahrain gave way to a better qualifying performance in Australia, but Button fell from fourth on the grid to sixth on the opening lap when Alonso turned across the front of his car at the first corner and spun, delaying the reigning world champion.
On lap six, with the track drying and team-mate Lewis Hamilton just getting ahead, Button made the call to pit for slicks. Upon rejoining, he went off-track twice and spent two laps in 19th and last place.
But he was also far quicker than anybody else and just three laps later, as the rest of the field realised they needed to pit for slicks, he was in second.
That became the lead when Sebastian Vettel's Red Bull suffered a front-left failure and was pitched into the gravel, paving the way for Button to take the win.
Canada 2011 – Jenson Button
Ran last (21st) laps 37-40
It's hard to overstate how dramatic Button's most famous F1 win really was.
He'd got ahead of McLaren team-mate Hamilton for sixth on the opening lap after Hamilton hit Webber's Red Bull at Turn 1, only to run wide at the chicane a lap later then accidentally squeeze Hamilton into the pitwall.
It forced Hamilton to retire and triggered a safety car, which Button used to pit and change from wet tyres to intermediates.
However, there would be no immediate benefit to 'right tyres, right time' because he sped in the pitlane and had to serve a drive-through penalty, dropping him to 15th – but not last.
After a two-hour stoppage because of heavy rain Button took the restart ninth but dived into the pits again at the end of the first racing lap for intermediates.
But one lap later he tried to pass Alonso into the Turn 3 chicane, the Ferrari wouldn't yield and they made contact – spinning Alonso into retirement and giving Button a puncture.
Finally, after four pitstops and a drivethrough penalty, he was running last.
Another pitstop (for slicks, before the leaders did the same) and 20 laps later, Button was sitting fourth in the safety car queue as the race resumed following a safety car period caused by Nick Heidfeld crashing on his own broken front wing.
The dry racing line but damp track off it meant Button took a few laps to pass Webber and Michael Schumacher for second, before snatching the victory with his now-famous final lap pass on a half-spinning Vettel.
Phew.