McLaren chief executive Zak Brown expects Mercedes driver Lewis Hamilton to race in Formula 1 this year despite retirement rumours – but warned that nobody should "take for granted he's coming back".
Hamilton has been silent in public since the Abu Dhabi Grand Prix a month ago, following the late-race safety car and ensuing one-lap shootout in which Max Verstappen, on fresh tyres, passed him to claim the world championship.
The FIA is working through a process of analysing the decisions made in Abu Dhabi that must yield significant changes to avoid a repeat of the errors made in the implementation of the sporting regulations.
Hamilton's decision on whether to continue could depend on the outcome of that process, with Mercedes team principal Toto Wolff last month describing Hamilton as "disillusioned".
Asked whether he expects Hamilton to be racing in F1 this year, Brown said that he believes Hamilton's competitive drive means he will return.
"He's a racing driver, he's at the top of his game," said Brown.
"Sure, he's very angry but racecar drivers want to race. I think he's a fighter and he'll want to come back and win an eighth championship. I don't think he's ready to retire.
"I don't think he's ready to hang it up. And I don't think he's going to let an incident put him into retirement."
But with Hamilton's position seemingly part of the Mercedes strategy to keep pressure up on the FIA to ensure the right changes are made, Brown did not discount the possibility that the Mercedes driver might not carry on.
Wolff said last month that the Mercedes team would be holding the FIA accountable in the process of implementing changes and the threat of F1's biggest global star walking away on the eve of the season is its biggest weapon. But like all threats, it's only worth making if you are willing to go through with it.
"I would be shocked if he stopped so I don't think anyone should take for granted he's coming back, which my personal opinion is he's going to," said Brown, when asked if F1 would underestimate Hamilton's resolve if it discounts the possibility of retirement.
"But I don't think we should discount or not recognise his frustration, his anger.
"Maybe he hasn't made a decision and maybe what he's doing is taking time to make that decision to make sure, because once that decision is made, that decision's made.
"So I don't think we should rule it out, or make light of it. I just personally think he still has a burning desire to race and that will ultimately drive his decision. But that's just one man's opinion."
Brown said he also believes that if Hamilton does continue, his on-track performances won't be affected by what happened.
He pointed to Hamilton's performances late in the 2021 season, when the seven-time F1 champion kept his head and wasn't sucked into driving too emotionally.
"Lewis is one of the most intelligent racing drivers and he seems to be very focused when he's in a racecar and the helmet's on," said Brown.
"I'm not seeing him really drive emotionally. Look at the Saudi race, what an unbelievable drive and he kept his cool. And in Brazil he kept his cool.
"There's a reason why he's won seven world championships. As upset as I'm sure he probably is about it, I don't see that altering his driving when he puts the helmet on."
Brown was also asked about the need for F1 to produce a robust response to regain the confidence of the fans after what happened in Abu Dhabi.
He said he believes that once F1 has the chance to move on from what happened in Abu Dhabi "the wounds will start to heal" and that he does not agree with those who argue the way the 2021 season ended is evidence of corruption.
This is because the race control calls were not malicious, but instead motivated by a desire to produce a green-flag finish – something that all teams have pushed for.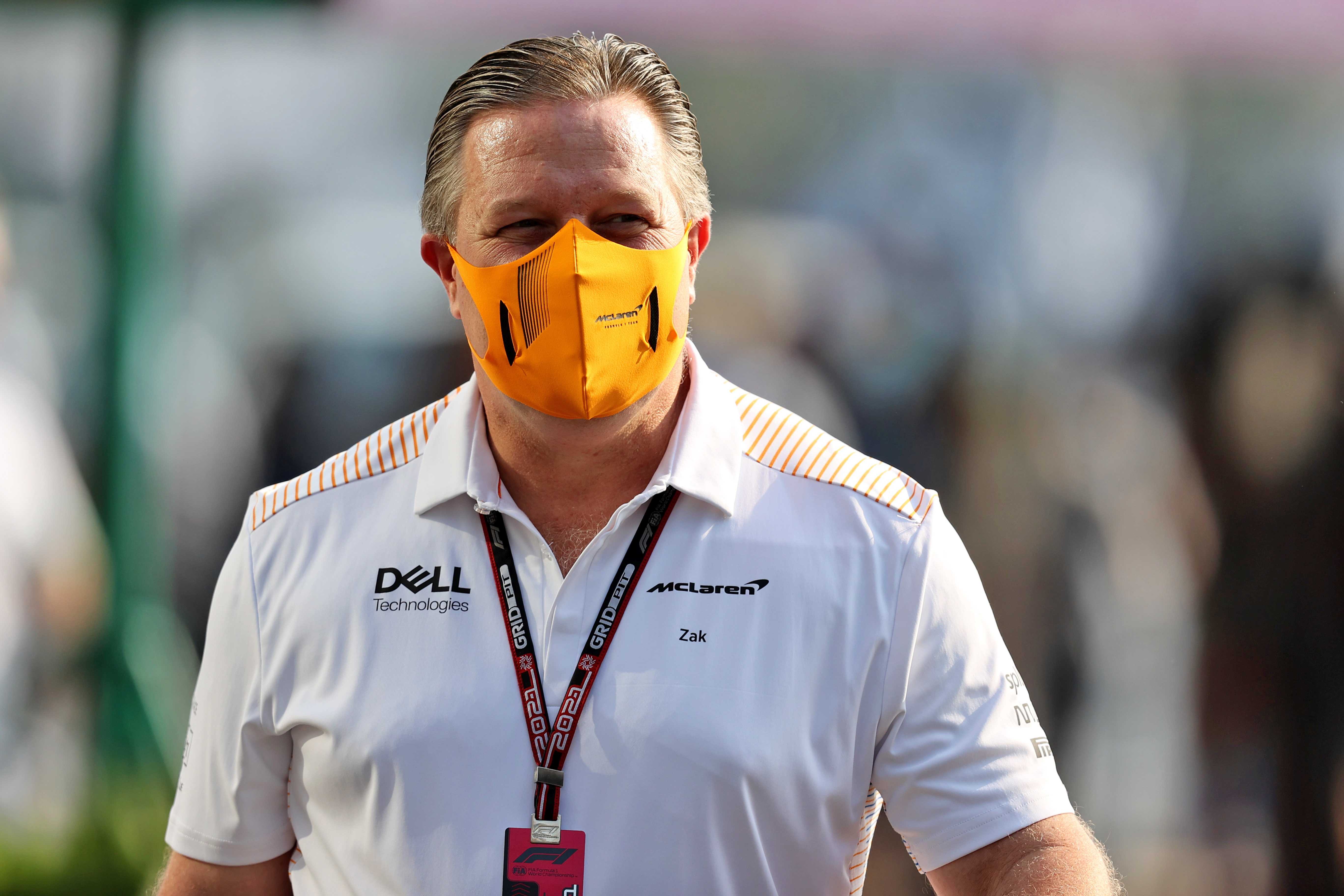 "With all controversies in sport, in time, as soon as the next season starts the wounds start to heal," said Brown.
"I do think the FIA need to come out with a, 'here's what happened, here's why we think it happened, here's what was right, here's what was wrong' – whatever they're going to come out with in the report – and then show that they've taken action to make sure it doesn't happen again.
"I don't think this was a malicious decision. So for those that might have a view that the sport's corrupt etc, I don't agree with that.
"Do I think potentially a different decision could have been made? Yes, probably. I want to wait to see what the FIA comes out with, but I don't think it was malicious, and therefore I don't think it's corrupt.
"We've all seen in sport before referees make decisions that people disagree with. Sometimes they're right, sometimes they're wrong.
"It gets pretty excited and then the season starts and it soon becomes a thing that you never forget about, but it's a thing of the past."