Max Verstappen delivered what the majority of the Formula 1 fans at the Dutch Grand Prix wanted with a sublime drive to a dominant victory at Zandvoort.
Lewis Hamilton and Mercedes were able to heap the pressure on Verstappen and Red Bull but they couldn't prevent Verstappen from retaking the drivers' championship lead with his seventh victory of the 2021 season.
Hamilton was clearly dissatisfied with his Mercedes' team strategy during the race – but was the victory actually achieve at the Dutch GP or was defeat inevitable? Our writers have their say.
Defeat was inevitable after lap one
Gary Anderson
I think Red Bull and Verstappen had it won by the exit of the first corner on lap one, getting out of there first, not making any mistakes and just reacting to whatever Mercedes threw at their strategy was always going to be enough.
Bottas didn't really come into play – when he tried to block Verstappen his tyres were too far gone so for Verstappen it was only a case of planning the overtake and ensuring he didn't catch him on the wrong part of the lap.
On to Monza, which will be a very different event and present an opportunity for Mercedes and Hamilton to strike back – or for Verstappen and Red Bull to stride further forward.
Mercedes wasn't fast enough
Mark Hughes
It wasn't really a winnable race for Mercedes. Its car just wasn't fast enough. The Red Bull had 0.3s on it – and about two-thirds of that was through the banked Turn 3. Verstappen had the pace advantage to just play with Hamilton.
A couple of times Merc might have sneaked an undercut – but it would have been very lucky to have pulled the undercut off and even then it would have ensured Hamilton was on dead tyres with a way faster car coming back at him.
It won't look like this at Monza, but basically, Zandvoort was perfectly configured to stretch the gap between Red Bull and Merc.
Bottas cost Mercedes again
Scott Mitchell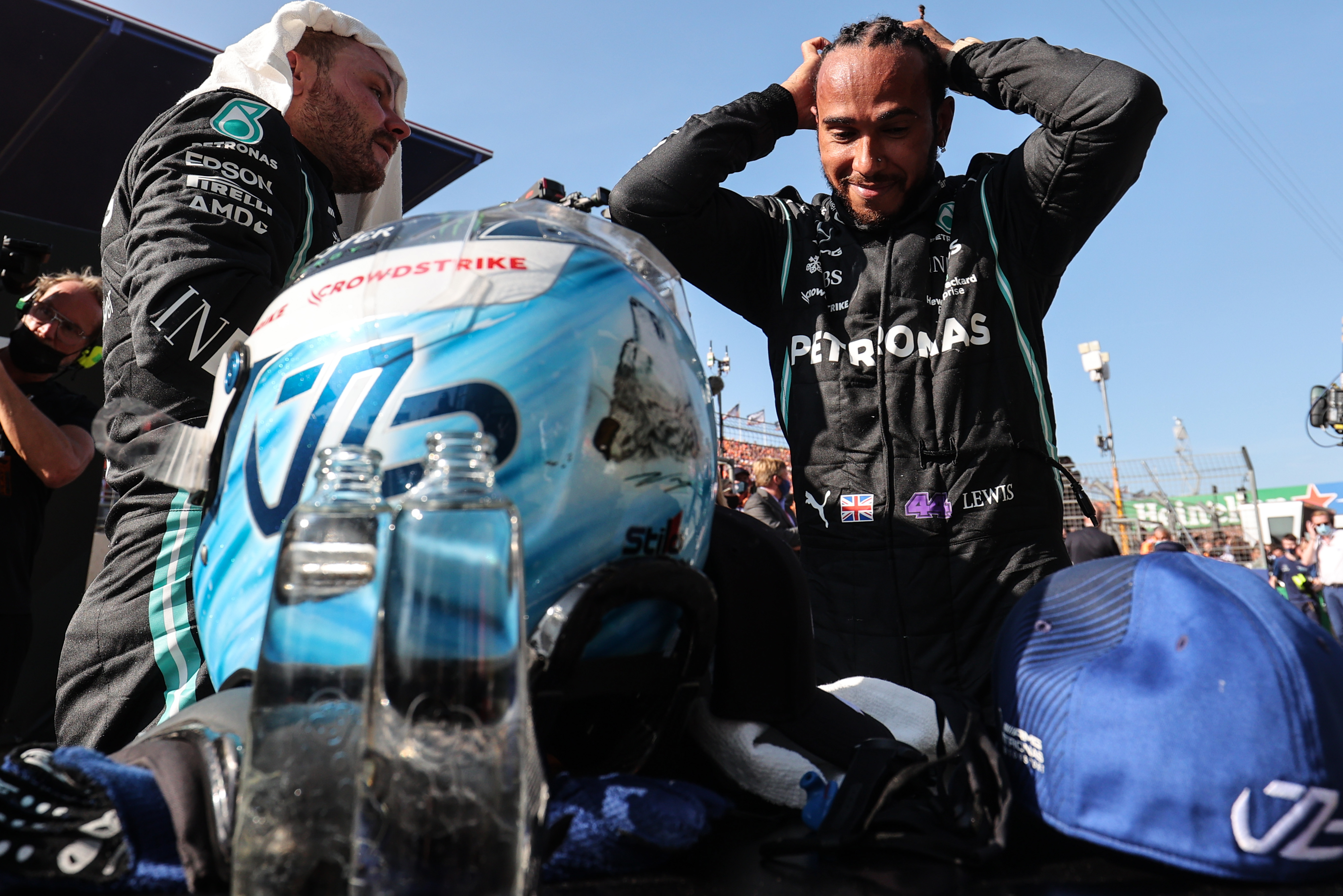 Bottas's point-proving fastest lap near the end of the grand prix was obviously a sign of frustration.
Even briefly taking that fastest lap gave a pretty public indication that Bottas is fed up with the team orders that enshrine his position as the team's number two.
But another point had already been made earlier on. When Mercedes needed him to defend the lead from Max Verstappen, Bottas couldn't do it.
Mercedes had two cars to Red Bull's one in this lead fight and Hamilton was almost within DRS range of Verstappen, both having stopped and caught up to Bottas on older tyres. It was a chance for Bottas to seriously disrupt Verstappen.
Getting in Bottas's dirty air already did some damage to Verstappen's lead and chances are Bottas wouldn't have held on for much longer but the misjudgement into the chicane let Verstappen latch onto the back of the Mercedes and he was so close the overtake was basically completed as soon as they made it onto the start-finish straight.
It was typical of a season in which Bottas has not been a convincing wingman. It's a bit blunt, but that's the reality of grand prix racing. This is the best of the best and Bottas's small error was swiftly punished.
Mercedes did what it could to disrupt Red Bull over the rest of the grand prix but that looked like its best opportunity to do any kind of meaningful damage.
…but Perez's woes were in a different league
Josh Suttill
Bottas rightly came under a lot of stick for his poor job as Hamilton's wingman this weekend but he's certainly performed far better than Sergio Perez has in the second Red Bull.
Sure, his team's strategy at the end of the session played a role in his embarrassing Q1 exit but he was only in that position because he wasn't comfortably clear of the bottom five – an area of qualifying that a Red Bull driver has no right to be anywhere near.
And you could almost feel that pressure even from a distance during Perez's fightback in the race. He probably took a bit too long to clear Nikita Mazepin's Haas and the lock-up behind the Russian was costly.
He pulled off some nice overtakes to climb back up to P8 but it was another disappointing weekend for Perez.
It's a reminder of the solid job Bottas can often deliver even when he can't live with the relentless pace at the front, and it's one that will likely keep Mercedes as the favourite for the constructors' championship, even if Hamilton fails to stop Verstappen taking the drivers' crown.
If George Russell does indeed join Hamilton at Mercedes in 2022, and Perez's isn't delivering the sort of form that took him to the win in Baku and podium in France, then his poor form is going to be even more exposed next year.
A long shot for Mercedes but not impossible
Valentin Khorounzhiy
Given how quickly he streaked away initially, Verstappen's lead did feel a bit precarious at certain parts of the Dutch GP, especially as the undercut did seem to be working.
I think it's also fair to say that Mercedes was a slightly stronger proposition on the harder compounds – if not stronger than Red Bull then at least stronger relative to its own performance on the softs.
Would that have been enough with a perfectly-executed race? It really, genuinely did feel like a 'yes' for much of the grand prix, but the ease with which Verstappen stayed ahead on the hards relative to Hamilton's mediums suggests Red Bull had performance in reserve.
Still, I don't think it was completely unwinnable for Mercedes. Just a very, very long shot, and obviously only through perfect strategy.