"I was surprised to hear that. I have a contract. There's always a lot of rumours in Formula 1, so as a driver, it's better not to read too much."
When Nyck de Vries inevitably faces questions about his future in the lead-up to the Emilia Romagna Grand Prix, with a seemingly-unrelated Daniel Ricciardo seat fit nonetheless highlighting the fact De Vreis appears to be under immediate pressure, the good news for him is there's a blueprint on how to answer them.
The bad news is the same. There's a blueprint – a way-too-recent blueprint – on how to answer them.
Five races into the 2018 season, Toro Rosso driver Brendon Hartley had found himself having to respond to speculation that the team was already lining up someone to take his place after a patchy start to the season.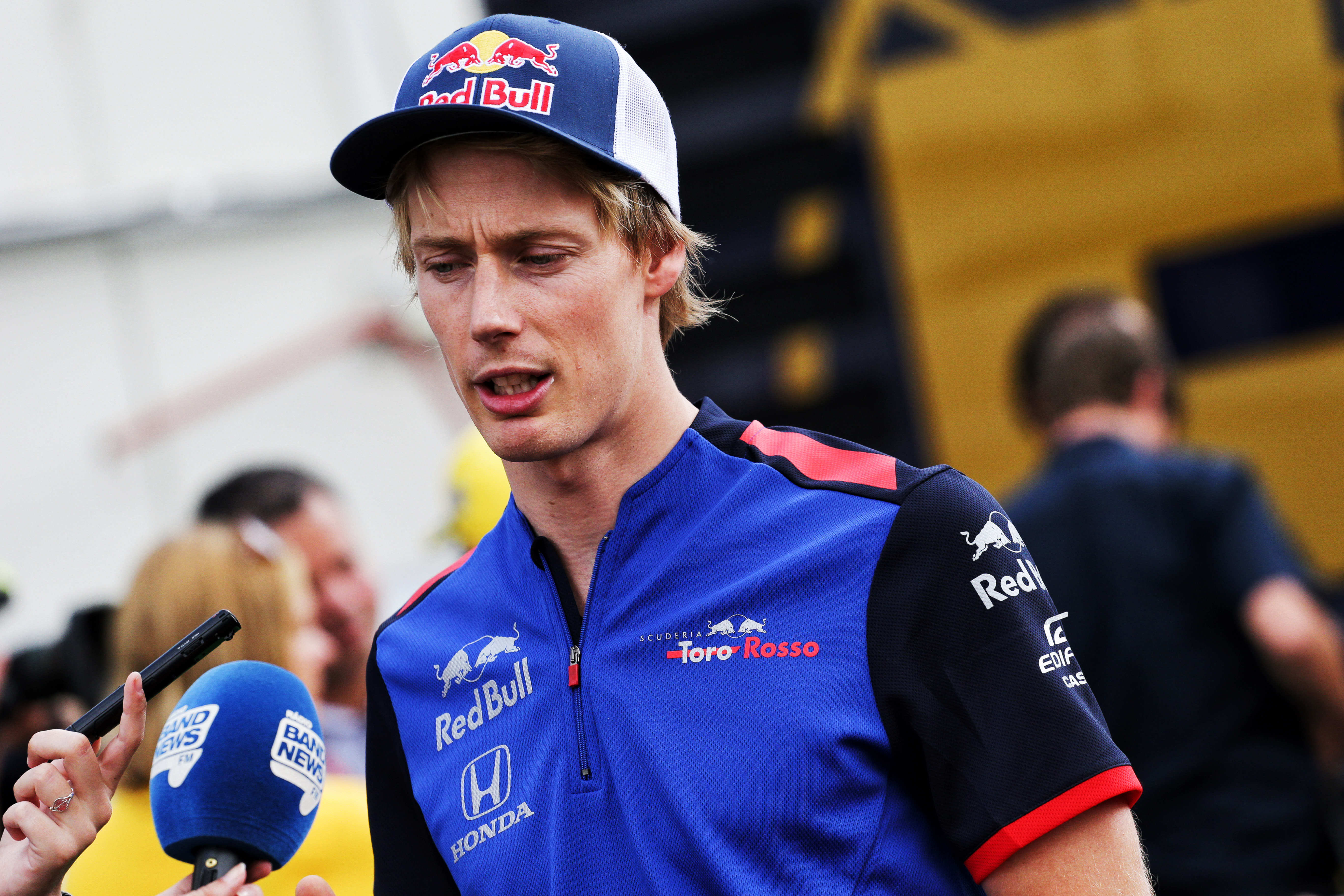 Those rumours didn't come to fruition, Toro Rosso didn't suddenly slot in Pascal Wehrlein. And, well, anyone can start a rumour, and amid a rough patch of form this doesn't need to be anything more than imaginations running wild.
Except, well, it was in fact more than that. As Hartley would write a year on in his Players' Tribune column: "When I look back now, what I will remember most about it is walking down to the paddock to meet with the media on the Wednesday before the weekend started, and receiving a bunch of questions about my future.
"Here I am, a handful of races into my F1 career, and I'm being asked about the end. The worst part of that day, though, was finding out there was some truth to the rumours.
"From as far back as Monaco there was a plan in motion to move me on."
That was five races into the season. And, wouldn't you know it, that's where we are now in 2023.
Nyck de Vries and Brendon Hartley are two different drivers with two different pedigrees. Hartley's career is defined by his endurance racing accomplishments, whereas De Vries is ultimately first and foremost a single-seater ace.
And it always feels too tempting – almost hack writing, you may say – to look for parallels as a narrative-forming device. But indulge me in this situation, for they are unmistakable.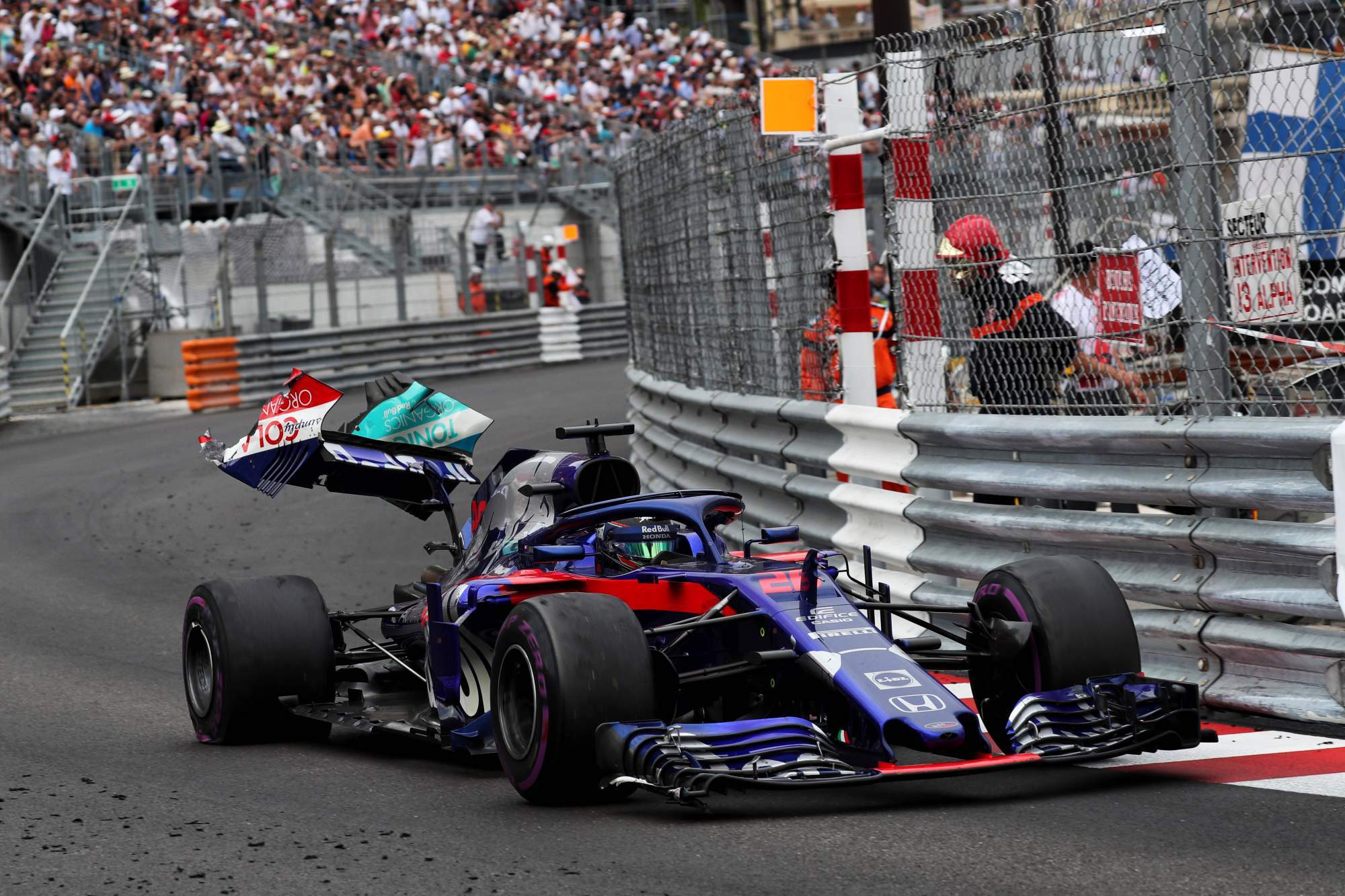 It's five races into the season. De Vries is 28, as was Hartley in that Monaco moment. Both are outside of the traditional Red Bull B-team age range. Both are outsiders, not brought in through the Red Bull Junior Team – though Hartley had been a member much earlier in his career.
Remarkably, both ended up where they are effectively because of interest in a wantaway Red Bull-contracted driver from Team Enstone. De Vries' opportunity was opened up by Alpine getting the energy drink giant to release Pierre Gasly, while Hartley's debut had come in replacing a Super Formula-bound Gasly who himself had replaced the Renault-loaned Carlos Sainz. Yes, after that Hartley effectively became the full-time replacement for Daniil Kvyat instead, but that would've been Gasly's gig had he not already been called up in lieu of Sainz.
And, five races into the first full season (what will hopefully, for De Vries' sake, end up a full season), both were in trouble, under pressure after some suspect form relative to their team-mate and a handful of costly errors.
AlphaTauri team boss Franz Tost backed De Vries in Baku, saying he was just going through "the learning process and the crash period" that was only natural in modern F1. That had, admittedly, come before De Vries speared into Lando Norris at the start in Miami – and in any case, it is not Tost who will decide De Vries' future. And there have been multiple reports post-Miami that Red Bull wants to see De Vries step up his form, and fast.
A pertinent question is, how do De Vries and Hartley actually compare in form through this relevant five-race stretch?
---
Points
Hartley 1:12 Gasly
De Vries 0:2 Tsunoda
Qualifying score
Hartley 2:2 Gasly
De Vries 1:5 Tsunoda
Practice score
Hartley 2:13 Gasly
De Vries 2:10 Tsunoda
Average practice gap (over 1m30s lap)
Hartley 0.619s behind Gasly
De Vries 0.334s behind Tsunoda
Major errors:
Hartley: Race-ruining Turn 1 lock-up in Australian GP, hitting Perez in Bahrain GP, start procedure penalty in Bahrain GP, terrifying near-miss with Gasly in Azerbaijan GP qualifying (after wall tap caused a puncture), FP3 crash that ruled him out of Spanish GP qualifying
De Vries: Self-inflicted spin due to Ocon contact in Australian GP, Q1 crash in Azerbaijan GP, rear-ending Norris in Miami GP
---
It's something of a problem for De Vries that you can't really conclusively say he has had a better start to 2023 than Hartley did to 2018.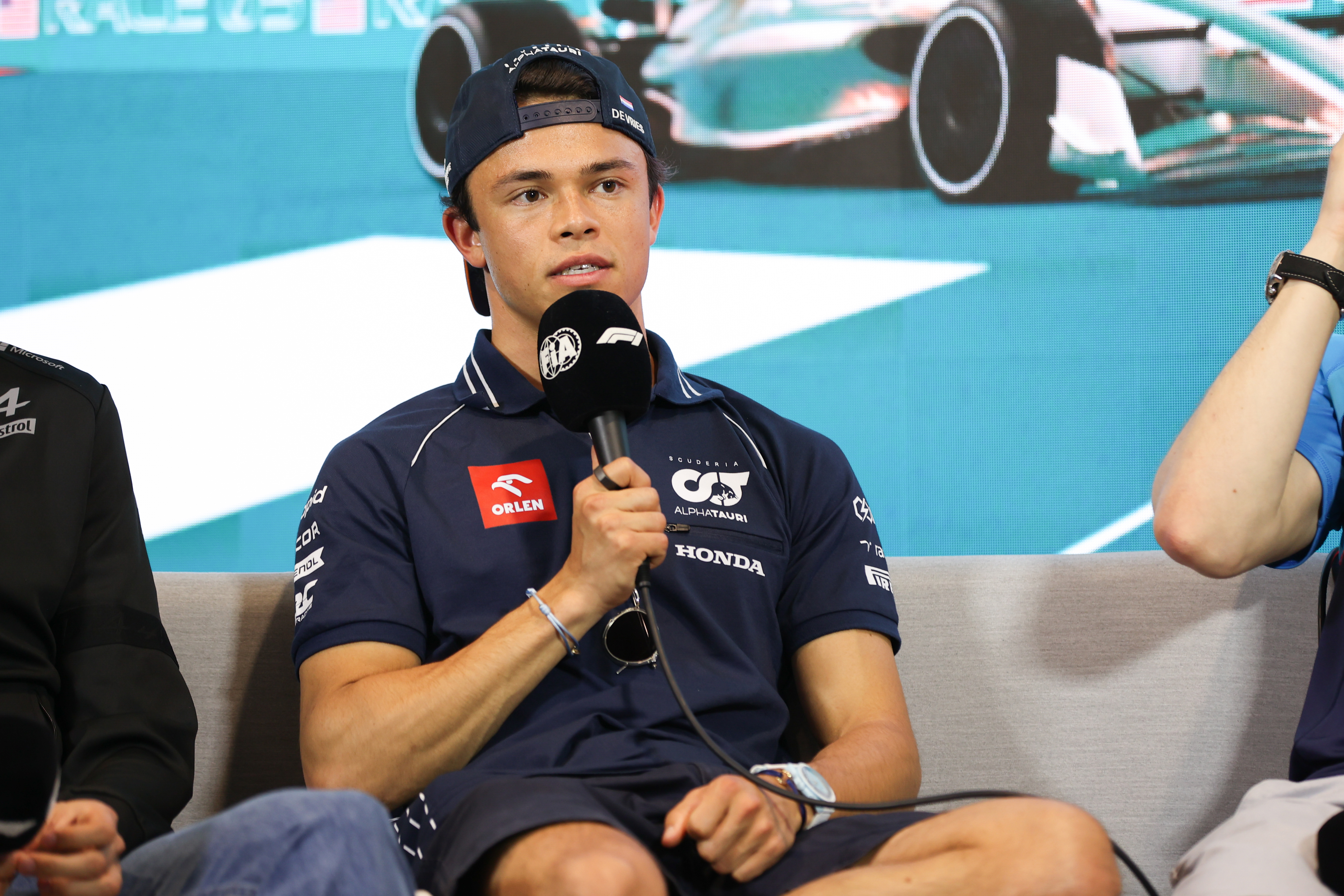 Hartley was better relative to De Vries in those initial team-mate comparisons in qualifying, though that can be put down to the relative experience levels of their team-mates. Gasly had enjoyed a clear practice edge over Hartley to begin with that he wasn't quite capitalising on come Saturday, but it did ultimately come across for much of the rest of the season, if not at all to the tune of five-to-six tenths.
Hartley also scored an impressive Baku point, even if scoring a point in the STR13 and in the current AT04 aren't the same calibre of tasks.
In De Vries' corner is the fact that Tsunoda is a third-year incumbent who through that should be expected to pose a sterner challenge. You can also point to the fact that Hartley had a run of preparation Toro Rosso races in late-2017, compared to De Vries' single Williams outing in 2022 – although does that really even make up for what had been a long single-seater absence for Hartley?
De Vries didn't have to contend with something like that, although racing in Formula E and Formula 1 obviously doesn't have a lot in common beyond the single-seater designation.
It does seem pretty clear that Hartley's run of form was more calamitous. His timing was slightly unlucky in having a particularly messy Bahrain Grand Prix, in which the STR13 was good enough for Gasly to bag a memorable fourth place, but every weekend seemed to bring something.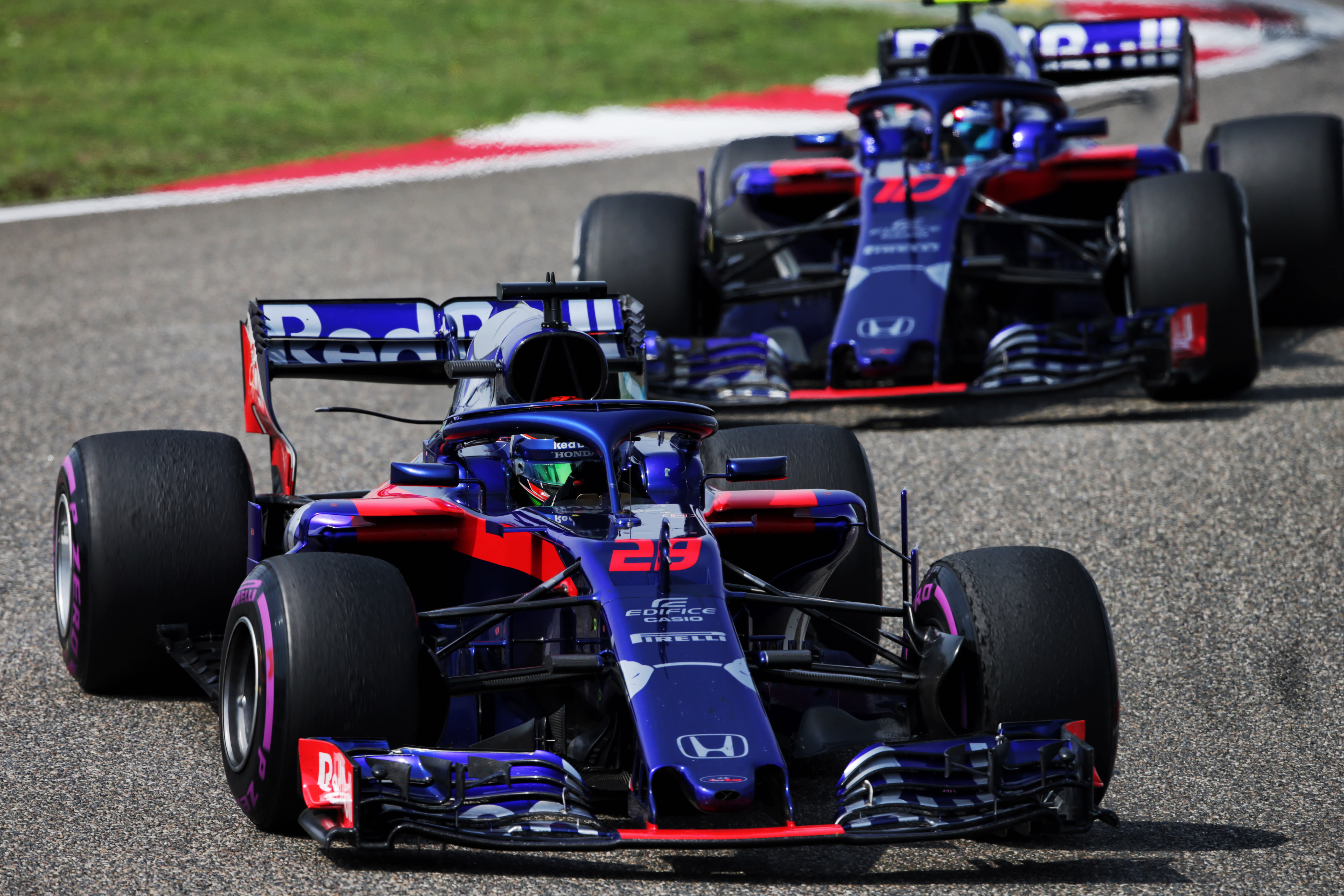 Not quite so for De Vries, although both he and Hartley had early team-mate contact. For the Dutchman, it was the Baku sprint run-in with Yuki Tsunoda; for the Kiwi, it was a Shanghai collision with Pierre Gasly when the latter assumed he was being waved past. A bit messy, but ultimately neither incident was something you would massively hold against either of the drivers in question.
Ultimately, there are two big questions. Question one is one of perception. How formidable of a challenge does Red Bull regard a year-three Tsunoda as being, and how much of a concession will be made for the AT04 being particularly flawed, can prove decisive.
Question two is of alternative option availability. Hartley did see out the season, but that was far from a given as Red Bull had tried to extricate Lando Norris mid-season from Formula 2.
Right now, it has a remarkable six juniors in F2, though all seemingly short of the requisite superlicence points, but also the superlicence-eligible Liam Lawson, a frontrunning rookie in Super Formula. And, of course, Ricciardo's somewhere in the picture.
Yet, somehow, that also doesn't matter so much. Even if Red Bull ends up feeling there is nothing to be gained from bringing in a Lawson or a Ricciardo, if that alone spares De Vries then that's only a pointless deferral – arguably what it was for Hartley.
History dictates that, if Red Bull's faith in a driver is shaken – and especially if that faith wasn't established over a long-term process – the chances of rebuilding that faith really aren't great. Someone like Hartley can argue from experience that it's just not realistic to do, although Red Bull would likely counter that by suggesting Hartley's improvements during 2018 just weren't meaningful enough.
De Vries' shot at course correction is still ahead of him. And, whatever first impressions, there's still got to be chance, as long as he is in that car, to find that extra performance and leave no room for ambiguity in his case for a longer-term future with Red Bull in F1.