Everyone who has watched Formula 1 for any prolonged period of time will concur that, if Nicholas Latifi hadn't stuffed his Williams FW43B into the barrier in the closing stages of the Abu Dhabi Grand Prix, Lewis Hamilton would've almost certainly ended the day as an eight-time F1 champion.
That's basically a fact. And if it's a fact that's important enough to sour any of you on Latifi, you may well be interested in the following quote from the Williams driver.
"It was never my intention. I can only apologise for somewhat influencing things and creating an opportunity, but I made a mistake."
LATE DRAMA! Safety car 🚨

Nicholas Latifi crashes heavily in the final sector 😰

Max Verstappen changes tyres, Lewis Hamilton stays out!

📺 Sky Sports F1
📲 https://t.co/TJHGarBsm4
#️⃣ #SkyF1 | #F1 | #AbuDhabiGP pic.twitter.com/IgKGfGSMTi

— Sky Sports F1 (@SkySportsF1) December 12, 2021
But anyone who feels they needed that apology from Latifi is also someone who does not deserve it.
You may think that the previous sentence is effectively targeting a strawman, and if you do, a simple look at the replies to the pinned tweet on his Twitter profile (an innocuous post from September about his 2022 deal, not even Abu Dhabi-related) will disprove that notion.
There is admittedly also a smattering of kind support, as well as joyous 'thank yous' from Red Bull fans that are probably not particularly welcome, but the sheer prevalence of outright spiteful words is inexcusable.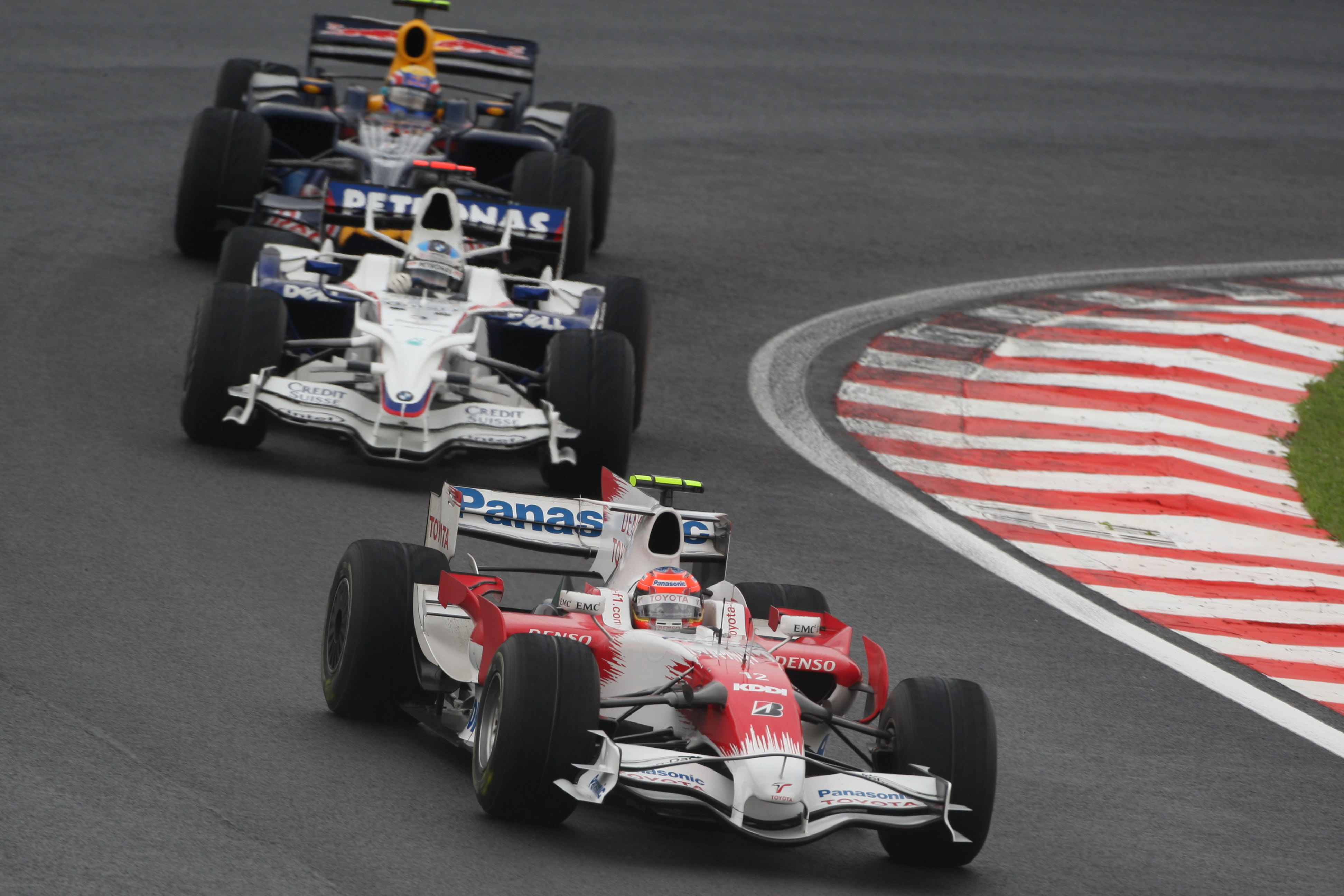 No, it's not quite as bad as Timo Glock having to have a "police escort" join him when departing Interlagos after the 2008 finale, and then he and his family receiving threats amid the widespread delusion that he was part of a conspiracy to give Hamilton the crown.
And all of us reasonable people can cross our fingers and hope that Latifi is spared anything more than what he's already received – although it's really, really hard to be particularly optimistic (and in fact the suspicion is that digging deeper will reveal some proper nasty stuff).
The conspiracy aspect is less prevalent this time, at least on Latifi's side, than in 2008.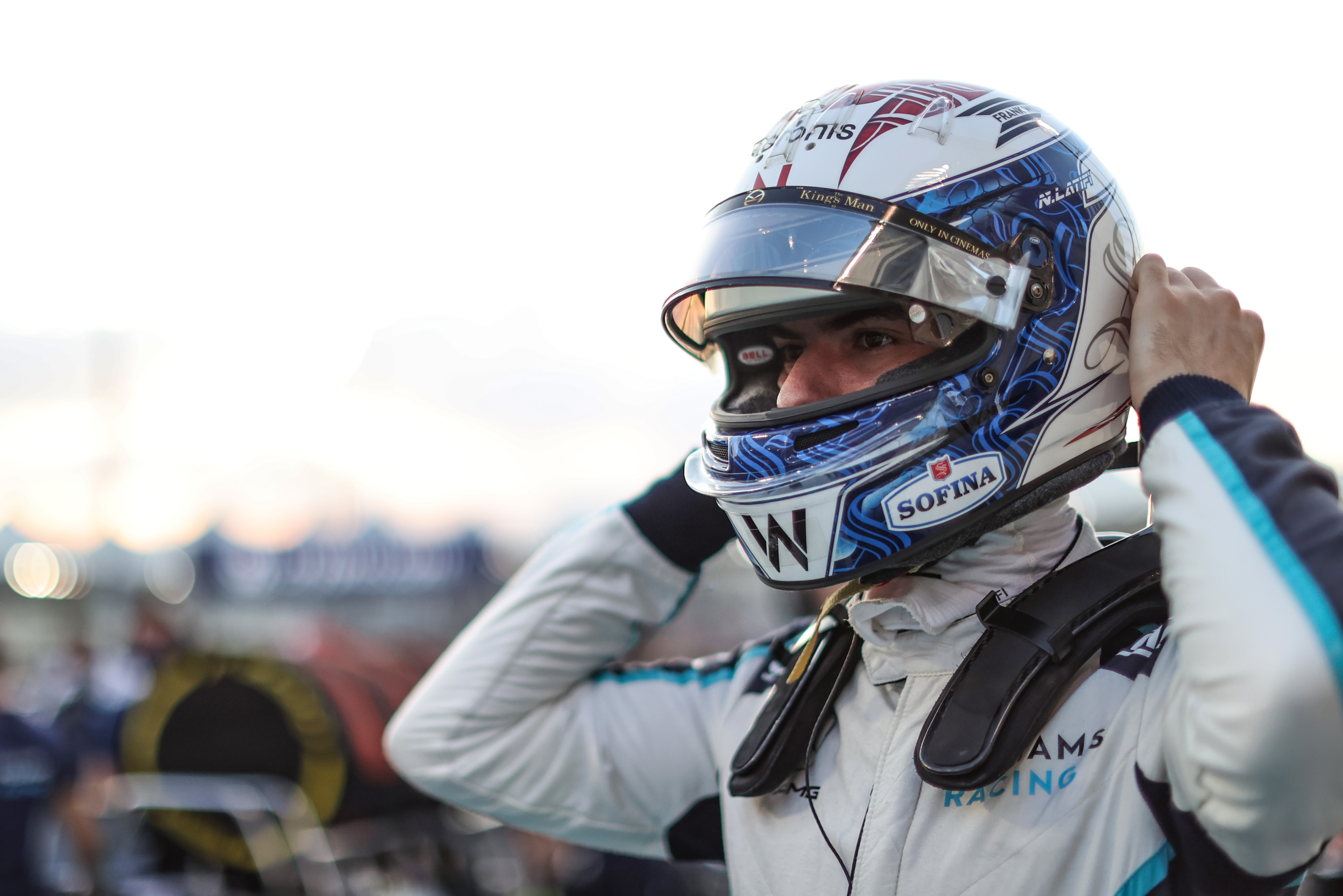 "I didn't have a preference who won," Latifi said when semi-jokingly asked whether he favoured Hamilton or Max Verstappen. "I obviously saw the last two laps, I didn't see what was happening before then."
But even if he had a really strong preference – which there is no reason to suspect whatsoever – it would take a very peculiar mind to suggest there was anything deliberate going on. Such suggestions did seem to crop up here and there on social media, but they are simply not worthy of another paragraph, or to be brought up ever again.
Checking that delirium off the list leaves a few much more prevalent suggestions – that Latifi made a mistake that was either inexcusable in the context of the title fight or unforgivable for an F1 driver, or that – the nature of the mistake aside – he simply doesn't deserve to be racing and shouldn't have been in the grid in the first place.
Let's get the latter out of the way. Nicholas Latifi is not the most glamorous F1 driver, and almost certainly does not make the top 20 best circuit racers in the world right now. Ideally, for those of an F1-focused persuasion at least, those top 20 would make up the F1 grid, but that has never ever been the case in reality.
What Latifi is, is a driver who inarguably contributed to Williams improving to eighth in the constructors' championship this year (and also almost certainly to the financial stability it's recently enjoyed). What Latifi also is, is a driver who outqualified the Mercedes F1-bound George Russell in two of the last four races. What Latifi ultimately is, is unquestionably a good racing driver – whatever you think of his F1 merit.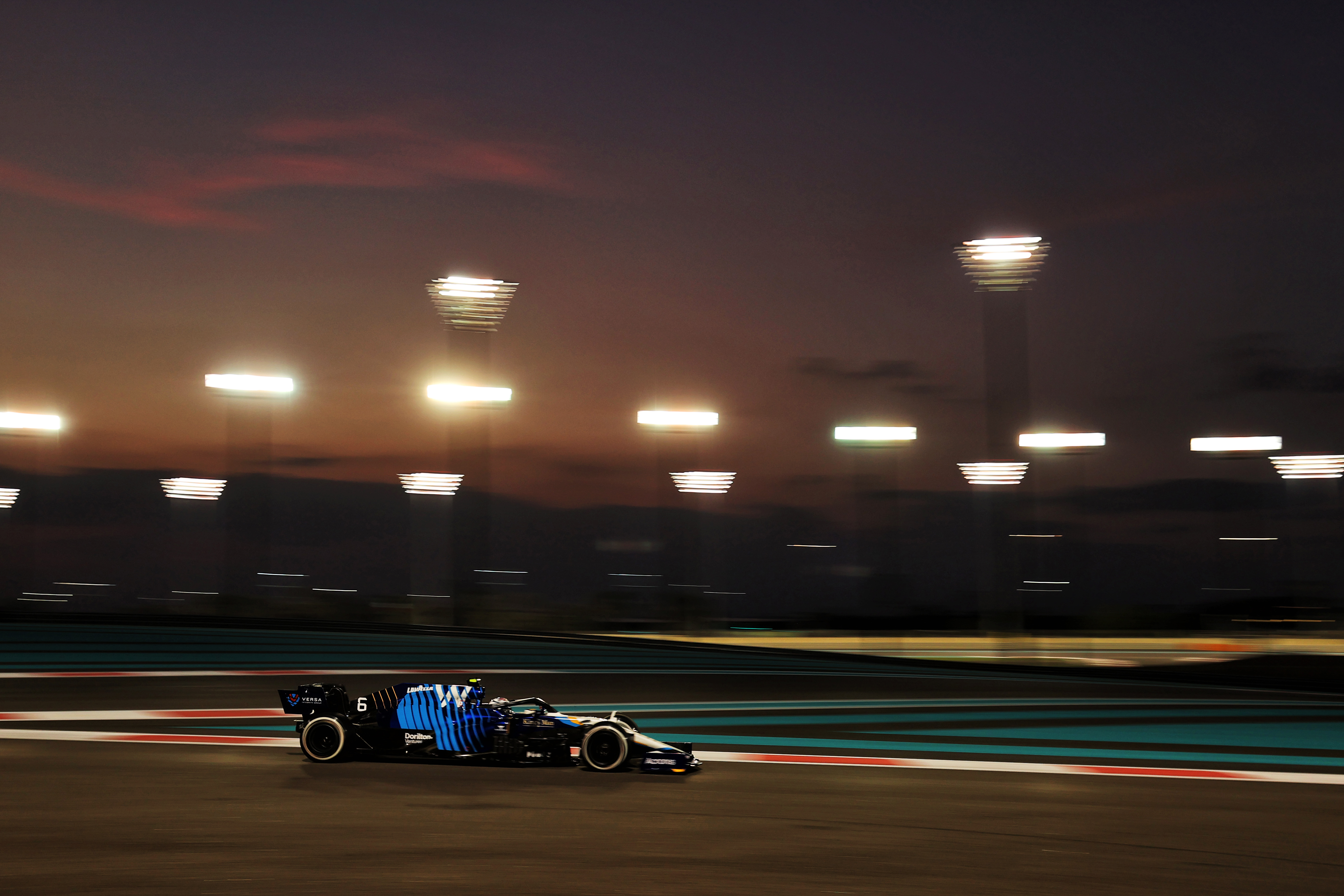 And now for the incident itself. Williams may be a Mercedes customer, but there is no indication whatsoever that he was under any instruction to be mindful of the title fight and minimise risks. Instead, a couple of laps before the crash he was actively being coached by his Williams team on the best way to go about passing Mick Schumacher.
The team wanted that 15th place – yes, there are no points awarded for 15th, but it is basically the axiomatic F1 ethos that even those outside the points should want to get the best position possible. It is an ethos that takes a step back sometimes when various team tactics come into play, but there was no reason for such a concession here because the 16 drivers across the eight non-title contending teams didn't show up to Yas Marina to cruise around behind the title contenders.
The lap before the crash, Latifi is told that "this could be your last attempt" to pass Schumacher, presumably because of energy, fuel or engine mode considerations. As the following lap begins, he is then encouraged to use the 'overtake' button early on both the straights. It is, again, completely undeniable that Williams wants him to get that 15th place.
Latifi goes side by side with Schumacher through Turn 9. Schumacher definitely has the opportunity to leave him outside room, but is unwilling to compromise his exit and crowds the Canadian out. It is the kind of incident that you'd expect the stewards to at least look at, but that's not really something you can predict in F1 with any sort of accuracy.
In any case, Latifi rejoins the track behind Schumacher, clearly feeling that he was pushed off, and is desperate to stick with the Haas to make sure this last chance to make up a position isn't over. He tries too hard as he watches Schumacher pull away, and then, boom, he smacks the barrier.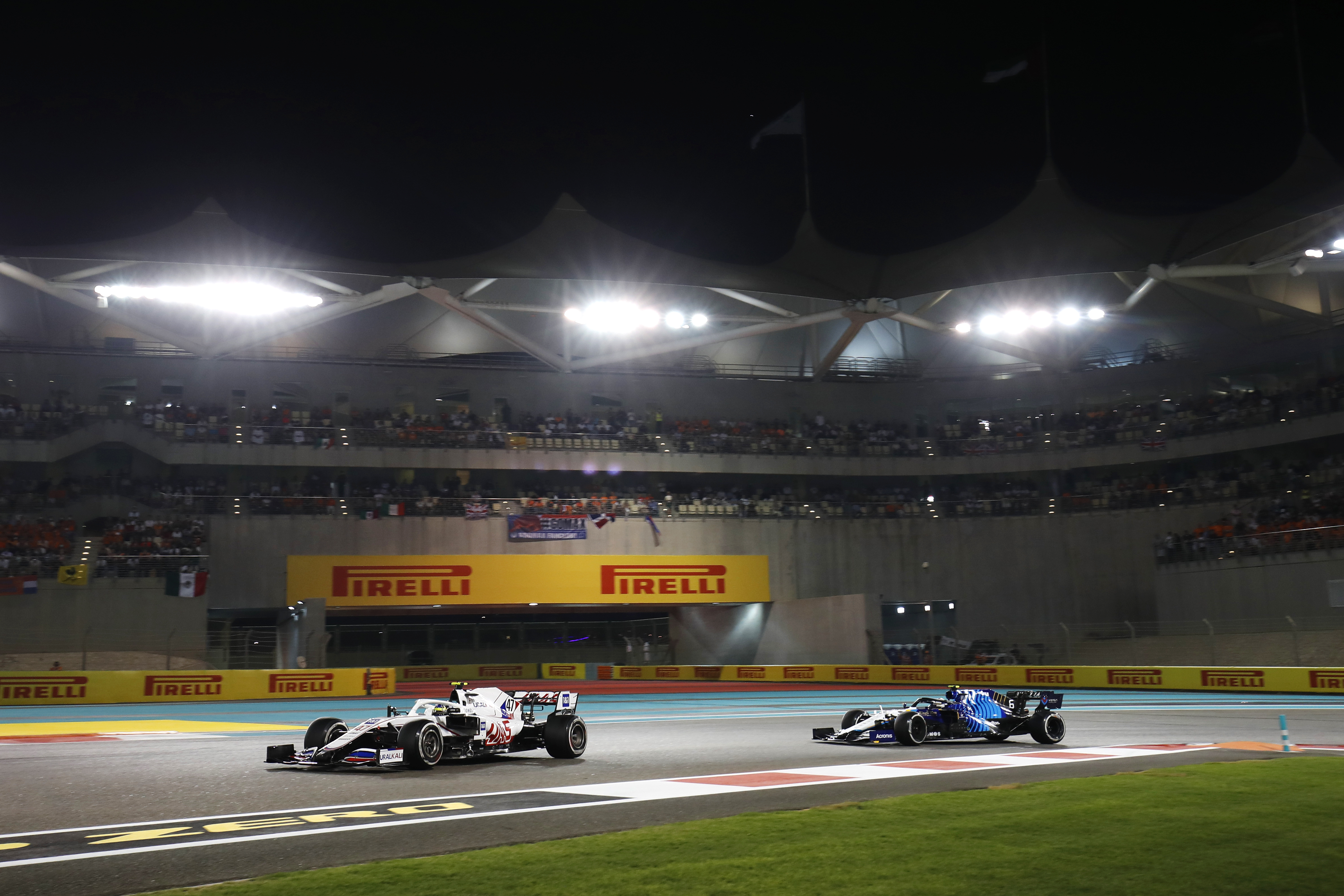 "Obviously going off made the tyres quite dirty and I was just really struggling for grip. Dirty tyres, dirty air and I made a mistake."
This is not a case of a driver being out of his depth – it's an error, and it's a reasonably bad one, but it's normal. It's the sort of thing that happens, and it's not like it happens all the time with Latifi. It's also not a case of him taking an unreasonable risk. Whichever way you slice it, there was nothing egregious in how the Canadian was driving.
But it wouldn't matter even if there was! Latifi's driving prowess is a matter for Latifi, Williams and maybe the FIA. In Abu Dhabi, he certainly did not owe Hamilton or Verstappen not to crash and cause a late safety car. He's not either's team-mate. They were nowhere near him on track.
In this case, his crash was simply a random outside factor. You do not need to have seen much F1 to know that these influence race outcomes and titles sometimes. Sometimes, you can crash at Imola and then a red flag allows you to salvage second. Sometimes, you accidentally flick a switch on your steering wheel and a Baku win evaporates.
Things happen. That's part of F1's beauty. F1 drivers are pretty good at accepting this. Many F1 fans, it seems, are not.
But while blaming Latifi for Hamilton's title defeat is wrong, directing any public ire at him is not just wrong – it's pathetic.