Fernando Alonso believes the controversial collision between Lewis Hamilton and Max Verstappen at the start of the British Grand Prix was a racing incident.
The two Formula 1 title rivals were battling for the lead on the opening lap when Verstappen was pitched into the barriers at high speed after a failed passing attempt from Hamilton at Copse.
Seven-time world champion Hamilton was given a 10-second time penalty for causing a collision but went on to hunt Leclerc down and win with a successful version of the pass at the same corner.
Meanwhile, Verstappen was sent to hospital for precautionary checks.
"It is difficult from the outside," said Alonso. "It looked quite close, Lewis had more than half a car alongside Max.
"So, in a way, Lewis could not disappear from the inside line, it's not that you can vanish.
"It was an unfortunate moment of the race, but nothing intentional or nothing that any of the two drivers did wrong in my opinion.
"That was an unlucky moment."
The stewards deemed Hamilton at fault because they felt he had gone slightly too deep at the corner entry and was therefore on a wide line through the turn.
Leclerc, who was running in third place at the time and inherited the lead as a result of the contact, was right behind the pair when they collided.
"It is very difficult to judge it from the car, we are very low, so it's difficult to see everything and it went very quickly," he said. "I could see there was quite a bit going on in front of me.
"I think it's a racing incident. It is quite difficult to put the blame on one or the other.
"Obviously, there was the space on the inside. Maybe Lewis was not completely at the apex, but it's also true that Max was quite aggressive on the outside.
"Things happen but I think what is most important today is that Max is unharmed and is fine."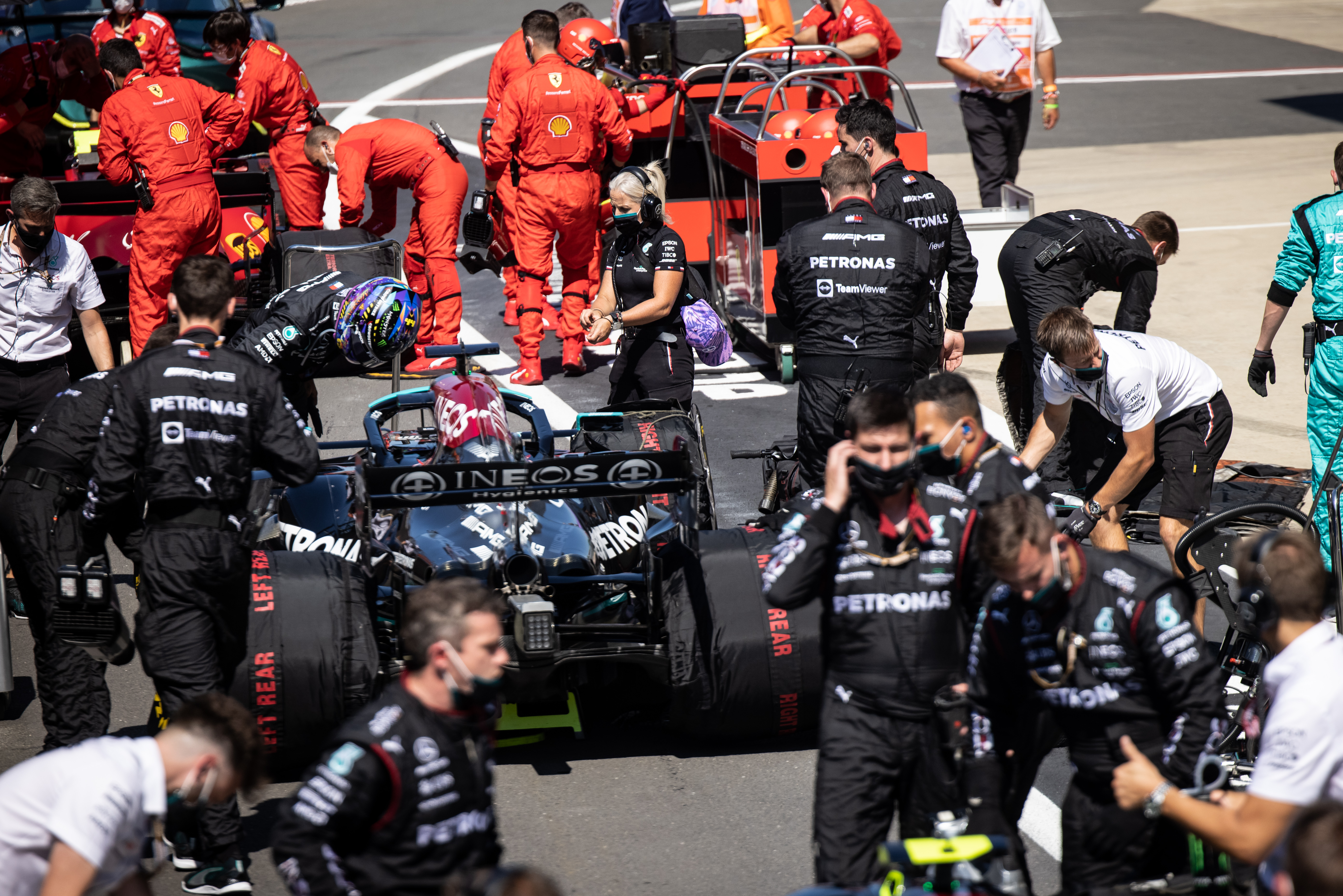 Hamilton and Verstappen have had near-misses this season during an intense title fight.
Though they have made light contact before, they had previously avoided a race-ending collision for either driver.
But with Verstappen establishing a big championship lead in recent races, tensions have gradually increased.
Verstappen withstood Hamilton's attack after taking the lead of Saturday's sprint race and their short-lived dice in the grand prix had already featured nail-biting moments – side-by-side through the first corner, and again into Brooklands.
Hamilton's team-mate Valtteri Bottas, who was behind Leclerc on the opening lap, said he suspected it would end badly.
"I saw them fighting during lap one, a bit like yesterday," he said.
"I had a feeling something was gonna happen but obviously they were fighting hard. That kind of thing happens, that's racing. It can happen when you fight hard and you don't give up.
"I'm just happy Max is fine because it was a big shunt. But I really feel like Lewis fully deserved the win today."