Racing Point's Sakhir Grand Prix victory was the first for the team since its Jordan days, and Giancarlo Fisichella's shock Brazilian GP triumph 18 years earlier.
Never a winner as Midland, Spyker or Force India, 'Team Silverstone' now has five F1 victories under its belt. None of them came in straightforward circumstances, all of them were unforgettable.
We've taken the bold decision of trying to rank them – with our criteria a mixture of which performances were most impressive and the entertainment value involved.
5 – Interlagos 2003
Jordan always had a knack for making the best of odd races, and this one was frankly insane. It took six days for the team to be declared the winner, and its car caught fire in parc ferme.
Amid delays and a string of safety cars largely because of a stream of water across the track at Turn 3, and with everyone having to use intermediates because of a cost-cutting rule that meant Bridgestone and Michelin could only bring inters or wets but not both, Jordan brought Giancarlo Fisichella in to fill right up with fuel early on, then played a canny game.
Fisichella advanced ever further forward as others shunted or pitted or retired or their Michelins struggled on the drying track, until suddenly he was overtaking Kimi Raikkonen's McLaren for the race lead.
Just as he did so, massive shunts for Mark Webber and Fernando Alonso caused the race to be stopped. Raikkonen was initially awarded the win, before a reconsideration of when the countback rule should be applied gave it to Fisichella and his singed Jordan instead.
Given Jordan's downward trajectory at the time (it spent most of the year fighting Minardi at the back), this was one of the most glorious shock results in F1 history.
It ends up fifth in this list only because the win was particularly dependent on fortune and strategy, and because the race was such a destructive shambles overall. Fisichella still drove damn well, perhaps even better in qualifying to take eighth on the grid.
4 – Monza 1999
"At least you've won one race by merit."
Eddie Jordan wasn't on the receiving end of many compliments from McLaren boss Ron Dennis over their time together in F1, but the team's only dry-weather victory at Monza was fully-deserving of one.
This was the race that thrust Heinz-Harald Frentzen and Jordan briefly into title contention in the team's best F1 season.
It was the most challenging win to place in this ranking. On one hand, a legitimate win in the dry could top the list, but there's something about the madness of the way this team has gone about its other victories that makes Italy 1999 stand out less.
The race was handed to Frentzen when Mika Hakkinen famously spun out (then went for a cry in the trees) while trying to build a gap before his pitstop. Eddie Jordan felt that was McLaren feeling the pressure, but Hakkinen was already eight seconds clear, and it was suggested from the McLaren side that Hakkinen was in fact taking it too easy and that was the reason for the lapse in concentration.
Jordan had the rest of the 1999 frontrunners spooked when it came to strategy by this stage of the year, as everyone knew it had the biggest fuel tank in the field.
Would Frentzen have been able to threaten Hakkinen later in the race? Probably not. Did he and Jordan do a great job to have qualified on the front row and been in position to pick up the pieces from Hakkinen's blunder? Absolutely.
3 – Sakhir 2020
One of the two dry-weather wins, and the only one from a 'non-Jordan' era. And also perhaps the most impressive in driving terms.
Yes, Perez wouldn't have done better than third without Mercedes stumbling, but even to reach third had been an astonishing performance given he'd been punted to last by Charles Leclerc on lap one.
Perez's ferocious driving after the first safety car restart made the win possible. Passing seven cars in four racing laps brought him back into contention with the big group involved in the podium fight and gave him the shot at leaping many of them through what was effectively now a one-stop strategy.
He still had to – and did – pass team-mate Lance Stroll and Esteban Ocon's Renault on track. And he still had to make a break in the final sprint, which he emphatically did by building a 10-second lead once George Russell was out of contention.
Maybe not quite as romantic a result as a Jordan-era win, and it took a bit of luck to make it first rather than third, but still a brilliantly impressive piece of driving underpinned by a great strategy. And a poignant win given Perez's uncertain future.
2 – Spa 1998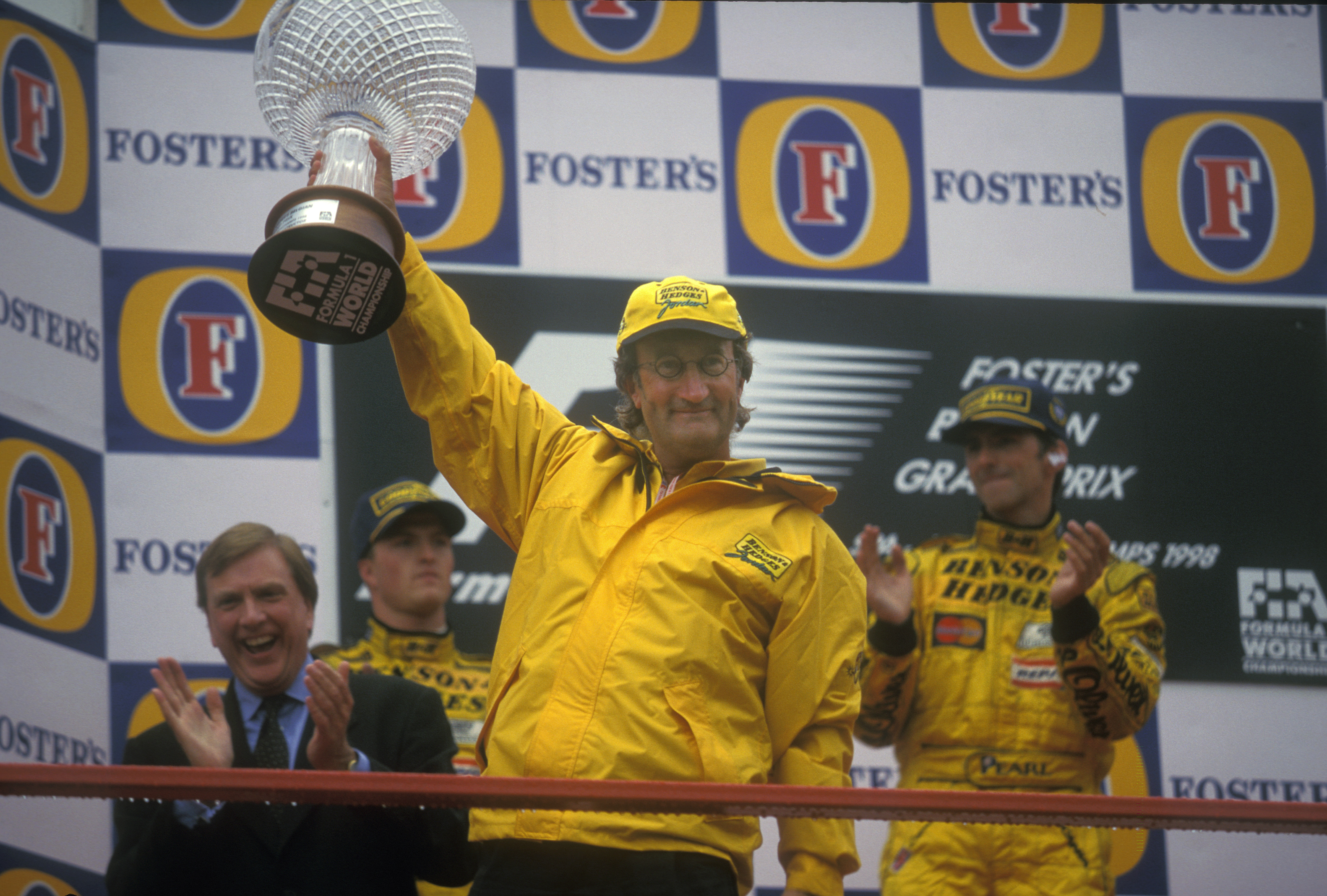 Nothing comes close to that legendary first Jordan F1 win in the fairytale stakes.
The fact it happened not in 1997, when it could've done so many times in Jordan's strongest year up to that point, but in a 1998 season that had begun with the team well off the pace made it even more satisfying.
Amid soaking conditions, Damon Hill converted his brilliant third on the grid to the lead of the restarted race – having very, very narrowly avoided being harpooned by David Coulthard in the mayhem of the first start.
He couldn't stay there once Michael Schumacher's Ferrari got up to speed, but was handed the lead back when a furious Schumacher ploughed into Coulthard as he tried to lap the McLaren.
That became a 1-2 with Ralf Schumacher following Hill home.
The emotion of Jordan finally getting the job done, and in such a remarkable race, means it will surely top many people's list of Jordan victories.
It gets pipped here because the self-destructiveness of the McLarens, Ferraris, Williams and Benettons that day meant Hill and Ralf had slightly less opposition than the Jordan hour of no.1 on this list, plus Hill was 38s behind Schumacher when the Ferrari crashed. Team orders angst in the run to the flag was a slight downer too as Hill's insistence that Ralf tucked in behind to protect their 1-2 left his team-mate disgruntled.
1 Magny-Cours 1999
Frentzen winning the 1999 French Grand Prix because he had a bigger fuel tank than everyone else doesn't do justice to how good this race was from Jordan.
With the exception of two brief moments in the race – when Coulthard's McLaren charged away from everyone in the dry early laps before breaking down, and when the other McLaren of Hakkinen tried to build a gap before a late splash-and-dash pitstop while Frentzen was watching his fuel use – Frentzen was never more than 10 seconds off the lead.
He kept himself in the hunt as other contenders came and went, then Jordan loaded him up with fuel when the heavens opened and everyone dived in for wets.
The long safety car period that followed while the track was flooded gave Jordan the chance to see if it could get Frentzen to the end without another stop. With some coaching over the radio from his engineer Sam Michael, Frentzen managed to manage his fuel use and keep pace with Hakkinen and long-time race leader Rubens Barrichello.
When his two rivals pitted seven laps from the end, he was let off the leash, and extended a two-second lead over the rejoining Hakkinen to 11 seconds by the chequered flag.
To top it all off, he'd put in that performance with fractured knees, having suffered brake failure at the Canadian Grand Prix two weeks earlier and hit the barriers at 175km/h (108mph).