If one wished to run replays side-by-side to show how Max Verstappen has improved as a driver in recent years, the opening lap of his 2022 Belgian Grand Prix versus the 2019 edition would be a great place to start.
One video reel would show what happens when a fast but flawed driver lets his heart rule his head (and would end a lot sooner). One would be a free lesson in how a truly elite driver charts a course to victory.
Verstappen knew he had the fastest car at Spa this year, so biding his time from 14th on the grid thanks to an engine penalty was vital.
"Survive", was his ambition for lap one. But take too much caution and you risk hesitating, misjudging not only how to handle the cars ahead but allowing those behind to attack.
There are various parts of Verstappen's 2022 race that could be singled out for praise. How he laid the foundations of this win, with an excellent first lap on which he superbly walked a perilous tightrope, was particularly impressive.
Starting in the midfield is often asking for trouble at Spa, where La Source offers an immediate potential flashpoint and the run up the Kemmel Straight to Les Combes invites trouble. Verstappen knows only too well how La Source can sucker a driver into a careless move – he wrecked his race in 2019 by desperately lunging Kimi Raikkonen in a bid to make up for a poor start.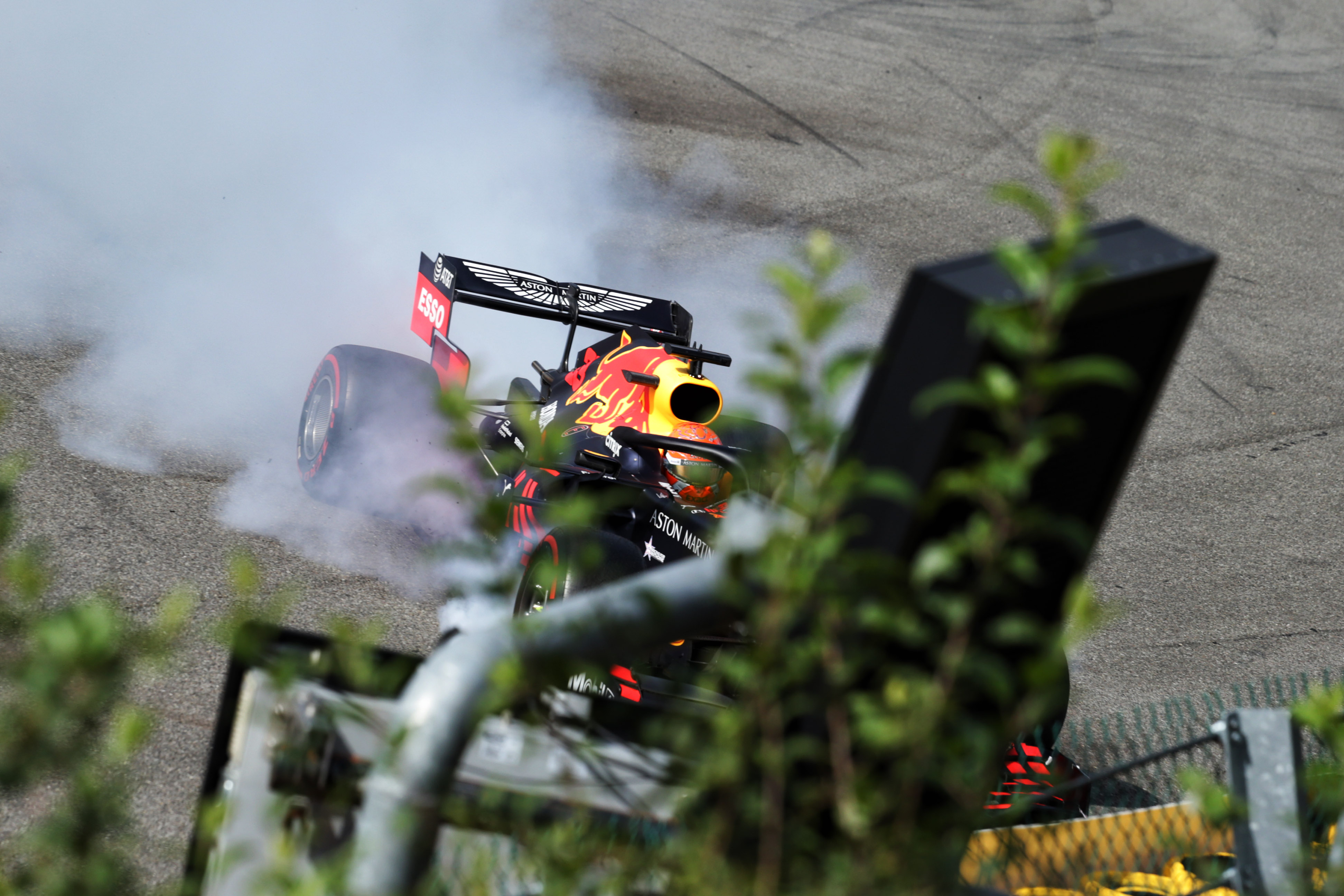 The Verstappen of 2022, a world champion who is bulldozing his way to a second straight title, made no such blunder.
This performance, an 'un-Verstappen' one in the sense as it was 'less thrill, more function', showed just how high a level Verstappen has reached as a driver and how much he has refined his impulsive, 'now-or-never' aggression. It is far from absent nowadays. But it's much more controlled.
The praise he received from his team boss Christian Horner can be spliced into one super-answer that combines the best of the various superlatives.
"You're witnessing a driver that is completely at one with the car and is in an absolute purple patch of his career," said Horner.
"Max since winning that championship last year has taken another step. It's in many ways released him and he's driving at an incredible level.
"Max was quite simply in a league of his own and not just [Sunday], all weekend.
"He has excelled here in the past and he has basically smashed it out of the park.
"It has been a huge performance by him this weekend."
A good start set Verstappen on his way by propelling him past Valtteri Bottas and Nicholas Latifi, then he dived inside Kevin Magnussen into the first corner.
Small lifts on the way to and up Eau Rouge were a clever way to manage the gap to Alex Albon in front, to make sure he did not catch him at an awkward moment up the hill but instead had the perfect run onto the straight.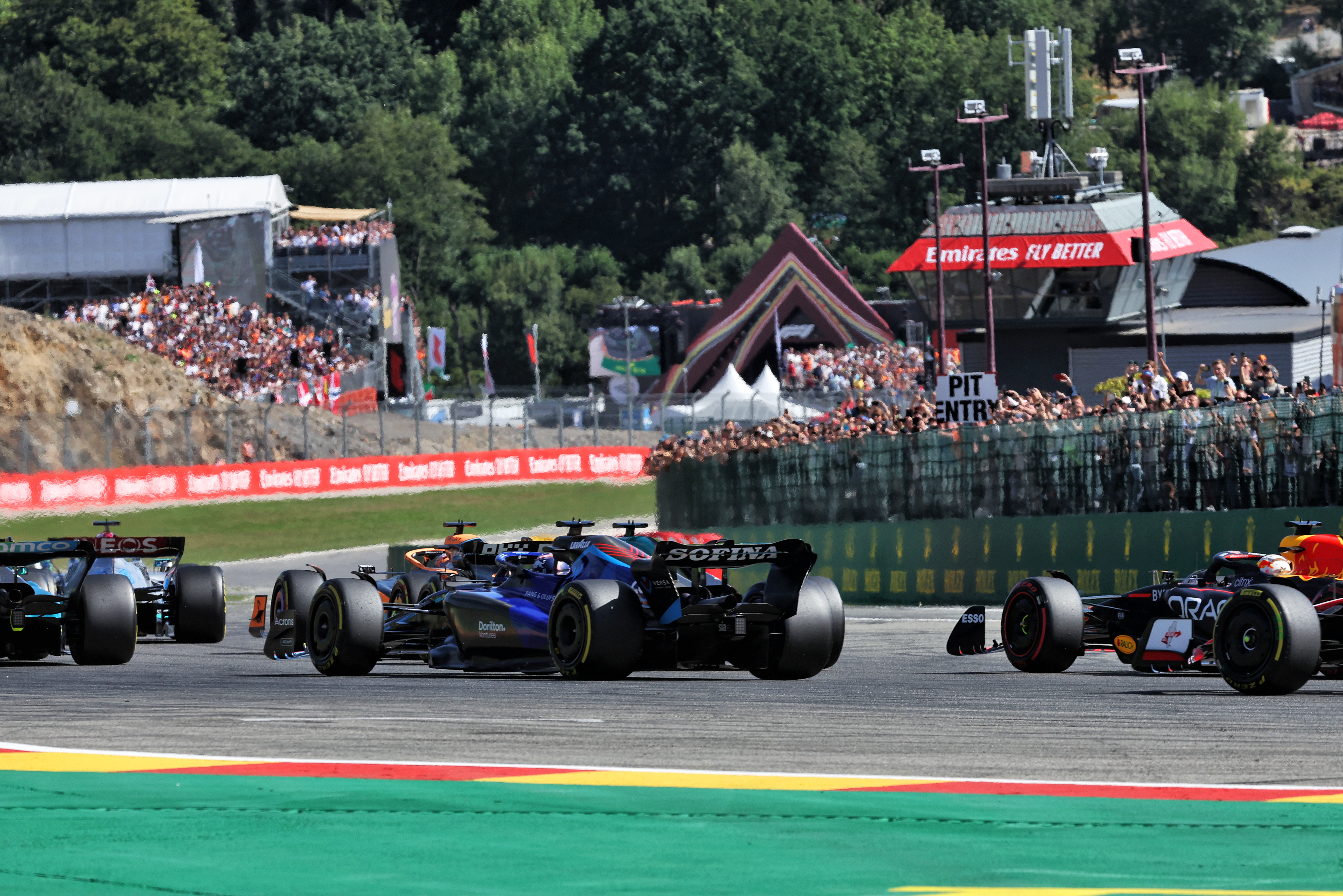 Verstappen used that to attack Albon on the inside at Les Combes and got the move done – but then lost the place again because Lance Stroll went off ahead and rejoined from the gravel right in front of Verstappen, who very sensibly backed off. Sacrificing the place to Albon was well worth living to fight on.
A legitimate but failed attempt to quickly pass Stroll around the outside of Bruxelles then let Charles Leclerc get inside, but Verstappen clung on and then dived back past Leclerc immediately into No Name.
Verstappen's first seven corners had been a rollercoaster, but more was to come. The limping Mercedes of Lewis Hamilton was holding up a train of cars that Verstappen was behind and so he tried to pass Stroll again, this time into Stavelot – and the move would have come off had Hamilton not slowed to retire on the right-hand side of the track, exactly where Verstappen needed to move into through Paul Frere.
That meant backing out yet again, allowing Stroll to stay ahead, although Verstappen did finally get past seconds later using the tow through Blanchimont to set up a routine enough pass on the brakes into the chicane.
"The first lap… the thing is that I knew with the car we had, you don't want to risk too much," says Verstappen. "So, then it's even harder to stay out of trouble.
"And people were going off in the gravel, coming back on the track. And they are defending their spot. I was literally just trying to stay out of it. But you also don't want to lose too much time.
"But then of course with Lewis driving there, I don't know the car was broken, I think he was holding up everyone. And then everyone tries to benefit from that. Then people are going too wide and I went on the inside, but then Lewis pulled off, which is correct to do but then I had to move to the left.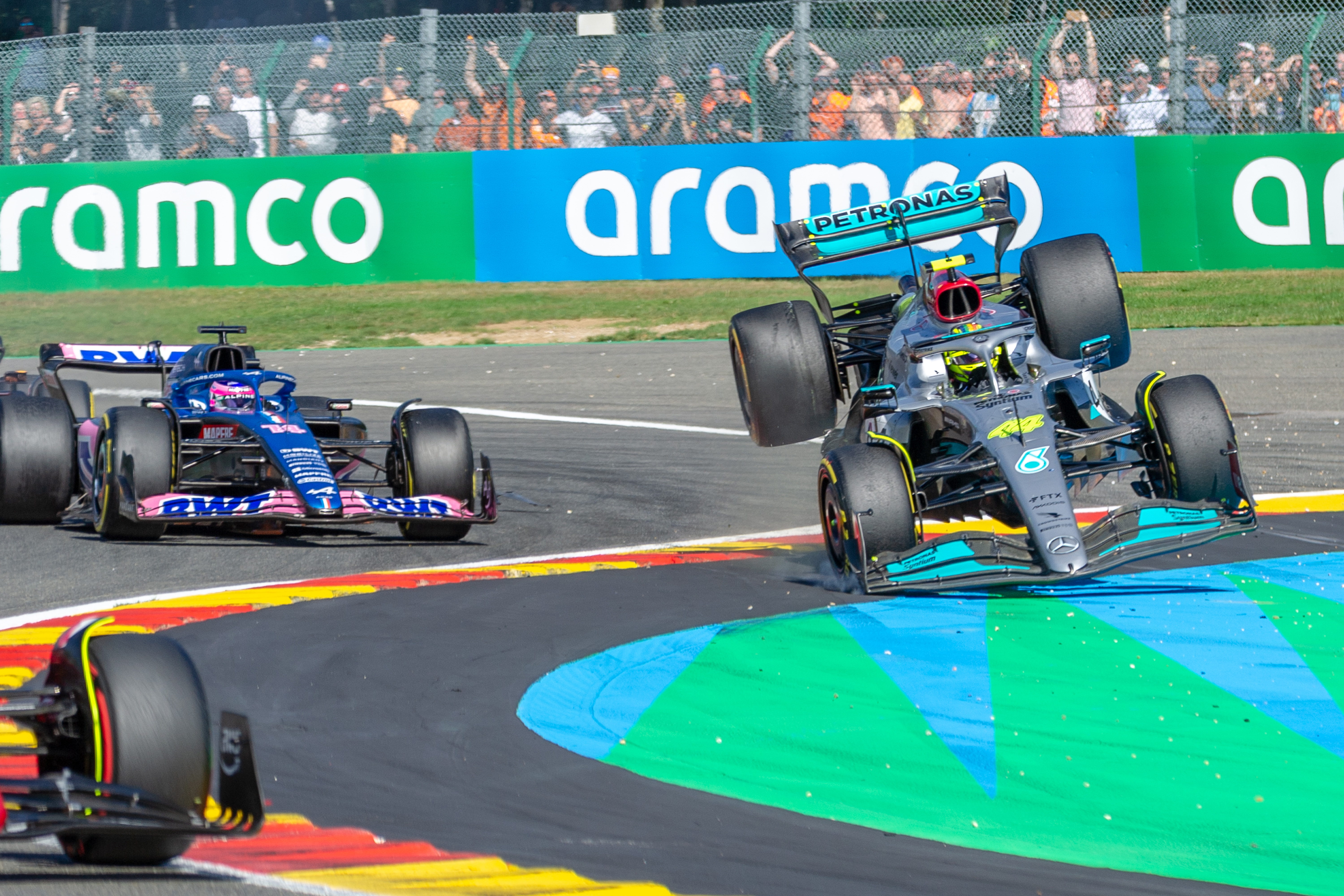 "It was super-hectic, and so much dirt as well. I pulled off my tear-off because I barely could see anything because everyone was just going on the grass, on the gravel.
"But we survived without damage."
Then the safety car emerged, neutralising the race and allowing Verstappen to take stock. He'd moved up to eighth, which was a big chunk of the hard work done.
Once the safety car resumed it was a bit more method than madness: a neat pass on Albon around the outside of Bruxelles on the first lap of the restart, passes on Daniel Ricciardo and Sebastian Vettel on the run to the chicane same lap, simple drive-bys on Fernando Alonso and George Russell on the run to Les Combes.
This part of the race and beyond, when Verstappen was able to flex his muscles and charge to the front, was more enjoyable to him than the opening lap, however vital that first tour was.
"The first bit was just too hectic," he says. "With the car we had you don't want to get damage or whatever because that will be really painful.
"But then it was nice, I really enjoyed it, passing cars, of course some of them are quite a lot slower than us so it was quite easy to get them but you still need to get them as quickly as possible.
"That was definitely the nice part of it. And then when you get to the lead it's about just trying to manage your tyres in the best way possible and being focused on that."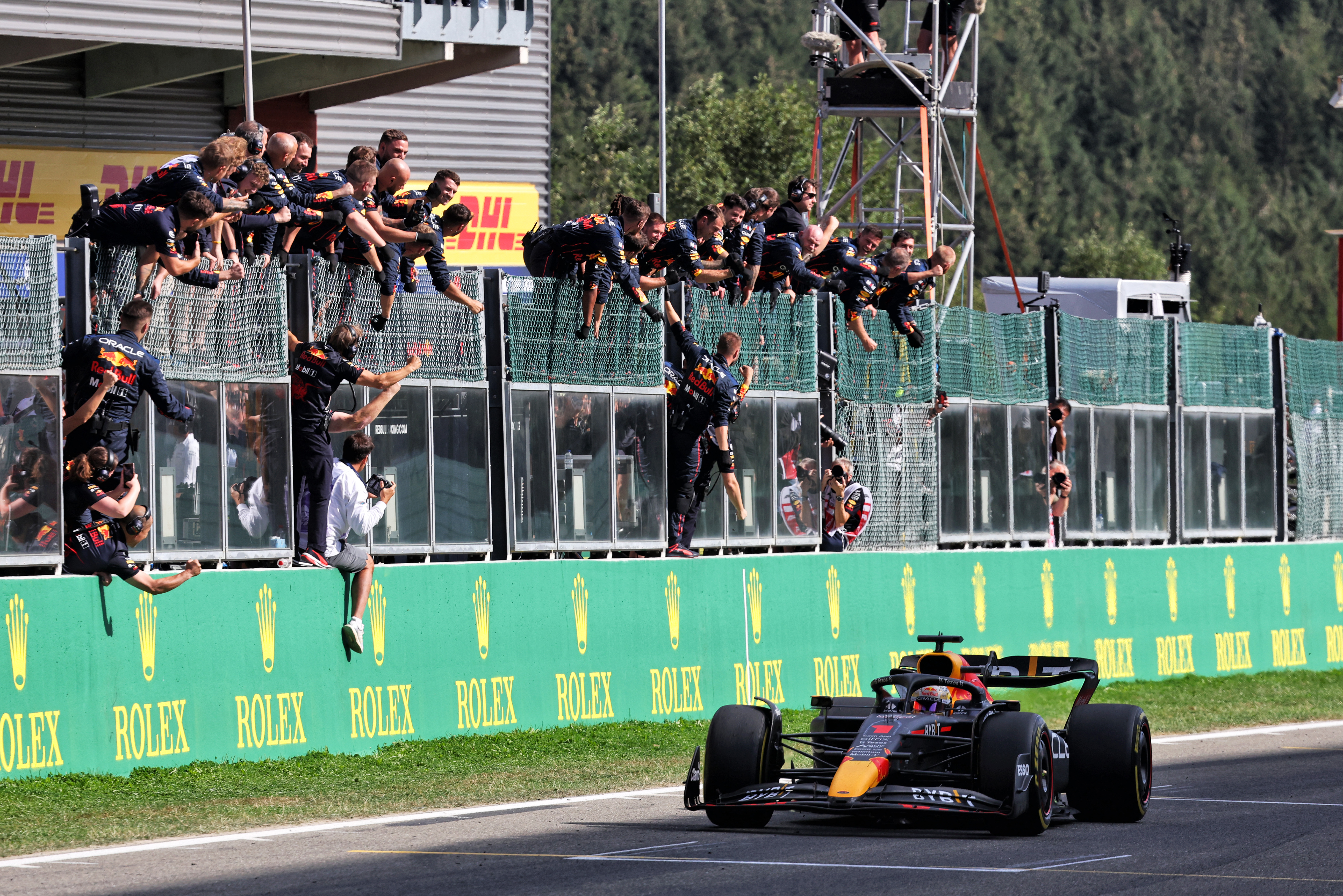 Those details are Verstappen's bread and butter. He's used to that. A stressful challenge like navigating the opening lap out of position, in a faster car, is something else.
It can easily trip up lesser drivers. Verstappen showed he has developed into something a long way from that.