As Lewis Hamilton hit another eye-watering landmark with his 100th Formula 1 victory in the Russian Grand Prix, title rival Max Verstappen may have enjoyed a potentially defining moment in his own pursuit of a major milestone.
Verstappen and Hamilton are in a relentless battle for the 2021 drivers' championship and finishing behind Hamilton at Sochi may turn out to be Verstappen's most valuable second place of the season.
Hamilton would have been forgiven if, amid celebrations for his remarkable century of victories, he saw the Red Bull pull into second place in parc ferme and thought: 'You've got to be kidding me…'
Russia was another race in which Mercedes was expected to have the edge and after Hamilton was unable to capitalise on the performance advantage he had at Monza, where he and Verstappen collided, it was vital for his championship bid to get a win on the board at Sochi.
The magnitude of the opportunity in front of him only intensified when Red Bull did what many expected and opted to give Verstappen the fourth engine he needed to see out the rest of the season without a failure – thus committing to a back-of-the grid start.
For those circumstances to play out with Verstappen turning 20th on the grid into second place and Hamilton only gaining seven points on his rival and taking the lead of the championship by just two feels like a bigger win for Verstappen in the bigger picture.
It was a good drive from Verstappen, but the end result needed a huge variable late on, which he and Red Bull reacted perfectly to.
After a strong opening stint from 20th his race stagnated and he was on course for a muted sixth or seventh place finish until the rain came and he anticipated it well, timing his switch to intermediates perfectly to vault from seventh to second in the last few laps.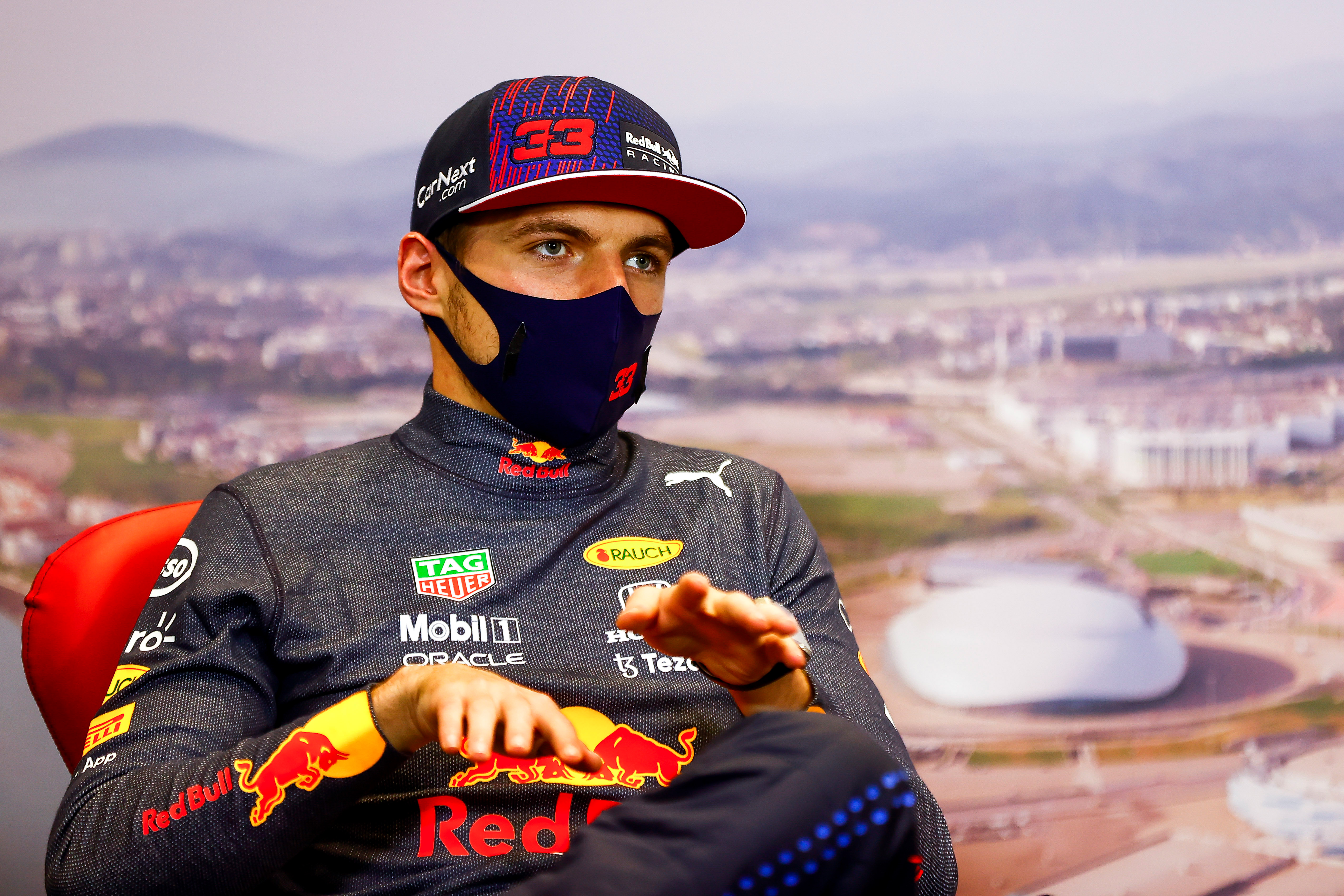 "The race itself was not very easy because it was very difficult to pass and once you got stuck it was very easy to damage your tyres," Verstappen said. "Luckily with the rain it helped us to make that last jump."
And it was the sort of turnaround that had Red Bull team boss Christian Horner in full cliche mode: "It was like a victory for us. To go from 20th on the grid to P2, if anybody would have offered that to us prior to the weekend we would have bitten your arm off."
But this was not a meaningless platitude. The result could be worth an awful lot, given the swing it has handed Verstappen.
Had that grand prix played out differently Hamilton could have walked away with maximum points and with Verstappen anywhere from seventh to a DNF – by his own admission he was lucky to avoid a collision in the first stint when Charles Leclerc inadvertently swiped across Verstappen while trying to launch his own move on Sebastian Vettel.
"He just threw the car to the right and I had to avoid him and he almost took my front wing off," Verstappen said.
A non-score would have handed 25 free points to Hamilton. Even if Verstappen finished seventh, where he was running before the late rain, would have cost Verstappen 19 points. Instead, he only dropped seven.
If you look at how the battle has developed between the two of them, finding 12 extra points from nowhere is a huge boon for the Red Bull driver.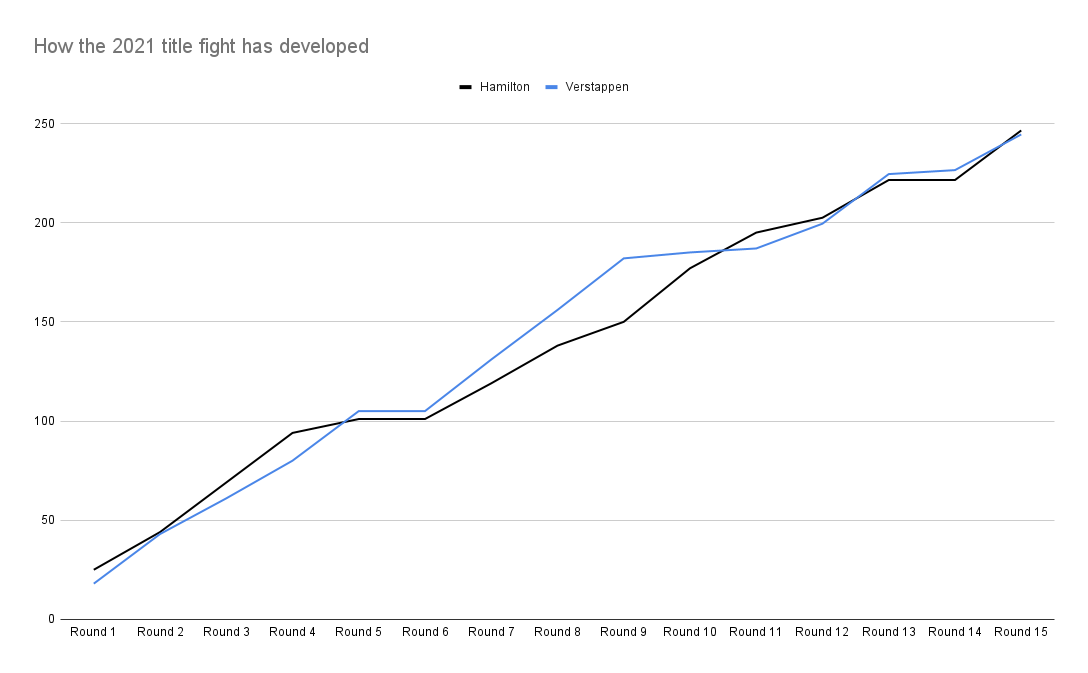 The biggest the gap got was after Verstappen's hat-trick of wins, growing his lead to 32 points, but the infamous Silverstone collision that wiped him out changed that.
That unsurprisingly triggered the biggest points swing of the season. But more importantly, very few times has a driver made up more than 12 points from race to the next – it's happened four times over 15 grands prix. Which shows how helpful the extra points Verstappen grabbed at Sochi could be.
Not only was it more than Verstappen was heading for until the closing laps of the grand prix it was also more than Red Bull had any right to expect pre-race.
"P5 would have been the absolute optimum," claimed Horner.
"To get that P2 and get the engine penalty done is more than we could've hoped for going into the weekend."
Verstappen reckoned it even ended up matching the result that he'd have expected in normal circumstances without a grid penalty.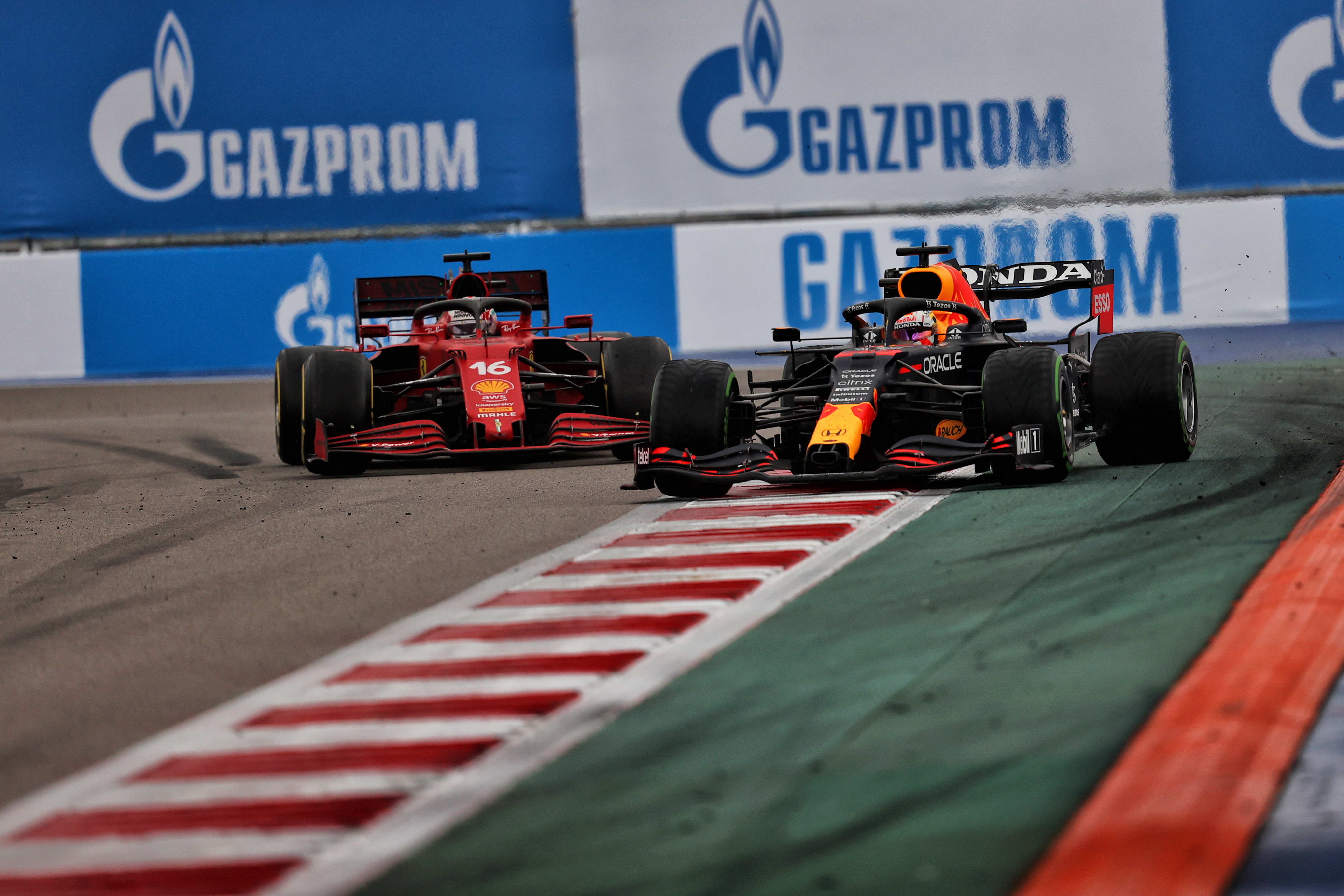 "If we would have started up front, this was maybe still the best we could have done," he said.
"So we actually didn't really lose out and of course it's a big bonus after taking a new engine and starting from last."
The upshot is Verstappen has got what could have been his biggest setback in the run-in out of the way and he's lost very little – possibly no more than he would have done in normal circumstances. One of the main threats to his momentum in his title bid has been nullified.
How Hamilton and Verstappen reflect on Russia speaks to the intensity and impossibly close nature of this championship battle.
Hamilton has taken the lead of the standings and has finally won again for the first time since Silverstone in July. So as he bids for an unprecedented eighth title, Hamilton may justifiably feel that this was a defining moment in his season.
But Verstappen, chasing his first championship, would be right to have left Sochi thinking exactly the same thing.