Team principal Jost Capito and technical director FX Demaison are both leaving the Williams Formula 1 team ahead of the 2023 season.
The curiously-worded statement announcing the surprise news offered few clues as to whether they were leaving of their own volition.
But as Mark Hughes explained in his analysis of Williams's 2022 performance – first published last week – there was little to be satisfied about in this season's achievements.
A year ago Williams technical boss Francois-Xavier Demaison made no secret of the fact that the team was not fully prioritising the 2022 car, the FW44.
Within the Formula 1 cost cap, he considered there was too much long-term research and development to be done as he and his technical team attempt to put Williams back on a competitive even footing. A significant proportion of the technical staff were focused on future projects.
It was perhaps not too surprising therefore that the steady improvement of the previous two years levelled out. The 2022 car was slightly further off the pace than its predecessor, a solid last in the qualifying averages (last year's car was ninth) and scored just eight points, well short of the 23 gained in 2021.
That said, Alex Albon did manage to get it out of Q1 on eight occasions and he and Nicholas Latifi even made it into Q3 once each. But the George Russell 'miracle' performances of 2021 were notable by their absence.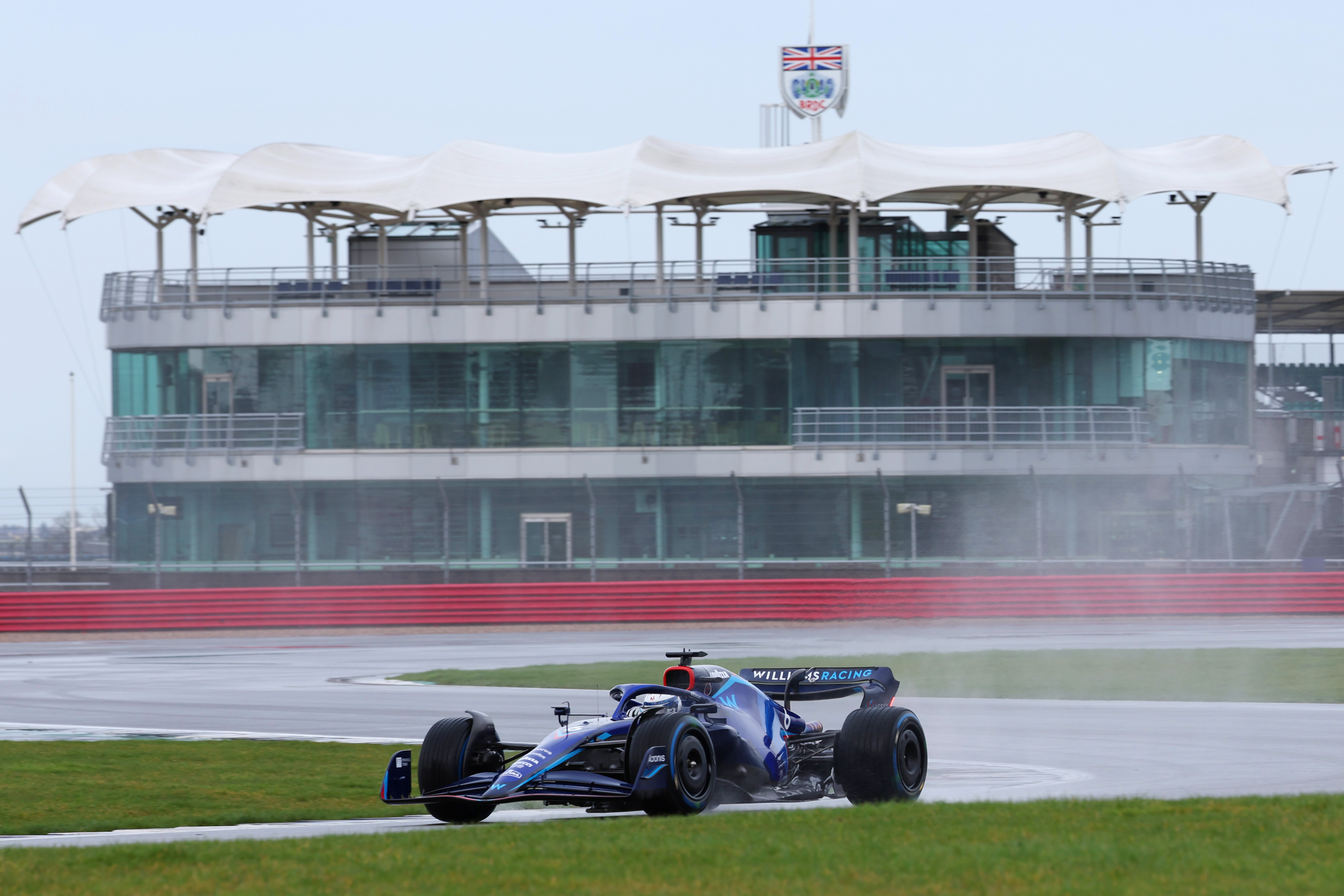 The car, as launched, was highly distinctive, especially in its sidepod arrangement, with big inlets (around radiators bunched at the front) then dropping away to nothing behind with an extreme downward ramp and no undercut. This was made possible by a lot of radiator area being up high around the centreline. As with the Mercedes design, it left an extremely wide exposed floor area ahead of the rear tyre. For the first time, Williams had taken a Mercedes gearbox and associated hydraulics to go with the Mercedes power unit, but continued to manufacture its own suspension.
It was an unusual-looking machine but not a good one. Testing revealed not only the porpoising problem that many teams encountered with this ground effect generation of car, but a downforce shortfall and a very difficult balance. Getting that balance to remain consistent from turn in to mid-corner and exit proved almost impossible. Entry instability and mid-corner understeer at relatively low speeds was a recipe for very mediocre laptimes.
Rather like at Aston Martin, the team realised quite early that a major redesign was going to be needed as soon as possible. That redesigned car appeared at Silverstone and was a marked improvement, but for the nine races before that both drivers had a very difficult job on their hands.
Albon managed to transcend the limitations on occasion, getting the car into Q2 at the opening round in Bahrain, then taking a point in Australia, using an out-of-synch strategy and strong straightline speed (because of the lack of downforce) to head a long DRS train of faster cars. It would become something of a speciality of Albon's.
At Imola there was a similar performance though on that occasion it yielded only 11th place. In Miami the strategy worked again and Albon's 10th across the line became ninth in the official results after a Fernando Alonso penalty was applied. But these results were being carved out of very little underlying pace and relying on getting track position with pitstop timings then using Albon's racecraft to make use of that end-of-straight speed.
The relatively low induced drag from the downforce deficit made the Williams more competitive at Montreal where in damp conditions Albon was able to qualify it a penalty-aided 12th (ahead of Sergio Perez's Red Bull!). But more often he would be on the back row with his team-mate, albeit usually significantly faster as Latifi made no secret of the fact he found this car to be an even more challenging drive than its predecessor. But he had a good feel for the tyres in the wet, and this allowed him to make it all the way to Q3 in wet qualifying at Silverstone.
Latifi's Q3 achievement was in the original-spec car, with Albon giving the updated car its debut. It featured a far more conventional sidepod arrangement, with an undercut at the front, a more horizontally-aligned radiator inlet above transitioning into a graceful downward ramp and no longer with such big expanses of exposed floor. It looked more Alpine-like.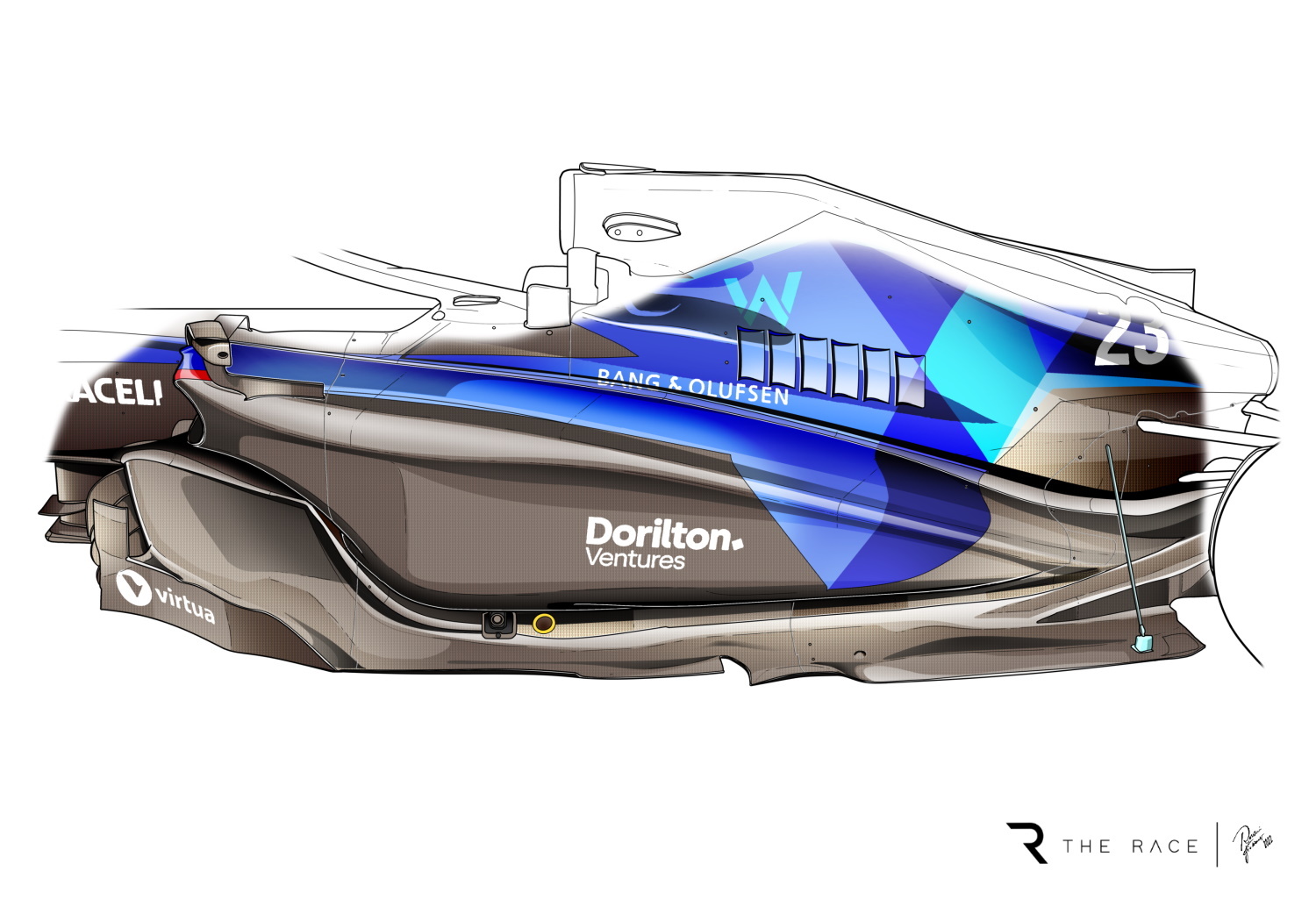 For cost reasons this remodelling was done around the existing radiator layout, but ideally would have involved relocating those too. Aerodynamically, it worked the rear corner of the car harder, accelerating the air harder over the brake ducts and that area of floor.
Albon reported that while he could feel the car had significantly more downforce, it was even more sensitive to crosswinds and generally a more challenging drive. Nonetheless, comparing the relative performance to the front, the new car proved around 0.5 seconds faster than the original and Albon managed to get it into Q2 in Austria and France.
The low-drag demands of Spa and Monza were expected to suit the car and so it proved. Albon did a great lap to put the car in Q3 at the Belgian venue, the basis for one of his patented great 'wide car' drives into 10th place.
Monza was expected to be even better. Hence Albon's appendicitis there was particularly galling for him. On the league table of tracks the team had calculated for their suitability to this car, Monza was very firmly at the top.
Stand-in Nyck de Vries pounced on the opportunity and made a great impression on his debut to get the car into Q2 and score ninth-place points in the race.
Singapore was firmly at the bottom of that calculated suitability league table and Albon's return featured him on the back row with Latifi. It was the same story in Mexico and Abu Dhabi, but in between times Albon coaxed it into Q2 at Austin and Interlagos.
Freed from some the design constraints of the original monocoque, there is probably lots of low-hanging fruit for Williams to pluck for the 2023 car, but this year cannot be considered anything other than a disappointment.