Formula 1's announcement that the so-called 'almost oval' Bahrain Outer Circuit would be used for the new Sakhir Grand Prix is the latest oddity in this most unusual of seasons. It's expected to have the shortest lap time in world championship history, which makes it one of the most unusual circuit configurations ever used by F1.
But there has been no shortage of oddities over the years. Bahrain itself has used an unusual track configuration in the past, with the ultra-long and unpopular 'Endurance' configuration used for the 2010 race.
Here's our pick of 10 of the most unusual circuits used in Formula 1 history – some of them long forgotten, some very familiar.
LAS VEGAS
We've become used to some unusual race names in the 2020 Formula 1 season, but nothing as extraordinary as the Caesar's Palace Grand Prix that was held in Las Vegas in 1981-82. And where was the track built? In the parking lot of the famous Caesar's Palace Hotel, of course.
The configuration had the feel of a car park as well, shaped like a capital E and not popular with the drivers – doubly so given the heat of the Nevada desert. There was the added ignominy of much of Las Vegas being baffled at this unfamiliar racing series blasting around a parking lot in the city.
Fortunately, it lasted only two years but remains one of the most curious venues ever to host grand prix racing.
AVUS
Blasting up one side of a motorway and down the other is nobody's idea of a great circuit configuration. But that was exactly the type of track that hosted the 1959 German Grand Prix.
The historic AVUS circuit – an acronym for the German Automobile Traffic and Training Road – hosted grand prix cars in the pre-war years when streamlined bodywork was often used. The terrifyingly steep banking of the north turn was its trademark, and was still there when the track was used in a shortened configuration in 1959.
Tony Brooks won the race for Vanwall after taking pole position at an average speed of 237km/h, but tragedy overshadowed the event as French legend Jean Behra was killed in a crash in the sportscar race that preceded the grand prix.
MONACO
Familiarity can blind us to strangeness. Just because the Monaco Grand Prix has been on the Formula 1 calendar almost continually since the world championship started in 1950 doesn't make it any less weird as a circuit and an event.
The combination of racing grand prix cars and this short, narrow circuit on the Cote d'Azur is an incongruous and absurd one. Were a promoter to propose such an event as a new addition to the calendar, they would be laughed at. When Nelson Piquet likened Monaco to riding a bicycle around your apartment, he wasn't exaggerating.
This improbable race on a narrow strip of asphalt, amid all the glitz and glamour of this opulent tax haven, is a unique throwback to a lost era.
VALENCIA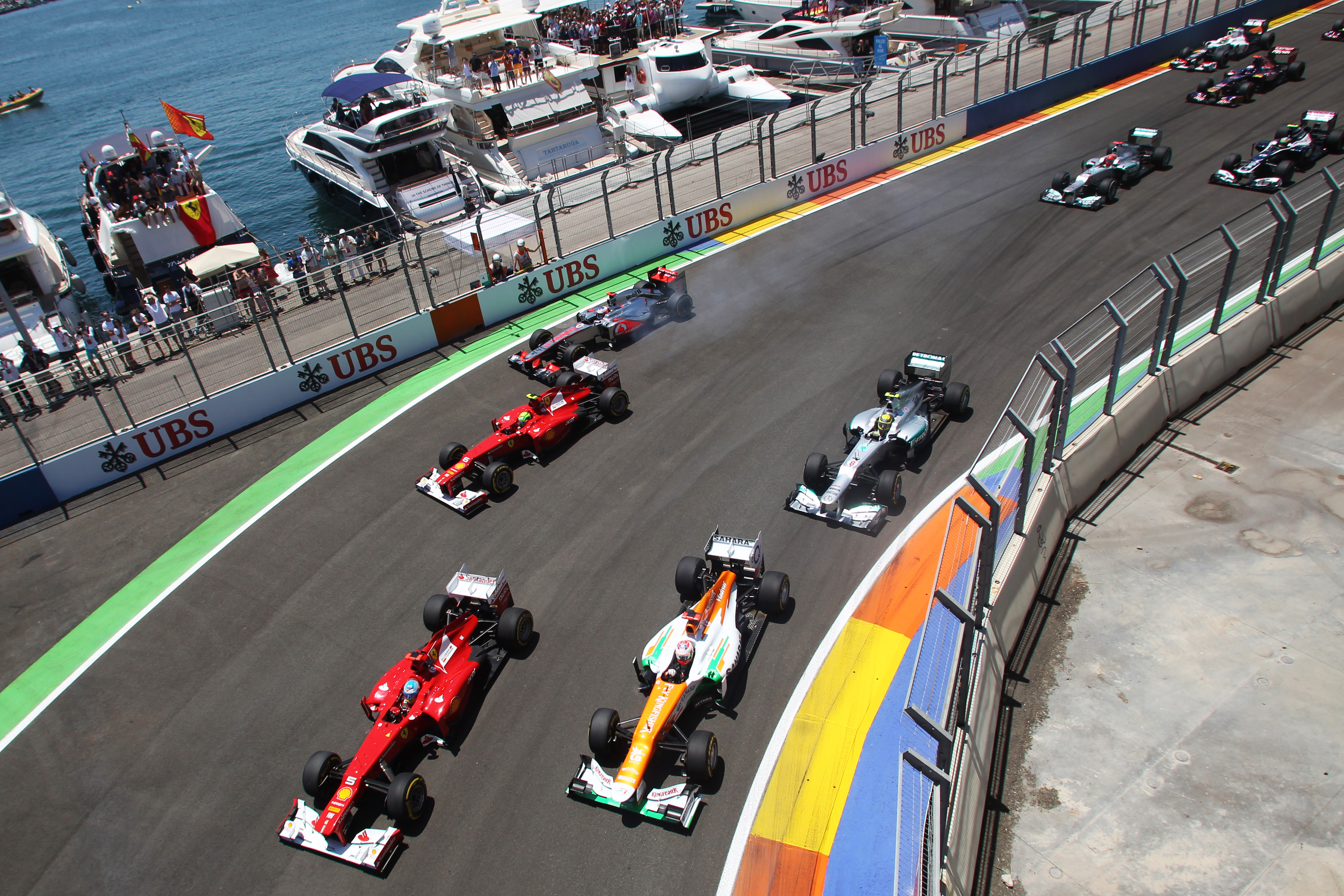 With the teams working out of garages built in a fish market, a swing bridge that was asphalted shut, a backdrop of America's Cup team bases and an urban setting that was a strange hybrid of street circuit and permanent course, the Valencia Street Circuit was a modern oddity.
F1 raced here five times from 2008-2012, with Michael Schumacher famously taking the only podium finish of his three-year comeback with Mercedes at the final race. The circuit was soon abandoned, although Fernando Alonso's charging victory from 11th on the grid in a mediocre Ferrari in the final race means this odd venue will at least be remembered for one great racing performance.
INDIANAPOLIS
Forget the dubious claim that the Bahrain Outer circuit is an 'almost oval', because the world championship did race at the greatest oval of them all – The Brickyard – from 1950 to 1960.
The Indianapolis 500 was included on the calendar to justify the "world championship" tag even though there was minimal crossover of cars and competitors.
In fact, no driver who scored points in those 11 races ever scored a point in a conventional grand prix – although Alberto Ascari did contest the 1952 race on his way to the championship.
But to the frustration of statisticians, those 11 races do count in the historical record, which is why names like Bill Vukovich, Rodger Ward and Johnnie Parsons are often listed as grand prix winners.
1994'S CIRCUIT CHANGES
In the wake of the death of Ayrton Senna, several circuits had to make changes for safety reasons. Some of these became permanent, notably the addition of a hairpin at Estoril where Williams driver Damon Hill flipped after Eddie Irvine spun his Jordan into him during practice in 1994.
But it's the temporary changes that are most memorable because they turned familiar circuits into unusual ones. In Spain, drivers were confronted with a tyre-stack chicane on the run out of Campsa, while in Canada there was a kerb chicane installed on the long back straight.
Hands up if you miss the Eau Rouge chicane from 1994…

…didn't think so #F1 #BelgianGP | 📸 @F1Photo pic.twitter.com/zi1iafuomw

— Glenn Freeman (@glennfreeman39) August 28, 2020
The most memorable was the installation of a chicane in the mighty Eau Rouge, with drivers dropped down to second gear for the left/right flick before heading up the hill.
PESCARA
Any race where a driver could run out of fuel but rejoin the race having topped up at a trackside petrol station has to qualify as unusual. That's exactly what Cooper driver Jack Brabham did in the 1957 Pescara Grand Prix – the only time this 25.8km road course held a world championship race.
Famous for hosting the high-profile Coppa Acerbo races, Pescara was a late replacement on the 1957 world championship calendar after the Belgian and Dutch Grands Prix were cancelled due to high oil prices caused by the Suez Crisis.
The longest circuit ever to host a world championship race, this was a throwback to the pioneering years of road racing.
DALLAS
Searing heat, a bumpy track surface that fell apart, branded a joke by several drivers – the one and only Dallas Grand Prix is not fondly remembered by Formula 1.
One of a spate of American city tracks that cropped up in this era, following Las Vegas and preceding Detroit and Phoenix, it was at least relatively quick for a street circuit and even drew a rare mistake out of Alain Prost.
Worst of all, it was clear that there were going to be big problems in the grand prix, with a Can-Am race the day before tearing up the track surface. Emergency resurfacing didn't help and plenty of drivers were caught out by the track as it broke up on race day.
After the 1984 one-off, F1 never returned to this most odd of street circuits.
REIMS
If the Bahrain Outer Circuit counts as an 'almost oval', then surely the Reims circuit that was an irregular host of the French Grand Prix in the early years of the world championship was the trailblazer for that status.
Perhaps more tri-oval than oval with straights of just over two kilometres, it was a super-fast circuit with a couple of slow corners that produced some legendary slipstreaming battles – most famously between Mike Hawthorn and Juan-Manuel Fangio in 1953.
Reims eventually fell into disuse, a victim of financial troubles, after hosting 11 world championship races.
NURBURGRING NORDSCHLEIFE
The Green Hell is the iconic road circuit, 22.8 kilometres of the most challenging road course in the world. It's scarcely credible that grand prix cars raced here until the last German Grand Prix on the Nordschleife in 1976, when Niki Lauda's accident proved it was no longer suitable for Formula 1 cars.
Curiously, this great 'natural' road course was entirely man-made, built as a proving ground and race circuit in the 1920s. Tree-lined, undulating and fearsomely fast, it was a work of design genius and some of the greatest feats in grand prix racing happened here.
Juan Manuel Fangio's charge to win for Maserati in 1957 and Jackie Stewart's dominance in the wet in 1968 are ranked among the very greatest victories at a circuit where triumph flirted with tragedy all too often.