Formula 1 has missed Montreal during the Canadian Grand Prix's COVID-enforced three-year absence.
Not just because of the atmosphere at this popular race either, but because this is a track where odd things happen.
Many of them are very, very well-known. Robert Kubica taking his sole F1 win in a BMW 1-2 in 2008, a year after a savage crash there, and on a day when Lewis Hamilton bizarrely took Kimi Raikkonen out in the pit exit. Nigel Mansell losing victory in 1991 because he stalled his Williams's engine while waving to the crowd. Jean Alesi's only F1 win. The champions' wall.
Those are all part of F1 folklore. Here are some Montreal oddities that some may have forgotten.
Compiled by Matt Beer, Valentin Khorounzhiy, Josh Suttill, Edd Straw and Jack Cozens
JACQUES VILLENEUVE WAS ALWAYS TERRIBLE HERE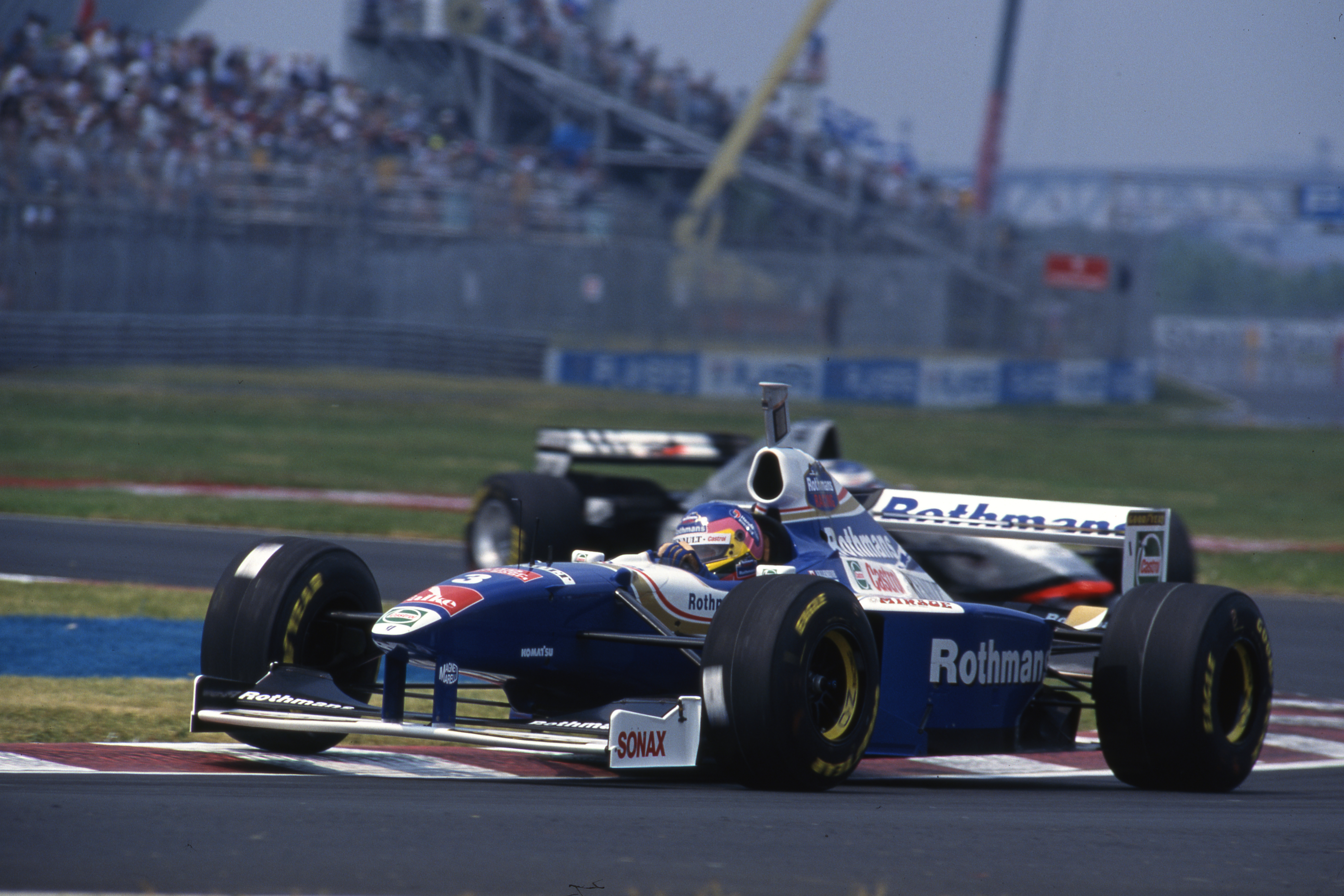 Jacques Villeneuve never said the pressure of Canadian expectation and being the centre of attention at the circuit named after his legendary father got to him. And given Villeneuve's approach to F1, it probably actually didn't.
But, whether coincidence or something deeper, his Montreal F1 record was spectacularly bad.
Second place in his rookie season was Villeneuve's only home points finish in F1, and was a pretty good effort. Yet to fully find his feet in F1 (the Melbourne near-win and Nurburging win having been a little deceptive) at that stage of 1996, he came within 0.02s of beating Williams team-mate Damon Hill to pole and did a decent job of making two-stopper Hill work for victory with a solid run on a one-stop.
A year later he arrived as championship leader, but made his first visit to the wall of champions by crashing out of second behind title rival Michael Schumacher on only the second lap – losing the points lead in the process. He visited the same wall with significantly more force two years later in BAR's messy debut season.
Even when Villeneuve was brilliant in Montreal, he got just too swashbuckling for his own good.
Suddenly in second place in the uncompetitive 1998 Williams in that year's chaotic Canadian GP, he stormed down the outside of surprise leader Giancarlo Fisichella's Benetton into the first corner at a safety car restart, locked both front tyres, speared over the gravel and back across the circuit onto the opposite grass. He rejoined seventh then got tagged by Esteban Tuero's Minardi, causing his rear wing to collapse further round the lap.
Villeneuve spent much of 2000 making brilliant starts then using the increasingly strong Honda engine to keep his unwieldy BAR in front of faster cars. Montreal was one of the greatest examples as he launched from sixth to third off the line then fended off Rubens Barrichello's Ferrari and Mika Hakkinen's McLaren for a third of the race, moving up to second on the way after David Coulthard was penalised for his mechanics being on the grid too late.
But BAR giving him dry tyres in a pitstop just as late rain set dumped Villeneuve down the order, and his recovery drive ended with a ludicrously optimistic dive on Coulthard at the hairpin that not only took him past the McLaren but straight into the side of Ralf Schumacher's Williams some distance ahead.
Finally, in what turned out to be Villeneuve's final F1 season in 2006 he was on for a Montreal point for BMW… then understeered into the wall while trying to lap Ralf Schumacher's Toyota with 11 laps to go.
MERCEDES' FIRST HYBRID ERA DEFEAT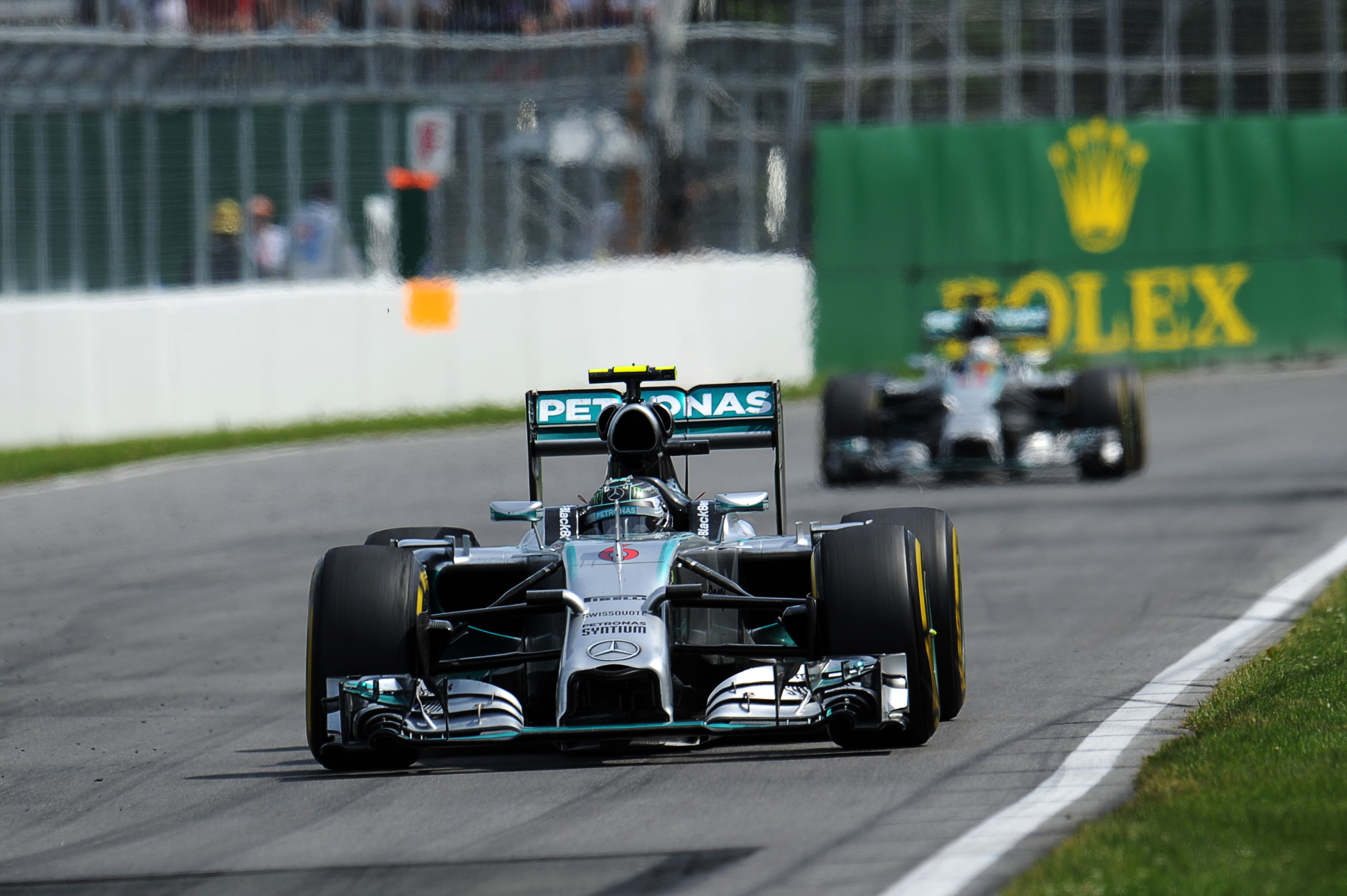 The 2014 Canadian GP was already a good race coming into its halfway point, but there was precious little to suggest it would be one that ended Mercedes' first winning streak of many in its hybrid era reign of terror.
A robust defence from Nico Rosberg had left Lewis Hamilton behind Sebastian Vettel's Red Bull, but it took very little running for Hamilton to ease by Vettel and restore a Mercedes 1-2 – and the big intrigue was supposed to be whether Hamilton would manage to reel in and pass Rosberg, something he was certainly making a good go of.
Then, both cars lost their MGU-Ks. And just like that, the race was transformed into a modern classic – a desperate duel between the two now-hobbled Mercedes cars, Hamilton losing his brakes and retiring, Rosberg hanging on for dear life and a pack of hungry pretenders closing in – only one of them eventually able to get past him.
The race ended in unsavoury fashion with the high-speed shunt between Sergio Perez and Felipe Massa but that is the only strike against its 'modern classic' status.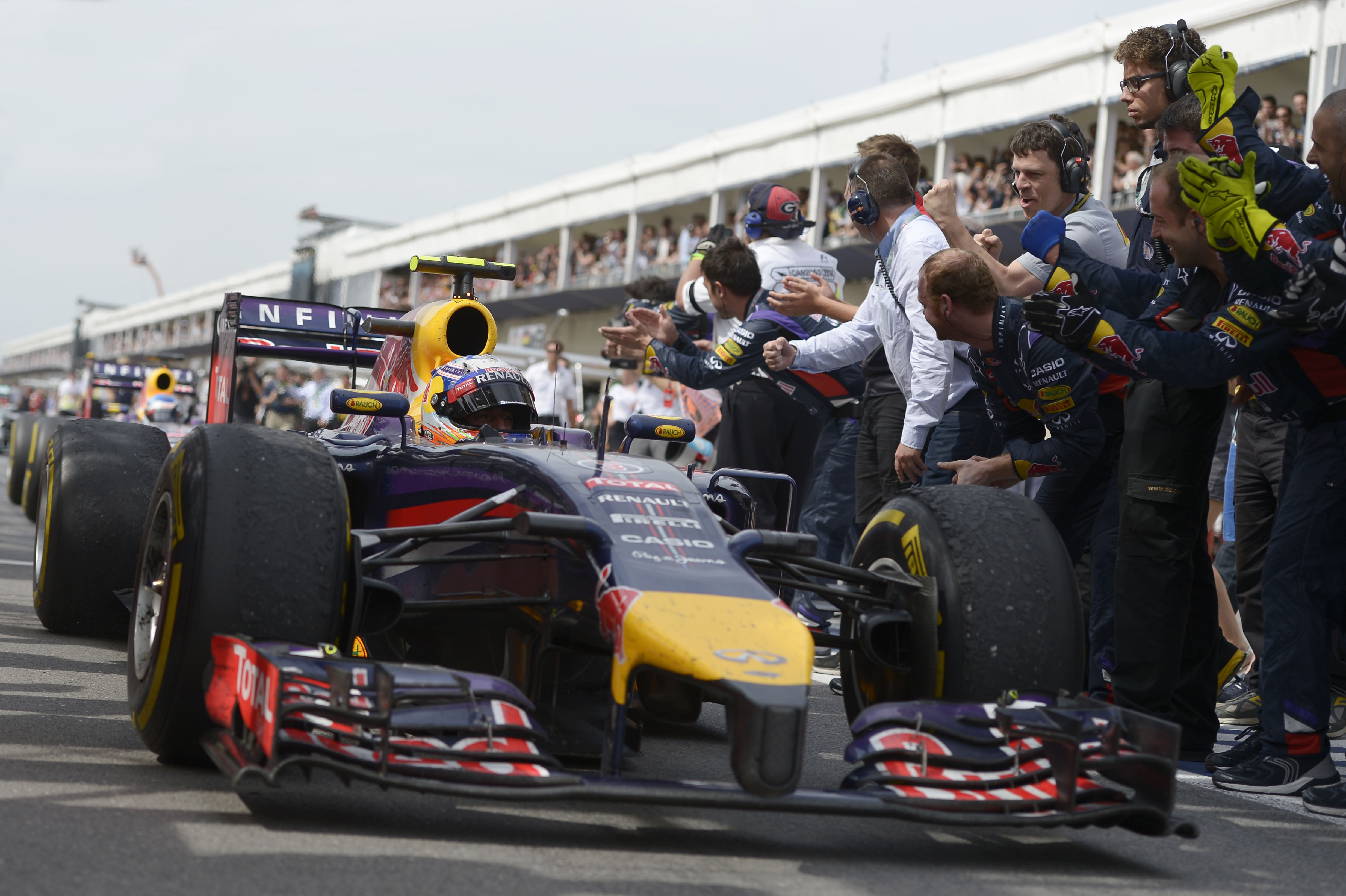 A better memory from it is first-time winner Daniel Ricciardo's pivotal and scintillating pass round the outside of Perez at Turn 1, the biggest symbol yet of Red Bull's changing of the guard that would be finalised by the end of the season.
F1'S LONGEST-EVER RACE (OFFICIALLY, AT LEAST)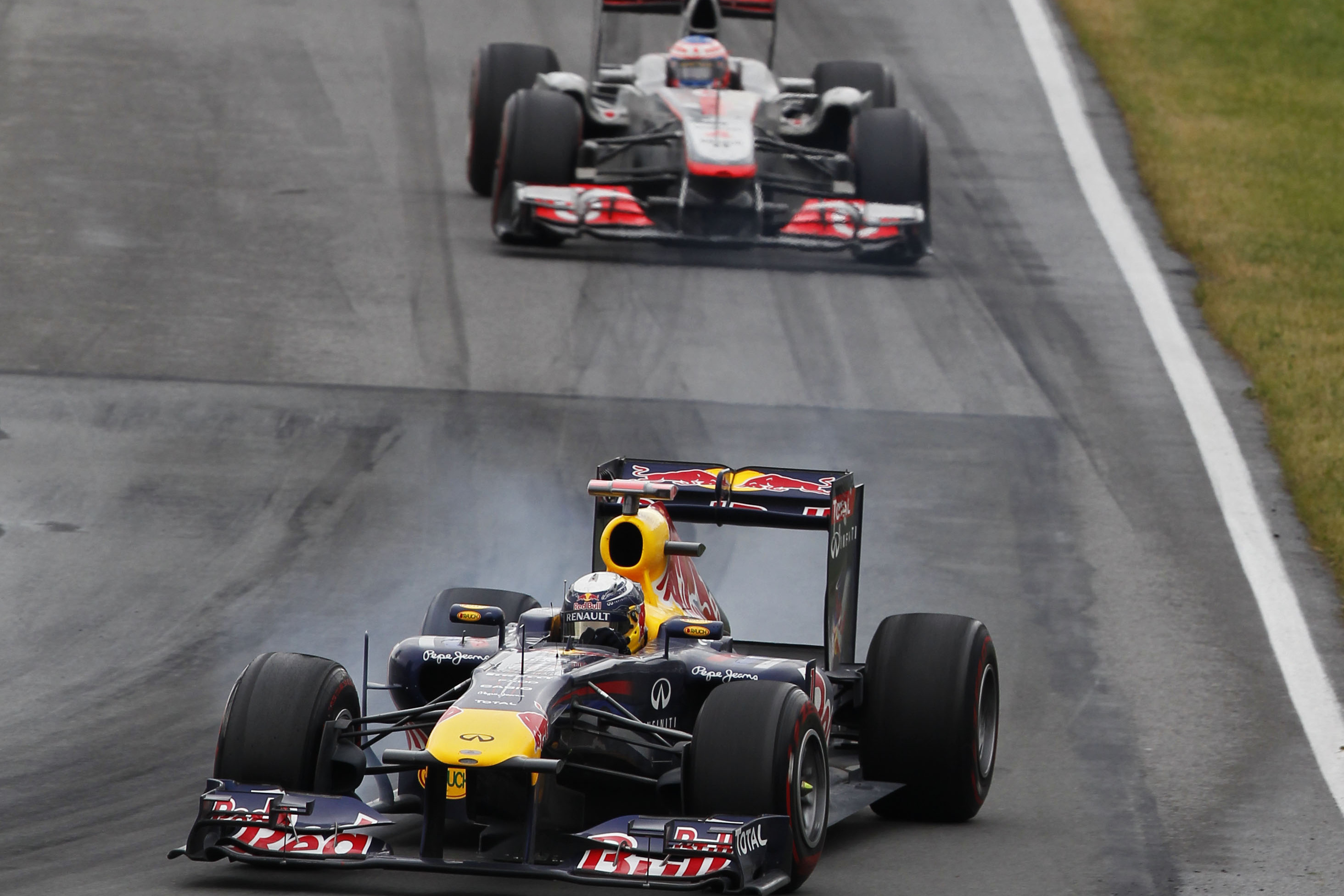 Okay, this one everyone surely recalls. Clocking in at over four hours, the 2011 Canadian Grand Prix is perhaps just as well remembered for its marathon run time as Jenson Button's sensational last-to-first via two collisions (one with McLaren team-mate Hamilton), a puncture, five pitstops, a drive-through penalty and running last at half-distance.
A record-breaking six safety car periods and a lengthy red-flag stoppage led to a disrupted grand prix but the action was so intense and unpredictable when the race was under green flags, that it was more than worth the wait.
It was a proper thriller with no shortage of overtakes and surprises, from Kamui Kobayashi circling the podium places one year before the Sauber would have any right to be anywhere near them to Michael Schumacher losing a first top-three finish of his F1 return with four laps to go.
In the end, the finishing order didn't look too different from any other 2011 race, but that really doesn't tell the true tale of one of F1's finest 21st-century grands prix.
NIKI LAUDA QUITS F1 MID PRACTICE SESSION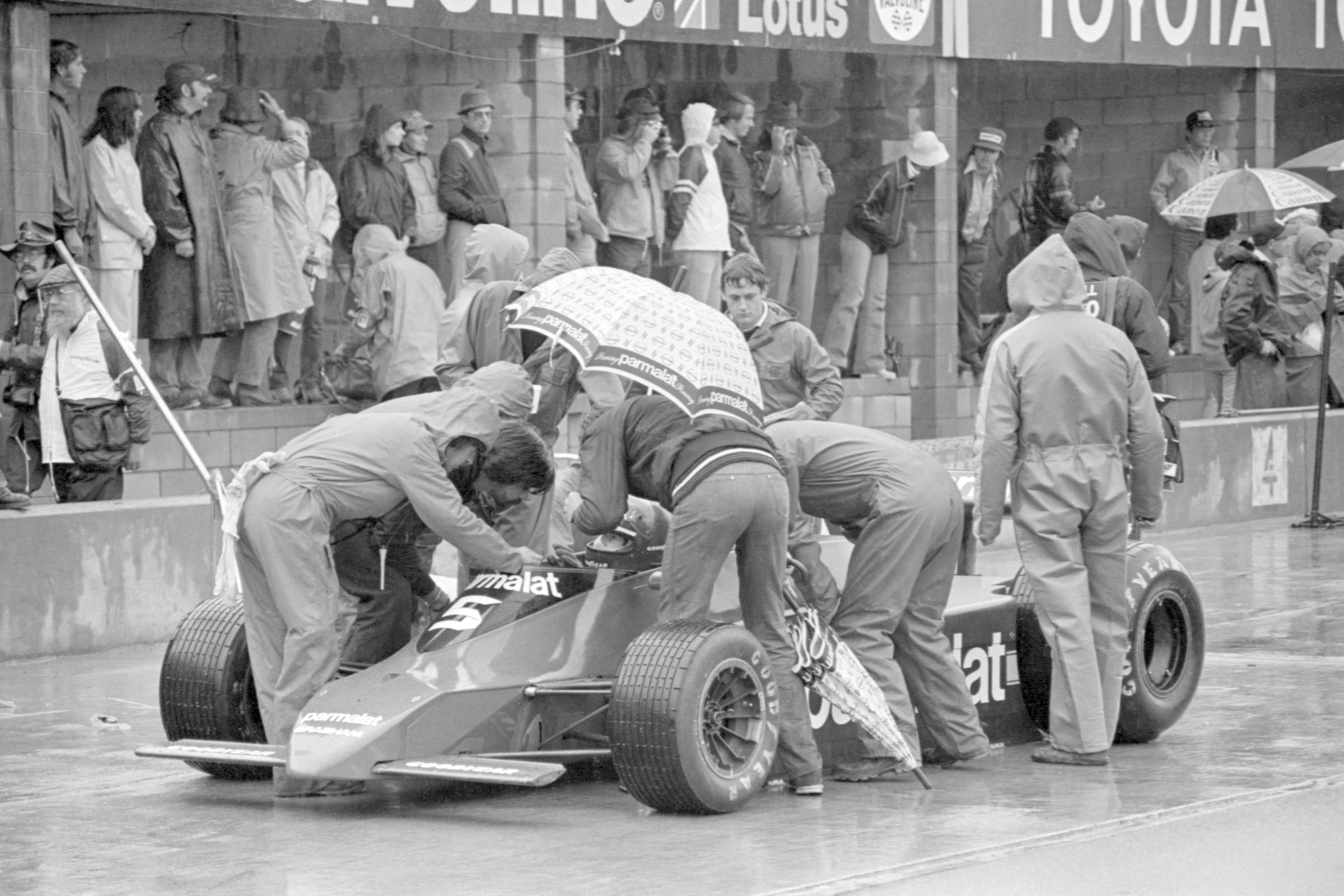 Niki Lauda's first retirement from F1 during the penultimate round of the 1979 season was immortalised by his "fed up with driving around in stupid circles" line to the first journalists who tracked him down in his hotel. But it wasn't quite as brusque a decision as that made it appear.
The 1975 and '77 world champion had felt his motivation slipping for some time as the Alfa Romeo-powered Brabhams struggled to regularly match Lotus in 1978 and Ferrari in '79, a year when Lauda only actually finished two races.
Outpsyching team boss Bernie Ecclestone over four months of contract talks to secure a $2million 1980 deal kept Lauda's brain ticking ("I had a lousy season behind me and was slowly losing interest in the game," he wrote in his autobiography. "Beating down the financial wizard was a damn sight more fun than driving."). Then he got his big contract and realised it did absolutely nothing to remotivate him.
He pinned his hopes on the new Ford Cosworth-powered BT49 chassis he'd try for the first time in Montreal practice. Lauda sensed Gordon Murray's new creation was great (Nelson Piquet nearly won the 1980 title with it, and did claim it in '81 with its BT49C derivative). But after an F1 career spent with V12 power, the V8 Cosworth felt "flatter, muted" and "slower, boring somehow".
"I have only one thought: you don't belong here, you don't belong here at all," Lauda wrote. "Go and do something else. Now."
He bought himself time with a few laps and a request for set-up changes in the pits, then concluded on his next run that for him F1 was "finished. Enough is enough".
Ecclestone accepted Lauda's request to retire from F1 on the spot, and threw spectating Formula 2 midfielder Ricardo Zunino in the car for the rest of the Canadian GP weekend (wearing Lauda's overalls and helmet). He finished seventh, four laps down. And somehow kept the seat for half of 1980,ah  too.
Lauda would, of course, be back.
THE RACE THAT CONVINCED F1 TYRE DEG WAS GOOD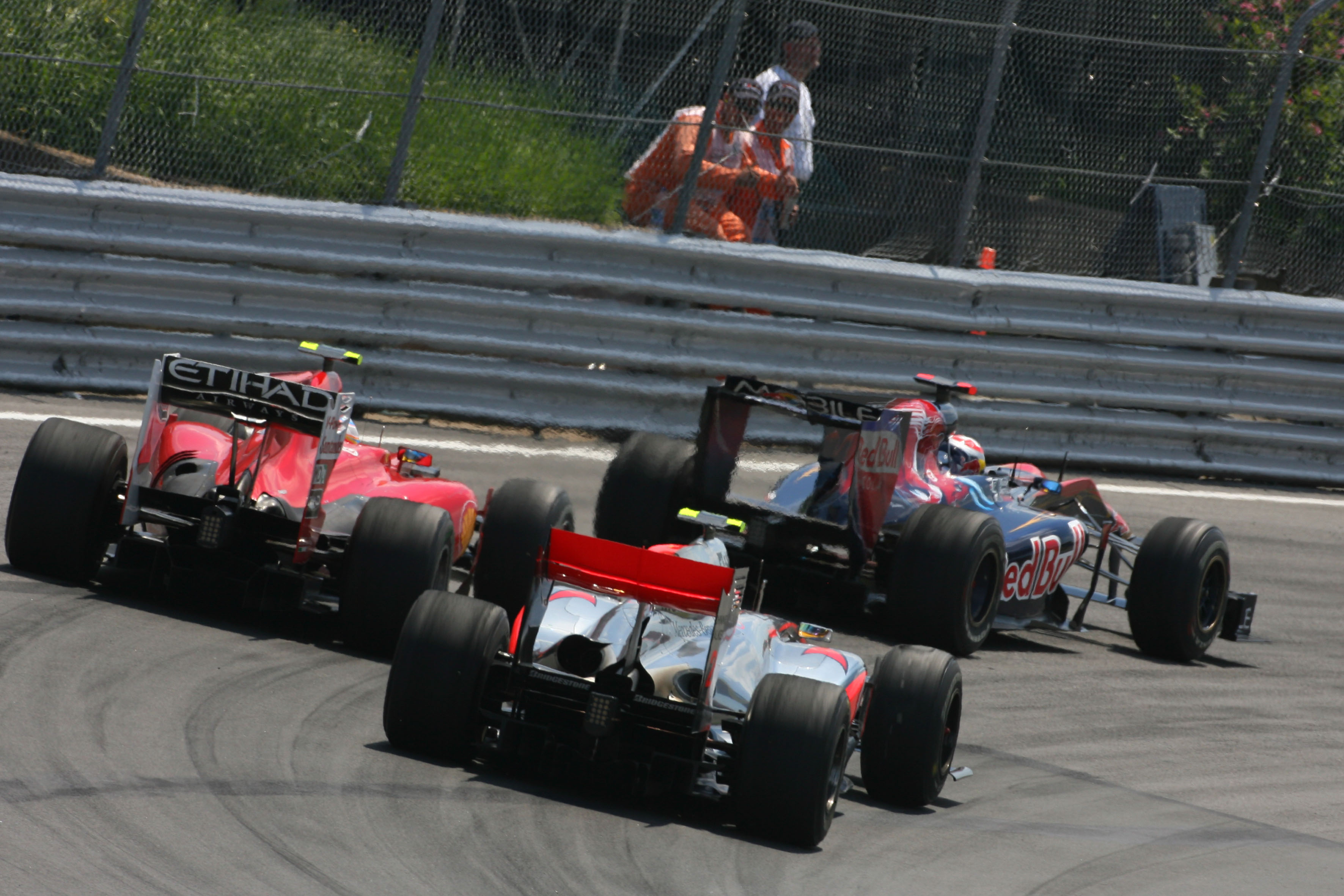 F1 has been determined to produce multi-pitstop races for the past decade, and the race in Montreal in 2010 was the origin of that desire.
The combination of the refuelling ban and durable Bridgestone rubber meant one-stop races were the norm in the first part of 2010. Other than in China, where rain led to more stops, the most pitstops made by the 24-car field in the first seven races was 27 in Turkey.
But in Canada, where Hamilton led home McLaren team-mate Button for a McLaren one-two, there were 63.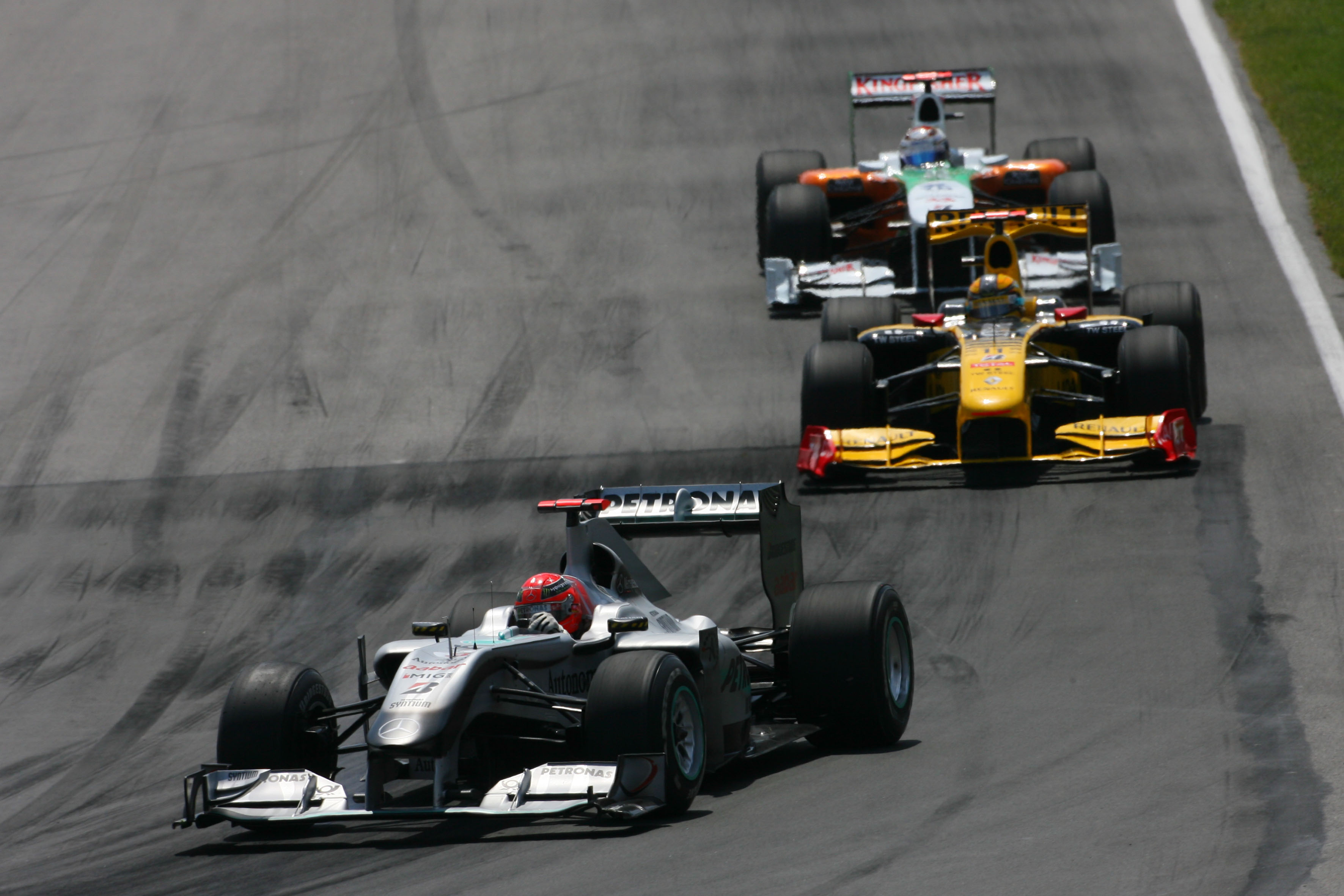 "The surface of Canada is one of the special ones," said Bridgestone F1 boss Hirohide Hamashima after the race.
"It's also very smooth, so the tyres didn't deform enough to get enough temperature, especially in the beginning of the race. That's why the super-softs had much bigger graining than usual, as did the mediums."
Montreal was one of the most dramatic races of 2010 and with Pirelli taking over as sole tyre supplier the following season, that Canadian GP was the origin of the push for high-degradation rubber designed to spice up the show.
GILLES VILLENEUVE DRIVES BLIND TO THIRD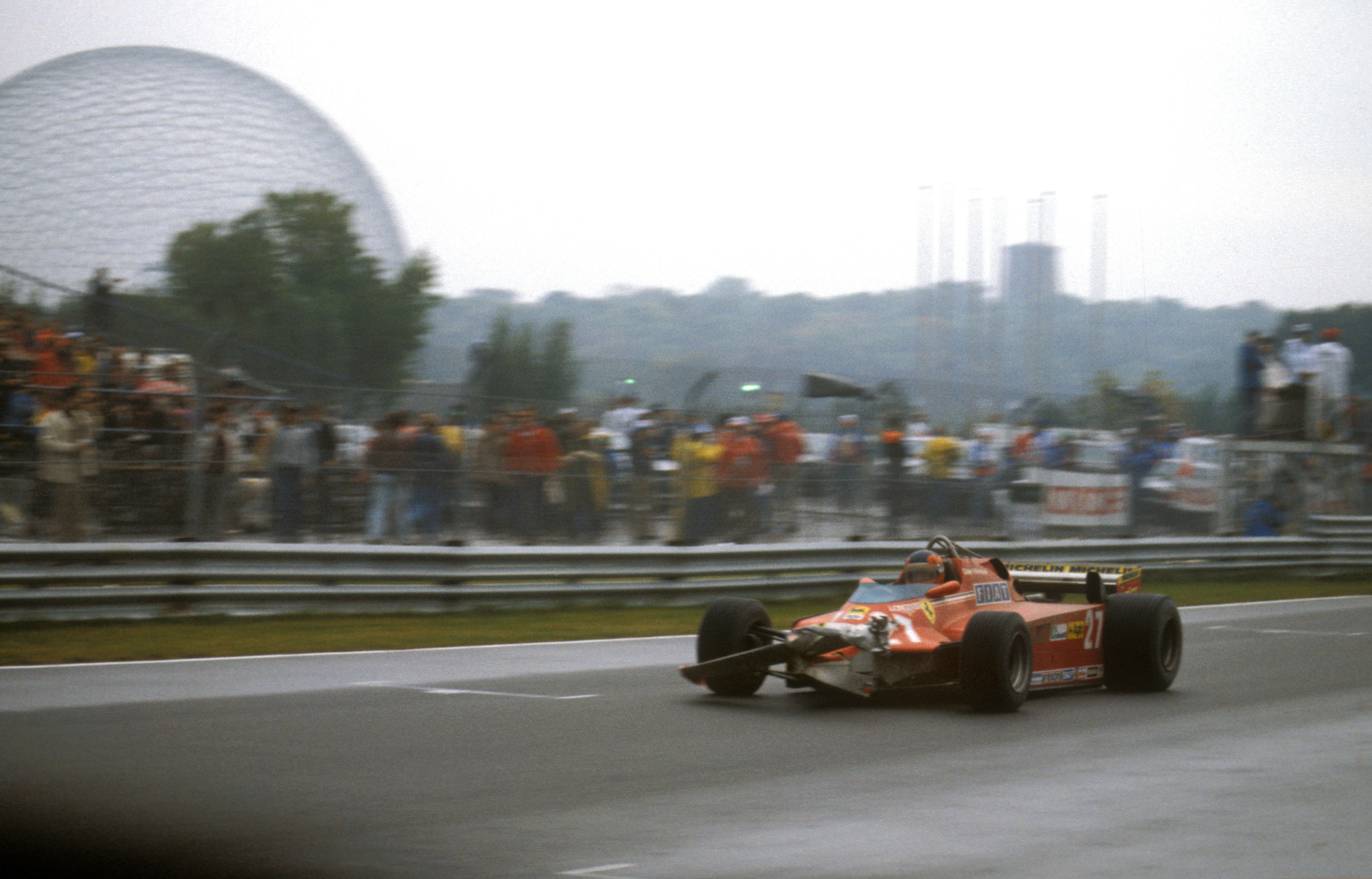 The remarkable Monaco and Jarama wins are rightly remembered as the peaks of Gilles Villeneuve's achievements in the lumbering 1981 Ferrari, but third at home in Montreal – scene of his first F1 win with a rather more competitive car three years earlier – was fairly miraculous too.
And not because he had to come from 11th on the grid in torrential rain in a terrible car. But because he drove most of the race with the car's front end missing and some of it unable to see where he was going at all.
Early brushes with Rene Arnoux, Elio de Angelis and Mario Andretti made the Ferrari's front wing increasingly mangled as Villeneuve surged up the order. Then it got so mangled the whole nose section folded upwards and sat obscuring his vision.
Using the peripheral vision honed in his early snowmobile racing days, Villeneuve kept up a competitive enough pace driving blind until he could dislodge the nose section completely, then raced on for third in his rather blunted car.
"Nothing in the world would have made me stop," said Villeneuve. "It was a risk I took and I knew the consequences. That's my way of going racing and I can't see any justification for doing it any other way."
SUPER AGURI'S FINEST HOUR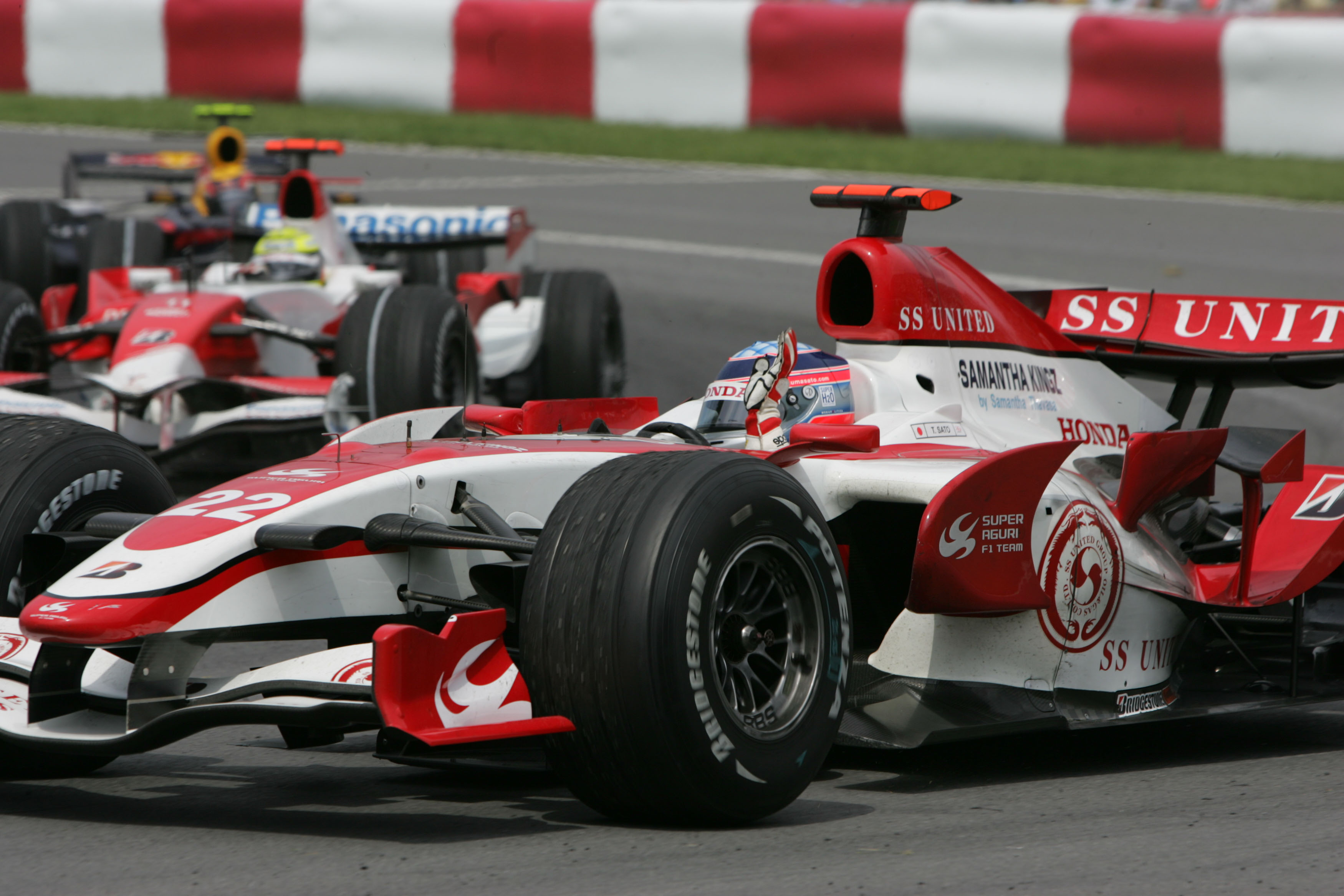 Think of the 2007 Canadian GP, and two moments probably come straight to mind: Robert Kubica's monster shunt, and the first of Lewis Hamilton's 103 (and counting) grand prix victories.
But Canada 2007 was a wild race and gave way to shock results – the podium was completed by veteran Alex Wurz running a one-stop strategy – and might have produced more had others kept it on the road.
One of those who did stay out of the walls was Takuma Sato, and it was the sixth-place finishing driver who perhaps outperformed expectations the most.
Super Aguri's short-lived, turbulent spell in F1 lasted just over two years and yielded four points – three of which were scored at the Circuit Gilles Villeneuve that afternoon.
Sato had already got the minnow team off the mark two races earlier in Spain, beating Giancarlo Fisichella's Renault to the final point, but in Canada the car looked a real contender. Sato and team-mate Anthony Davidson were in and around the top 10 throughout practice, so it was something of a surprise that Sato missed out on a place in Q3 by a tenth and a half.
Sato's start was steady as he picked up a couple of places to run on the fringes of the points. He'd finally made it into them at mid-distance – just as Davidson struck wildlife, and ill-fate, as having to pit while running third meant he caught his pit crew off-guard in the process – and Sato was up to fifth when he stopped just as the safety car came out with 20 laps to go for debris from a Christijan Albers off.
A slow pitstop of his own undid much of what was gained, but then came a reprieve.
Tonio Liuzzi, having glanced the champions' wall early in the race, did so again with graver consequences with 15 laps to go. The resulting safety car bunched the pack again, and it was here that Sato, then running ninth, began his stealth run.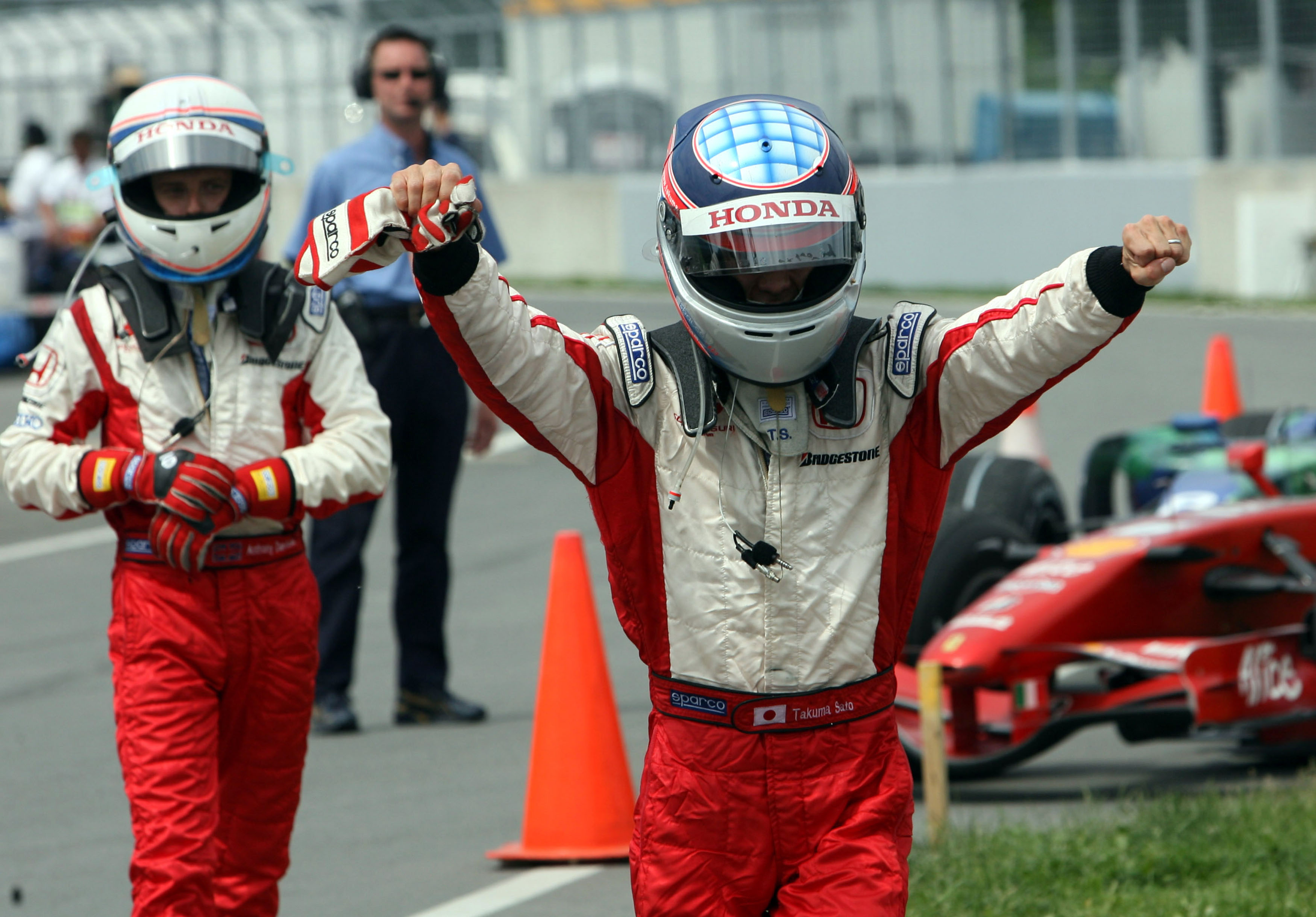 A Barrichello stop promoted him to eighth, then Sato executed two moves into the final chicane by forcing his rival onto the defensive inside line. The first was on Ralf Schumacher's Toyota but, not content with seventh, Sato went chasing after reigning world champion Fernando Alonso no less – passing the McLaren on the third lap before the finish to seal an unlikely sixth.
Less than a year later and the game was up. Super Aguri's last race was the 2008 Spanish GP, a year on from its first taste of points. But it made its mark during its short time in F1, no more endearingly so than with Sato's late charge in Montreal.
MANSELL AND NANNINI'S PITLANE 'JUMP START'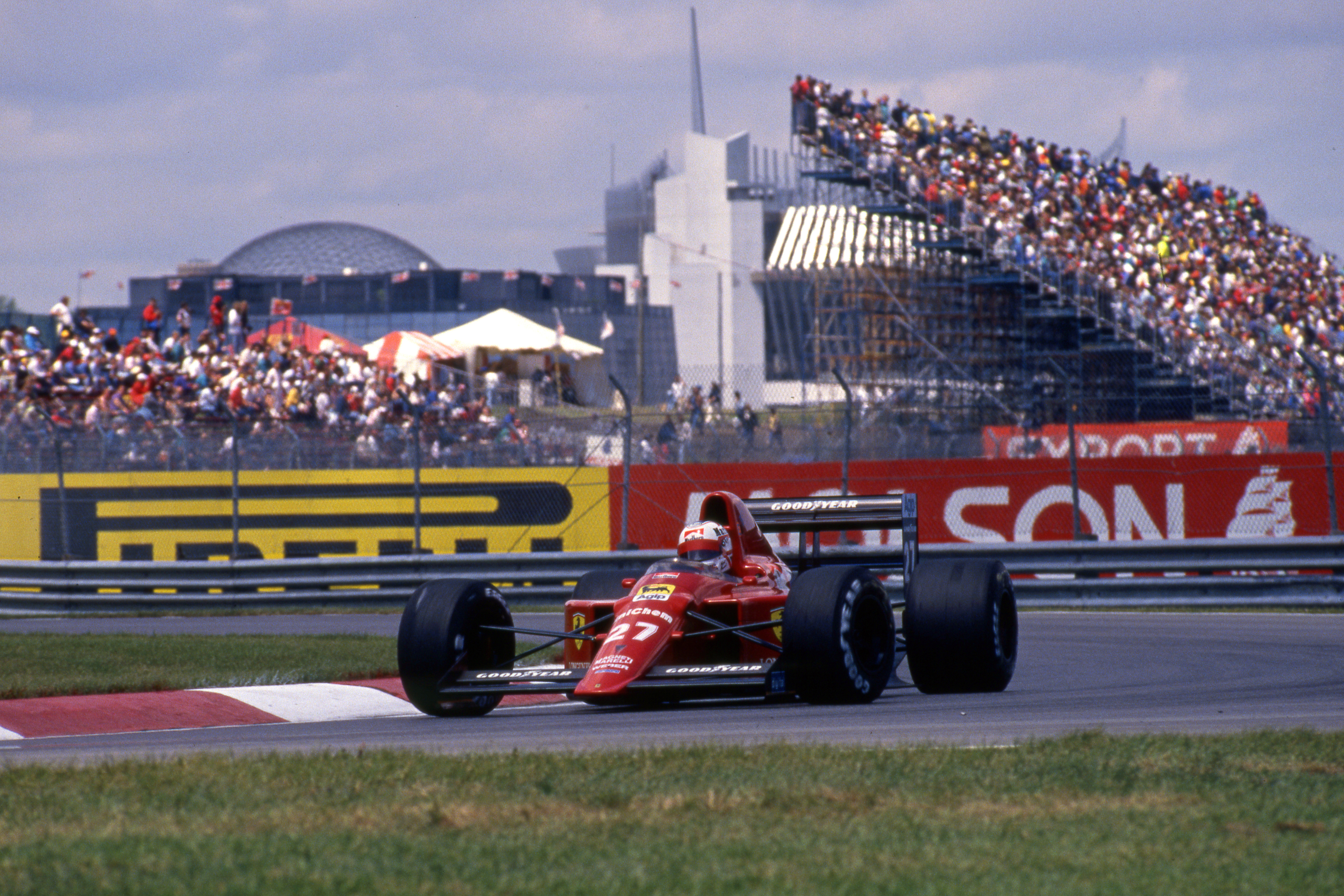 Nigel Mansell's Ferrari and Alessandro Nannini's Benetton leading on the road in the 1989 Canadian GP wasn't too strange in itself – both were race-winners that year.
The fact they were doing it because they'd got a massive inadvertent jump start from the pitlane was the odd part.
With the track drying after morning rain, Mansell and Nannini took advantage of an extra parade lap after Mansell's team-mate Gerhard Berger stalled on the grid to abandon their respective fifth and 13th starting spots and dive in to immediately take slicks.
Their tyre changes were complete while the rest of the field was still forming up on the grid. With only a flashing orange light not a red one at the pit exit, the pair headed straight out on track thinking the race had already begun. It hadn't. They were much of the way through the first sector when it did.
They were both black-flagged and disqualified, though Mansell's Ferrari had already dropped out with an alternator failure by the time that happened.
That race had an odd ending too: an engine failure for Ayrton Senna with just three laps left handed Williams a shock 1-2 with Thierry Boutsen and Riccardo Patrese – the first triumph of its Renault-powered era and its first since 1987.
A CROWD INVASION CHANGES THE RESULT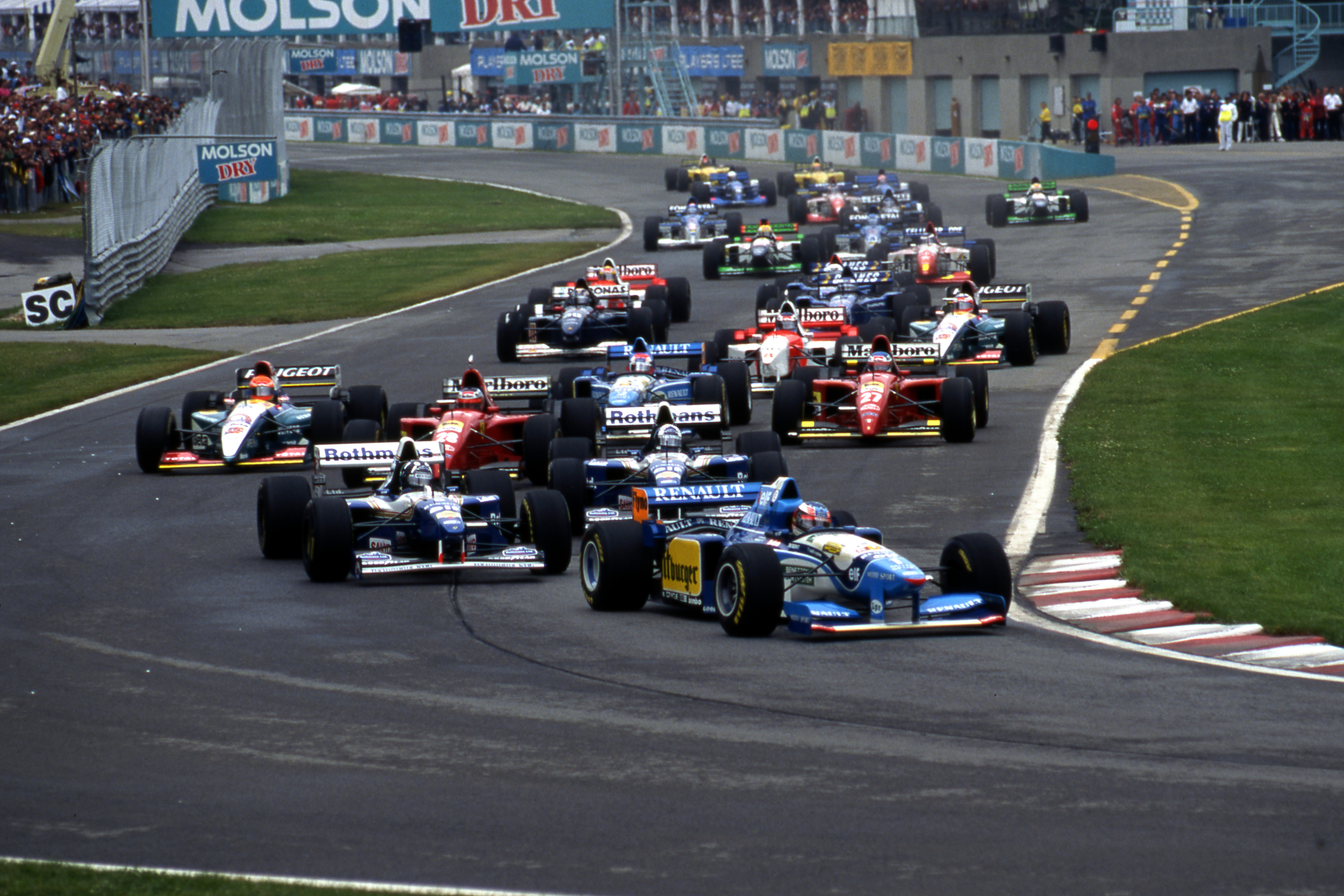 So thrilled was the home crowd to see Alesi taking his first, and only, Formula 1 victory in the 1995 Canadian Grand Prix that they couldn't contain their excitement.
After Alesi's Ferrari crossed the line, carrying the number 27 made famous by Canadian hero Gilles Villeneuve, fans began to swarm onto the track.
This caused problems for drivers who were still racing, with Mika Salo parking his Tyrrell on the left side of the grid on the main straight before taking the chequered flag.
This allowed Minardi driver Luca Badoer, who had started the final lap 17 seconds behind, to pass him and take seventh place on the 69th and last lap.
While points were only paid down to sixth, the stewards decided to roll the result back to the end of lap 58 in order to restore Salo's seventh place.
That race also has the distinction of being Jordan's only double podium finish outside its 1998 Spa 1-2. Helped by every car ahead of them bar Alesi's hitting some sort of drama, Barrichello and Eddie Irvine rose to a glorious second and third.
WHEN IT WENT WRONG FOR ALESI, IT WENT VERY WRONG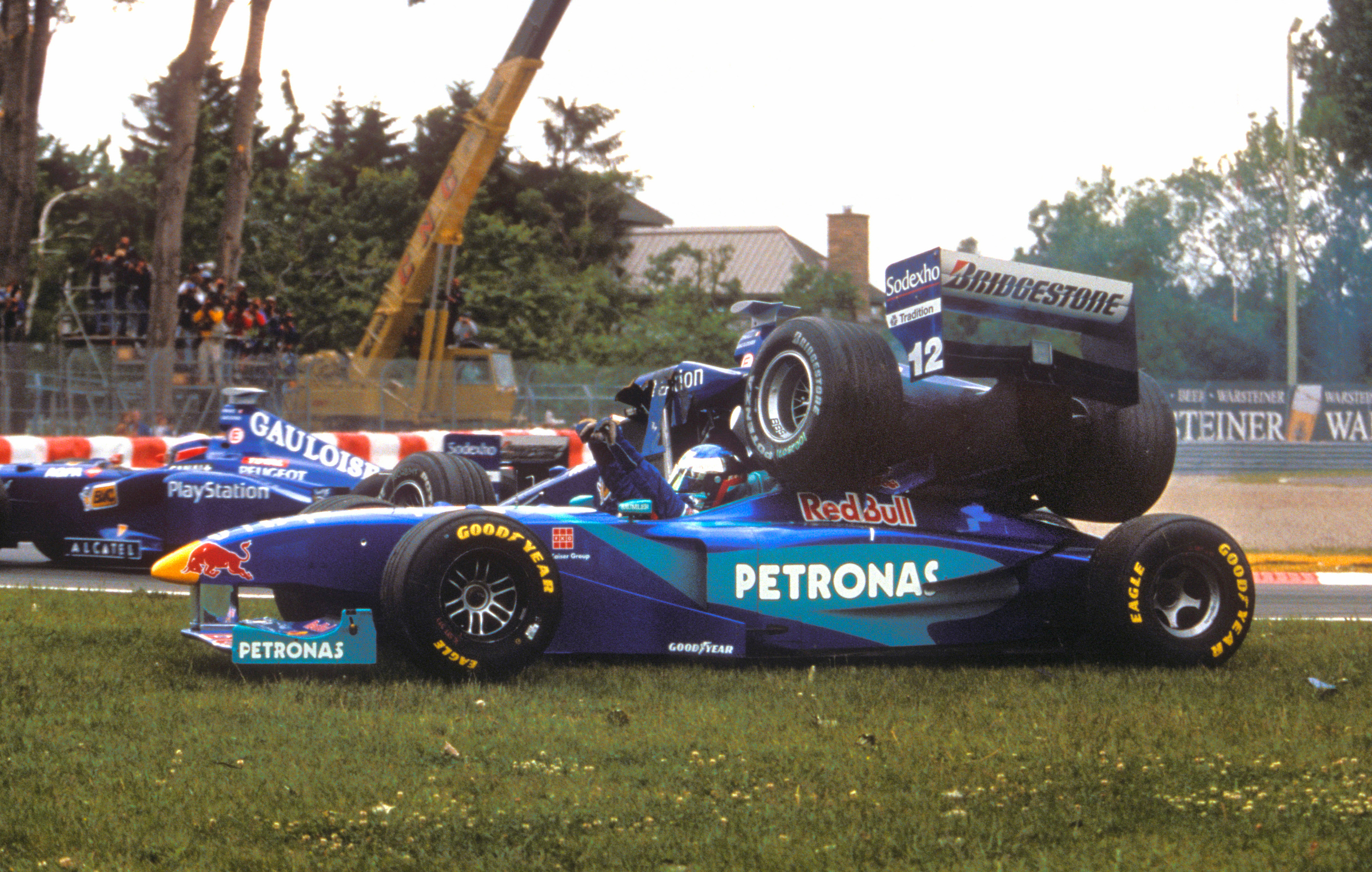 Thoughts of Alesi plus Montreal normally lean towards that glorious one-off 1995 win for Ferrari, on his birthday, amid high attrition.
But Montreal was also a place where Alesi had two bizarre crashes that ended with cars perched on top of each other. Once he was on top, once underneath.
In 1990 he spun his Tyrrell in a downpour approaching the last of the back section's chicanes, slewed over the grass and slammed into Nannini's Benetton, which had crashed at the same corner five laps earlier. It was still buried in the tyre wall when Alesi's Tyrrell did a high-speed reverse into and over it, splitting it in half. Nannini had thankfully long since exited it.
Alesi wasn't so lucky eight years later when it was his turn to get landed on. His Sauber had already been used as a launchpad for Wurz's Benetton to roll at the first start, then at the restart Ralf Schumacher's mid-pack spin led to Wurz tipping Jarno Trulli's Prost into and over Alesi, the cars coming to a halt with Trulli's car wedged on top of the Sauber.
Alesi did have some Montreal highs still to come too, though. Fifth place in 2001 was a pretty epic result given the Prost he was driving at the time.