Porsche's future in Formula E will be reviewed in 2022 after it confirmed for the first time that it is committed only until the end of the 2024 season, the halfway mark of the new Gen3 rules set.
The Gen3 regs will kick in for 2023 but Porsche has revealed it will not obligate itself to race in the championship for the full duration of the new regulations.
Instead, it will run a review of its Formula E factory programme next year. This evaluation will also factor in whether or not the company will enter Formula 1 in 2026, a decision that could come before the end of 2021.
Its new head of racing, Thomas Laudenbach, who replaced the retiring Fritz Enginger last month, confirmed that Porsche is only guaranteed to race in Formula E until and including the 2024 season, something which it had previously not detailed.
"For us, it's clear that we will at a certain stage, decide about the future of our Formula E engagement so far to season 10 (2024)," Laudenbach told The Race when questioned in a remote media round table session yesterday.
"When we decided the commitment, including season 10 for Formula E, I don't think we had something with Formula 1 in our mind.
"Probably throughout the next year, we will decide if we want to carry on and if we want to extend it (the 2024 commitment).
"And yes, for sure in the meantime, there would be a decision for Formula 1, which is extremely open.
"This will have an influence on what we do in all the other programmes. That's clear."
Porsche gave notice of its Gen3 registration last March, and while the original tender documents for the rules state a three-year time frame, it is known that the FIA and Formula E is working to a 2×2 homologation season plan.
This would mean that if Porsche did choose to leave Formula E in 2024 that it would have completed half of the Gen3 rules set which will be held under a formal cost-cap facility.
This is known to be around the €12-15m bracket, a figure which is dwarfed by Porsche's current spend which is believed to be in excess of €40m, including marketing, aspects of which may sit outside the cost-cap structure.
Porsche is known to have been unhappy with some aspects of Formula E in its first two seasons in the championship.
These are believed to be a variety of commercial and technical topics including their desire to free up aspects of the rules for more battery development freedoms.
It is believed that Porsche ran a mule car with its own designed battery prior to its entry in Formula E and has lobbied heavily behind the scenes to allow a degree of battery and other technical independence.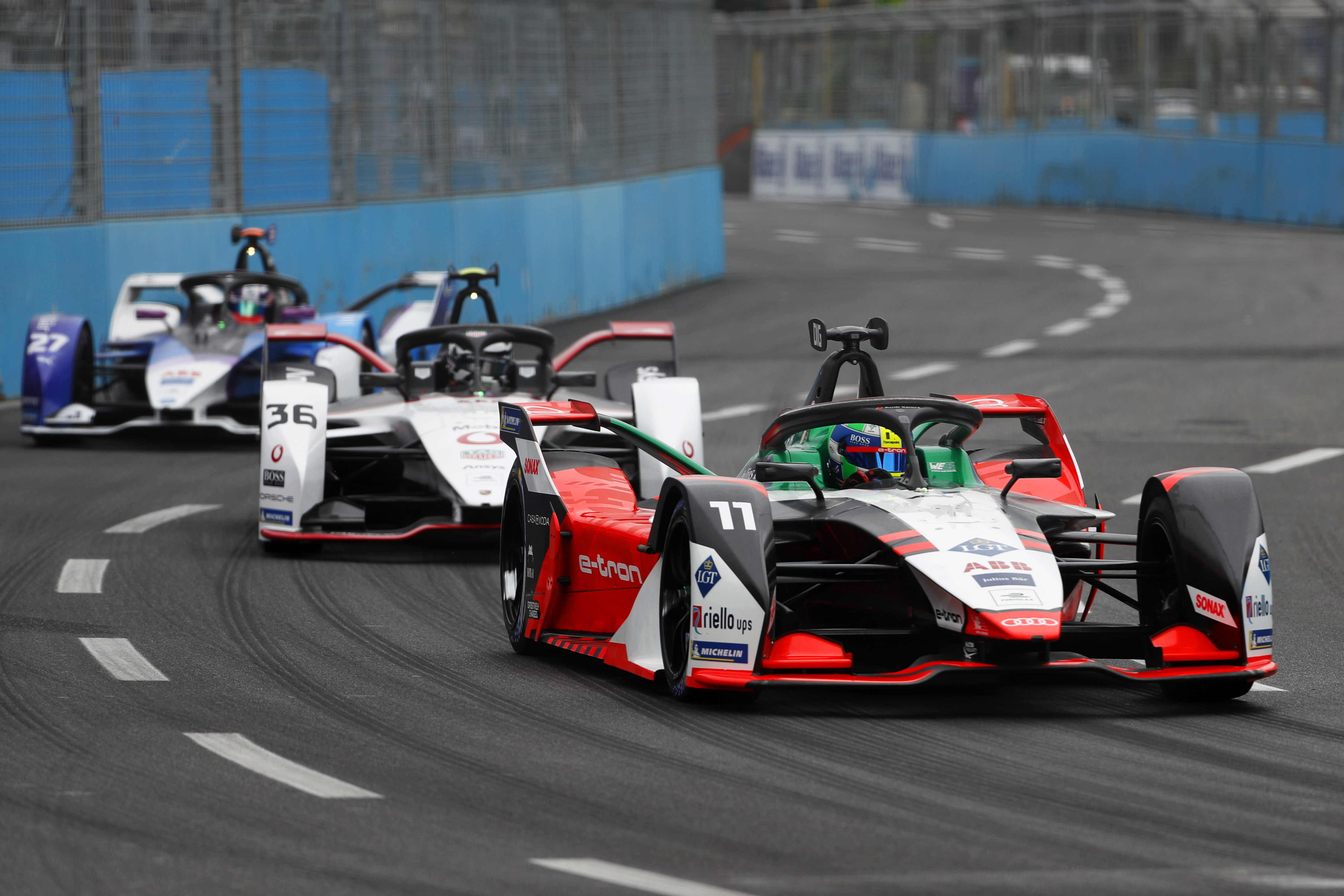 Porsche was also concerned that it was left as the only remaining prestigious German manufacturer after Audi, BMW, and Mercedes all confirmed exits from the championship within nine months of each other.
"The fact that that, let's say, three premium manufacturers stepped out, or will step out with BMW, Audi and Mercedes, for sure makes us thinking no question," Laudenbach told media.
"On the other side, just looking at Audi and BMW they were there right from the beginning [Audi only entered as a full factory team in 2017 and BMW in 2018 but had technical partnerships with ABT and Andretti from early stages respectively].
"So already (they were) a long time in the championship.
"Yes, I think there are some weak points (in Formula E). We discussed that also with the Formula E organisation."
"There are some points which we would like to see optimised then we think that there is a future, then I think that the value of Formula E will go up.
"Generally speaking, it is the only championship with battery electric vehicles at a certain level worldwide."
"We'll see how it develops. Yes, we are happy to give our input to Formula E and to develop the series and go forward, because we still think it is it is important to push electrified racing."