Ducati boss Paolo Ciabatti has admitted to The Race that he believes the 2021 MotoGP championship may have already decisively swung in favour of his rider Pecco Bagnaia's main rival and current championship leader Fabio Quartararo.
And Ciabatti believes the specific days of the season that cost Ducati its title shot are already very clear.
In particular, Ciabatti has singled out qualifying at the Portuguese Grand Prix back in April, when an on-form Bagnaia missed a yellow flag during a lap that originally left him sitting atop the standings in pole position.
Docked his lap time for the safety infringement, he instead started from 11th, last in the Q2 session. Bagnaia was forced to watch on as Quartararo rode away into the distance to his second race win of the season and a continuation of a run of form that had started at the previous race in Qatar and has essentially continued until now, despite the occasional blip.
"The problem was that in 15 minutes I saw two laps times cancelled," Bagnaia explained at the time.
"It would have been better to sit in the box today, because I took the pole position even if I didn't get it."
Eventually carving his way through the field to finish second to Quartararo, Bagnaia demonstrated his pace with the ride – but there's no doubt that that pace could have been better served taking valuable points from the Yamaha man rather than dispatching riders outside the championship fight.
Highlighting other blips in form, like a claimed bad tyre at the British Grand Prix that caused Bagnaia to plummet to 14th or a similar issue in the red flagged and restarted Styrian Grand where he finished 11th, Ciabatti says it was the lost momentum early in the year at Portimao that started it all.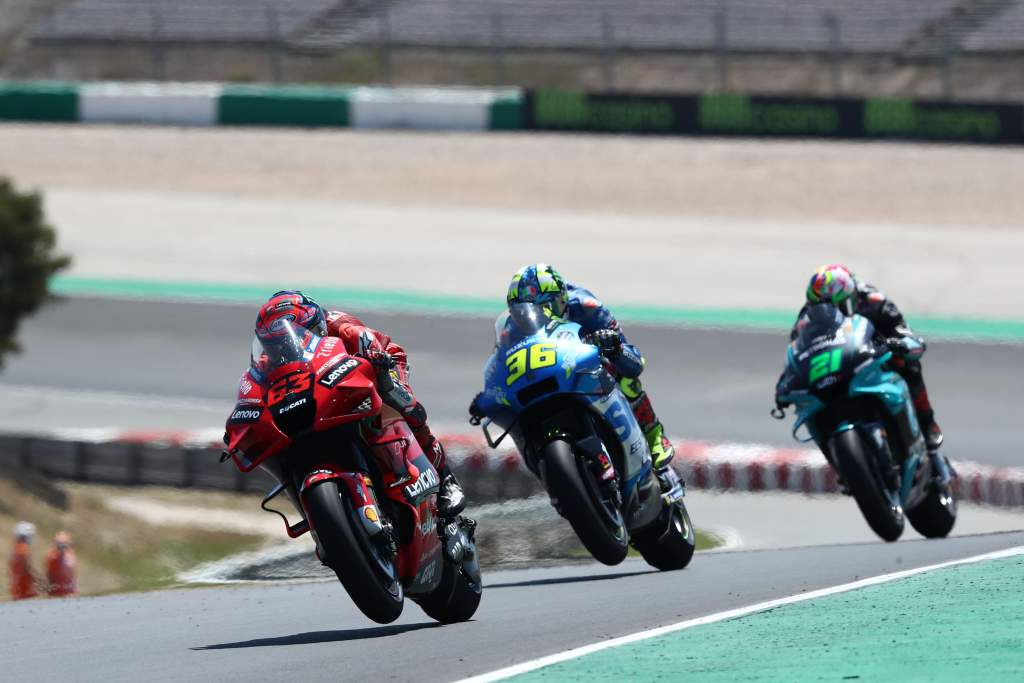 "Austria, with the restart, or even in Silverstone, but looking back to Portimao and the pole position and the yellow flag where he had to start from 12th on the grid; we could be closer to Fabio for sure, but he deserves to be where he is," Ciabatti told The Race when asked to pick the moments that most hurt Ducati.
While he might believe that bad luck has played its cards against Ducati so far in 2021, Ciabatti is adamant that that takes nothing away from the performances of Quartararo, with the veteran team boss full of praise for his riders' championship rival.
"We know that Fabio is always very fast," he added.
"He showed in Misano that he is very deserving of his position in the championship because he's always been fast in all conditions.
"Maybe he's still struggling a little in wet conditions, or in wet but drying conditions, but he's done a great championship and we just regret a few races where Pecco was not so lucky."
Ciabatti's also adamant that the championship isn't over yet though.
With Quartararo now enjoying a 48-point championship lead with only 100 left to play for at the final four races of the year, Ciabatti says all Ducati can do is hope that Bagnaia's run of form continues and see what happens.
"Pecco in this form is going to be competitive for the rest of the season," Ciabatti insisted.
"And we still have a small chance to be fighting for the championship, and we'll try to give it our all until the end.
"Let's see what happens, because racing is luckily, or unluckily at times, full of surprises. We just have to do our job."