Following the passing of Formula 1 giant Sir Frank Williams, ex-Williams head of sponsorship and marketing Jim Wright, recalls his memories of the 1997 British Grand Prix where Jacques Villeneuve claimed the team's 100th grand prix win
I'm beaming, sweating slightly, chest in danger of bursting with pride, tired, but in a nice, exhilarated kind of way. My arms are weighed down by two magnificent trophies which I've just carried half a mile from the Paddock Club area where these beauties had proudly been shown off to our 600+ contingent of partner guests to rapturous applause.
As I walk into the Williams motorhome, it's a little over an hour since the chequered flag fell to signal the 100th F1 victory for Williams Grand Prix Engineering Limited, racing at the time as Rothmans Williams Renault.
Sitting down at his regular table within the motorhome guest area is Frank. I walk towards him, so thrilled for him, for Patrick Head, for the team that Frank and Patrick have built and of course for myself.
In front of Frank sits his mug of tea, perched on the familiar wooden stand, straw pointing back towards him in a way that looks (appropriately), like a salute. I carefully place the trophies on the adjacent table and before I have time to straighten the silverware, Frank wants to know if everything is okay in my part of the team operation.
"Everything OK with the sponsors, Jimmy?". I respond affirmatively and recount the rapturous reception that we got as we took the trophies straight from the podium to our sponsors so they could have their photos taken with the drivers' and constructors' awards. I omit the fact that I'm personally stopped at least a dozen times by well-wishers to offer congratulations and ask for photos of the trophies on the walk back to the paddock.
"I didn't spend much time with Peter and Becky [Peter Holmes and David Beck, senior Rothmans executives] this morning, Jimmy, should I speak with them now? And Jean-Francois [Caubet from Renault], can you find him for me please, Jimmy? I'd like to speak with him before he leaves."
I inform Frank that the Rothmans guys were being taken to their helicopters by Victoria (King, senior partnership management executive who was a quite brilliant and integral part of my team) and that I would find Jean-Francois and bring him to the motorhome. "Please put Peter and Becky down on my call list for tomorrow, Jimmy – I want to thank them for their support this weekend and to make sure that all of their guests were happy with their weekend experience."
"Will do, Frank", I respond before offering my congratulations on the century of grand prix wins.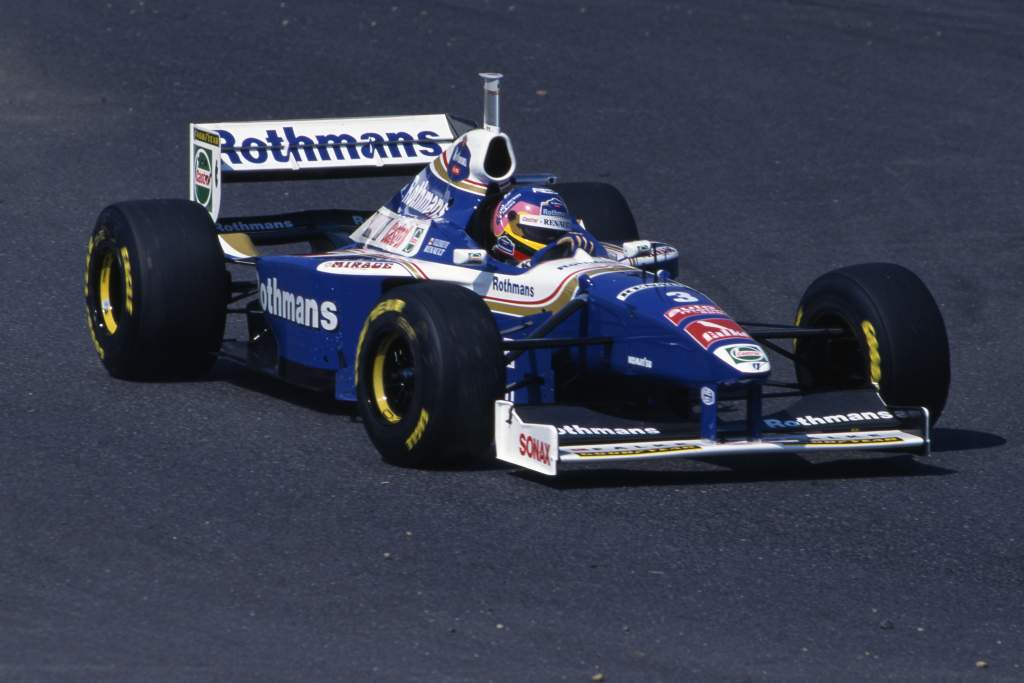 We are now joined by Patrick and Frank shoots his partner a quick wink, eyes twinkling, smile wide but brief before retorting: "Thanks, Jimmy, but we were fortunate today" (he's referencing the wheel bearing failure on Schumacher's Ferrari which handed victory to Villeneuve) "and f*** me, those Ferraris were bloody quick on the straights today. I remind myself that Hockenheim will be upon us in 10 days' time, I hope we've got a good aero solution for Germany, Patrick?"
And there you have it, in those few minutes of action and conversation, everything you need to know about Frank Williams, his character, his attitude to racing and his complete focus.
Eighteen years previously, almost to the day, I had watched, as a 19-year-old spectator, Frank Williams lift the British Grand Prix trophy for the first Grand Prix win of his career and what was to signal the start of an era of Williams success. Clay Regazzoni's imperious victory in 1979 was resolutely cheered to the rafters by the partisan British crowd. No matter that Regazzoni was a Swiss national – this was a victory for Frank, for Patrick and for that staunchly British team, Williams.
At Silverstone that day, Frank Williams had finally shed the "w***** Williams" tag which had cruelly followed him for years through the struggles of building up a fledgling racing team, operating on shoe-string budgets and reliant for the most part on well-heeled drivers who were selected on bank balance criteria rather than driving talent.
All that changed when Frank was introduced to Patrick and thanks to some UK government connections with the Middle East and Frank's audacity, proper money had started to flow into the team's coffers, enabling Frank to choose his drivers on merit – and Patrick's genius ensured that they would have a car to do their skills justice.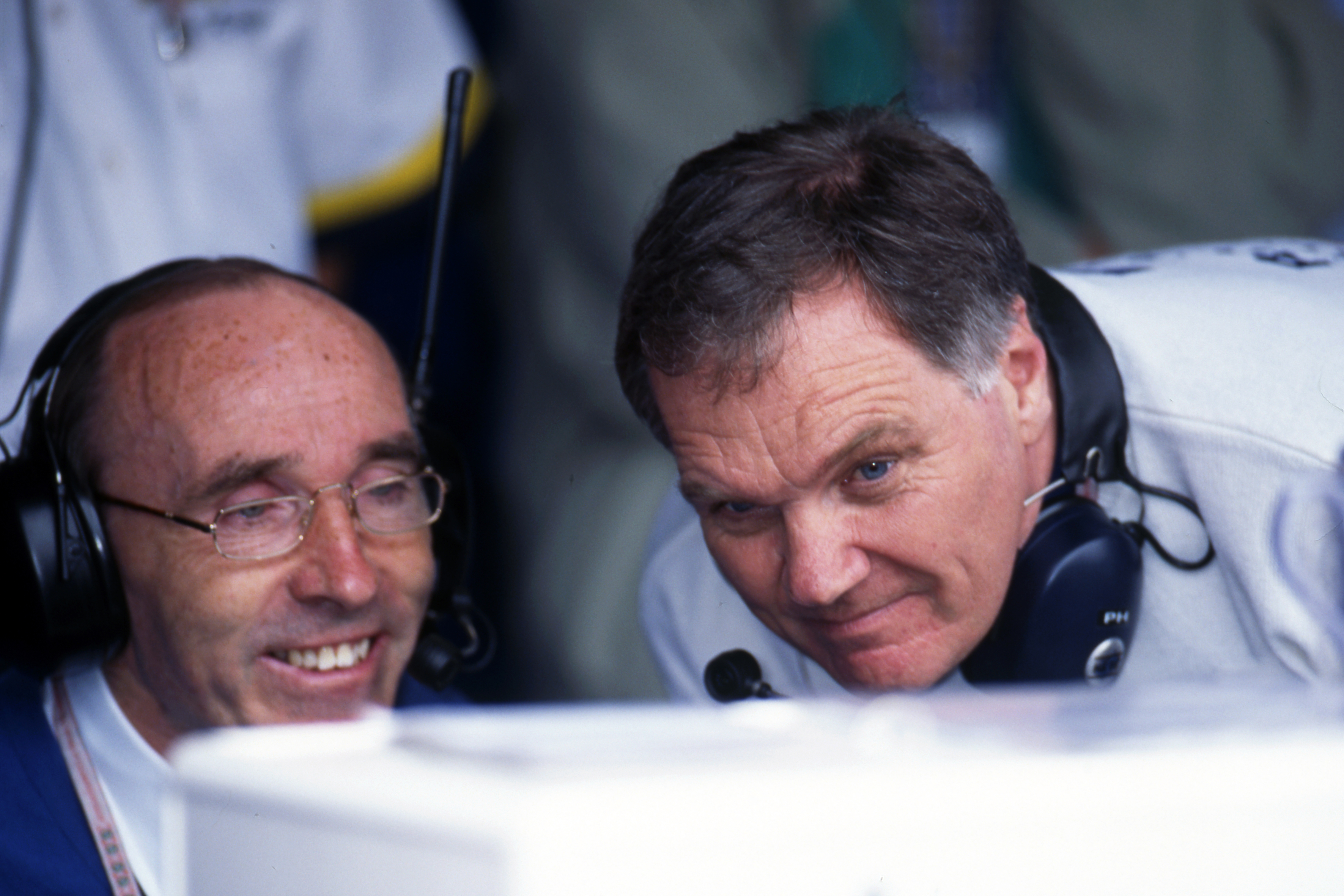 And despite the struggles, the hardship, the sacrifices that Frank had made and of course the personal life-changing injuries inflicted by a road-car crash in 1986, Frank showed little emotion in that motorhome as the sun baked down on a glorious British summer day and the motorhome swelled with well-wishers, journalists, friends and of course, Frank's proud family.
The lack of an outward show of emotion should not be misinterpreted for coldness, nor a lack of appreciation for a century of F1 wins and certainly not for arrogance.
Those that knew him well sensed Frank's inner pride balanced with the focus on the next race, the battle with Ferrari and McLaren for world championship honours and the fact that there was still work to be done.
Thank you, Frank, for allowing me to share in your success, for giving me days like that wonderful Sunday in 1997 which are more than fond memories.
They are days that have characterised my life, defined my highs and allowed me to achieve more than I ever thought was possible. I worked for you for 12 wonderful years during which time I revered you for your sense of fair play, your stoicism, your positivity and your humour. I aligned like a laser target with your hunger to succeed, your thirst for perfection, your work ethic and your quintessential British character.
Rest in peace, Frank, the chequered flag has fallen on your last race and you won – handsomely.