Everyone always says that wet and slippery conditions bring out the best in drivers, and that's exactly what we saw today.
Lance Stroll's first pole position in Formula 1 shows he has the talent, and his ability to keep his cool in these conditions just shows his confidence.
But it can also bring out the best in teams as well and it's good to see that Racing Point can match some of the great moments we used to have back in the Jordan days.
There are still some ex-Jordan people there and watching Stroll taking his first F1 pole position brought back some great memories for me.
It's not easy to pull off this sort of unexpected success and you are just as likely to get things wrong as right if you take risks – the key thing is choosing the right risks. But there are some areas where the playing field is evened up.
The interesting thing for me about these track conditions, which were slippy in the dry and even slipperier in the wet, was that most teams were unable to benefit as much as usual from burning the midnight oil using their driver-in-loop simulators or many other simulation tools back at base.
The inputs you need for these tools are the aerodynamic load, the characteristics of the car's aerodynamic platform, mechanical compliance and the various tyre compound potential grip levels. But more importantly, they also include the track grip coefficient, which during Friday's sessions was changing by the minute.
In Turkey, that caught everyone out so I suppose I would say this race weekend so far has been a bit old-school. It's about engineers and drivers working together to come up with solutions to the problems directly in front of them.
If it had stayed dry for today then some of that overnight work would have come into play but the real googly was when the rain came in. Reacting to that again becomes the job of the driver and engineer.
For a car to be quick in slippery or wet conditions, the driver needs to have confidence in the rear of the car. To achieve that, you will end up with a little understeer but that needs to be understeer with what I call grip.
Basically, it needs to be that when you apply more steering lock because of the understeer the front gains that little bit of grip, not enough to spit the rear out but enough to reduce the understeer.
I have said for a while that I believe that Red Bull is working with this characteristic and in the wet your steering input is very slow. I think this is what has helped Alex Albon. In the dry, steering inputs are much faster and it's very easy for the rear to start to feel nervous. Max Verstappen just seems to cope with whatever you give him.
The Racing Point always looks after its tyres very well. To achieve this you need to have a car that doesn't overuse its rear tyres, so probably has a built-in mild understeer. In the conditions today, that was a major asset.
What Racing Point achieved also shows that in tricky conditions if you can keep your cool and focus on the job in hand when others start to struggle it simply builds the confidence.
Stroll has had a difficult run of races but will sleep well tonight content in the knowledge that, given a set of circumstances that equalises car performances and increases the driver's contribution to the outcome, he came out on top.
In these circumstances, the team and the driver need to work together and not be at loggerheads with each other. You both need to buy into it, but the driver is the one out there doing the job. Stroll did that and when push came to shove he nailed it.
That's not easy to do when you know there is a chance to achieve something special. Verstappen's frustration after qualifying shows just how disappointed a driver is when it doesn't go to plan. He was odds-on for pole position but when it mattered, it didn't happen.
There's lots of reasons for this but in the end I don't think the Red Bull team reacted to the situation as well as it should have.
As soon as Sergio Perez put in his first timed lap in Q3 the writing was on the wall for intermediates to be the fastest tyre at the end of the session but Red Bull left it too late to react and switch from wets. Because of this, Verstappen was caught in traffic and lost too much tyre temperature.
Perhaps the wet tyre was seen as the safe option for Q3 and it's true that decisions on the pitwall are all down to what you have to lose. Racing Point was already in the top 10, McLaren had missed that opportunity so that's one of its two main rival teams in the battle for third out.
But what was key to me was that Lando Norris's last lap in Q2 suggested it would be the flick of a coin as to which tyre you wanted for the start of Q3 – but provided the rain stayed away, the intermediates would be fastest at the end.
You would also know exactly where the grip was when it really mattered if you spent the whole session on inters.
It is about fine margins in these conditions. Racing Point will agree Q1 was a nail-biter and that it would have done it differently given another chance.
With conditions like today, Q1 is always a bit blind in terms of how you should attack it and the two red flags added to that gamble. Each time the track goes green you need to get the tyres working, as we know that was the biggest complaint from all of the drivers.
Both drivers went out on intermediates at the start of Q1 and although Stroll initially set a decent pace, Perez was down in 15th place by the time that session finished over an hour later. Stroll wasn't much better off in 13th – but these are the fine margins you're dealing with.
Being alert and making sure you are taking on board what everyone else is doing and reacting to it is critical to your own decisions. If you have gone out on a limb then, OK, sometimes you just need to ride the storm and wait for the payoff.
But you should never be frightened to make a decision. I would rather have people that would make the wrong decision and change it (on occasions, at least) than people that don't make decisions. Then you end up not being able to do right for fear of doing wrong.
From a team's point of view, you need to put your best foot forward. From a driver's point of view, they want to go flat out from when they leave the pits but if you drive a neat and tidy clean lap you might end up a couple of tenths off your ultimate potential. Yet if you make one mistake by overdriving, you end up two seconds slower.
So keep it between the white lines until you get a solid banker on the board and then you can hang it out just that little bit more.
Being on pole position with the other car in third is a massive achievement for any team. To quantify this, even if it had been Mercedes with all its poles and 1-2s they would have been ecstatic today – and the same for Red Bull.
But for a team like Racing Point, which last took pole position with Giancarlo Fisichella at Spa 11 years ago (pictured above), you can multiply that elation by 10. And deservedly so.
There's also signs that the team has understood its limitations in the wet. Last time there was a proper wet qualifying session was in the second race at the Red Bull Ring, where Racing Point's performance was very poor. It will have learned from that but also this Istanbul track is very different to a normal wet track.
In the dry, the surface was super slippery so the grip doesn't really improve that much by just displacing the surface water.
We keep hearing that the wets can displace 70 litres of water per second and the intermediates 30 litres, but here in Turkey when that happens all you do is end up on a very slippery surface!
In Austria, you ended up on a grippier track so you needed a better balance for when that grip was available to you. I would liken driving on this track to driving on ice. It's about taking the best out of it you can but keeping it on the road.
When any of the smaller teams get one over the big boys, it always brings a smile to my face. Pierre Gasly and AlphaTauri winning at Monza is a great example of this.
I think this possibility of an upset was my biggest motivator when I was directly involved with teams.
But for Racing Point, this was not a team pulling off something out of the blue. The opportunity was there for everyone and everyone involved made the right decisions at the right time. Sebastian Vettel must be smiling about that and looking forward to next year because his current team Ferrari did more or less the opposite.
It also shows the old magic is still there. I was disappointed when Racing Point called Perez in for a late tyre change at Imola and lost a potential podium finish. But this performance makes up for that slight lapse.
I hope that the team still carries that racer's mentality from both today and the Jordan days of the past through into the future seasons as Aston Martin. After all, if you don't buy a lottery ticket, you aren't going to win the lottery.
I was fortunate enough to have a few 'lottery wins' in my days on the pitwall. Jordan's first pole position at Spa in 1994 with Rubens Barrichello was down to a track that was drying.
Spa is such a long lap that it can be wet at one end and dry at the other. When Rubens came in after his first run he said it looked like this was happening.
We debated the potential for slicks, but he wasn't sure it would be dry enough. So we waited until the last possible second, fitted slicks and away he went.
He just had time to do an out-lap and one timed lap. But with only eight seconds left he got across the start line to start a second timed lap just before the chequered flag, so he would have a good idea where the dry parts were but more importantly where the wet parts were. It was all down to that lap and he drove it like the professional he is.
There was another pole position with Rubens when I was technical director at Stewart at the French Grand Prix in 1999, but this was very different. Magny-Cours is a strange track and offered quite a lot of grip even when wet.
It was raining at the start of qualifying, so we took the decision to do an early run and if it was necessary we could also do a late run. We believed the track would be at its best at the start of qualifying, but if not then we would be in the same boat (no pun intended!) as everyone else by running at the end.
I was surprised very few other cars ran early, they were waiting for it to dry up but as the rain increased we were, you could say, 'singing in the rain'.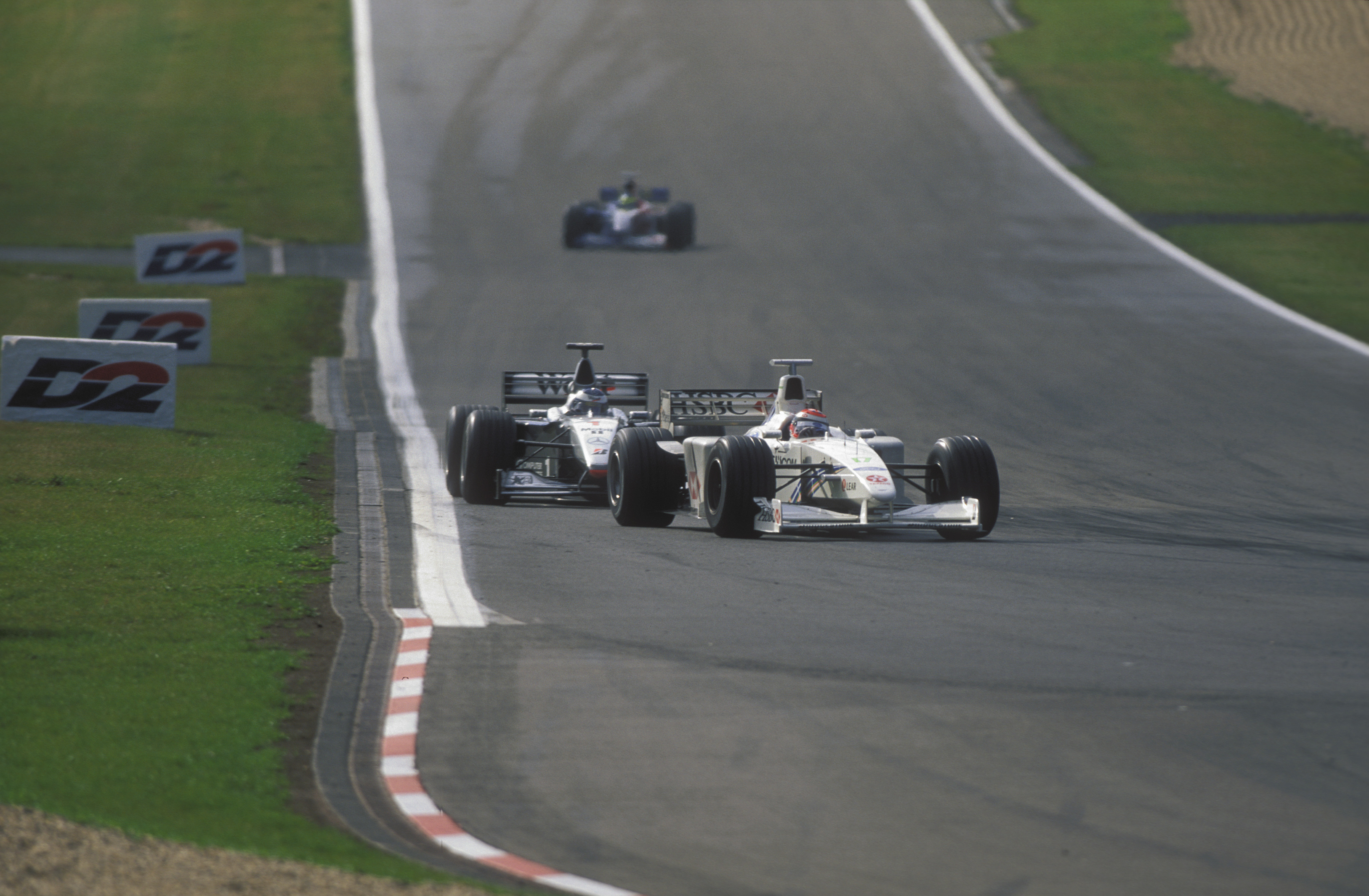 We also won at the Nurburgring later that year with Johnny Herbert in the Stewart. This was all about putting on wet tyres when it was dry.
Johnny had been looking at a big black cloud at the far end of the track and, as that was where the weather was coming from and even though it was more or less dry in the pits, we asked him what he thought on the way in.
He wasn't sure so we went for wets. When he left the pits and got to that end of the track, he was a very happy camper as it had started to bucket it down.
In 2003, when I was back at Jordan, we also won the Brazilian Grand Prix with Fisichella.
This was another kind of win, it was pouring down and the race started under the safety car,
He had qualified eighth and was keen to go racing when the safety car came in but we stopped him at the first opportunity when we knew we could fuel him to run to three-quarters distance.
That was with the knowledge that if there was a red flag then, the race probably wouldn't be restarted.
And that's exactly what happened. Although there was some dispute and Kimi Raikkonen was awarded the win for several days, eventually Fisi got the victory that he and the whole team deserved.
Racing Point had another of those days today, and wouldn't it be fantastic if there was a repeat in the race tomorrow?
But whatever happens, this has been a great day and a very well-deserved pole position that will be remembered for a very long time.